I made some munchies for you. Have you tried Christmas Crunch before? It's sometimes called Christmas Crack or White Trash. I know, not the nicest names, huh. But, It's a mighty munchable and very addictive sweet and salty treat coated in white chocolate.
The regular version I'll usually make uses Corn Chex Cereal in the mix. So, I thought I'd switch it up a little and make it work for St. Patrick's Day with some Lucky Charms cereal instead.
They're magically delicious, so I'm told.
Salted, dry-roasted peanuts get mixed in.
Along with pretzels, too. Twists or sticks.
M&M's. These little bursts of chocolate really make the mix even more munchable.
I bought a party size bag of regular M&M's and just sorted out the greens and yellows to make them pretty for St. Patrick's Day!
You can mix in as much or as little of each as you like. I used almost equal amounts of each. Two cups or so. And you can switch it up with other favorite add ins, too. Totally customizable. Especially if you aren't trying to tie in with a theme.
Mix it all up. It's like cereal soup.
Then melt some white candy coating. This kind is the generic brand from Kroger grocery store. It's one of the main go to candy coatings that I like to use.
Melt it and stir it all together until lightly coated all over.
As soon as the coating dries, it's ready.
Munch. Munch. Munch.
I love quick treats.
And if you want to add a bit more magic to the mix, try adding in some pop rocks.
Before the melted coating sets…
… sprinkle on top.
You'll need a good amount to make an impression (I only used two little packs) and the pop rocks will start to fizzle out after being opened for a while and mixed in the munch, but if you eat them the same day, you'll totally get that fun popping sensation in your mouth.
Makes the magically delicious come to life.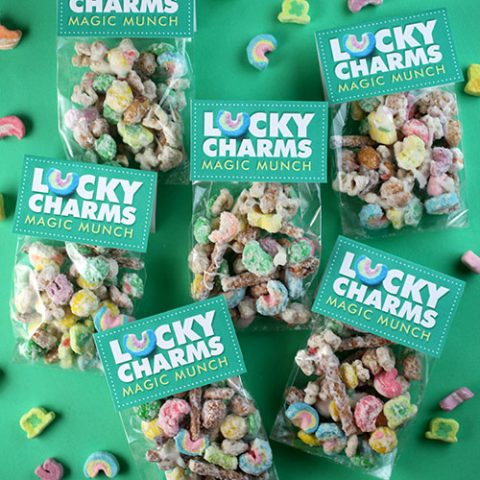 Magic Munch
Prep Time 15 minutes

Total Time 15 minutes
Ingredients
Lucky Charms cereal
Pretzels
Green and yellow M&M's
Salted dry roasted peanuts
White chocolate or white candy coating
Pop Rocks (optional)
Wax paper
Instructions
Use as much of each mix in as you like and custom to your tastes. I used about two cups of each.
Stir cereal, pretzels, peanuts and M&M's together in a very large bowl.
Tape wax paper down on your counter top.
Melt the candy coating in a microwave safe plastic bowl. Heat in 30 second intervals, stirring in between until melted and smooth. Gently pour into bowl and combine with dry ingredients. I used 16 oz and added to the mix in batches until lightly coated all over, but you can coat them as much as you like.
When coated, spread out in a thin layer on wax paper and let dry.
And if you want to mix in pop rocks, drizzle more candy coating over the mix and sprinkle the pop rocks on top and let dry.
Break apart and store in an airtight container or package in individual treat bags to give away.
I made a little label you can use if you want to make and give them away.
They are 2.75 inches wide and will fit these 2.5 X 6 X 1 inch treat bags.
Download the pdf, and you can print them out at a larger scale if you want to match other size bags you may have on hand.
Downloadable Lucky Charms Magic Munch Labels
Enjoy!