This is my grandmother's recipe. It's perfect. It's special. And it makes three pecan pies. It will also make three recipients very happy. That's why she made them every year at Christmas. To share them. But she wouldn't just make three, she would make many. She was known to make as many as thirty in one day. My uncle now makes her pies. He makes them for the same reason. To share. To spend time with friends and family. To remember her with his brother and sister. To carry on his mama's memory. And for the past several years, we've made them together.
You know, when my grandmother, my granny as I called her, was here with us, I don't think I ever tasted one of her pies. Not once on all of the Christmases we spent together. I wouldn't eat anything with nuts back then. It had to be chocolate. I was way too picky. And now, her pie is one of my favorites. How I wish I could go back and have a piece with her and talk to her… find out more about her life… from her. I know now that she was much more than a grandmother. Than a title. Than a job description.
Before she was ever my grandmother, she was a person with a life full of feelings and experiences to share. I wish I had asked her about them. I miss her.
I'd also ask her about this top. Wow… Granny!
Alrighty then… let the sharing begin. Mama's pecan pies as demonstrated by my uncle.
Preheat your oven to 350 degrees.
To get started, cut up two sticks of margarine and melt in the microwave. Set aside to cool.
You'll need a pound of pecans. Good pecans. My uncle likes these from Stone Mountain Pecan Company. Sort through them and make sure you don't have any doohickies in the pecans.
And by doohickies, I mean the dark pieces that can get stuck in the crevice of the pecan. You will want to remove them because they can give off a bitter taste.
In a large bowl, add a pound of light brown sugar and work out any lumps.
Add a heaping tablespoon of self-rising flour to the sugar and stir until the flour disappears.
Add a 16 oz. bottle of light corn syrup.
Then, add a tablespoon of imitation vanilla.
Stir that all together until blended and smooth.
Add the melted margarine. By now it's had time to cool. Fold it in very slowly or it will splatter. Keep folding until it is completely incorporated into the mixture.
Crack open six eggs. But see those white things attached to the yolks. Yeah, those squiggly things. My granny called them roosters.
Remove all the roosters. If you don't, they will make shiny spots on the surface of the pie. When the roosters are removed, give a quick stir to the eggs and pour them in the pie mixture.
Then, fold the eggs into the mixture until thoroughly combined and the egg disappears. Finally add all of the pecans and stir to make sure they all get coated.
Now, right before baking, remove three frozen pie crusts from the freezer. Very important… use regular size, not deep-dish.
Yes, frozen. They'll be great. Especially when you are making dozens of pies. Make sure you don't have any cracks in the shells or else the mixture will seep under the pie crust and you don't want that to happen. But, if they do have cracks, let them thaw and knead the dough together and refreeze until ready to use.
Pour the mixture into the pie crusts. Focus on getting the liquid amount right first.
Then, try to make sure you have the same amount of pecans in each pie. See the bowl, you'll probably have just a little bit of mixture left over. That's ok. Gently test the the surface of the pies with your spoon and you'll be able to tell if one has more than the other. If it does, transfer some of the pecans from one pie to the other.
CAREFULLY place the pies in the oven and bake for 45 minutes.
They'll puff up a little towards the end right before they are finished baking. You can also leave them in a little longer for a darker color if you like. Watch them though. It won't take long.
Then remove and let cool on a wire rack for a few hours to set up. Oh my.
Or if you just can't wait for them to cool and set up, enjoy a warm pie right out of the oven. Hey, you do have three.
You can also refrigerate them. Yes, I love my pecan pie cold. I like to cut a piece and hold it like a brownie… no forks. Yum!
Or … instead of three pies… you can make 33 little pies.
Miniature Pies. Seriously, how could I resist.
Follow all the same instructions above, except chop your pecans up first.
And use miniature pie shells with aluminum bottoms. These come eight to a box. Place them on a large baking sheet and fill the shells just to the top with your pecan pie mixture.
And bake at 350 for about 35 minutes. Actually, don't bake them like this. We were in a hurry towards the end of the night and decided to bake them all at one time against our better judgment. They'll do better and bake more evenly if you work in batches. Only unwrap about 12 crusts at at time from the freezer and bake for about 35 minutes. I'm guessing on the time here since we didn't do it this way, so watch them and make sure they are done.
Oh yeah!
When they are cool, you can wrap them in plastic wrap and put a tiny tiny bow on top. That's how my granny did it with her pies.
Simple and sweet.
Now, here's the recipe, listed with the brands she liked to use if you want to make it exactly.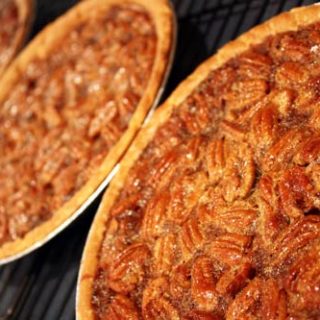 Yield: 3 9-inch pies or about 33 mini pies
Mama's Pecan Pies
Prep Time 30 minutes

Cook Time 45 minutes

Total Time 1 hour 15 minutes
Ingredients
16 oz. pecans (Stone Mountain Pecan Company)
2 sticks margarine (Parkay)
16 oz. package light brown sugar (Domino or Dixie Crystals)
1 heaping tablespoon (serving tablespoon, not measuring spoon) self-rising flour (White Lily)
16 oz. bottle light corn syrup (Karo)
1 tablespoon (serving tablespoon, not measuring spoon) imitation vanilla
6 eggs
3 regular size (not deep dish) frozen pie crusts (Pet-Ritz)
Instructions
Melt margarine in the microwave for about 2 minutes or until melted and set aside.
Prepare your pecans. Remove any unwanted brown pieces from the pecan crevices and shake out pecan crumbs in a colander.
Place brown sugar in a large bowl. Work out any lumps with the back of a spoon. If the brown sugar is too hard, you can loosen it up in the microwave. Heat it for a few seconds and it will be fine.
Add a heaping serving tablespoon of self-rising flour and stir until the flour disappears into the brown sugar.
Add a bottle of light corn syrup. Then add 1 serving tablespoon of vanilla and stir until thoroughly combined.
Add melted margarine. Fold carefully into the mixture so it doesn't splatter. Fold until the margarine is thoroughly worked in and disappears.
In a separate bowl, crack open six eggs. Remove the "roosters" and loosely beat the eggs with your spoon. Fold the eggs into the pie mixture until they disappear.
Add pecans and stir until completely coated.
Remove three pie shells from the freezer at this point and check for cracks. If you do have a crack, thaw and knead the crack together and refreeze.
Pour the mixture evenly into the three shells. You'll probably have a little bit leftover in the bowl. Tap tops with a spoon to check consistency and make sure there is the same amount in each pie. Redistribute pecans if necessary to make equal.
Bake for 45 minutes to an hour at 350 degrees Fahrenheit. Cook pies until they swell and then fall. At that point they are done.
Remove and cool for about three hours. Store on the counter or in the refrigerator depending on how you like your pie.
Notes
For mini pies: chop pecans, use mini frozen pie shells, removing them from the freezer as needed and bake in three batches on a baking sheet for about 35 minutes each. I'm guesstimating the time. Watch them and make sure they are done.

Enjoy!