Oh my gosh I couldn't stop eating these cookies! I gave a few to my mom and I was going to give the rest away too, but then… I opened the container they were in to have just one … and then I was like I'll just have one more … and then there were just too few to give to anyone. Whoops. (wink) … So I kept the rest all for myself.
The dough is kissed with a little salted caramel hazelnut spread. Oh yes!
But these jumbo chocolate wafers are what make them so irresistible. I love baking cookies with them. It means melty chocolate in every warm little … or big bite.
Mix up the dough, scoop it onto baking sheets and then… sprinkle the tops with a little sea salt to finish them off.
And then bake…
Break…
and bite!
That's it. I'm done! I just passed out. I think I'll just need another melty cookie to revive me.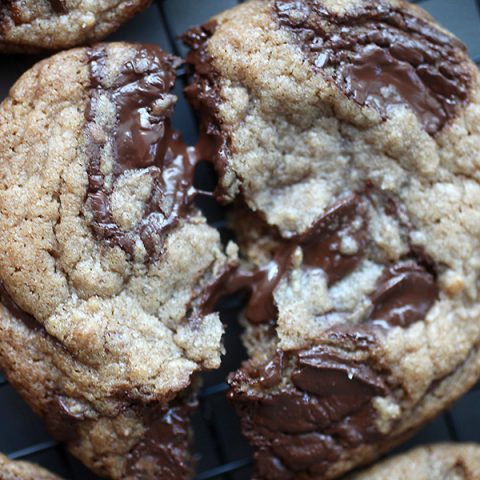 Yield: Two dozen cookies
Salted Caramel Hazelnut Chocolate Chunk Cookies
Ingredients
2-1/4 cups all purpose flour
1 teaspoon baking soda
1/2 teaspoon coarse salt
3/4 cup butter, softened
1 cup brown sugar
1/3 cup sugar
1/2 cup Salted Caramel Hazelnut Spread
2 eggs
1 teaspoon vanilla
16 oz. semisweet chocolate baking wafers
Sea salt for sprinkling
Instructions
Preheat oven to 350 degrees and line baking sheets with parchment paper.
In a medium bowl, mix flour, baking soda, and salt together with a wire whisk.
In a mixer, cream butter, sugars, and hazelnut spread until light and fluffy.
Add eggs and vanilla and mix until combined.
Add flour and mix on low until incorporated.
Stir in chocolate wafers. Chill dough for 30 minutes.
Scoop dough onto parchment paper about two inches apart and sprinkle tops with sea salt.
Bake for 10 minutes. Let cool and enjoy while melty.

Notes
The wafers are made by E. Guittard and the salted caramel hazelnut spread is made by Jif.
Update: I accidentally left out the step where you add the flour to the recipe. It's in there now (#5). : )