Last fall during the book tour, I visited a bunch of cupcake bakeries and sweet shops in just about every city I passed through. Miette was one of my favorites in San Francisco. If you get a chance, make sure to give them a visit.
They have two locations. One in the Ferry Building and one on Octavia Street. They also have one in Oakland and another opening later this year in Larkspur, California.
In San Francisco, the one on Octavia Street is bigger than the Ferry building location, but both are just as cute as can be.
I loved the colors and the display of sweets. So did Julie.
Everywhere you turn are the cutest treats with adorable packaging.
Lovely macarons.
Panna Cotta and Pots de Creme.
Little cakes.
Lots of little cakes. Miette is known for their sweets of smaller scale.
These are all 6 inch cakes which makes them even more charming.
And check out their cupcakes. Beautiful!
Miette recently released a cookbook filled with recipes of their signature sweets.
Pretty awesome.
And pretty cute. I love the scalloped pages.
It ties in beautifully with the shop accents.
See. Same cupcakes.
But that's not all.
Marshmallows. I must make some soon.
Crackers and cookies.
Tarts and tartlettes. I just want to sink my teeth right in. Forget the fork.
Caramels.
And cakes.
I made the Tomboy Cake. So good. It's made with chocolate and cocoa.
And I must say, it feels good to feel like baking again.
Here's the Tomboy Cake Recipe straight from the book, courtesy of my and Miette's publisher, Chronicle Books.
But that's not all.
This book is just so cute that I thought I'd give you guys a chance to win a copy.
And because most people don't already own 6 X 3 inch pans, I'm giving away two straight and two contour pans so you can make all the little Miette cakes you want. I'm also including some tartlet pans in case you don't have any of those handy either.
To enter for a chance to win, just leave a comment on this post and answer the following question.

What was the last cookbook you acquired or what is the next cookbook you can't wait to get your hands on?
Deadline to enter is Tuesday, July 12 at 7:00 pm ET.

Sorry, time's up. Winner announced below.

One winner will be chosen at random and announced sometime Tuesday evening.
Good Luck!
Giveaway sponsored by me.
Okay, time to announce the winner of this cute little cookbook and petite pans.
The winner is comment #2636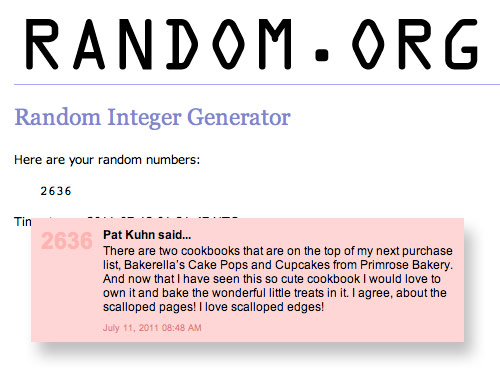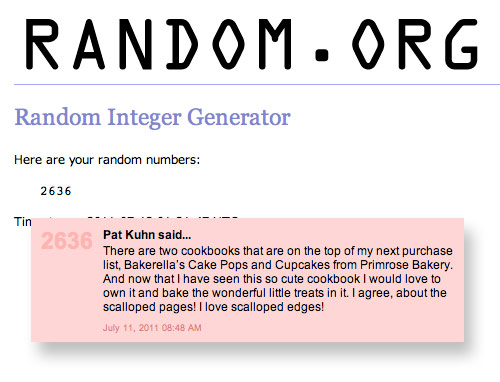 Congratulations Pat! And guess what. I'm going to throw in a copy of Cake Pops for you, too.
Hope you enjoy them both. – Bakerella
Miette book photography © 2011 frankenyimages.com