Simple. Just the way I like it. Normally, if I want chocolate chip cookies, it's due to an immediate craving for chocolate. Resulting in the purchase and preparation of a package of break and bake chocolate chip cookies. That's right I don't even bother with the cookie dough log anymore … too much trouble. It's the pre-cut kind for me so I don't have to waste any extra time.
But, then I realized I've never made basic chocolate chip cookies from scratch for the site before. Actually, I'm not even sure if I have ever made them from scratch at all … other than these pumpkin pecan chocolate chunk ones. So this obviously had to be corrected… right away. That's one thing I love about this site. Gives me lots of excuses to bake sweet stuff.
Here's the ingredients. I looooooooove looooove loooove brown sugar.
Anyone want to stop here and get a spoon?
No. No. We must have chips. And lots of them.
Use an ice cream scoop and you can get your cookies to come out the same size when they bake.
When they're done, let them cool slightly before transferring them to a wire rack to cool completely.
Whoops… dropped one. Okay, so it was more like ten. (smiles innocently)
What to do? What to do? Why eat them right off the tray while they're still warm and gooey and melty, of course. Continue until you are sick. It's the best way.
Whatever is left after the craving is satisfied, you can store for an hour later when you finish off the rest with a tall glass of milk.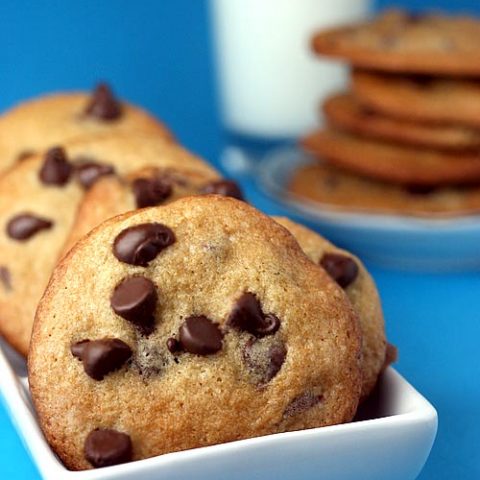 Chocolate Chip Cookies
Ingredients
2-1/4 cups all-purpose flour
1 tsp baking soda
1/2 tsp salt
1 cup butter, room temperature
1 cup brown sugar
1/2 cup sugar
2 eggs
2 tsp vanilla
2 cups chocolate chips
Instructions
Preheat oven to 350 degrees.
In a medium bowl, mix flour, baking soda and salt with a wire whisk and set aside.
With a mixer, beat butter and both sugars until well blended.
Beat in eggs and vanilla.
Add flour mixture in two additions until combined.
Stir in 1-1/2 cups chocolate chips.
Use a mini ice cream scoop to drop cookie dough on a parchment covered cookie sheet about 2 inches apart.
Press reserved chips on top of cookies before baking. This is just to make them prettier so, some of the chips are seen on top.
Bake for 8-10 minutes.
Notes
Makes about ??. (I ate too many before I counted. But a couple dozen for sure.)

But if that's too plain for you, then have a little more fun with them and make some ice cream cookie sandwiches.
You didn't think I was going to stop tempting you, did ya?
All you'll need for these is some ice cream and sprinkles.
Cut cooled cookies out with a circular cutter for smaller, more uniform sandwiches. Or just use the cookies

au naturale

. Either way, still good.
Place a small scoop of ice cream on one cookie. Then place the other cookie on top of the ice cream and press together gently.
Roll the sides in a small bowl of sprinkles if you so desire.
Make and eat right away before they melt.
Enjoy!
And for a little more fun, check out Cakespy's illustrated timeline of the chocolate chip cookie. Very cute!