I sat down this morning to bake something and started looking through cookbooks I've been wanting to try out. I have several new ones and haven't had time to bake from any of them yet. Maybe I'll show you the ones I have next time and you can tell me which one to start with. I can't decide. I love them all.
But deciding wasn't my problem so much this morning because everything fun I wanted to make called for an ingredient I didn't have. Ugh.
And I wasn't going back out to the store. Nope. I was in comfy clothes mode.
Luckily, I had peanut butter.
And chocolate chips.
I pretty much always have those two.
So I decided on peanut butter brownies.
With chocolate chips …
I started by adding a half cup but then finished with a full.
Taxes are due Tuesday (yuck) so treat yourself (yes).
Spoon please.
These are perfectly fabulous just like this but I thought I would frost them too.
I had more chocolate chips I needed to use up – you know – since I need to go to the store anyway.
Melt the chips and then mix in some peanut butter, butter and powdered sugar.
Yes – over the top and completely unnecessary.
Really, the only reason I wanted to frost them was to decorate the tops…
Like peanut butter cookies.
For the record, I think they are better without frosting.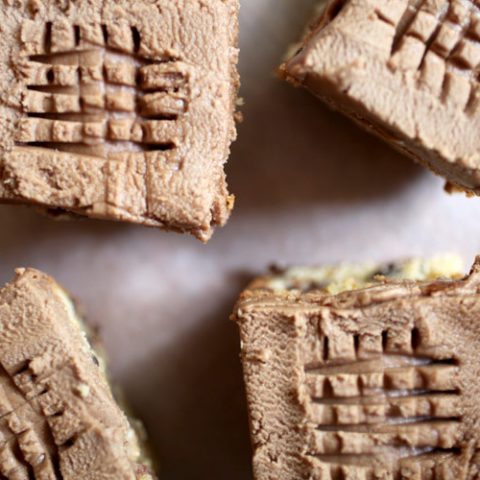 Yield: 16 brownies
Peanut Butter Chocolate Chip Brownies
Prep Time 15 minutes

Cook Time 35 minutes

Additional Time 15 minutes

Total Time 1 hour 5 minutes
Ingredients
Peanut Butter Chocolate Chip Brownies
1-1/2 cups all purpose flour
1 teaspoon baking powder
1/4 teaspoon salt
6 Tablespoons butter, softened
1/2 cup peanut butter
2/3 cup sugar
2/3 cup packed brown sugar
3 eggs
1 teaspoon vanilla
1 cup semi-sweet chocolate chips
Frosting
1/2 cup semi-sweet chocolate chips
1/2 cup peanut butter
1/2 cup butter, softened
2 cups confectioner's sugar, sifted
Milk
Instructions
For the brownies: Preheat oven to 350 degrees and grease an 8 X 8 pan.
In a medium bowl, stir the flour, baking powder and salt together with a wire whisk and set aside.
In a mixer, cream the butter and peanut butter until smooth. Add the sugars and mix until combined. Add the eggs and vanilla and mix until combined. Add the dry ingredients and mix on low until combined. Stir in the chocolate chips.
Spread in the pan and bake for 30-35 minutes or until done.
For the frosting: Melt the chocolate in the microwave in 30 second intervals until smooth. Stir in the peanut butter until completely combined and set aside.
In a mixer, beat the butter until smooth. Add the sugar and mix until combined. Add the chocolate and peanut butter mixture and mix until completely blended. You can add a teaspoon at a time of milk if you would like the frosting creamier.
When the brownies are cool, spread the frosting on top.
Go ahead and cut the brownies into 16 servings in the pan. On each serving make peanut butter cookie marks with a fork. I placed the brownies in the freezer for a few minutes first to firm so the frosting didn't get too messed up when I cut them.
Notes
I baked these for 32 minutes but they really needed a few more for the center to be completely done. So to avoid the top turning too brown, place a sheet of aluminum over the pan about halfway through baking. Or you could bake them in a 9 X 13 inch pan for a few minutes less and get more brownies too.

Enjoy!