I've been on a little bit of a cheesecake kick the past week or so.
It started with these Cookies and Cream Cheesecake Bars that I made for People.com. And they were so good that I had to make another batch.
But this time I swapped the cookies for peanut butter cups. The unopened bag sitting on my counter said they wanted me too. So I obliged.
It all starts with a simple graham cracker crust…
Cheesecake bars are super easy. No springform pan. No water bath. No fuss.
After you prepare the crust in an 8×8 baking dish, whip up the batter, mix in cut up peanut butter cups and bake away.
Then cool and cover with chocolate ganache.
And top it all off with more cut peanut butter cups. It's the right thing.
Then, cut them into cute little squares and enjoy!
Like yum!!!!! These were so good and the perfect sweet snack size.
And you know what… this cheesecake comparison made me realize that as much as I love peanut butter cups, I think I'm an oreo cheesecake girl. But, I kinda feel like I'm cheating on my favorite chocolate candy.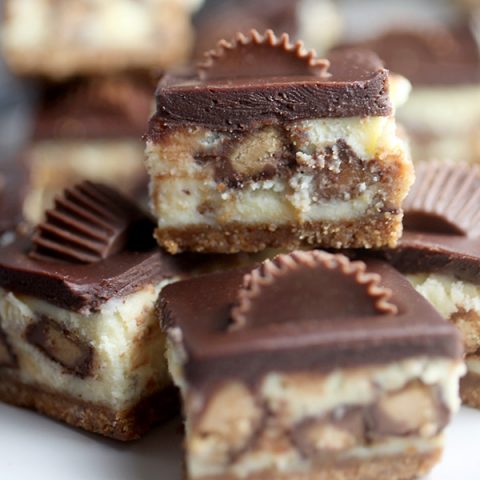 Yield: 20-25 bars
Peanut Butter Cup Cheesecake Bars
Ingredients
Crust
18 Graham cracker squares (1 wrapped package), crushed into crumbs
3 tablespoons sugar
6 tablespoons butter, melted
Filling
12 oz. cream cheese, softened
1/2 cup sugar
1 tablespoon all-purpose flour
1 egg plus 1 yolk
1/2 cup sour cream
1 teaspoon vanilla
24 peanut butter cups, cut into pieces
Ganache
1/2 cup heavy cream
2 tablespoons butter
3/4 cup semi-sweet chocolate morsels
2 tablespoons powdered sugar
10-12 peanut butter cups, cut in half
Instructions
Preheat oven to 325 degrees.
To make the crust, stir graham cracker crumbs and sugar together in a medium bowl. Add melted butter and stir until completely combined.
Using the bottom of a glass or measuring cup, firmly press mixture into the bottom of an 8x8 inch baking dish. Bake for 10 minutes, then remove from oven and let cool.
To make the cheesecake filling, add cream cheese, sugar and flour to a large bowl. Using a mixer on medium-high speed, beat mixture until creamy and combined.
Turn mixer to low and add egg and yolk, mixing until combined. Add sour cream and vanilla and mix until combined.
Gently stir in broken candy cups pieces and pour batter in prepared baking dish. Bake for 35-40 minutes, then remove and let cool completely.
To make the ganache, place chocolate morsels in a large heat-proof bowl and set aside. Add cream and butter to a saucepan and heat on stove at medium high. Remove just before boiling and pour over morsels.
Let sit for a minute and then stir until completely combined. Add powdered sugar and beat with a wire whisk until smooth. Pour over cooled cheesecake and top with cut candy cups.
Place cut side down on top of ganache in alternating directions. Try to arrange them to make it easy to cut into even bars without cutting through the cups. It may be easier to eyeball 4 rows of 5, yielding 20 squares. Cover and refrigerate overnight. Cut into bars and serve.