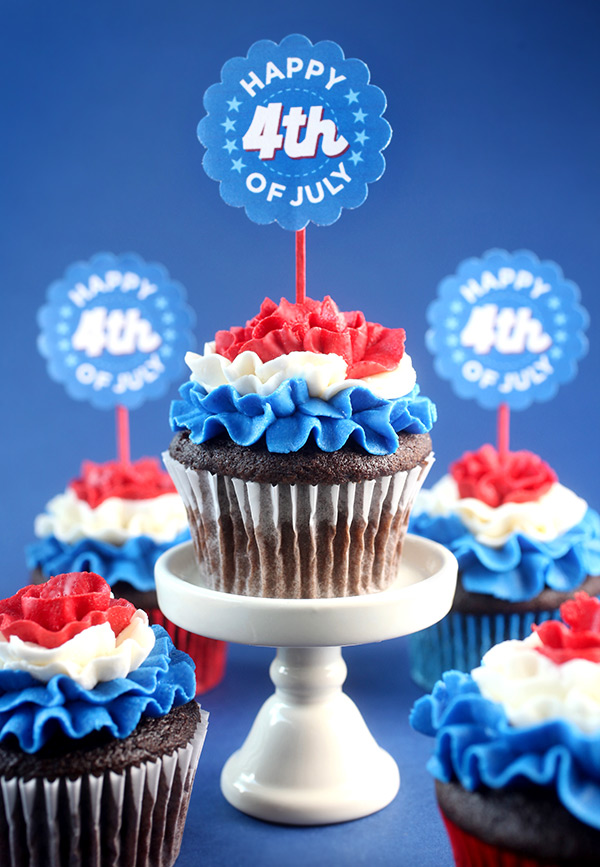 These were soooo fun! I've been wanting to try ruffled frosting since I got my hands on Trophy Cupcakes Book. Their vintage ruffle technique is beautiful and I thought the Fourth of July would be a great excuse for me to try piping ruffles … yikes … with three colors!
Divide buttercream frosting into piping bags for this tri-colored look, but one color would be just as pretty.
One thing I realized after piping a bunch of these, was that I should not have divided the frosting in equal amounts. The bottom color needs a larger amount, the middle color a little less, and the top color the least. Hope that helps if you decide to try this with multiple colors.
Dive in and start piping around the perimeter of your cupcake with the first color.
Here's the key (or tip) – Use a petal tip and hold it with the widest end pointing down towards the cupcake when you pipe. Start on the outer perimeter and apply even pressure to the piping bag while rotating the cupcake with your other hand. It took me several tries to get even ruffles and it helps to keep your piping bags about half full so you can pipe with better control.
Now my tip is one of the small sizes (#104) so I ended up with multiple little waves, but Trophy's cupcakes are made with a larger tip (Ateco #127 – See this old post for an example of their ruffles in the book). I just didn't have that size so I improvised. I definitely want to make them again with one color and a bigger tip.
But I think the small size worked out great for three colors because I could go around the cupcake two times with each color.
Eeek! Love it. I just need to practice, practice, practice to get them more uniform.
They kind of look like bunting decorations though and I'm giddy about it.
Oh yeah – I made little tags that you can use for your Fourth of July treats, too! Use them for cupcake picks and cake pop tags!
Here is the Happy 4th of July Treat Tags template you can print out and use with a paper punch.
And here is the cupcake recipe I used and the buttercream frosting recipe, too. Enjoy!
I hope you have a happy and safe 4th this Friday!!!