I first tasted these two years ago at a Christmas party and immediately had to have the recipe. It's based on a mix, but I imagine you can follow the same directions substituting from scratch cake and frosting (I'll try that one day). You can also try it with other cake combinations.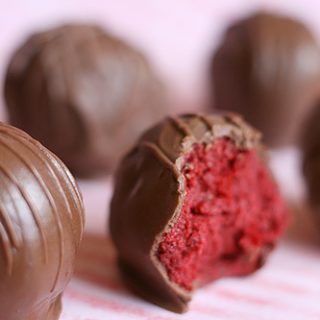 Yield: 45-48 balls
Red Velvet Cake Balls
Ingredients
1 box red velvet cake mix (cook as directed on box for 13 X 9 cake)
1 can cream cheese frosting (16 oz.)
1 package chocolate bark or candy coating (regular or white chocolate)
wax paper
Instructions
After cake is baked and cooled completely, crumble into large bowl.
Mix thoroughly with 1/2 can cream cheese frosting using the back of a large spoon. (start small - you can always add more if you need it.)
Roll cake and frosting mixture into quarter size balls and lay on wax paper cookie sheet. (Should make about 45. You can get even more if you use a mini ice cream scooper, but I like to hand roll them.)
Chill in fridge for a couple of hours. (You can speed this up by putting in the freezer for about 15 minutes.)
Melt chocolate candy coating in microwave per directions on package.
Roll balls in chocolate and lay on wax paper until firm. (Use a spoon to dip and roll in chocolate and then tap off extra.)
Notes
I also only melt a few pieces of chocolate bark at a time because it starts to cool and thicken. It's easier to work with when the chocolate is still warm so it is fluid and smooth.

Want to see how good they look in white chocolate?