Cake, baby!
Yes, this post is all about delicious cake, but just not the kind you eat.
It's about the kind you can carry. I found this decadent purse online and just fell in love. First with the name of course, and then with the design. It's from Petunia Pickle Bottom.
But, it's not just a purse. It's also a diaper bag. That's right. Inside this not so little red number is a fold out changing pad, room for diapers and a plastic case for wipes. No one would ever guess. Unless of course they, too have had some cake.
Now, don't feel like you've gotta go and get pregnant just to carry this purse. Petunia Pickle Bottom made the changing pad detachable so you can carry Cake even if you don't have a little one in tow for a reason.
Did I mention the matching coin purse? Sweet.
Want it? Anyone?
Okay, if you do, leave a comment on this post for a chance to win the Red Velvet Cake purse.
All you have to do is tell me your favorite kind of cake. That's it.
Deadline to enter is Monday, February 22 at 7:00 p.m. ET. Sorry, Time's Up! Winner Below.

One winner will be chosen at random and announced sometime Monday evening on this post.
Good luck.
I'm glad you guys liked this purse so much. I'm just sorry I only have one to give away. I did make you a real red velvet cake though. Check it out. Now for the winner.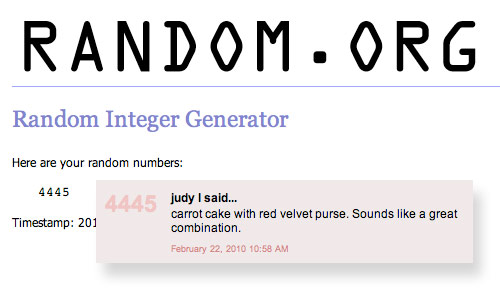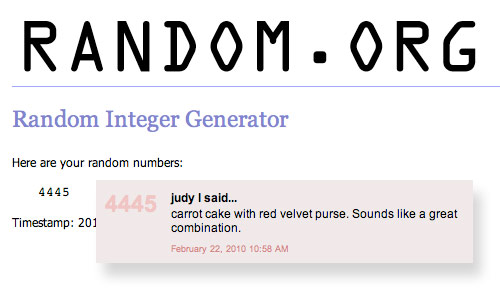 Judy, Judy, Judy! Congratulations. Carrot Cake with Red Velvet purse does sound like a perfect combo. You won.