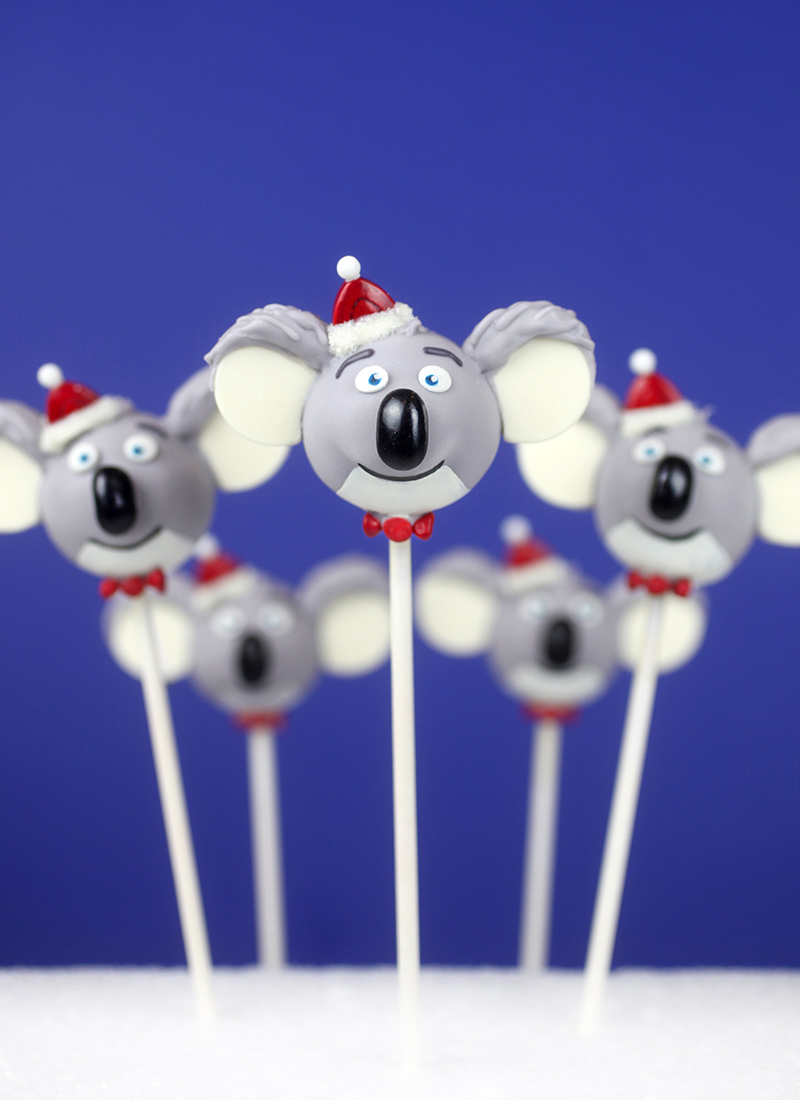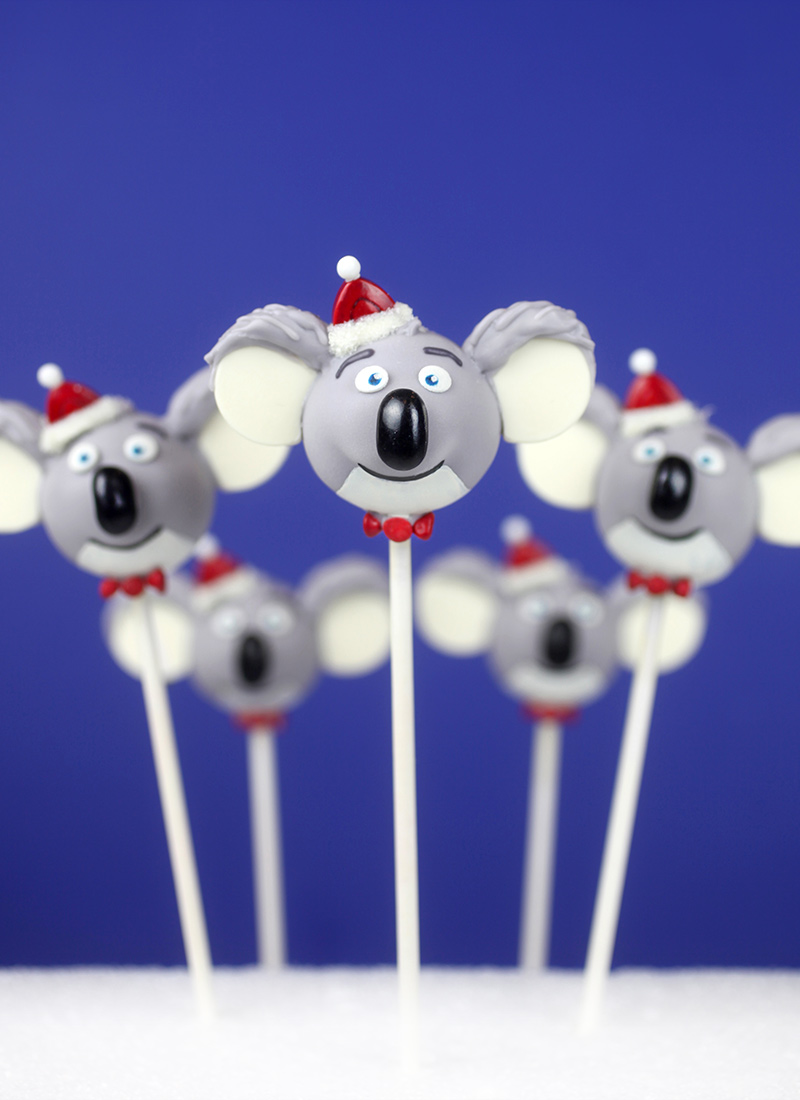 I'm sharing some of the cutest cake pops in partnership with Universal Pictures to celebrate the movie SING in theaters on December 21. The movie stars a cuddly Koala named Buster as he tries to revive his grand theater by producing the world's greatest singing competition.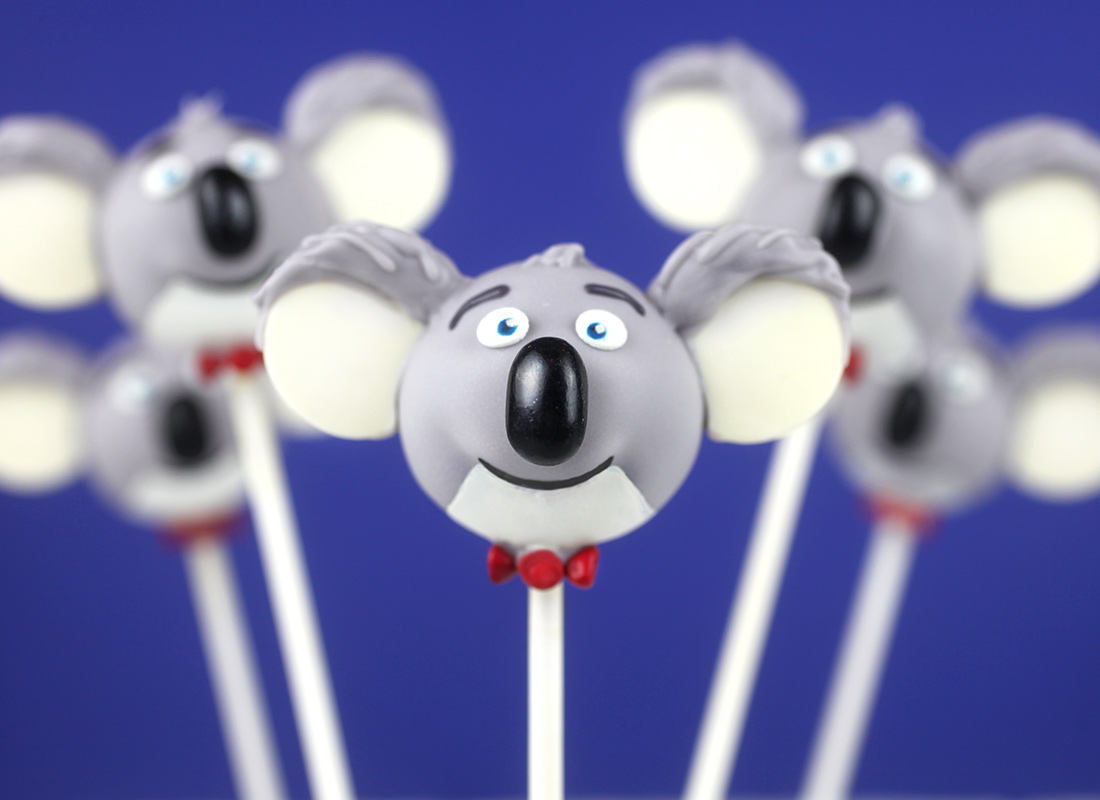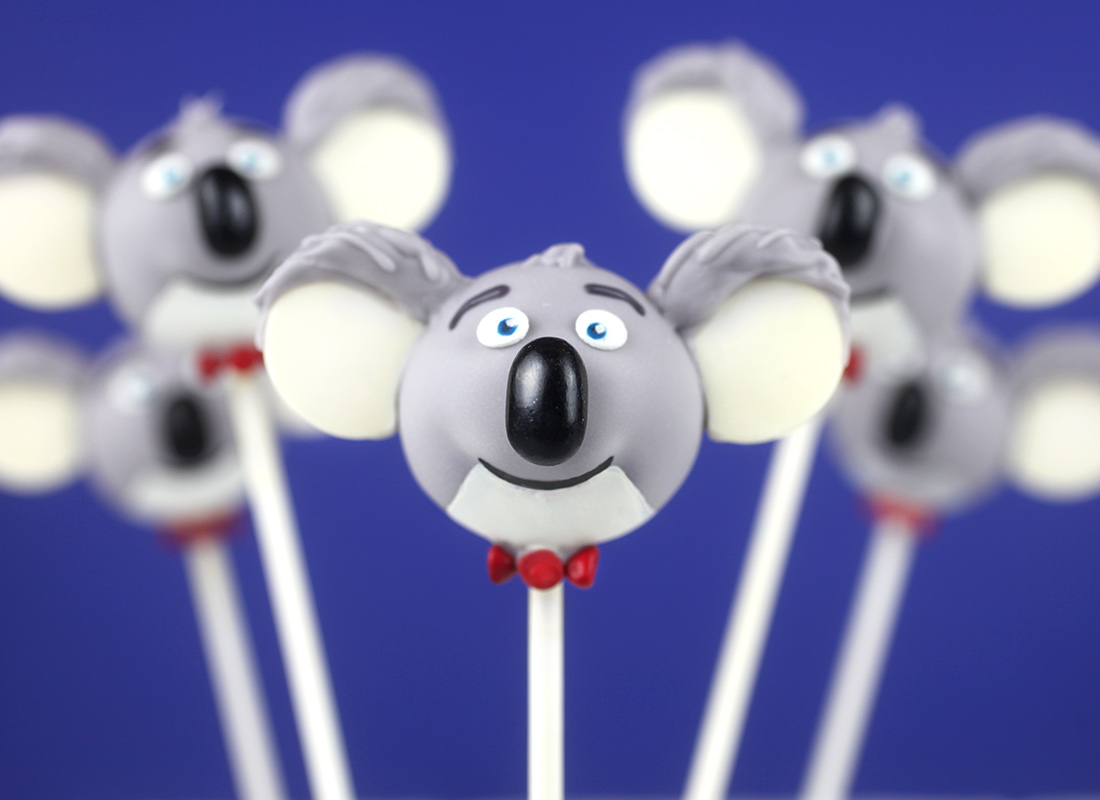 Whenever I make character cake pops I get a little nervous because I never know how close I can get the resemblance until everything is done, but this little guy definitely exceeded my expectations. I just want to squeeze those sweet cheeks. Or, well, bite them.
I love how he turned out.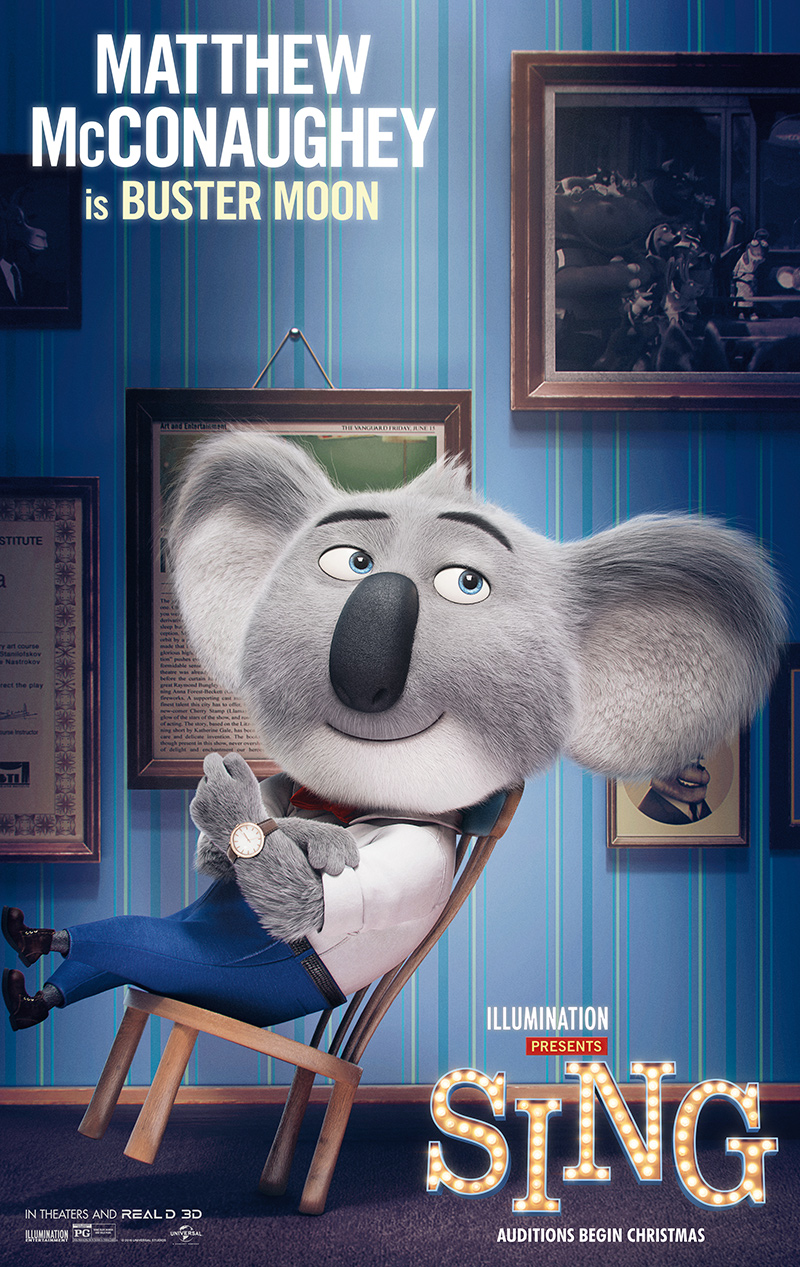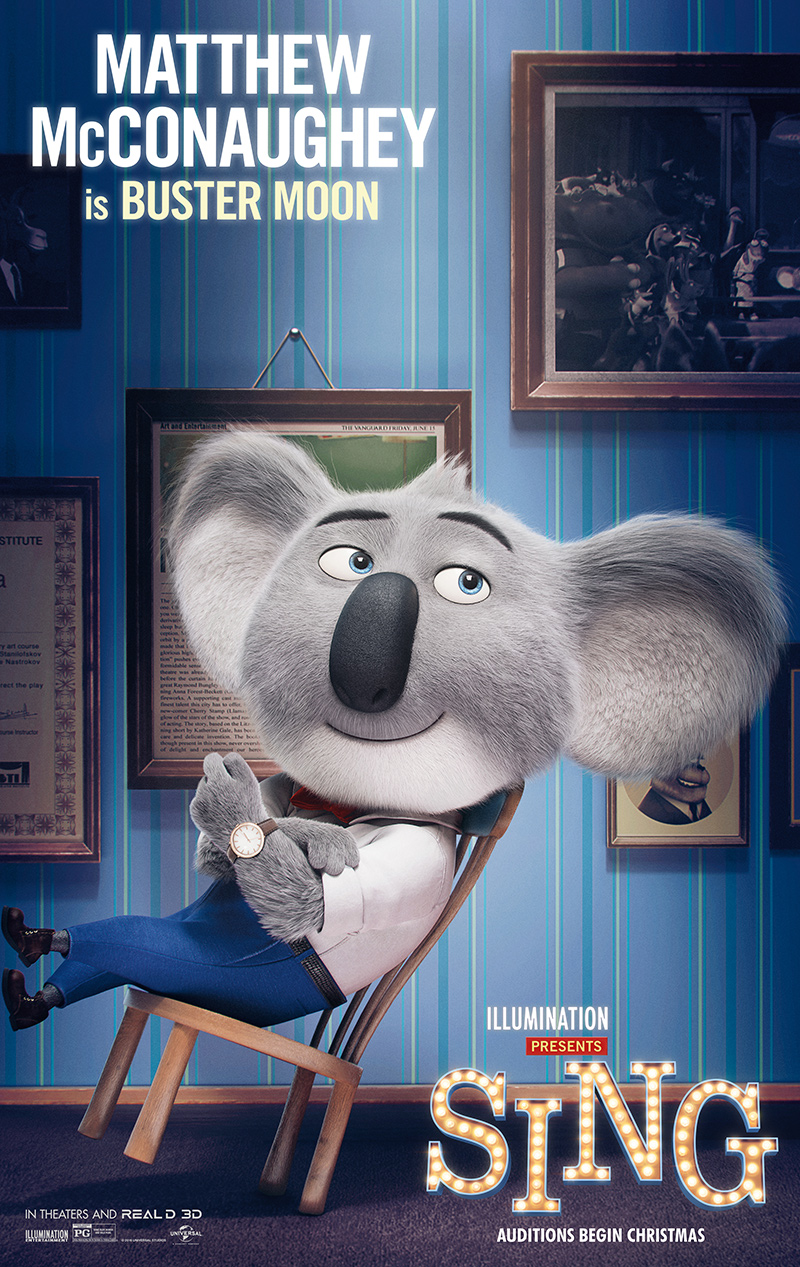 Plus, this is probably the closest I'll ever get to Matthew McConaughey.
Ok, let me show you how to make him.


We'll use black jelly beans to create his nose and white candy wafers to make his ears. Just cut a curved edge from the wafer with a round cookie cutter. The cut edge can then easily attach to the side of the Koala's head when you are ready.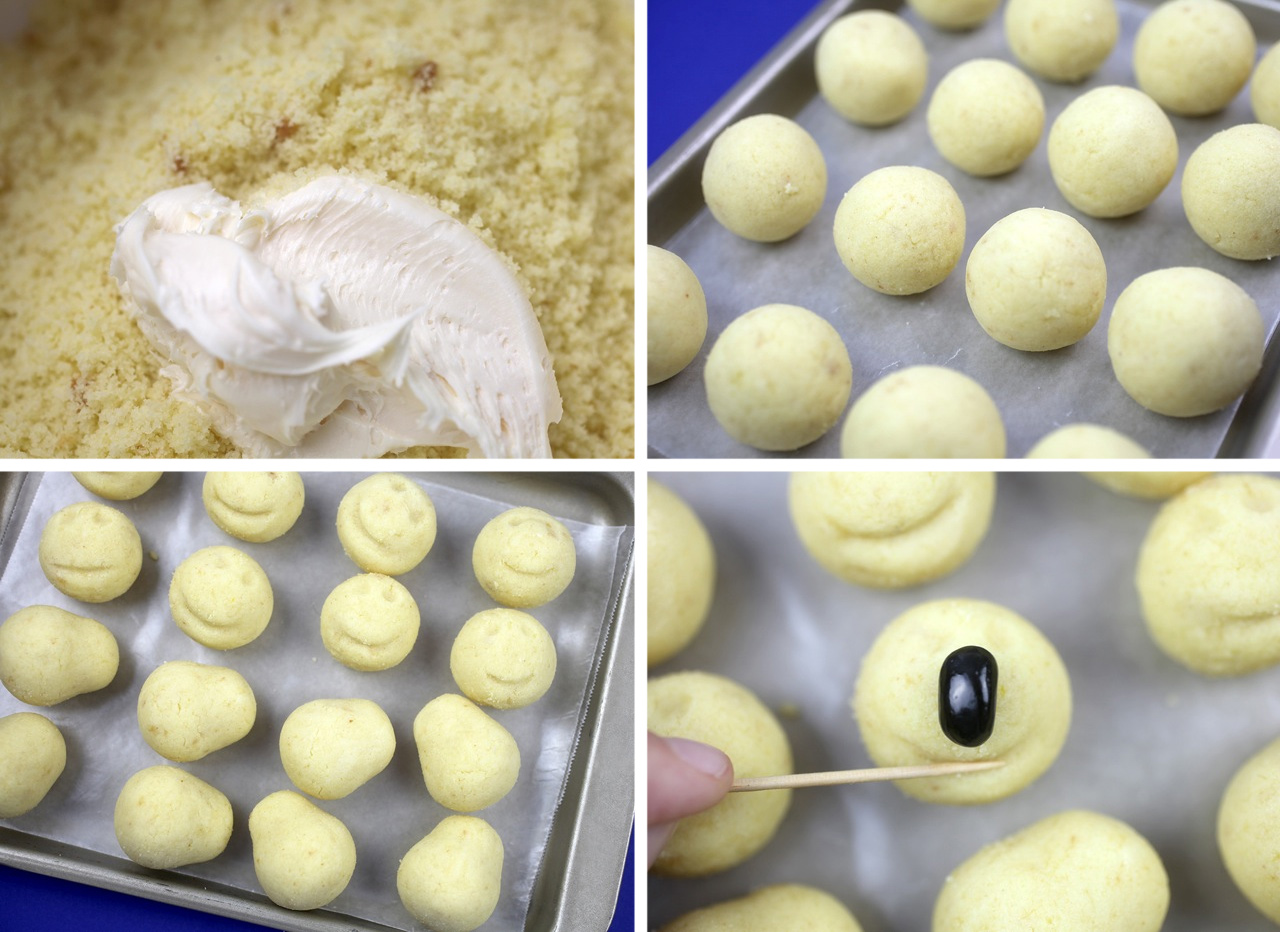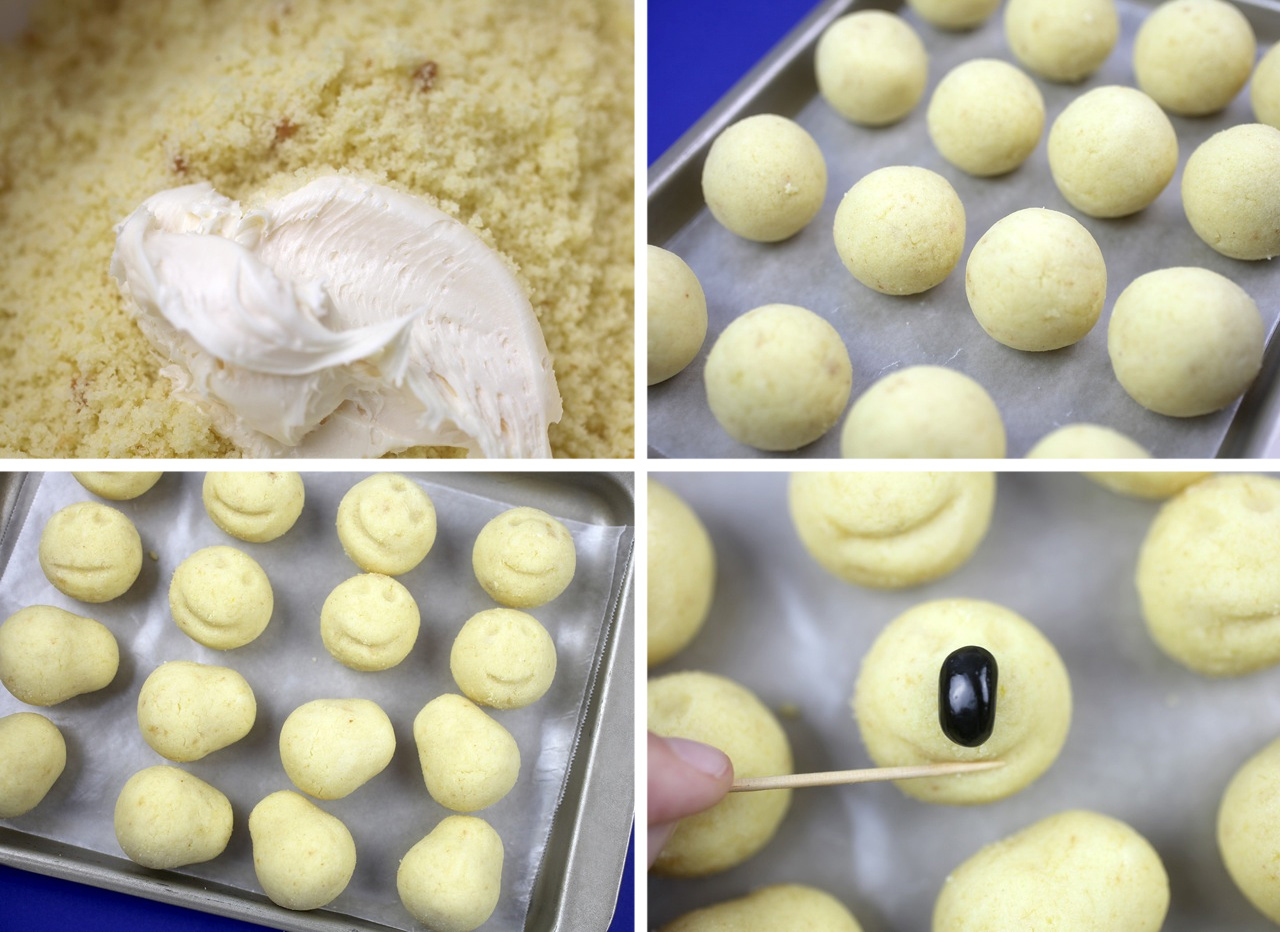 Here are my basic cake pop instructions to get you started and then keep reading the directions here to decorate.
Start with round cake balls to shape Buster's face. Use a toothpick to press into the ball and make a smile. This will help create his smirk after being dipped in candy coating. When shaping, you can place a jelly bean in position to help make sure your proportions are good.
After shaping, let them chill in the fridge to get firm before dipping.
Oh and those pear-shaped cake balls … well, I'll show you what they turn into in just a minute. But first let's make some gray candy coating.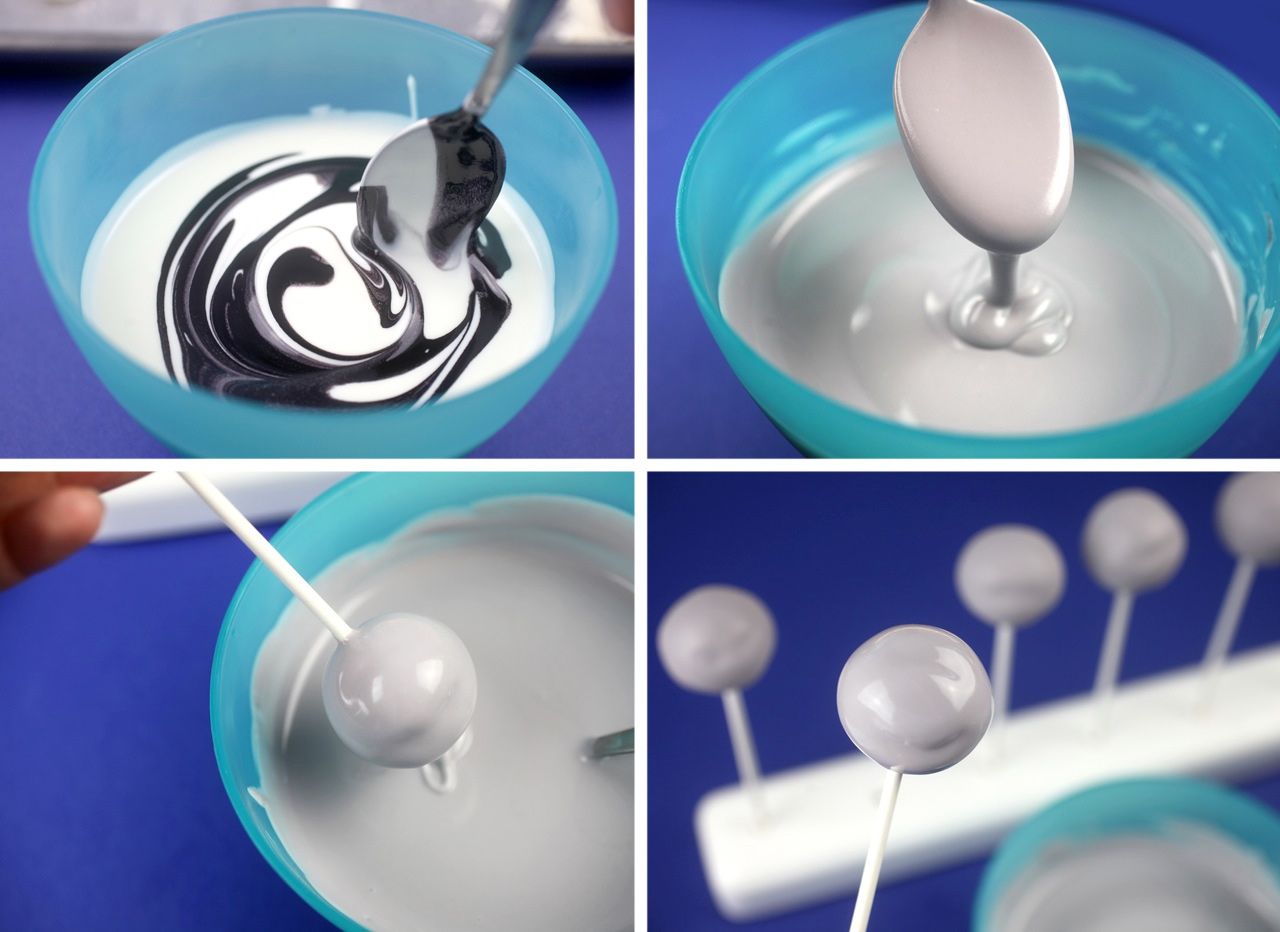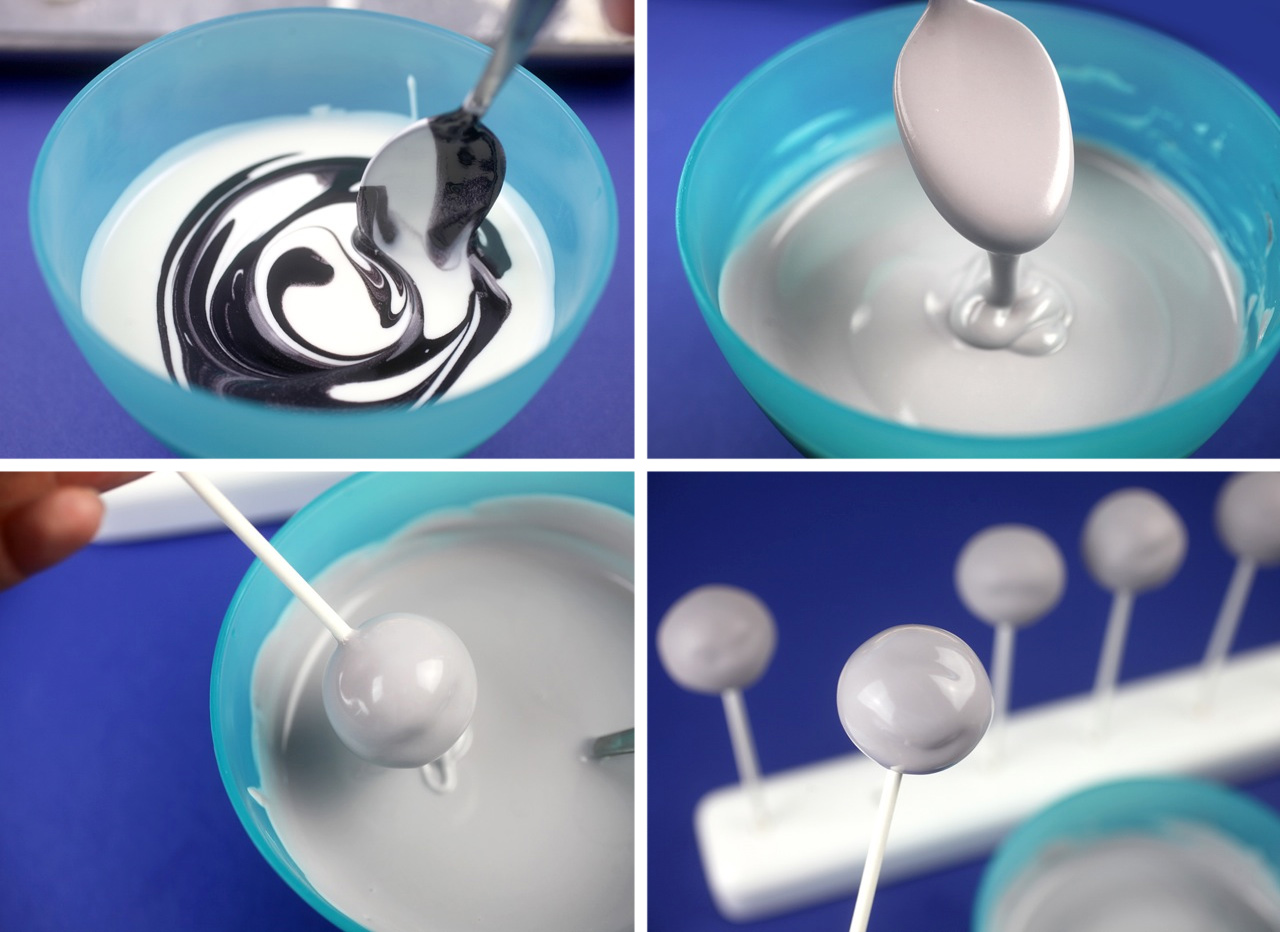 Melt white candy wafers until fluid and smooth. Mix in a small amount of black candy coloring (not food coloring) and stir until you achieve a light gray color.
When ready to dip, remove a couple of cake balls from the fridge at a time to work with and dip in the candy coating. Allow any excess coating to fall off and let dry completely.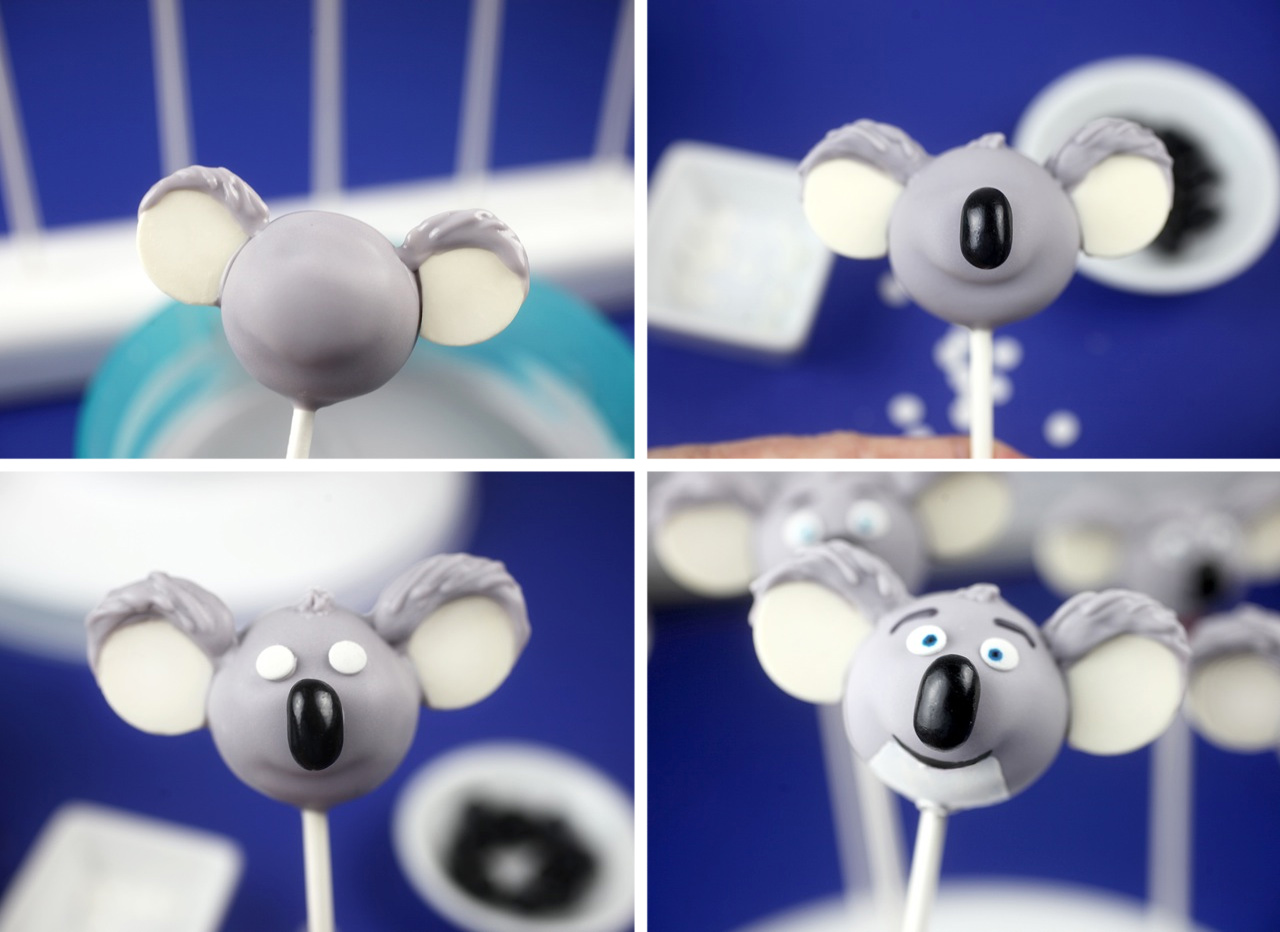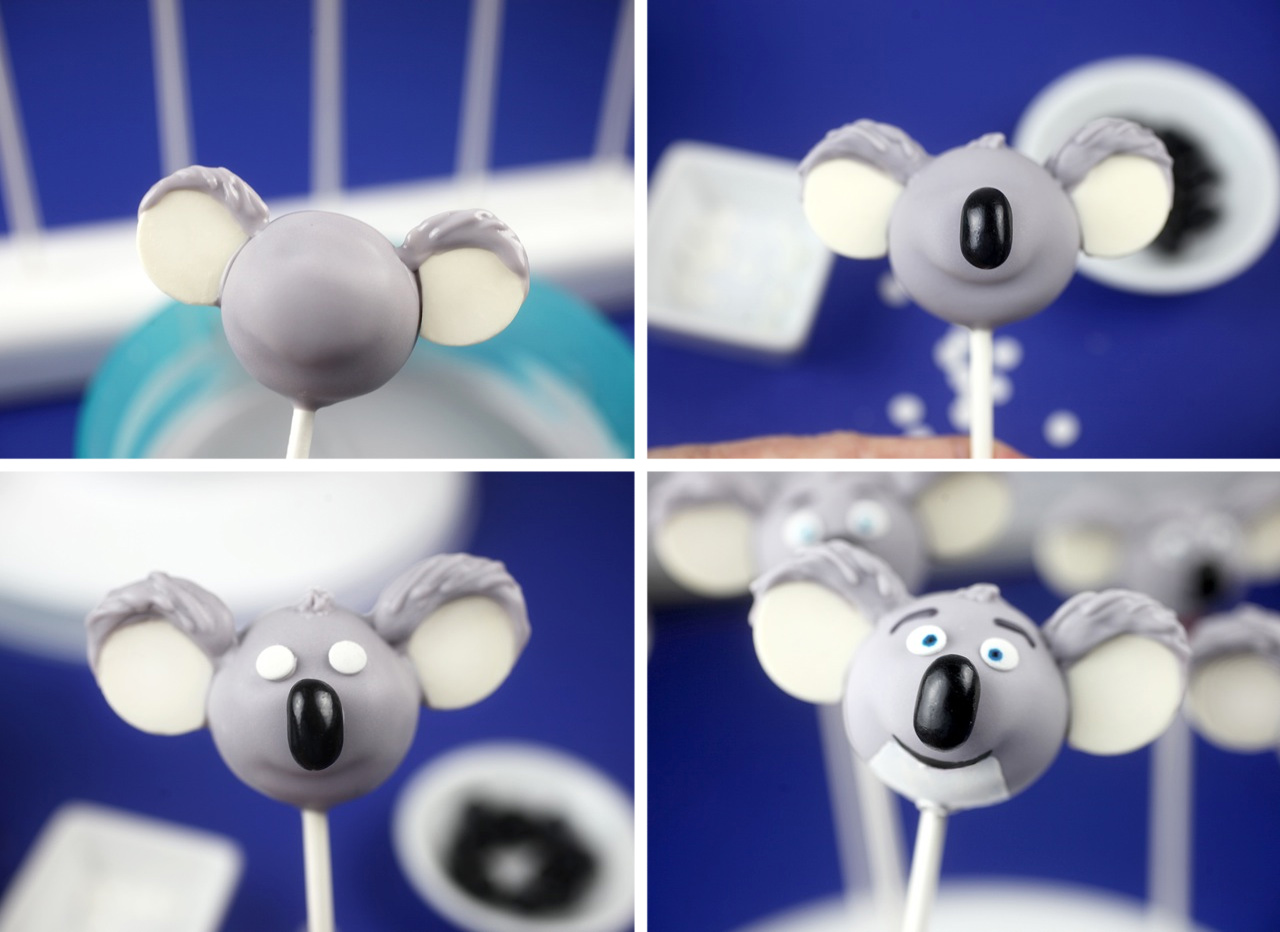 When dry, attach two previously cut candy wafers in position for ears using melted candy coating as glue. Apply tinted gray candy coating over the top of the ears using a toothpick. Let the first layer dry and you can then apply more to make it look fluffy and thick.
Use more coating to attach a jelly bean in position for the nose and two white confetti sprinkles for eyes.
To finish his face, draw on the eyes and mouth with blue and black edible ink writing pens. The eyebrows can be drawn on as well, or tint some of the gray coating darker with more black candy color and draw them on using a toothpick dipped in the coating.
For his chin, apply white candy coating or you can use white edible paint for a flat look like above.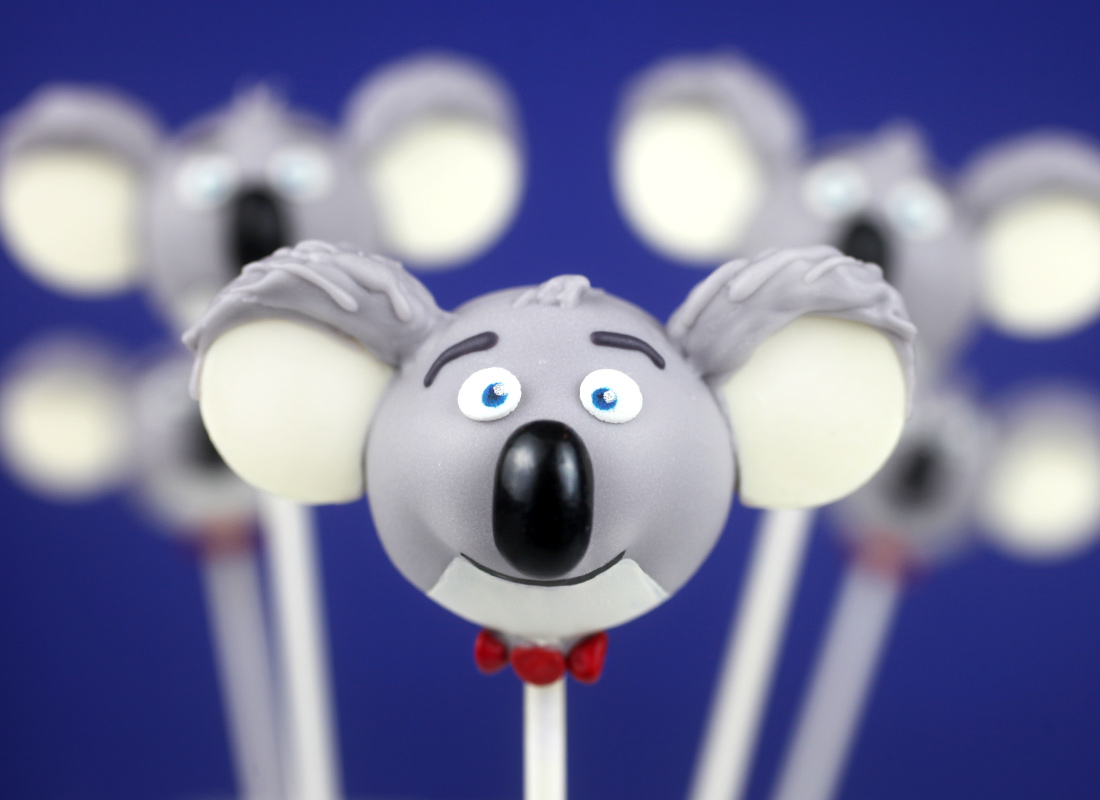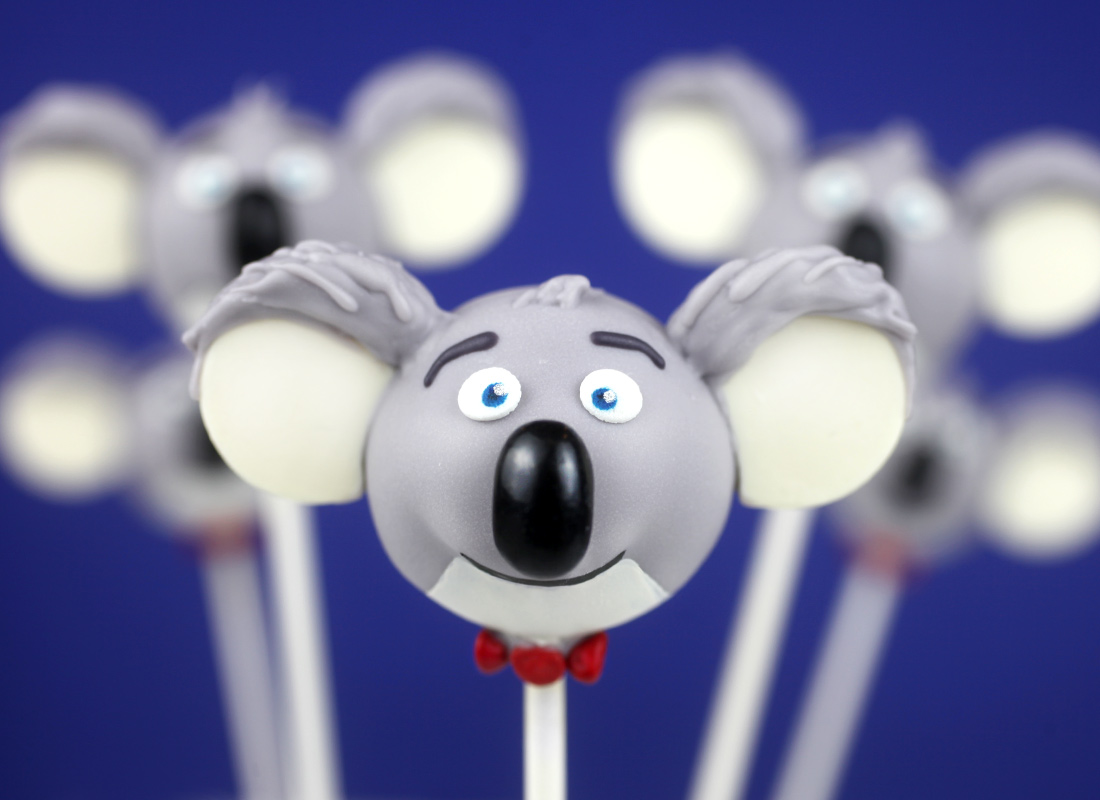 He's adorable already, but you can dress him up a but and use small red candies or sprinkles to make his little bow tie, Attach them to the bottom of his chin with melted candy coating. Here, I used three red rainbow chip sprinkles and they were a great size to match his character.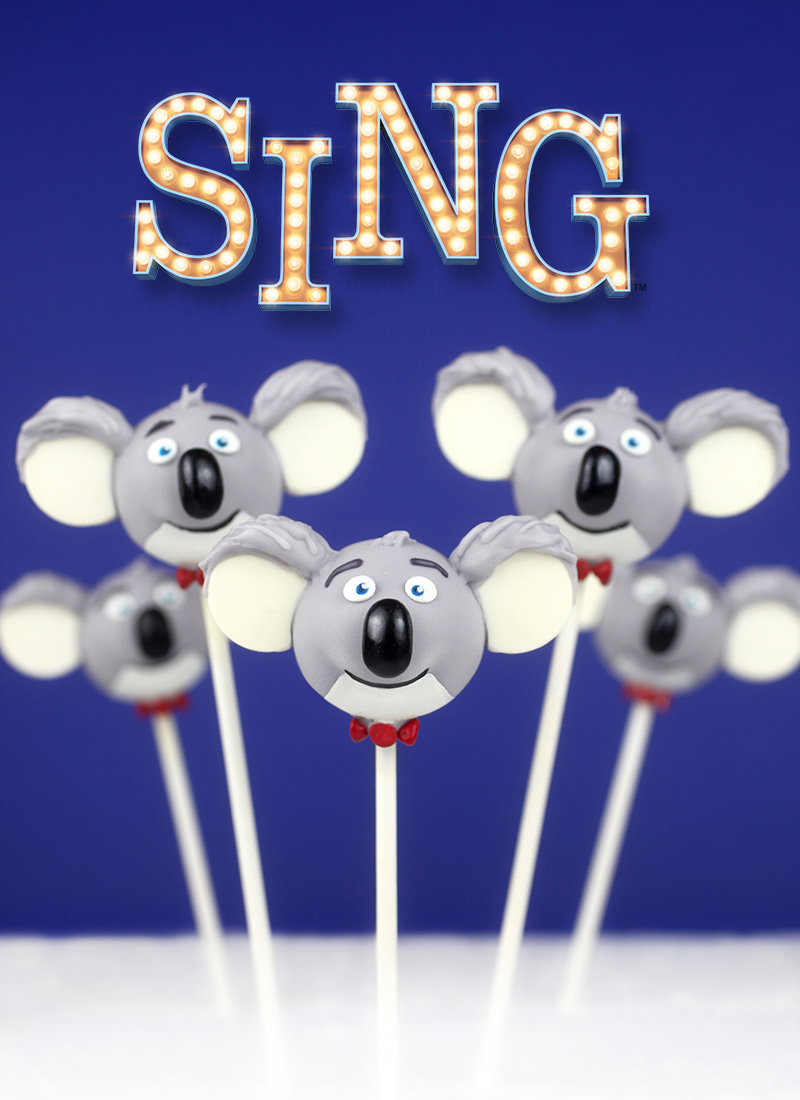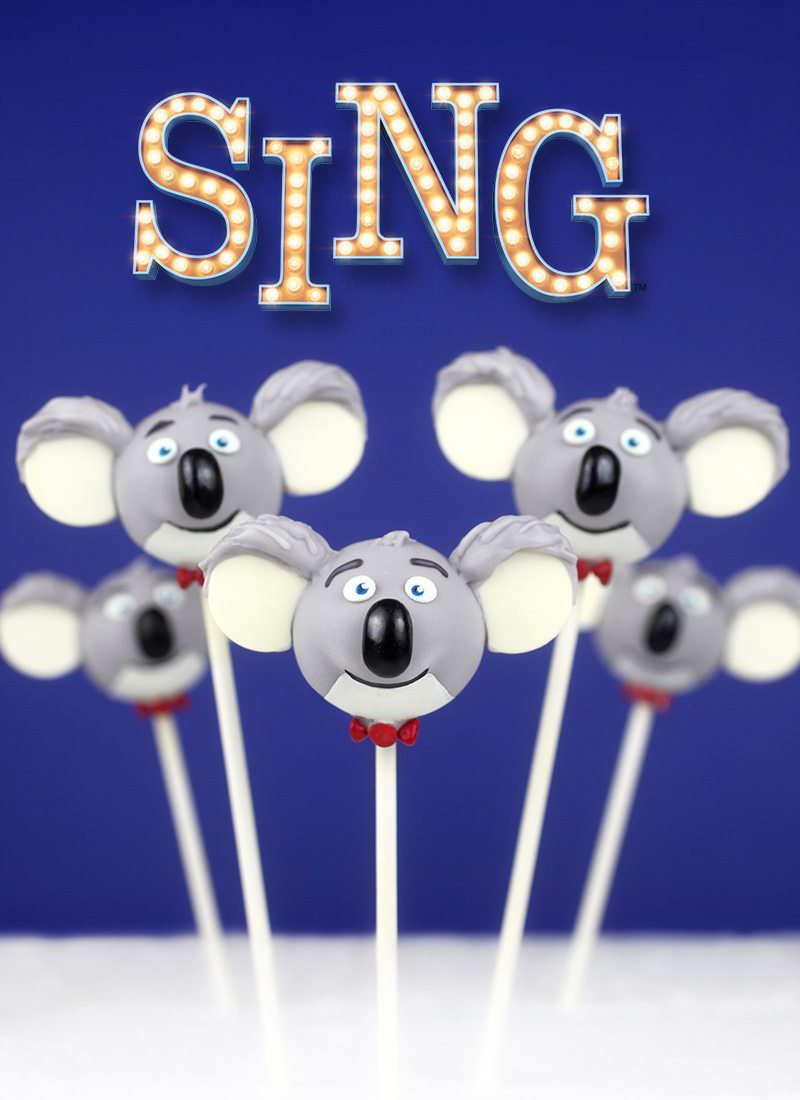 Buster Cake Pops. Too cute.
But what about those pear-shaped cake balls?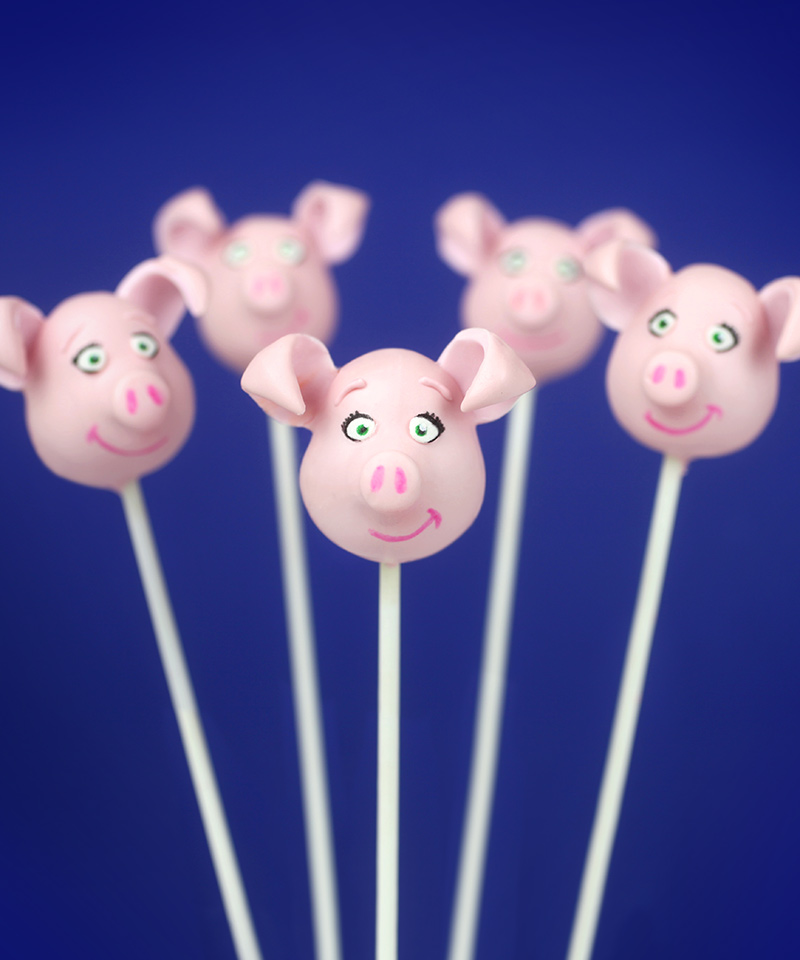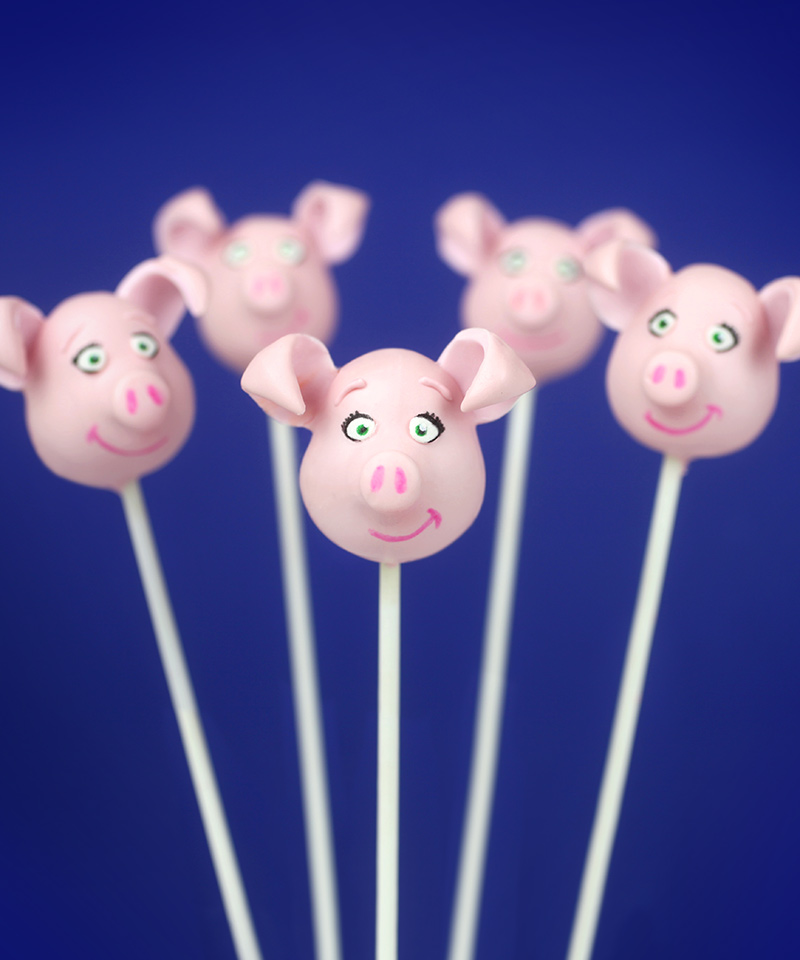 I made Rosita, one of the contestants in the singing competition, from the movie, too.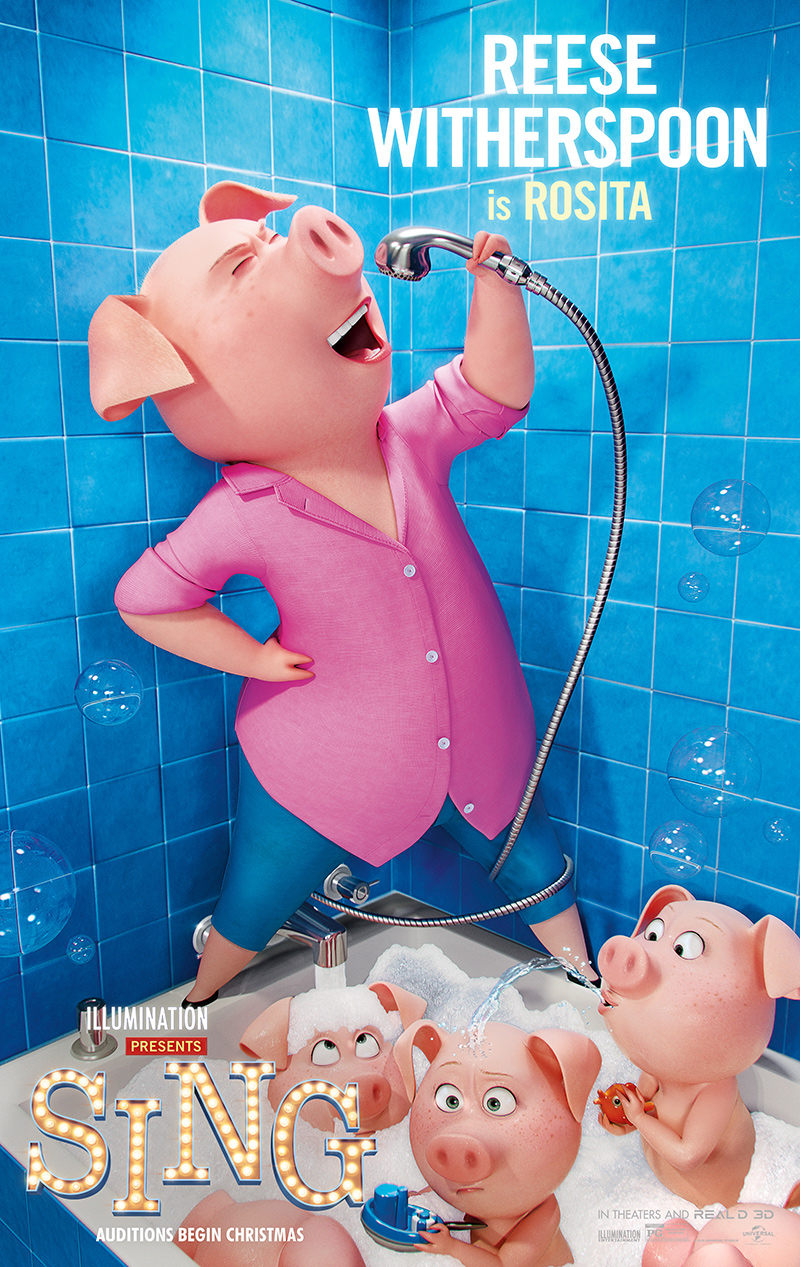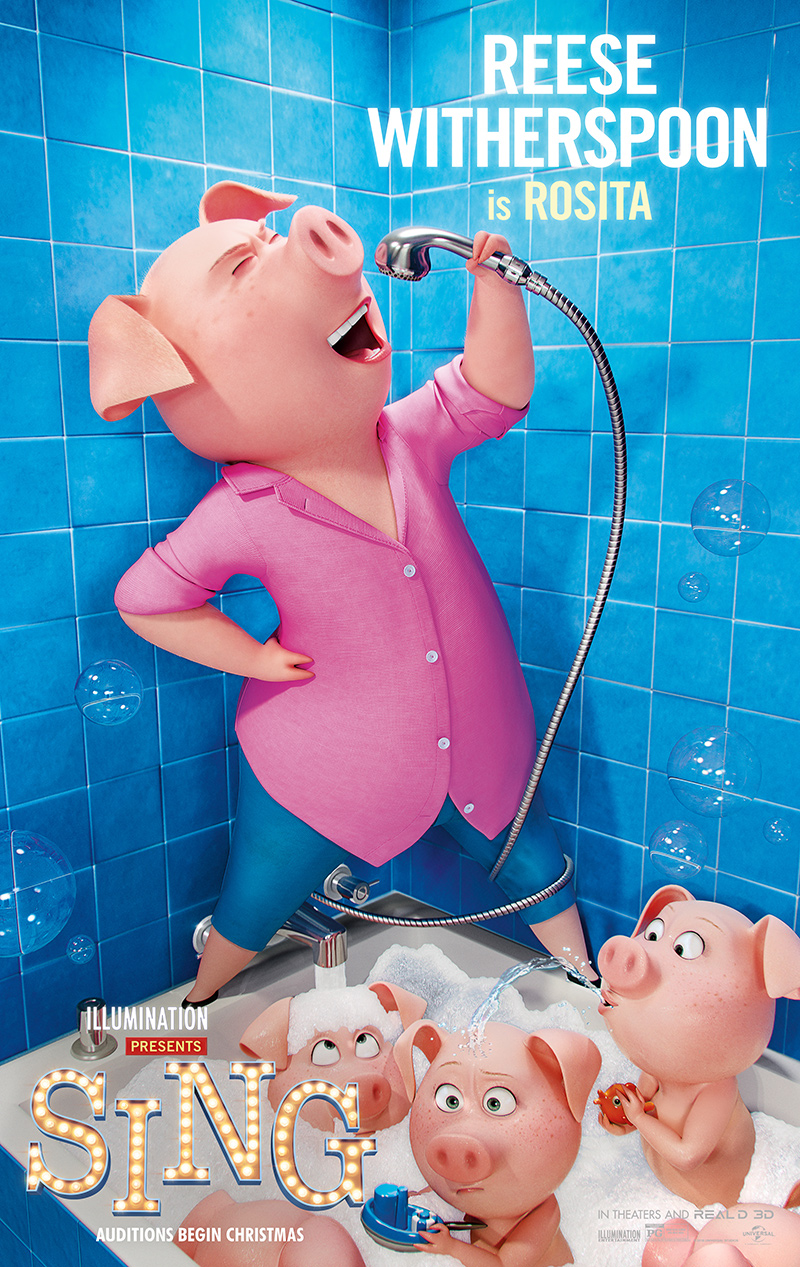 Rosita, played by Reese Witherspoon, is an overworked mom trying to take care of her 25 piglets. Now, let me show you how to make her into a cake pop.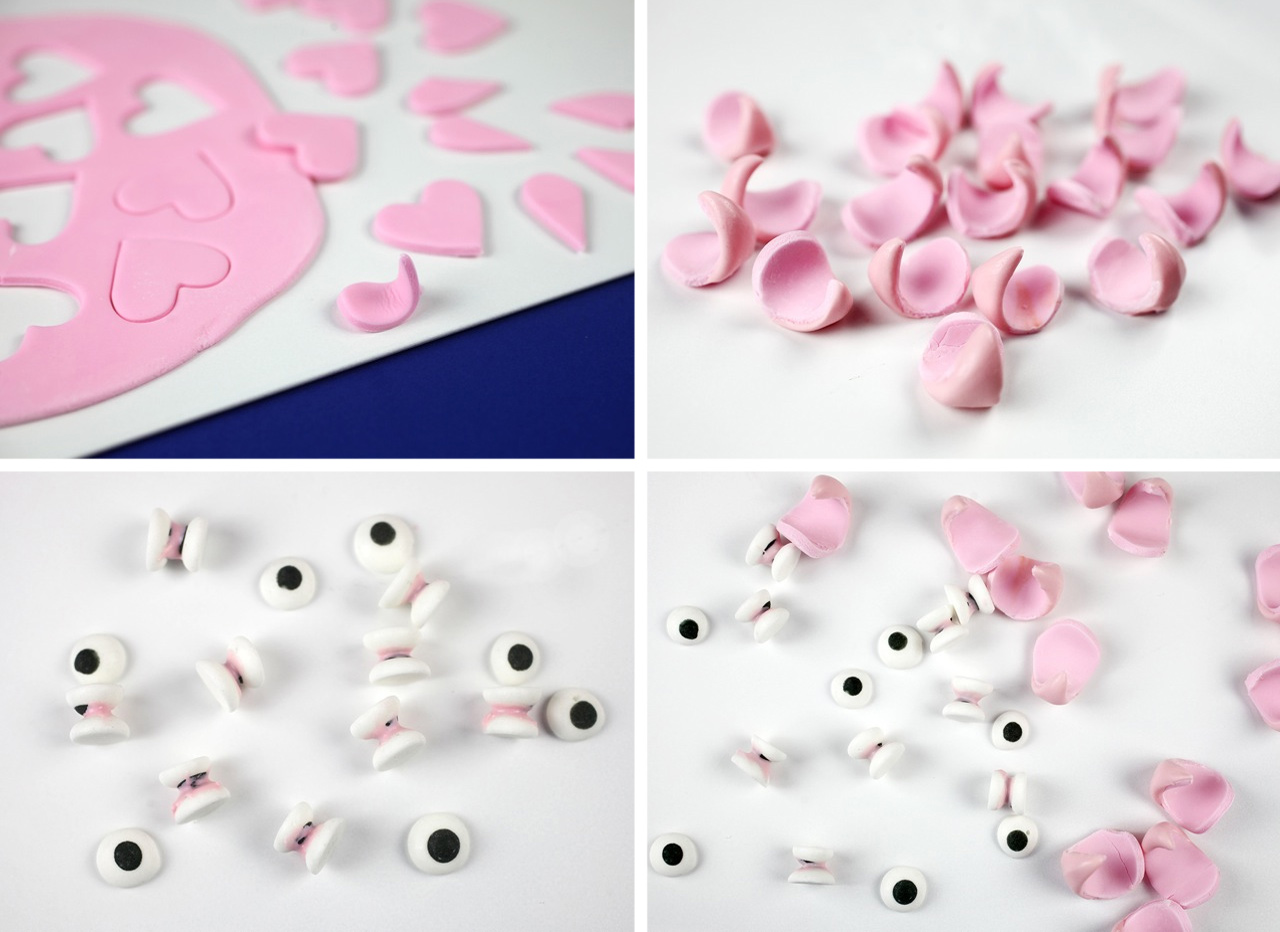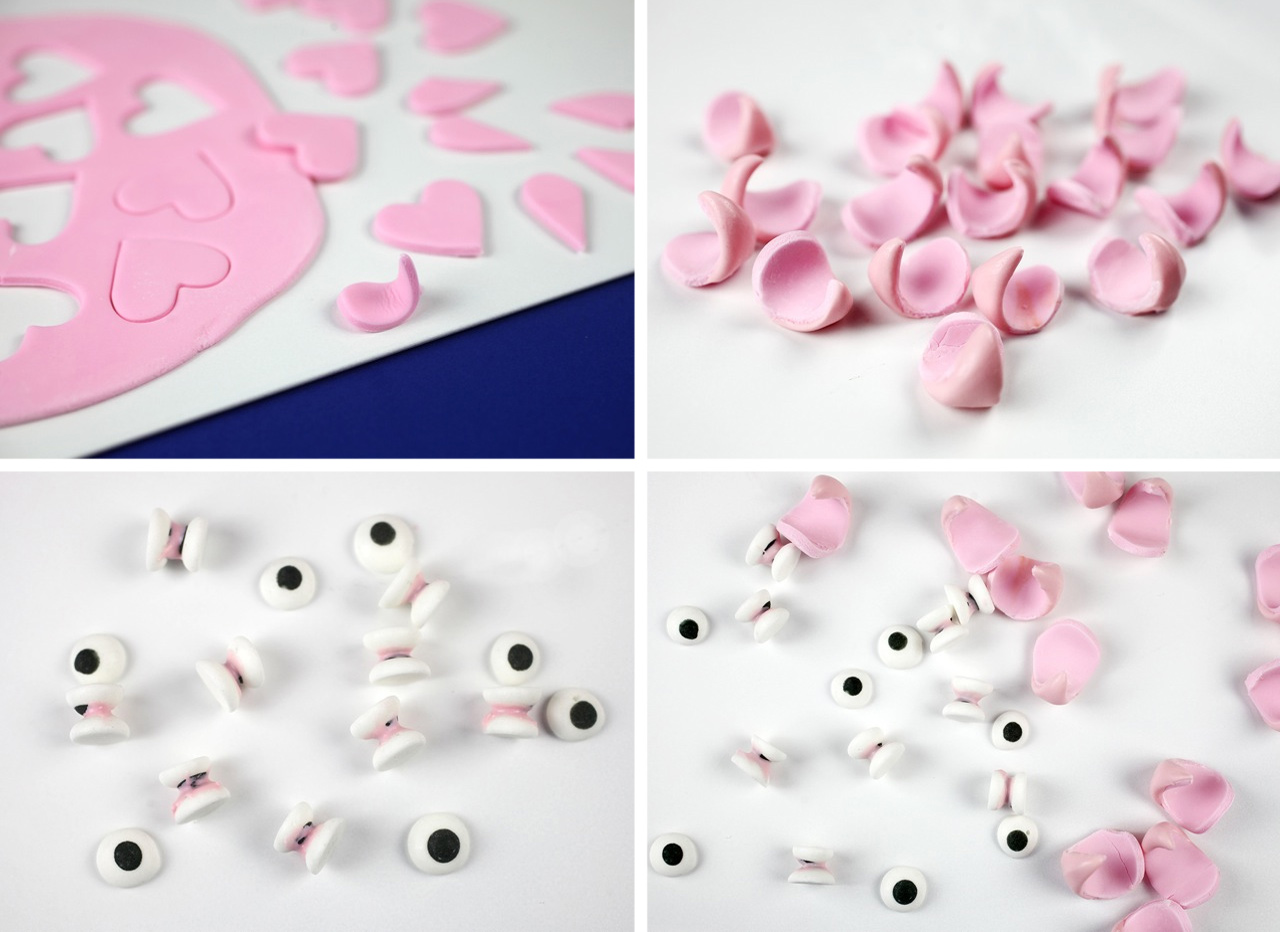 To make Rosita, prepare the ears and snouts first.
The ears were made of light pink-tinted fondant. I cut small hearts out of the fondant and then cut the hearts in half and curled them. When the fondant dries out a bit, dip the tops in melted pink candy coating so they will be the same color as Rosita's head.
I made the snout using two candy eyes glued together with pink candy coating. Other candies would work, but I had these handy and they made the right size for her snout.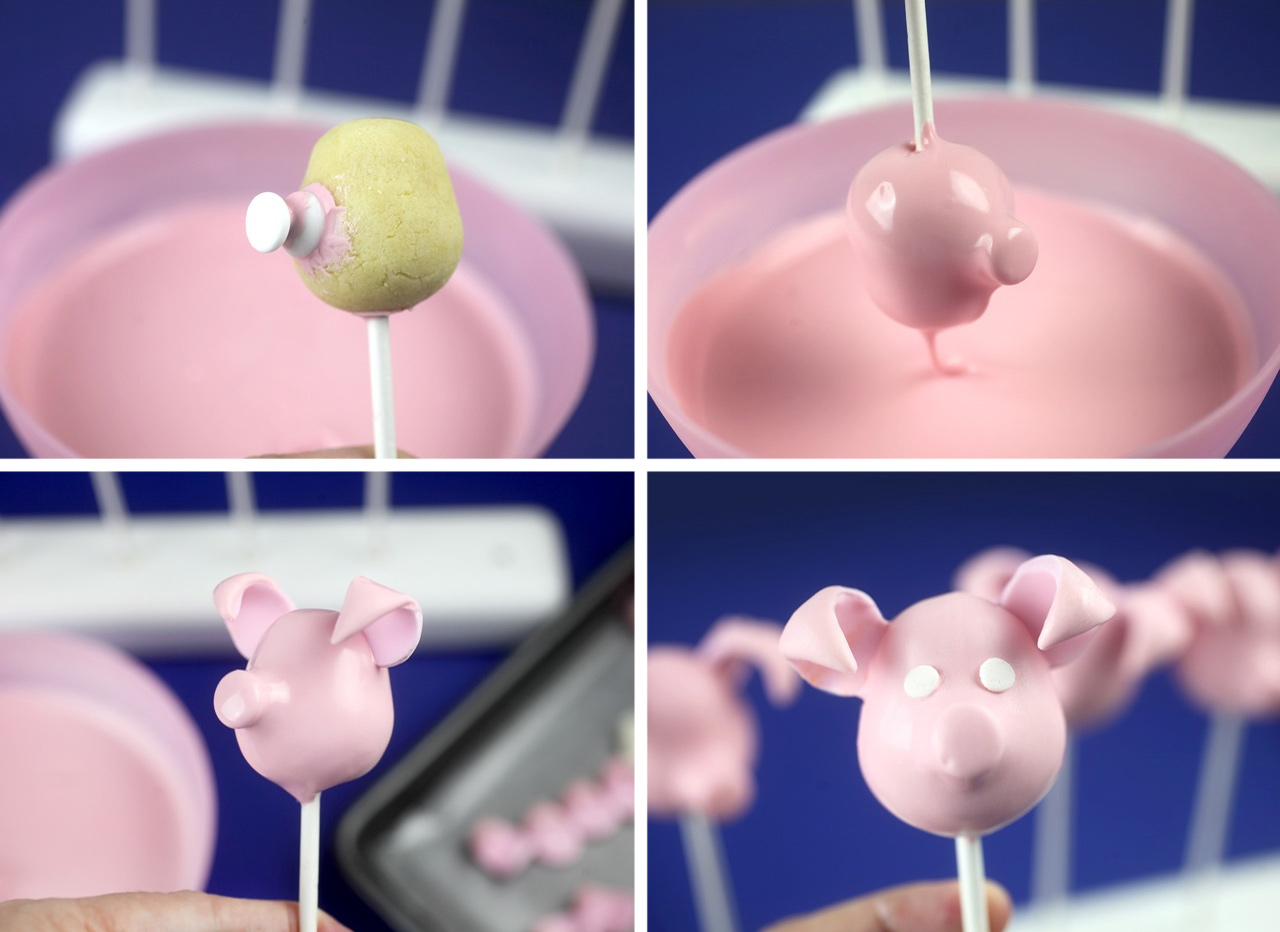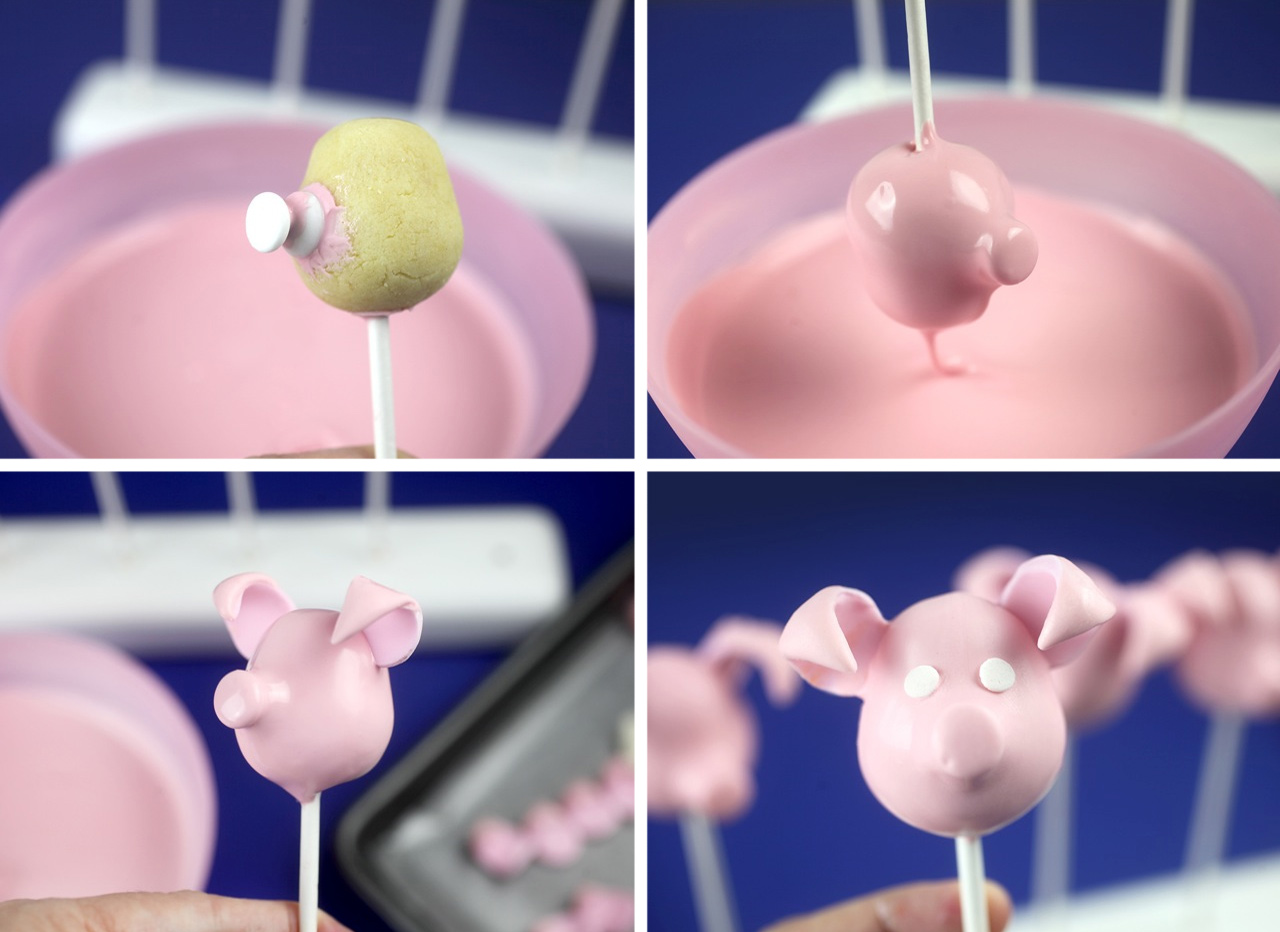 Before dipping attach a prepared snout to the front of a pear-shaped cake ball and dip in melted pink candy coating. Gently tap off any excess and before the coating dries, attach two ears on either side of the head and let dry completely.
Then attach two white confetti sprinkles for eyes.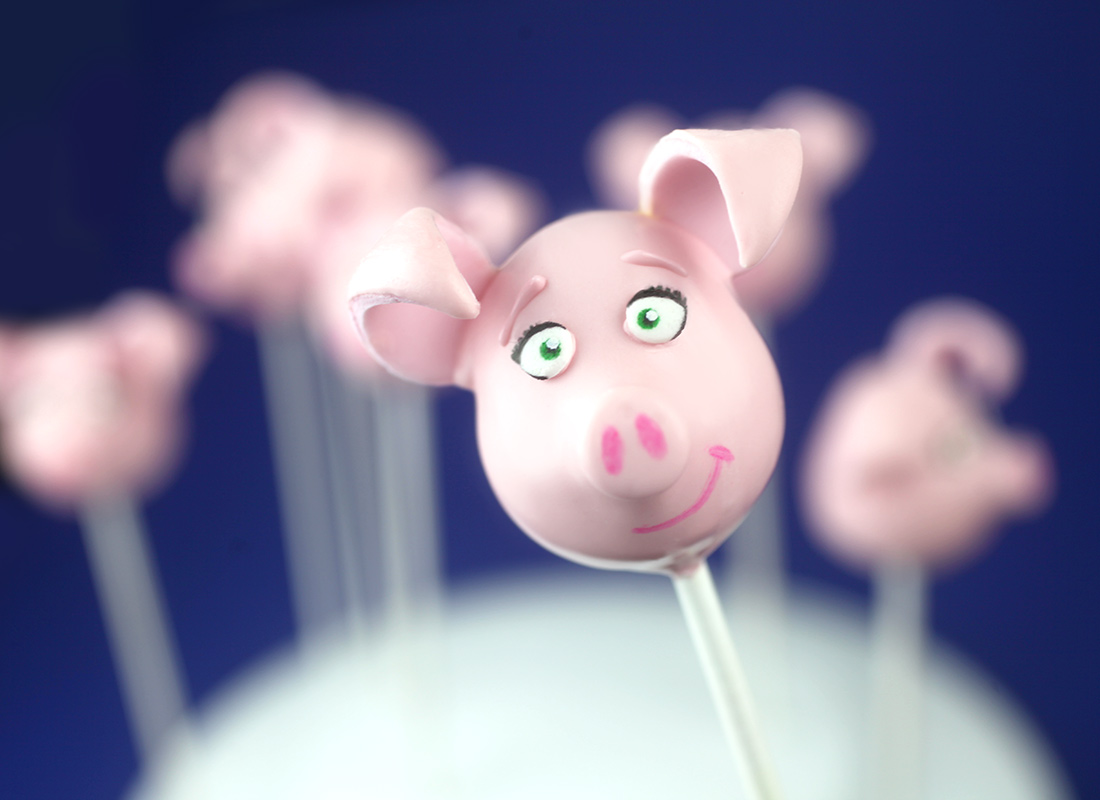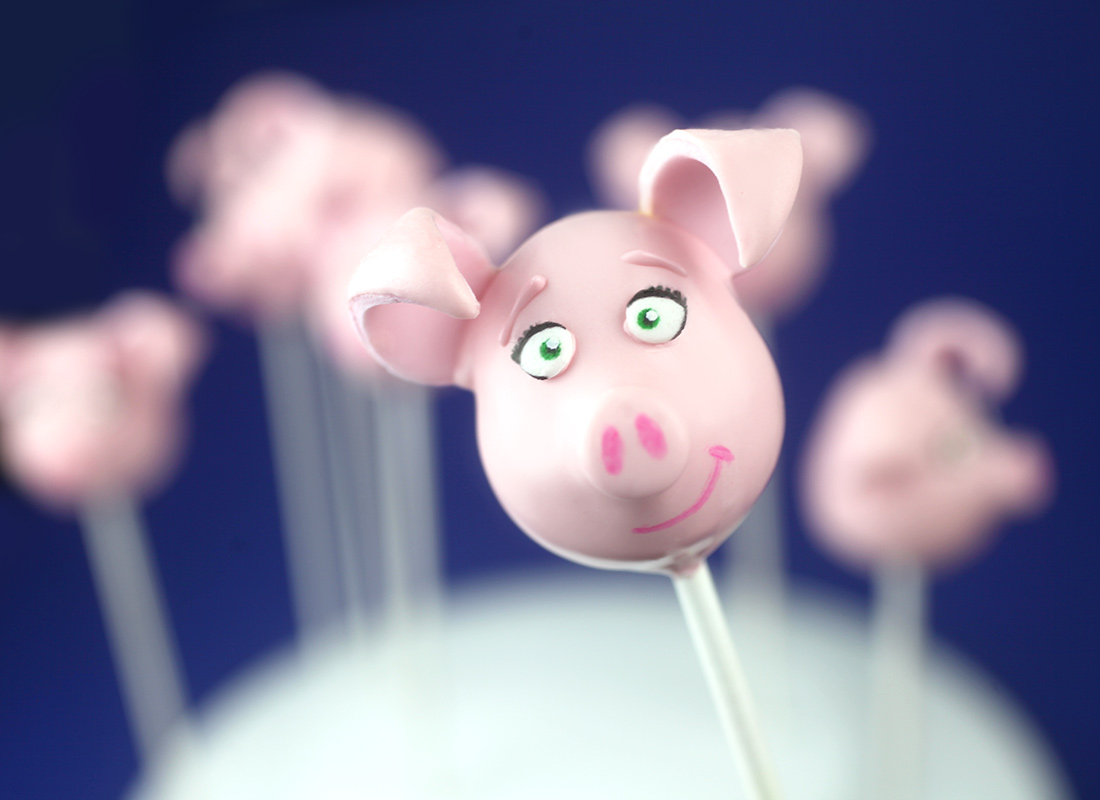 To finish her face, draw on eyes, eyelashes and mouths with green, black and pink edible ink writing pens.
Draw on eyebrows with a toothpick dipped in pink candy coating.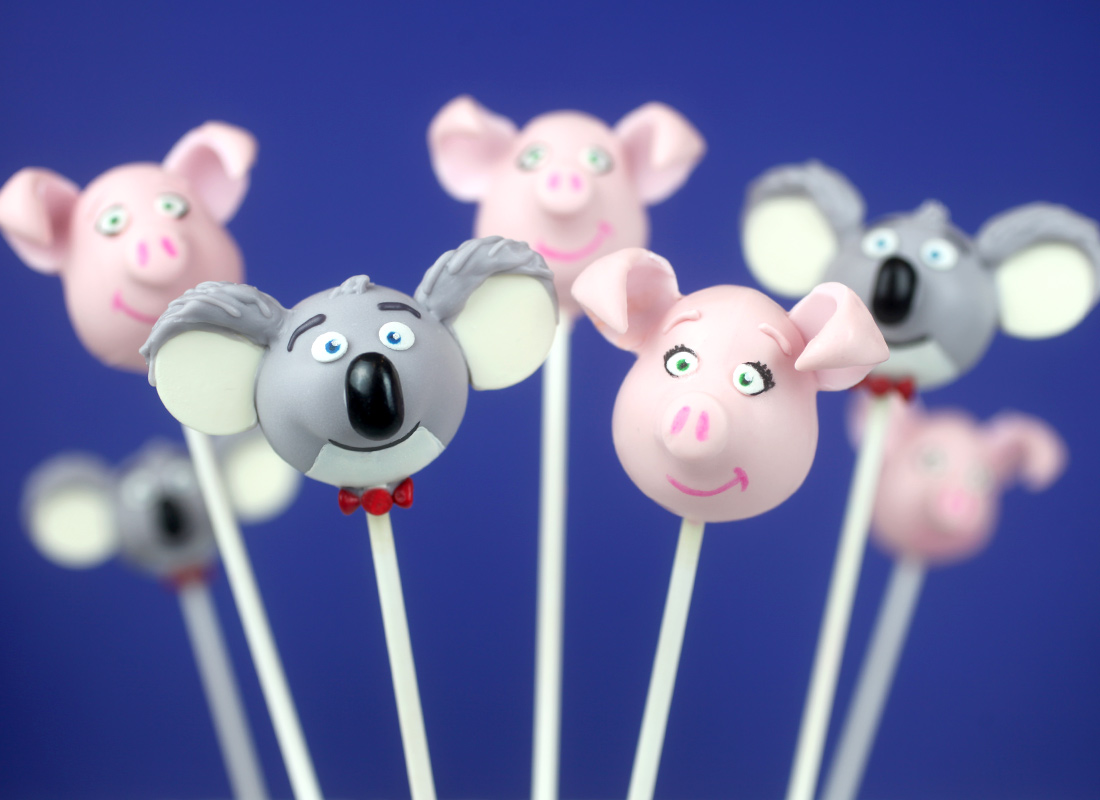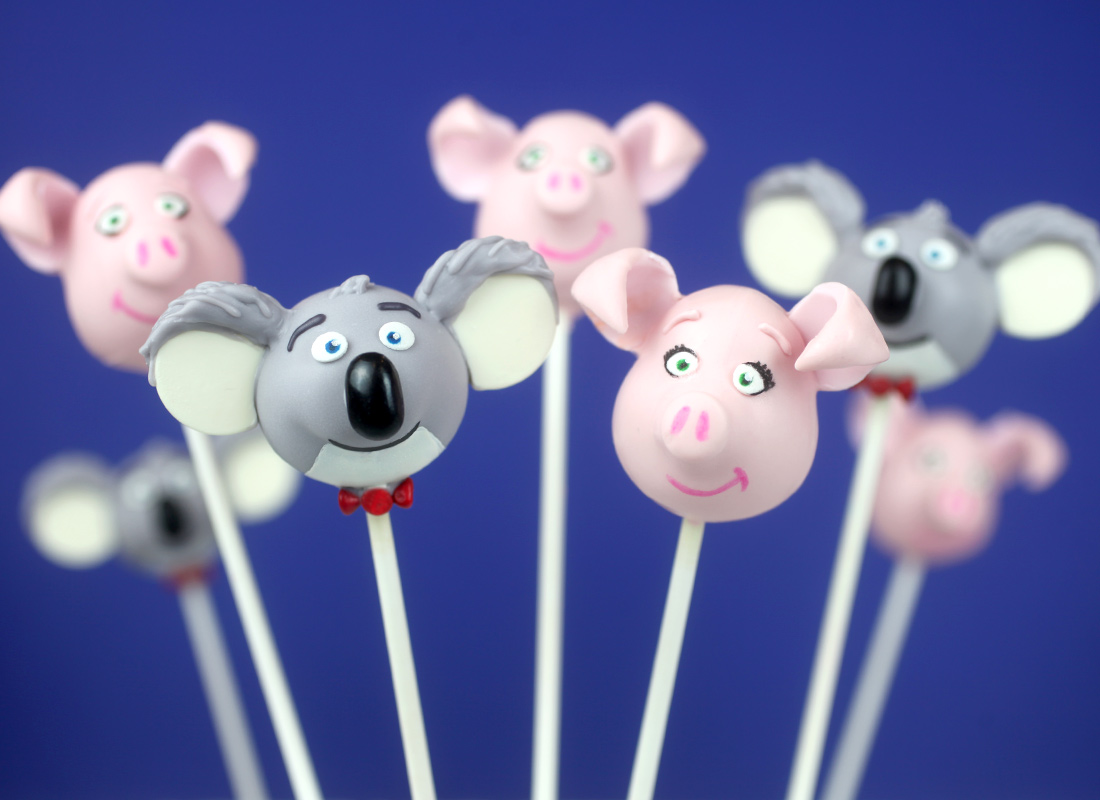 I just wish I had time to make the whole cast of characters because they are all cute. Check them out in the trailer below and I bet you'll want to see this movie as much as I do. It looks so fun!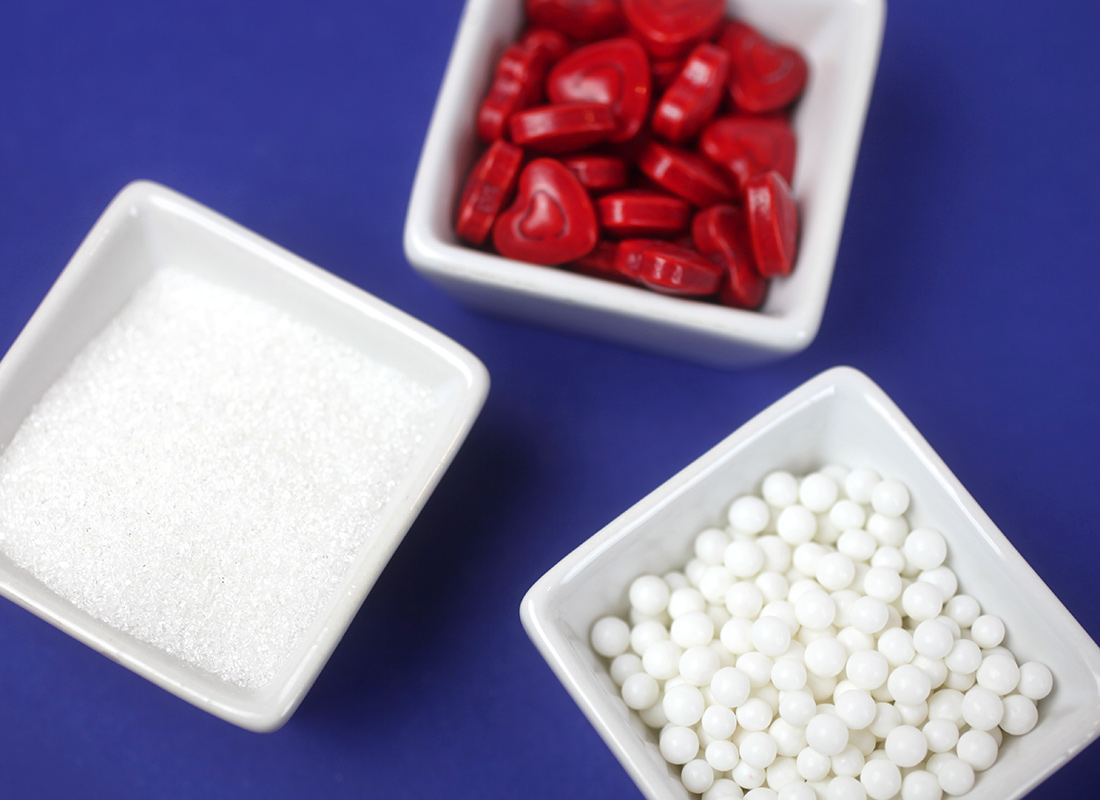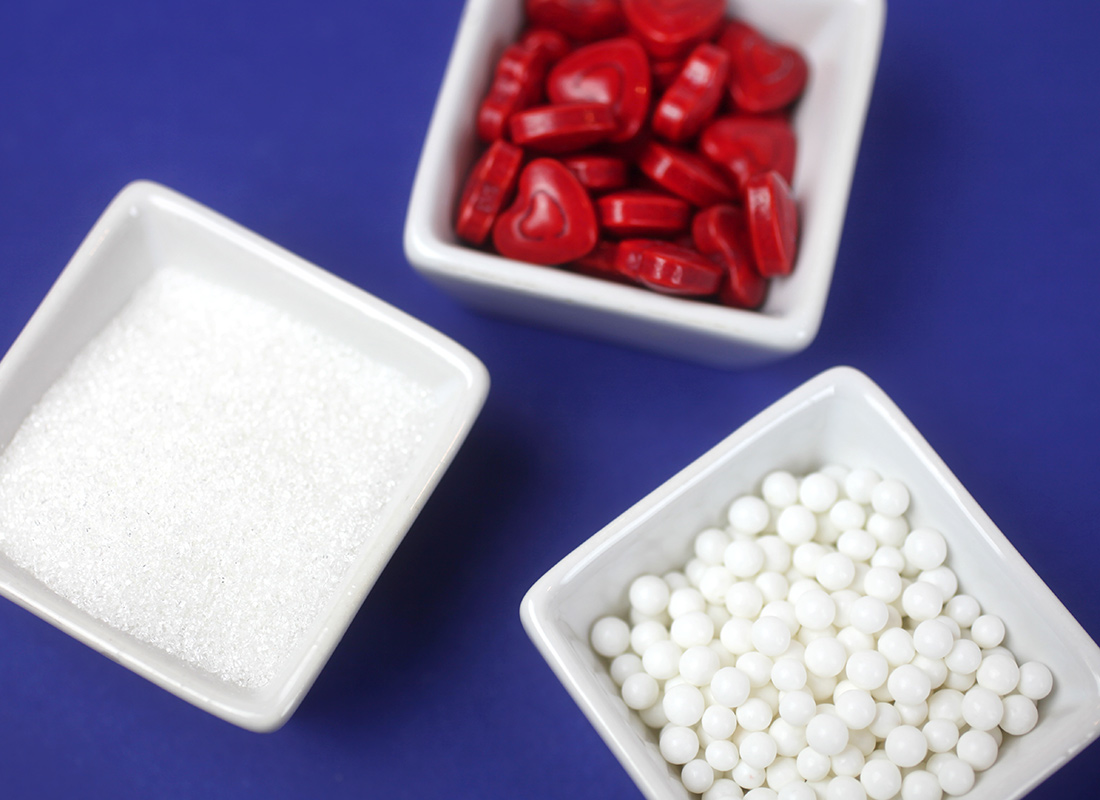 Wait, before you go, let's make some mini Santa hats. I used red jumbo heart candies, white sugar pearls and white sanding sugar.
Dip the heart in white candy coating and place on top of a character's head. Sprinkle with sanding sugar before it dries and then attach a sugar pearl on top of the hat with a small dot of white candy coating to glue.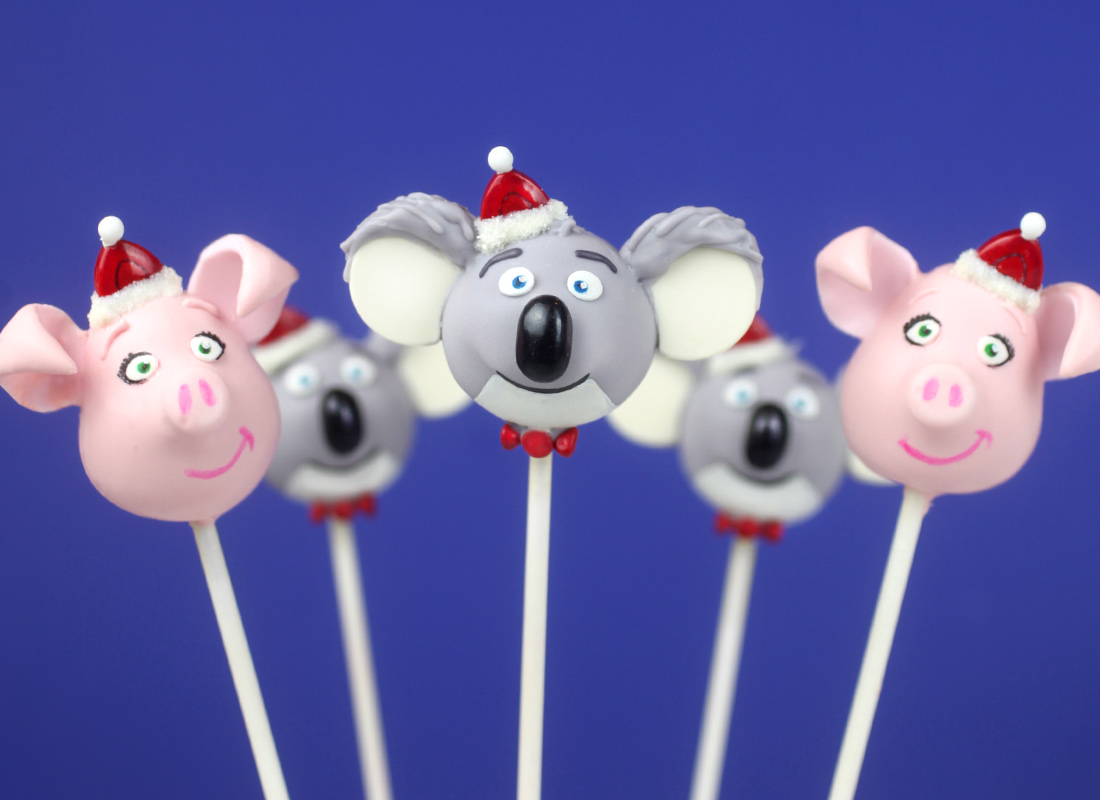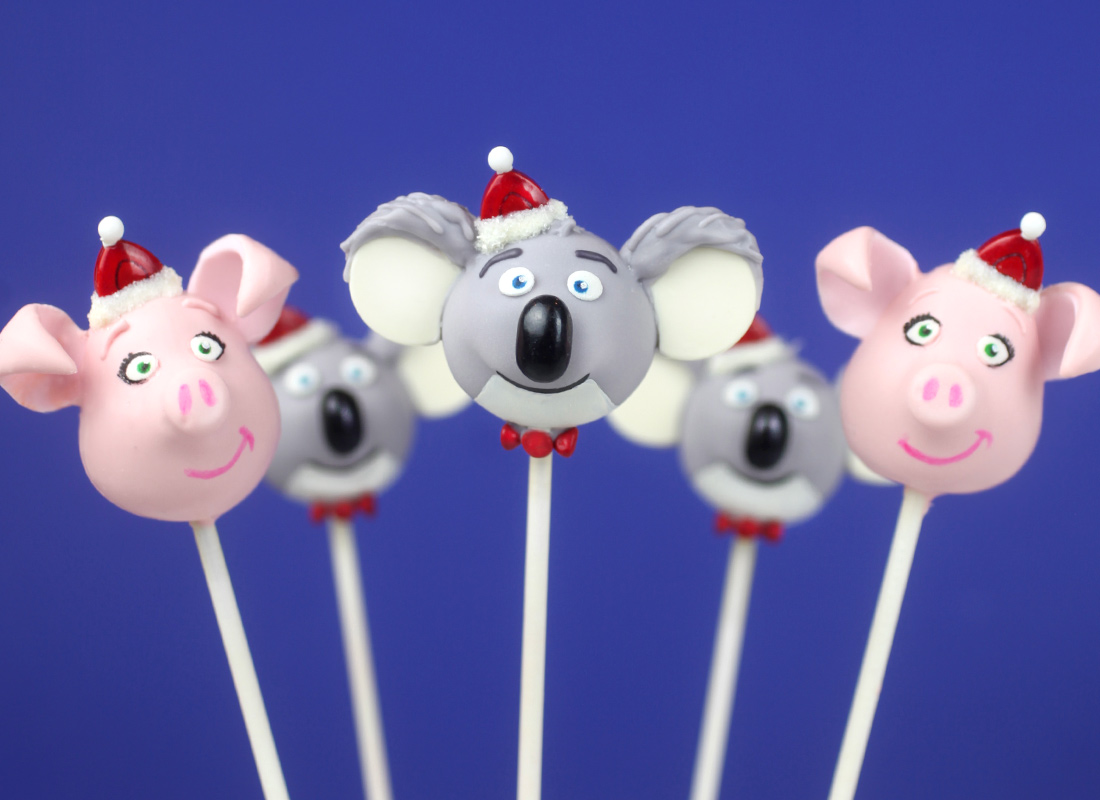 Now, they're ready for the holidays.


ABOUT THE FILM Sing stars Buster Moon (Matthew McConaughey), a dapper koala who presides over a once-grand theater that has fallen on hard times. He has one final chance to restore his fading jewel to its former glory by producing the world's greatest singing competition. Five lead contestants emerge: Mike (Seth MacFarlane), a mouse who croons as smoothly as he cons; Meena (Tori Kelly), a timid teenage elephant with an enormous case of stage fright; Rosita (Reese Witherspoon), an overtaxed mother run ragged tending a litter of 25 piglets; Johnny (Taron Egerton), a young gangster gorilla looking to break free of his family's felonies; and Ash (Scarlett Johansson), a punk-rock porcupine struggling to shed her arrogant boyfriend and go solo. Each arrives under Buster's marquee believing that this is their shot to change the course of their life. And as Buster coaches each of his contestants closer and closer to the grand finale, he starts to learn that maybe the theater isn't the only thing that is in need of saving. Sing arrives in theaters on December 21, 2016.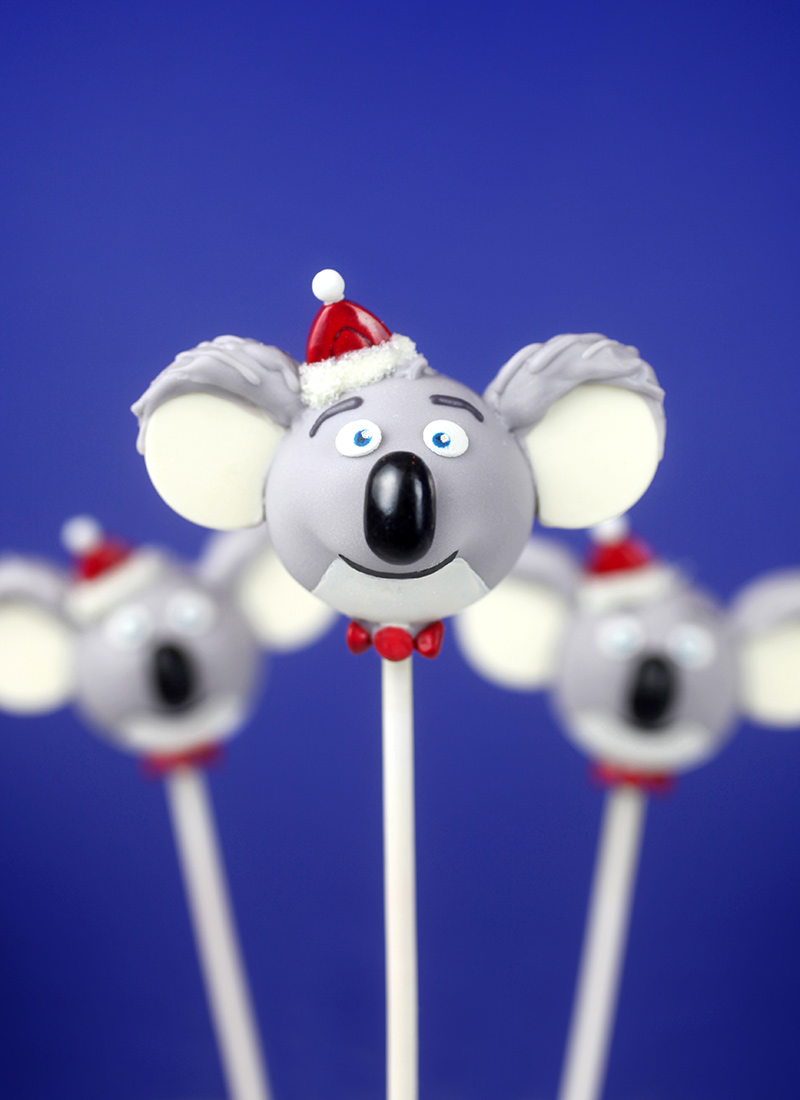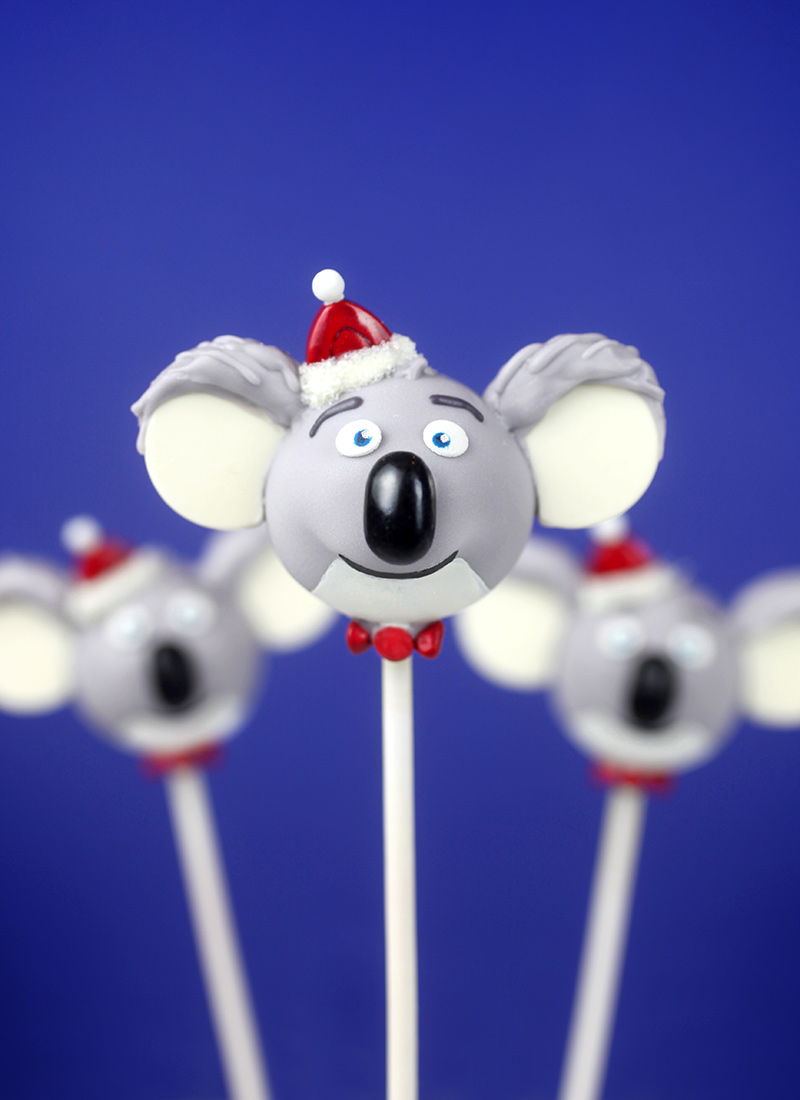 Hope you enjoy these and the movie, too!
This post in partnership with Universal Pictures.