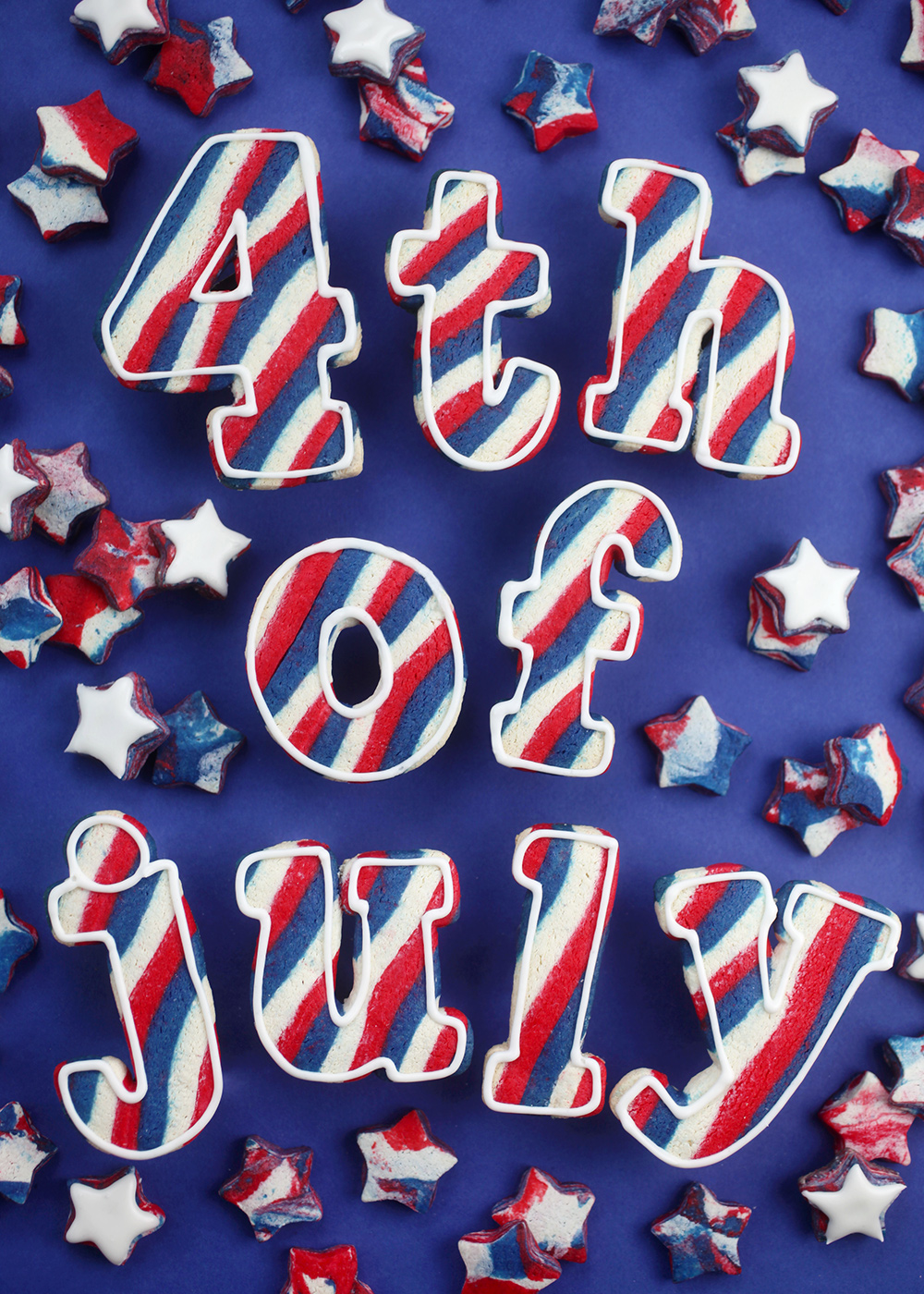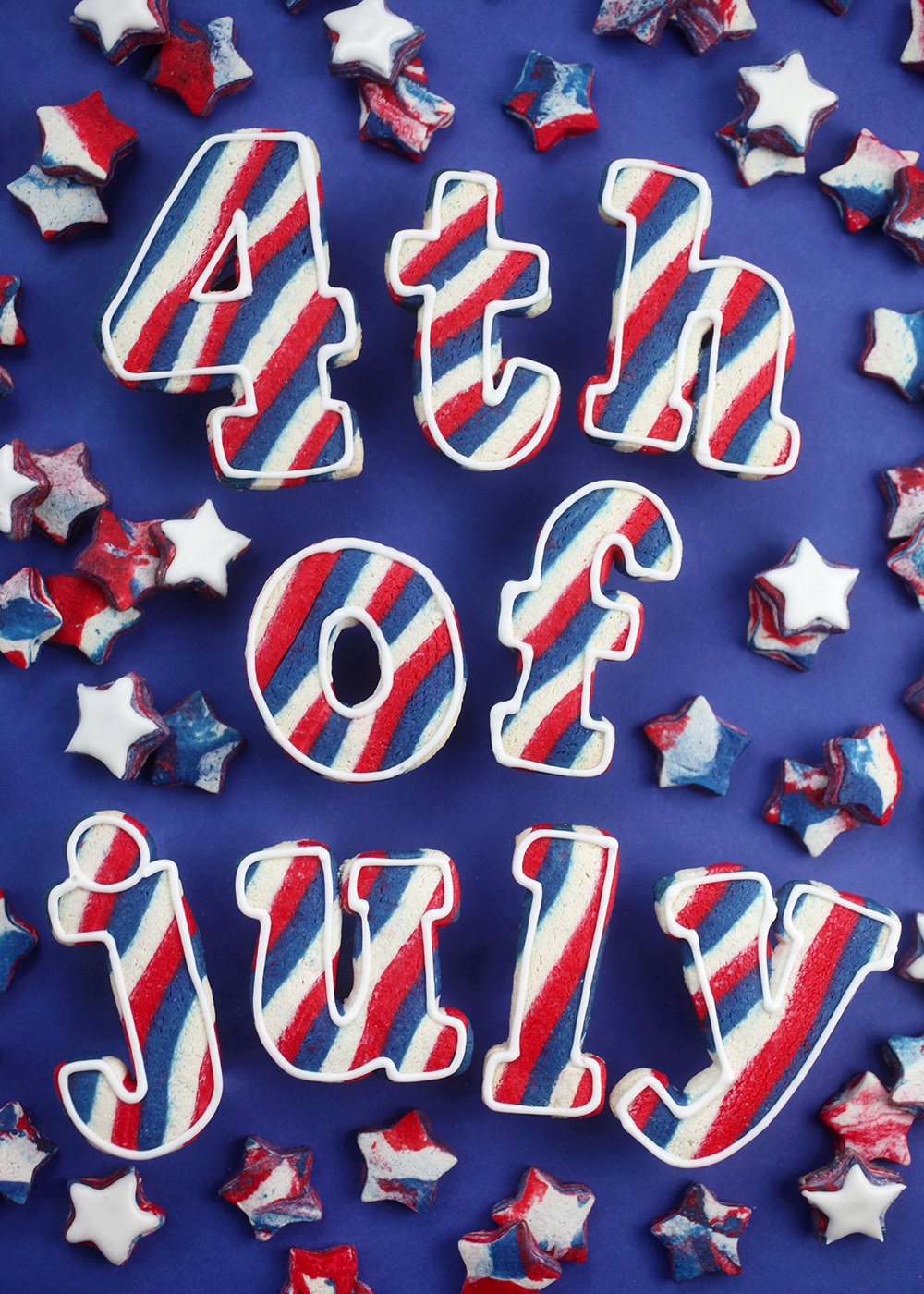 These cookies scream fun and festive for the Fourth of July. I wanted to try making sugar cookies that were striped, but without having to pipe them with royal icing because I think I would have made a mess with that. So I took the concept of pinwheel cookies and instead of rolling up the dough, I layered it flat. Want to see?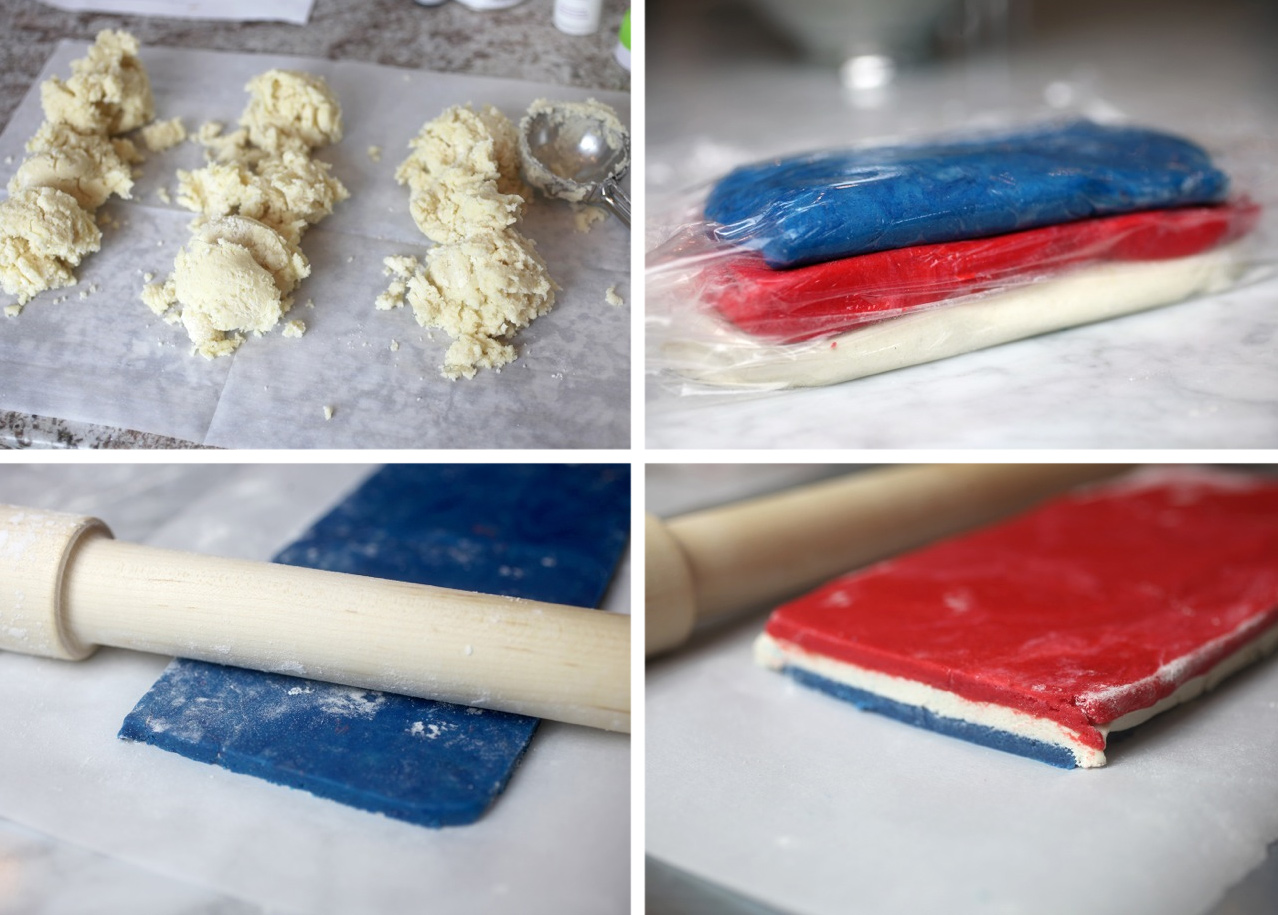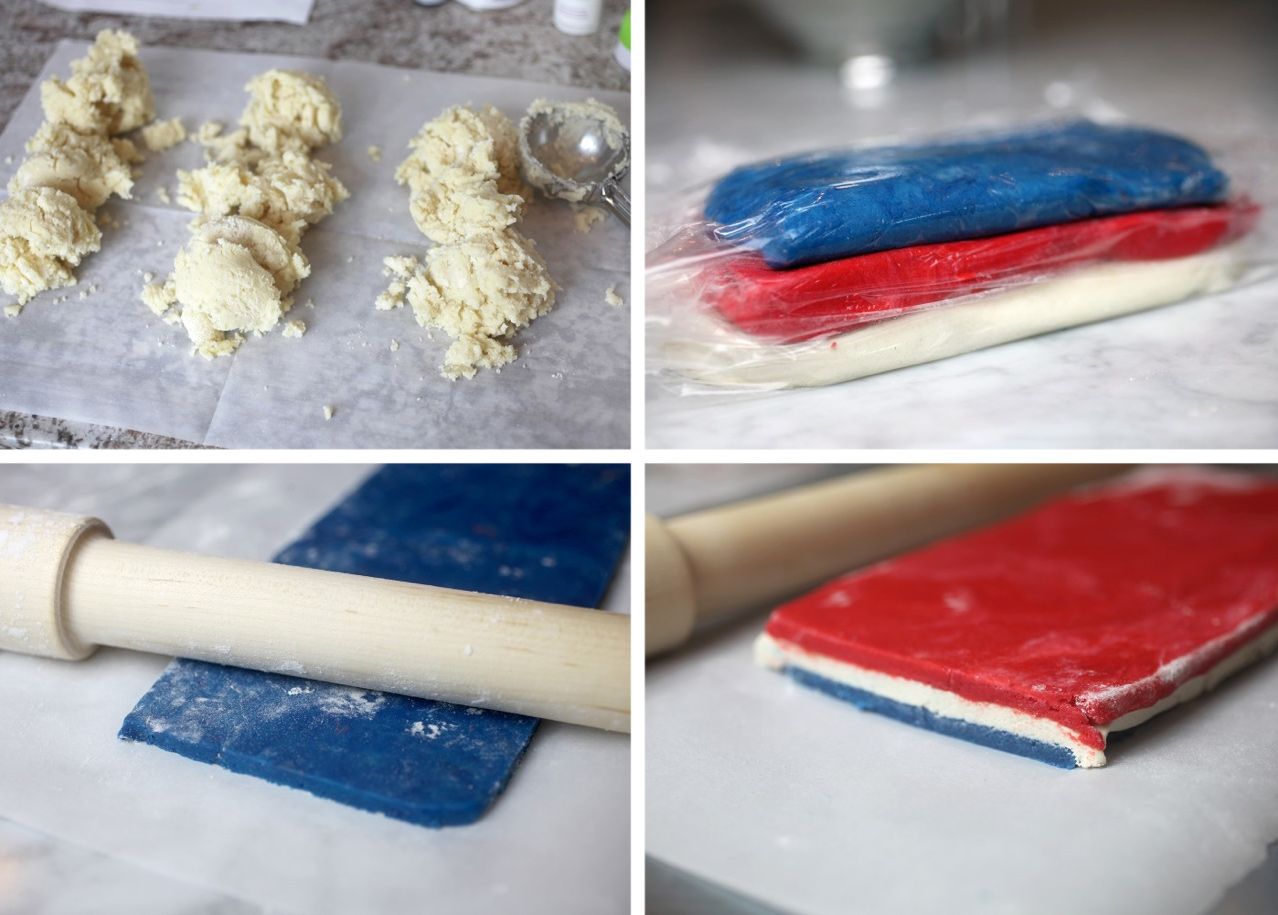 Okay, first I divided some sugar cookie dough into three equal parts. I used this recipe and removed it from the mixing bowl, just before it all came together. Then I placed 1/3 of the dough back in the bowl and added a few drops of white icing color. You could go with the natural color of the cookie dough here, but I used white to make it a little brighter.
Mix the dough just until the color is incorporated and then place dough on a sheet of plastic wrap dusted lightly with flour. Shape dough into a flattened rectangle and wrap up to chill. Repeat with remaining dough, using a few drops of super red icing color next and then royal blue.
When the dough is chilled and firmed up a bit, roll blue dough out on parchment paper so it is 1/4 inch thick and the shape is about 4 X 10 inches. Slide parchment with blue dough to the side and roll the white layer on a new piece of parchment paper roughly the same size. Place on top of the blue layer of dough and remove parchment. Repeat with the red dough.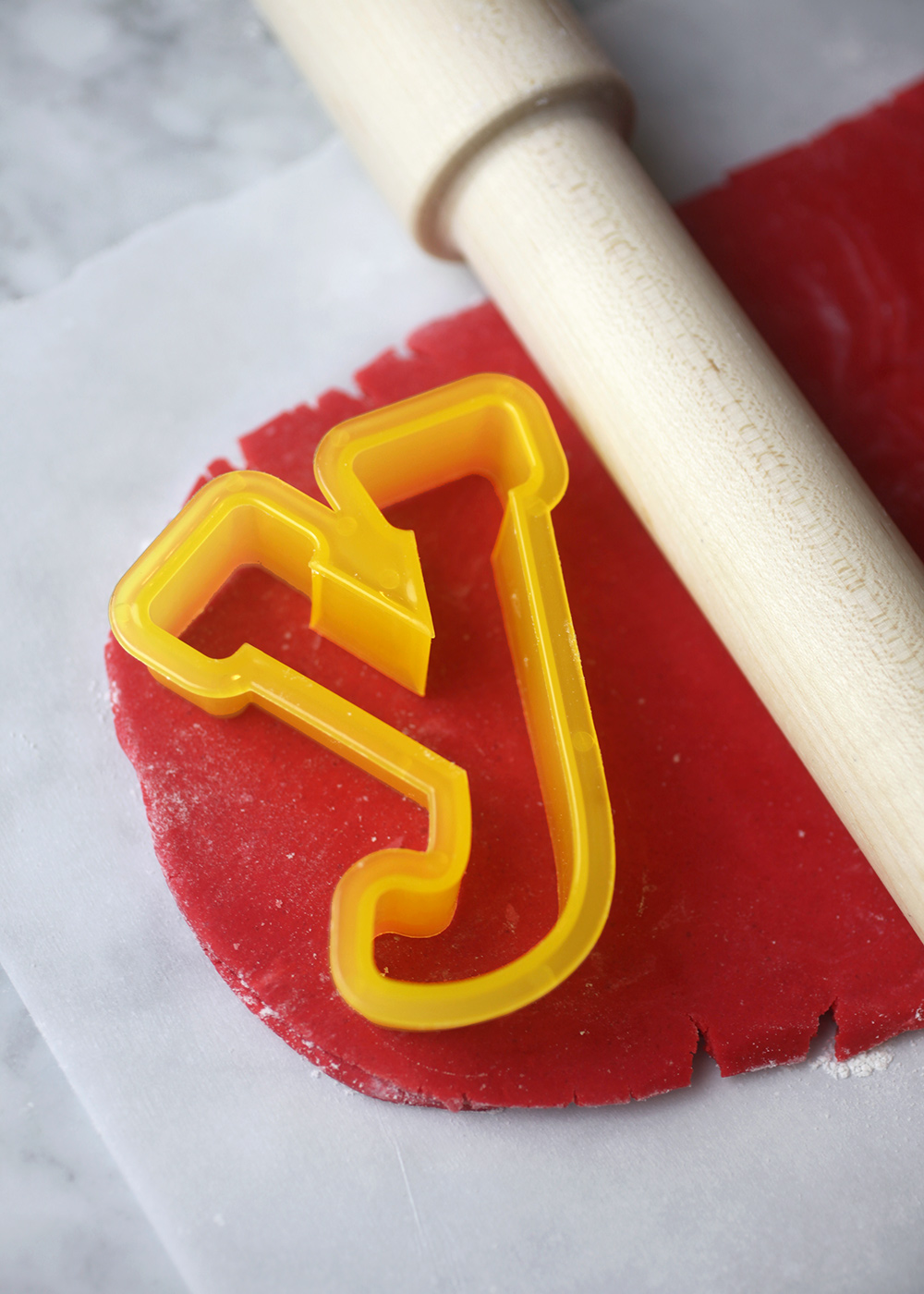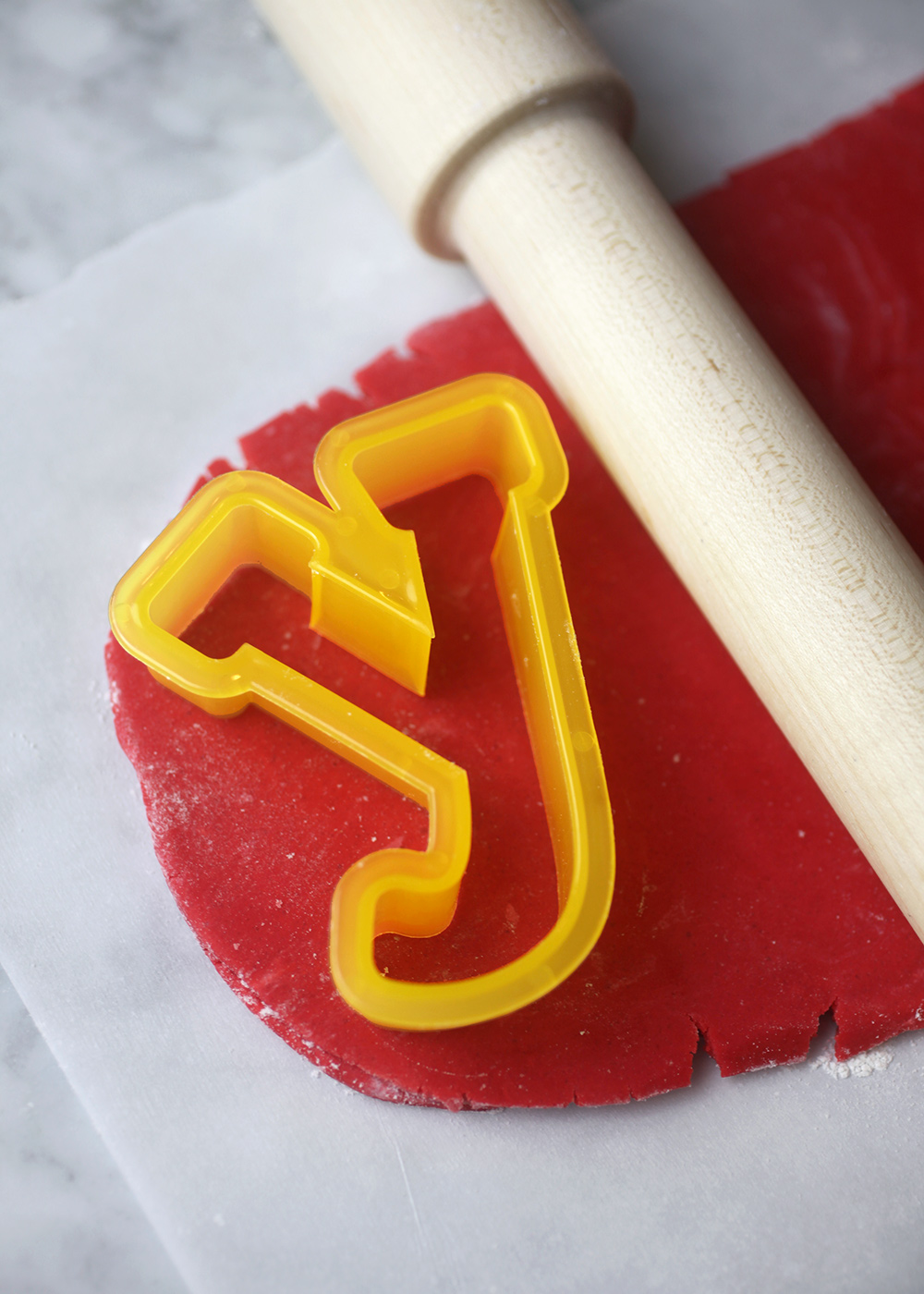 Also, the 4-inch width in the instructions above, is to accommodate these cookie cutters that I was using. You basically need the dough to be wider than the length your cutters. I'll show you why in a minute.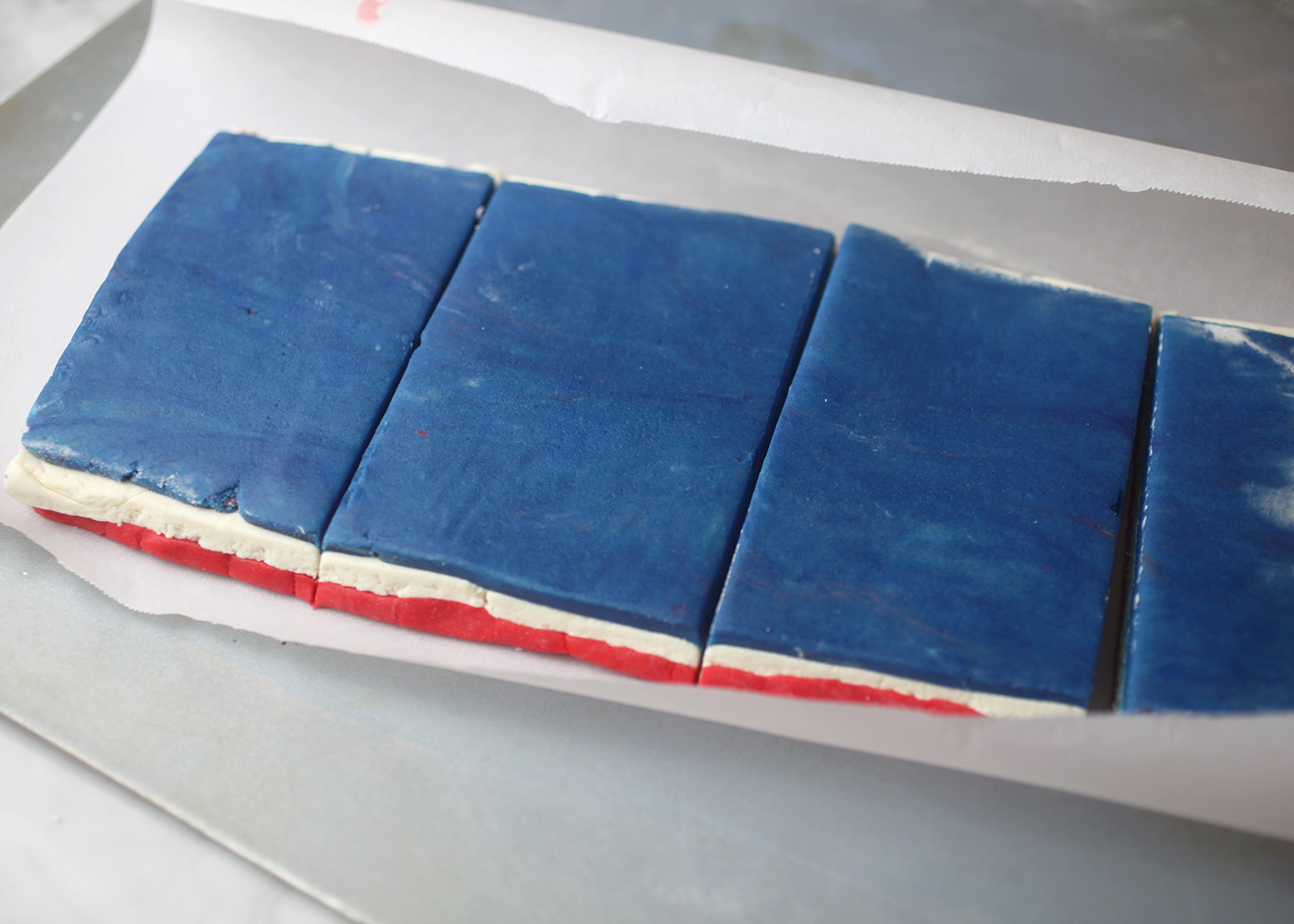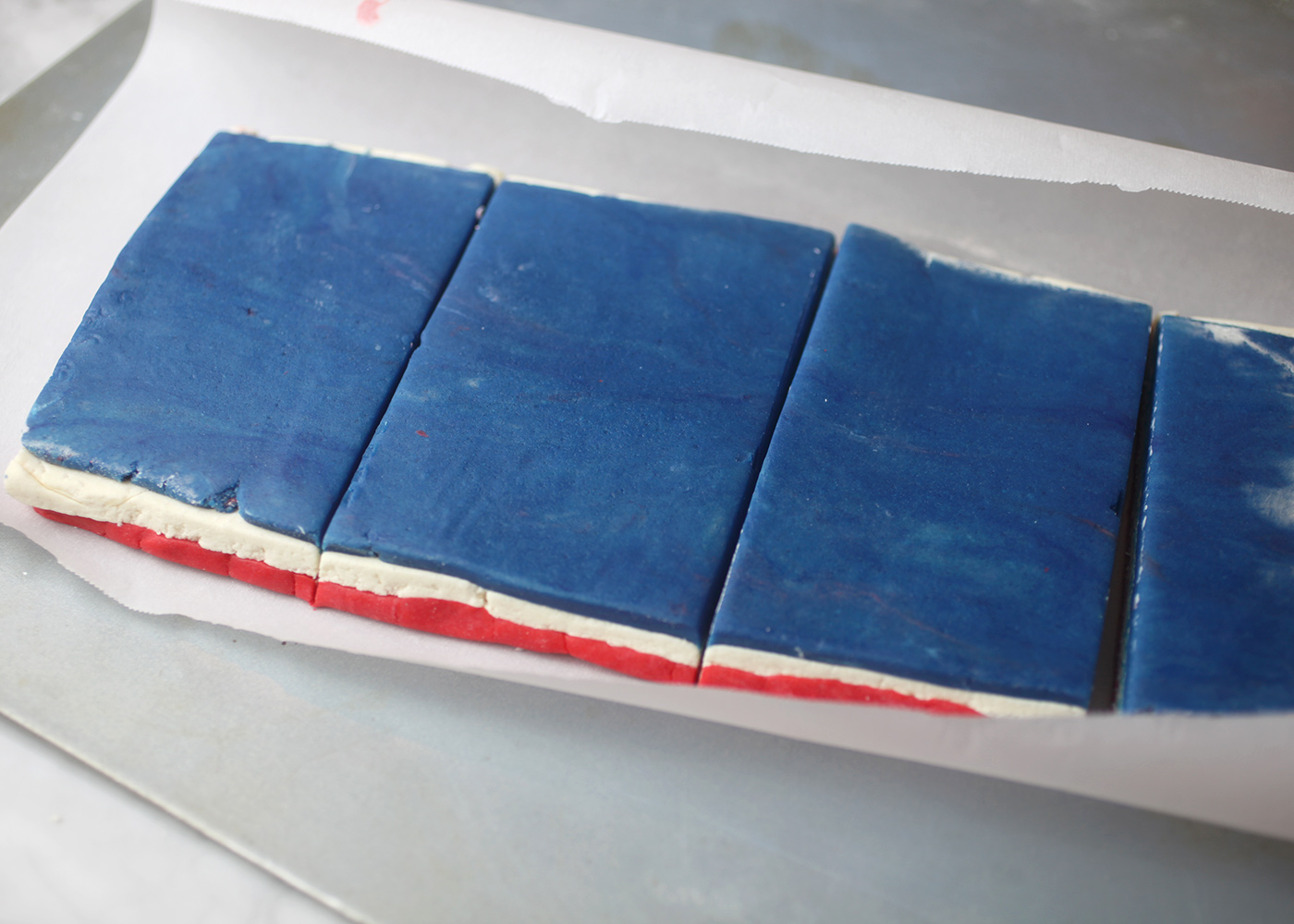 Once the three layers of dough are rolled and layered on top of each other, you can gently and evenly roll it lengthwise to make the dough even longer … about 12 inches long.
Then divide the rectangle equally into four smaller rectangles.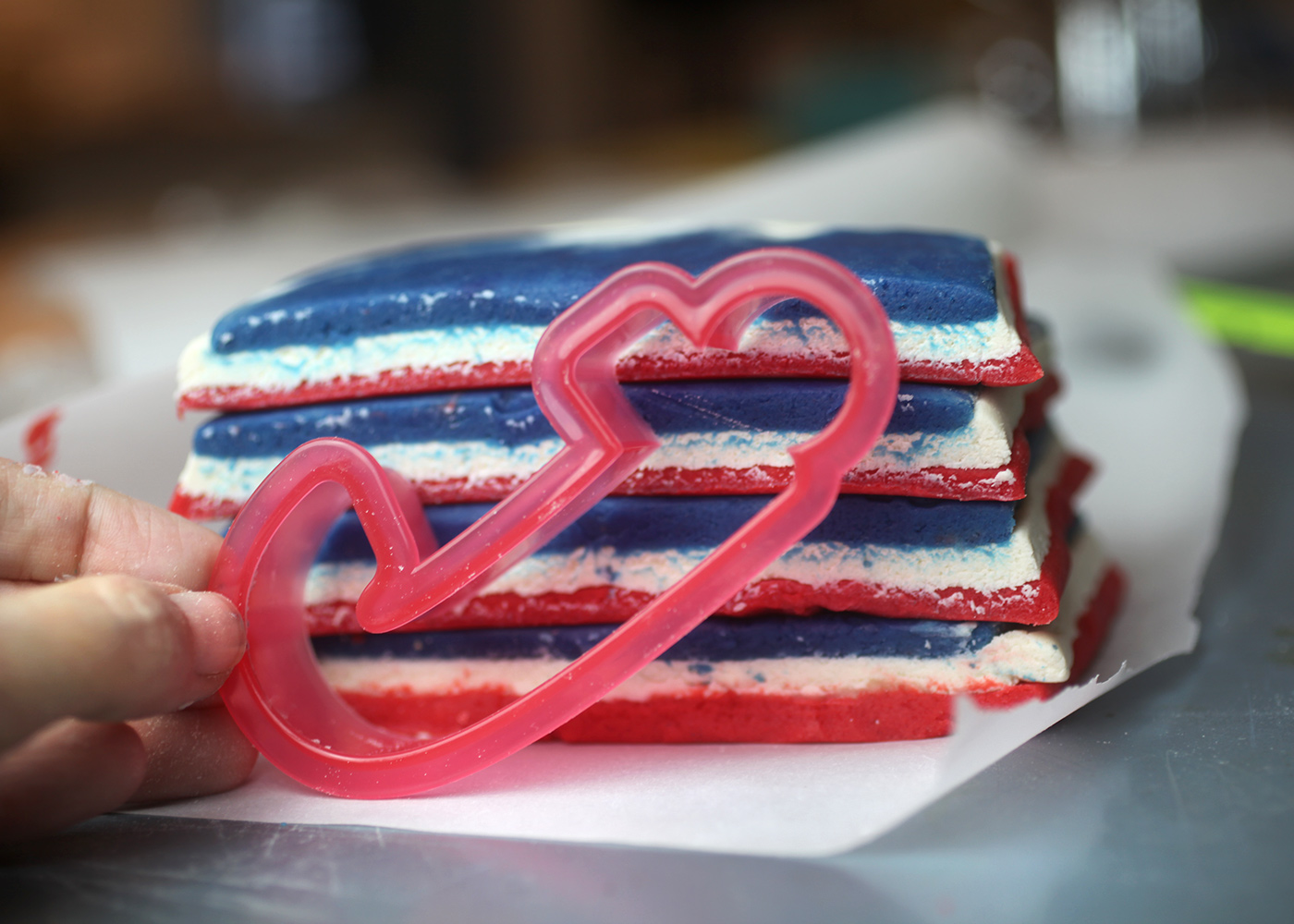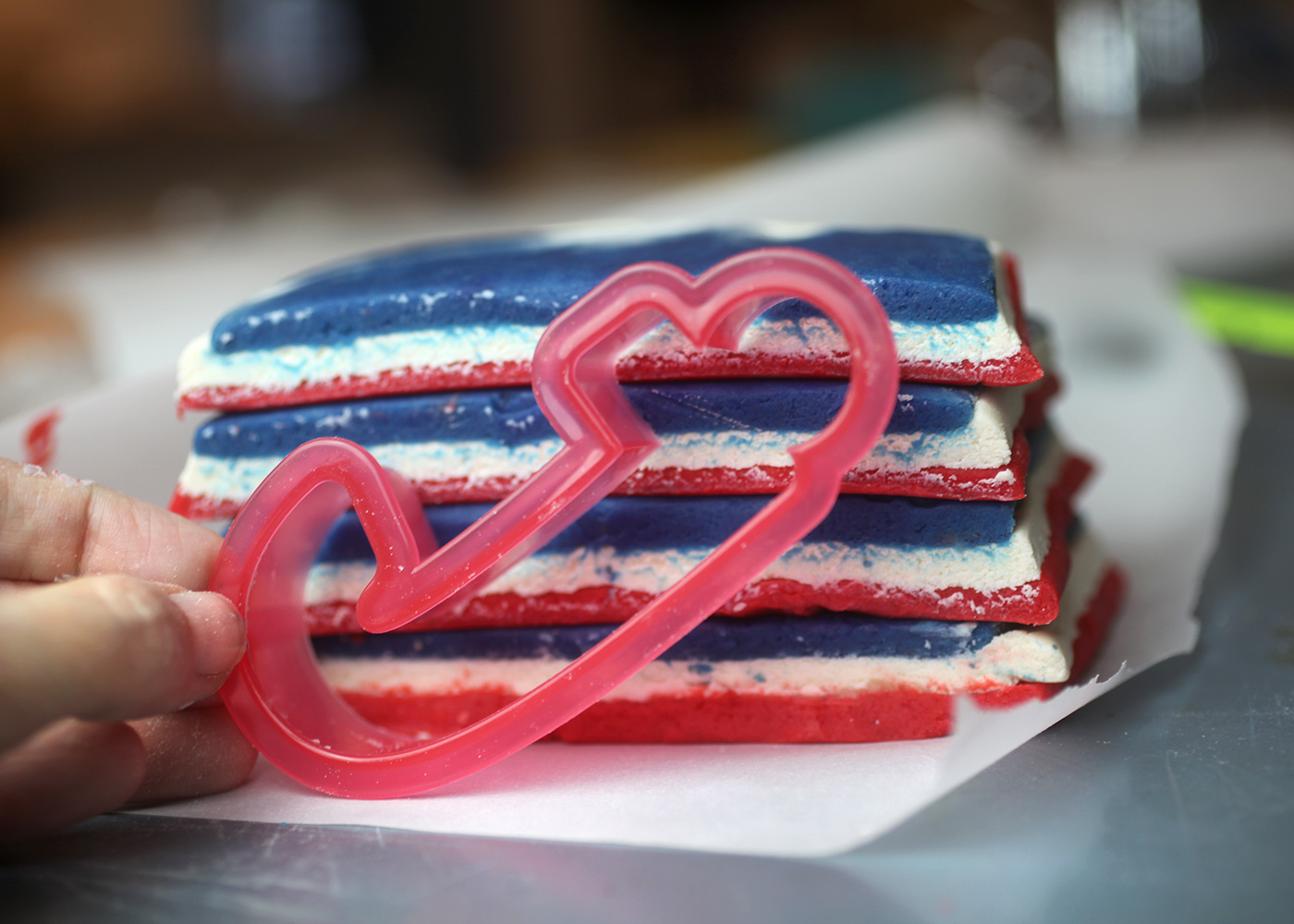 Now stack those sections on top of each other. Here you can see why the height of the layered/stacked cookie dough needs to accommodate the width of the cutters you are using.
(Note: If you want to try these, I would recommend making another batch of the cookie dough recipe. I had just enough to spell "4th of July" with a few extra striped letters. There was however, plenty of leftover dough. I just couldn't reuse it for the striped cookies because I would have had to reroll the extra dough.)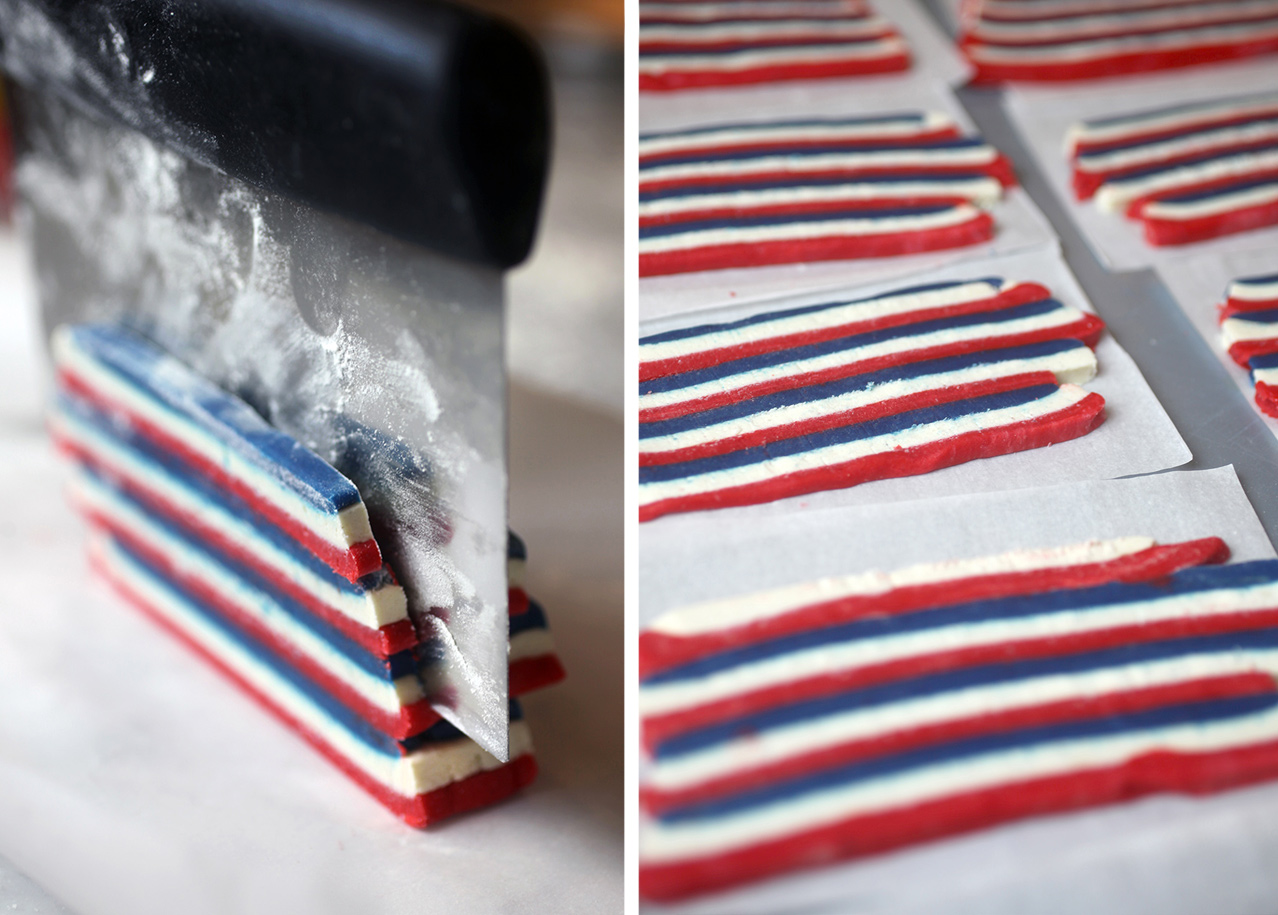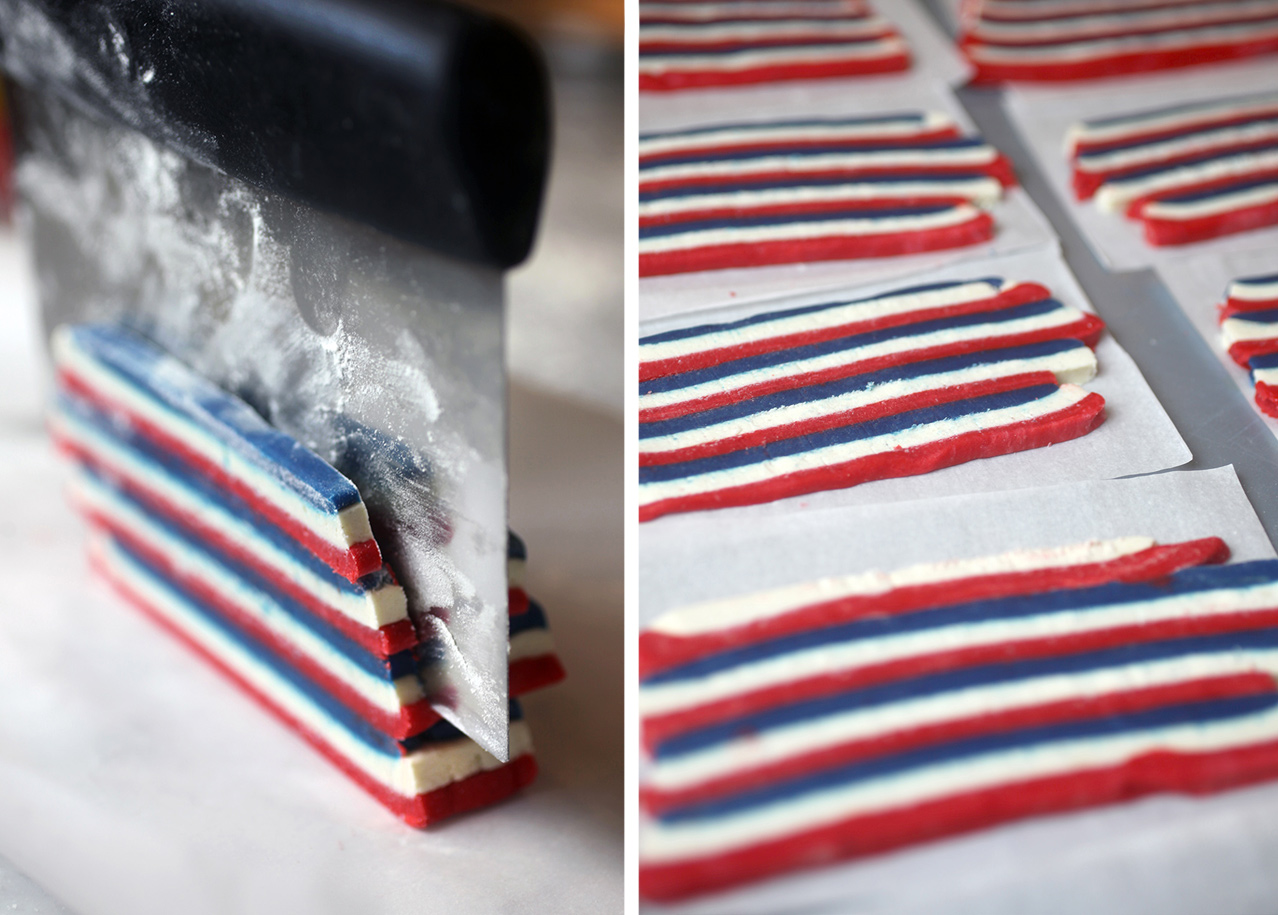 Once the dough is stacked, place it in the freezer for a few minutes to firm up.
Prepare some cut pieces of parchment paper to individually lay each slice of dough on.
Remove dough from freezer and use a bench scraper to slice through the stack. You may need to slice a couple and then refreeze it so it's firm each time. Transfer the sliced dough to a piece of cut parchment and roll dough again slightly to press together. Repeat and then place the slices on parchment paper on a cookie sheet and put in the fridge or freezer to firm up before cutting the letters out.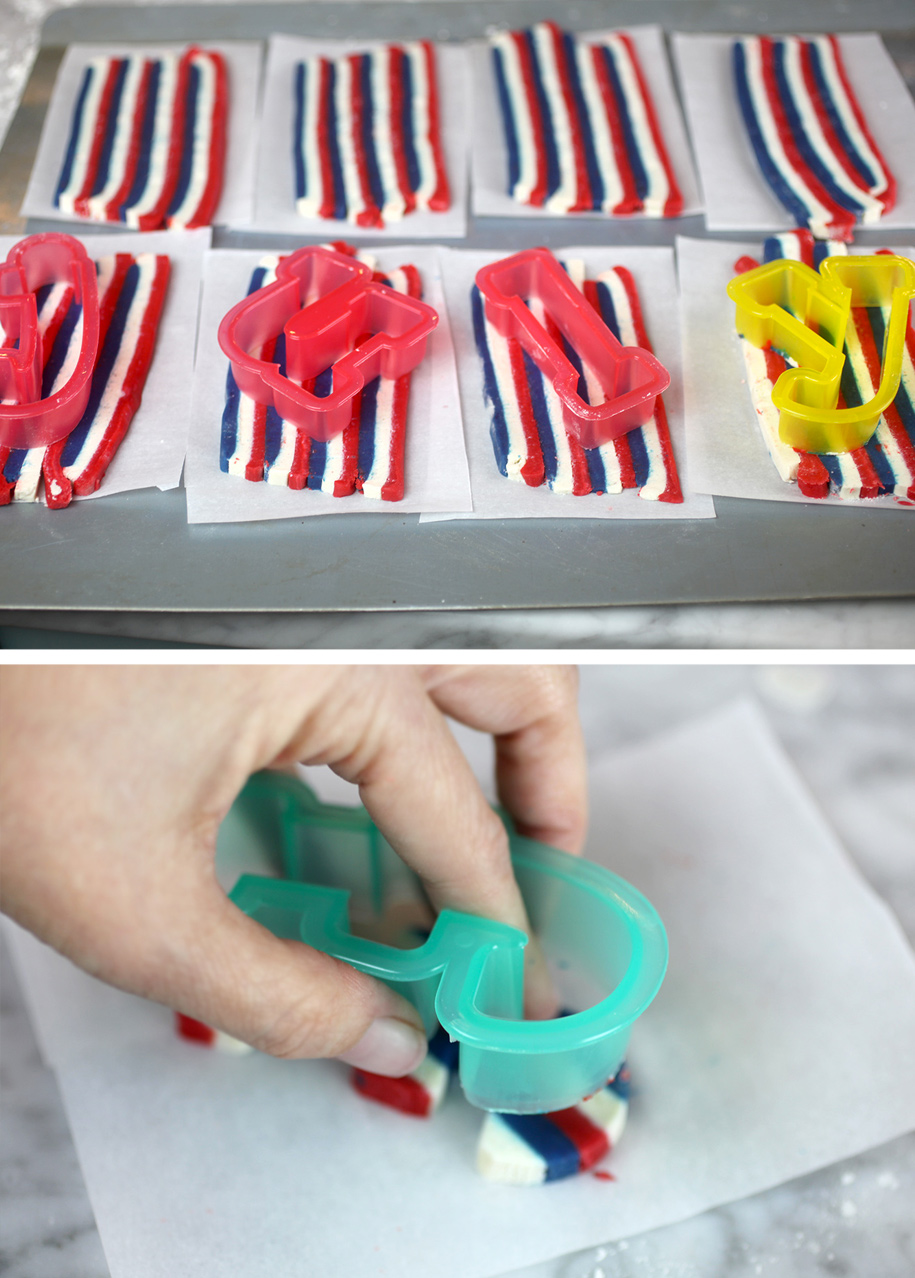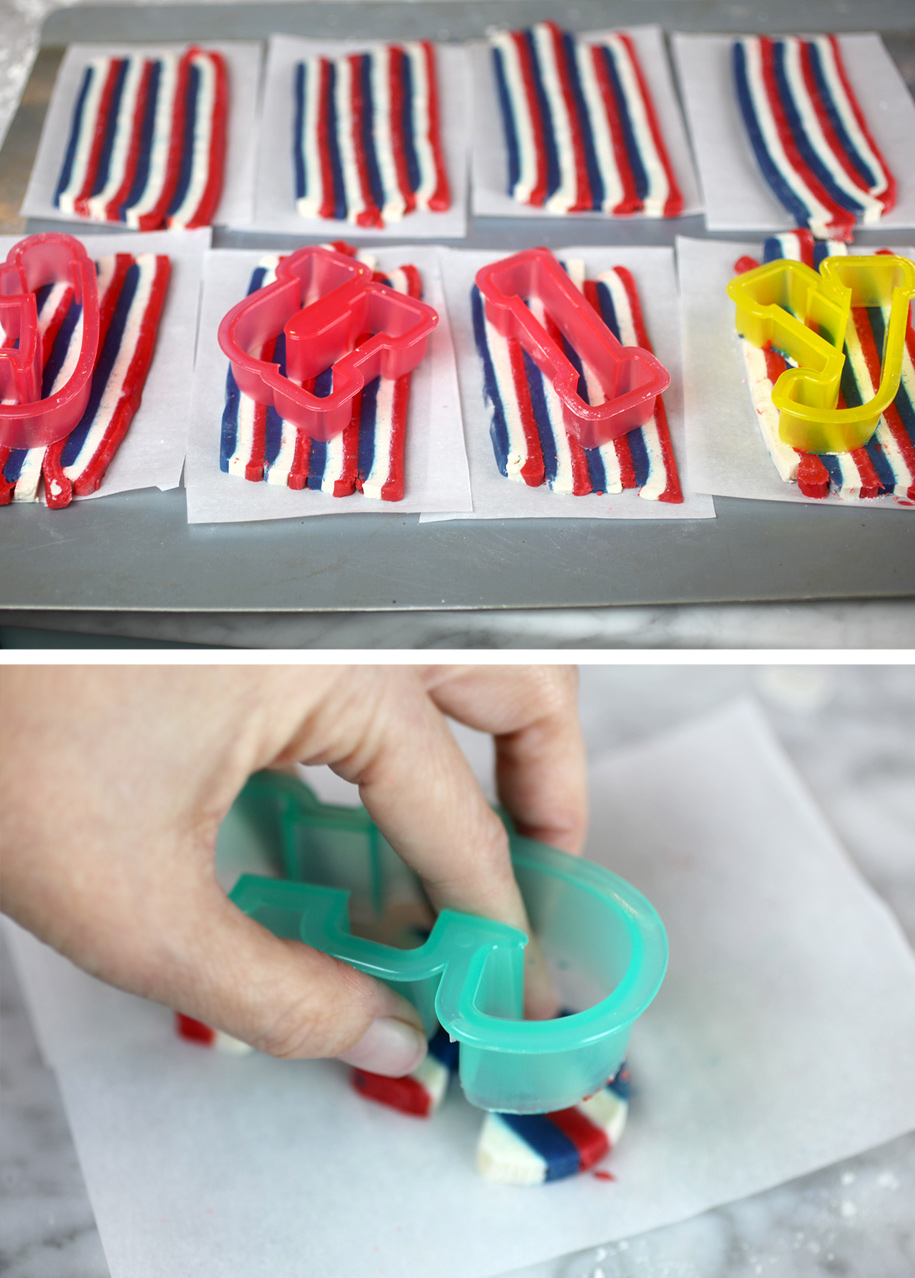 Here you can see how the cutters all can fit within the sliced/layered cookie dough.
When the dough is firm, use a letter cutter to cut out the dough. And use your fingers to press the dough down inside the cutter as you lift it out. Do this slowly and carefully so you don't accidentally separate the strips of dough as you remove the cutter.
Once all the letters are cut out, place back in the freezer/fridge to firm up again before baking.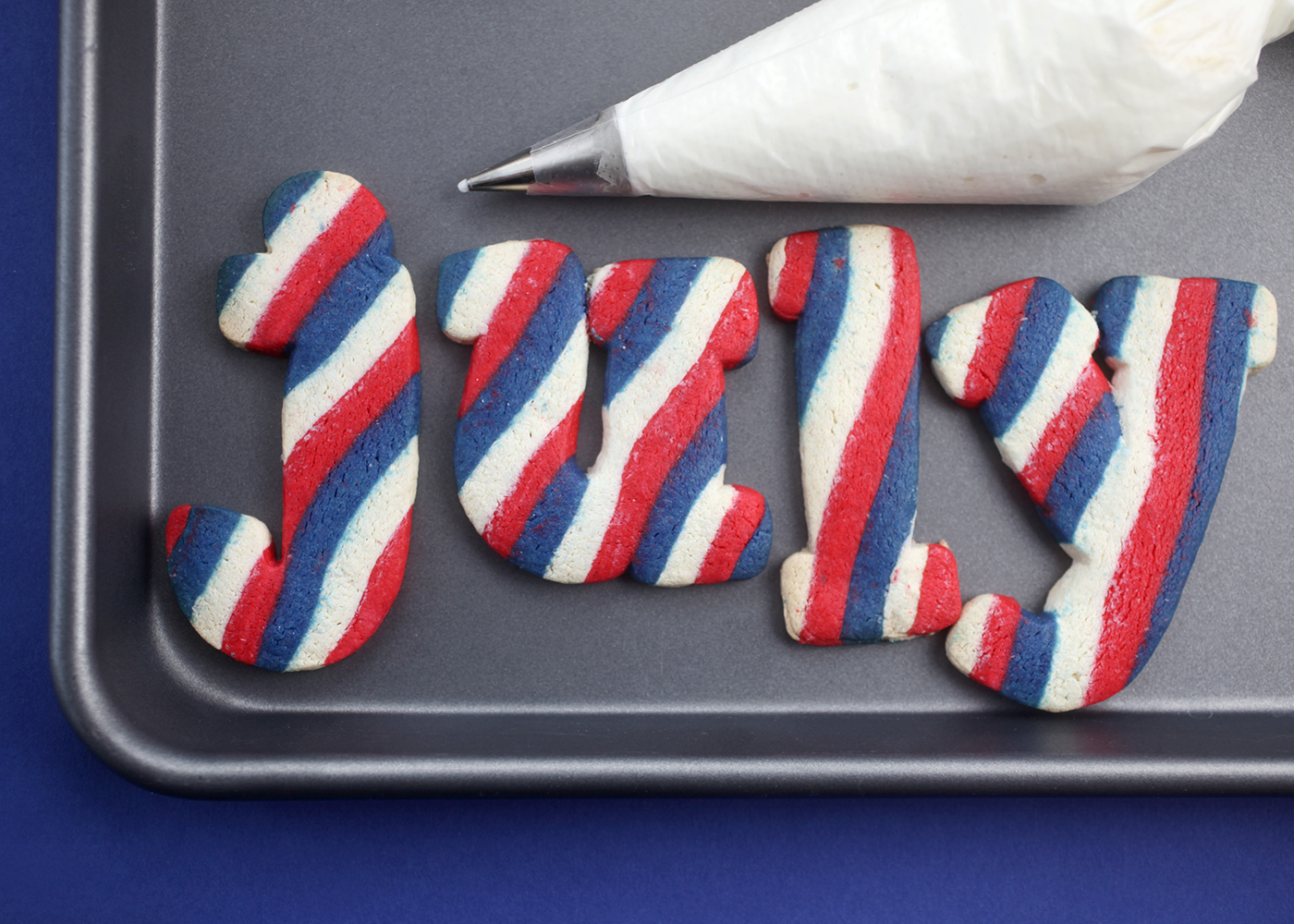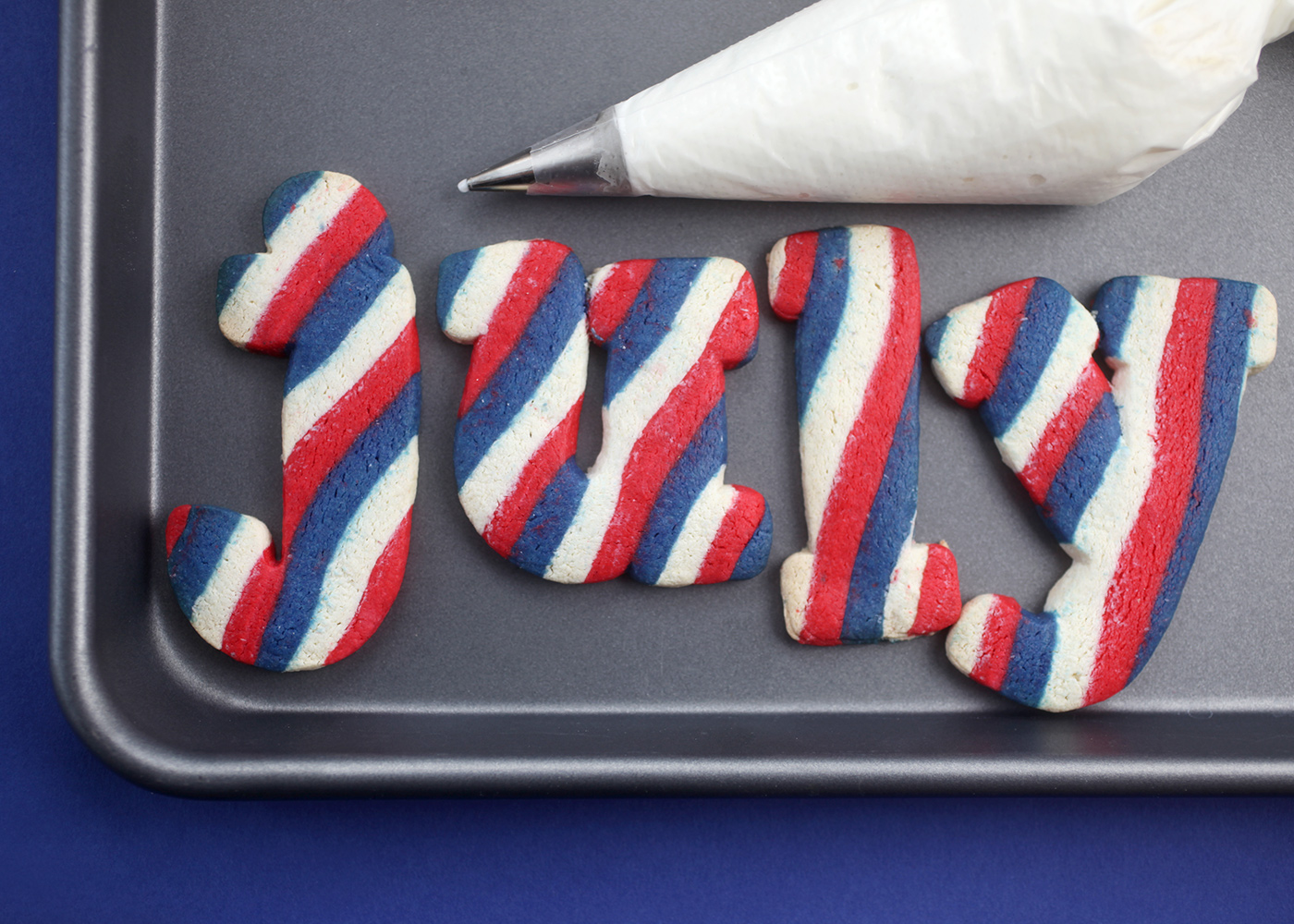 It worked! Yes! and YAY! Because I didn't have a backup plan if they didn't.
Once the cookies cool, you can leave them like they are or pipe and outline them with white royal icing to define the edges. I went with icing.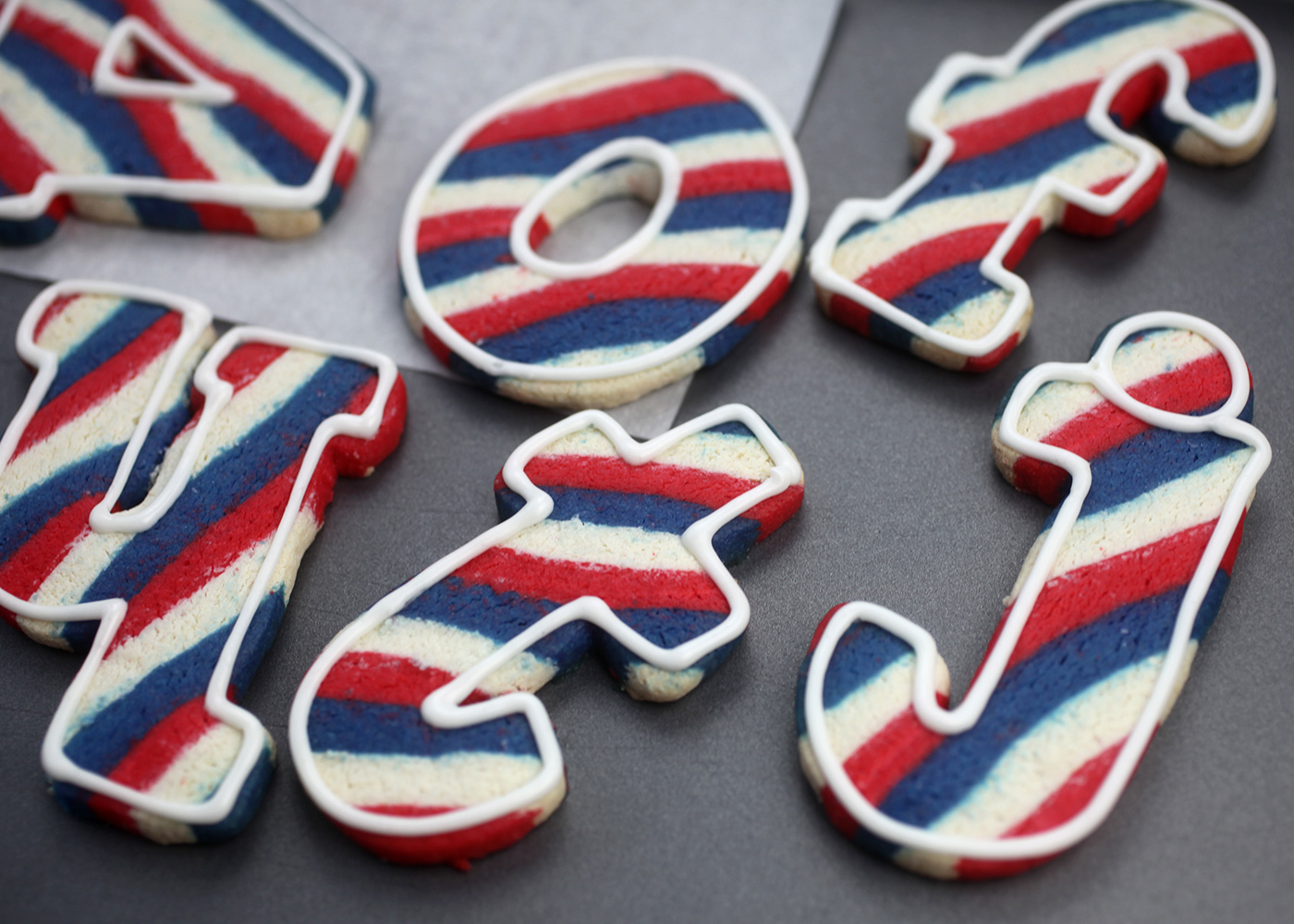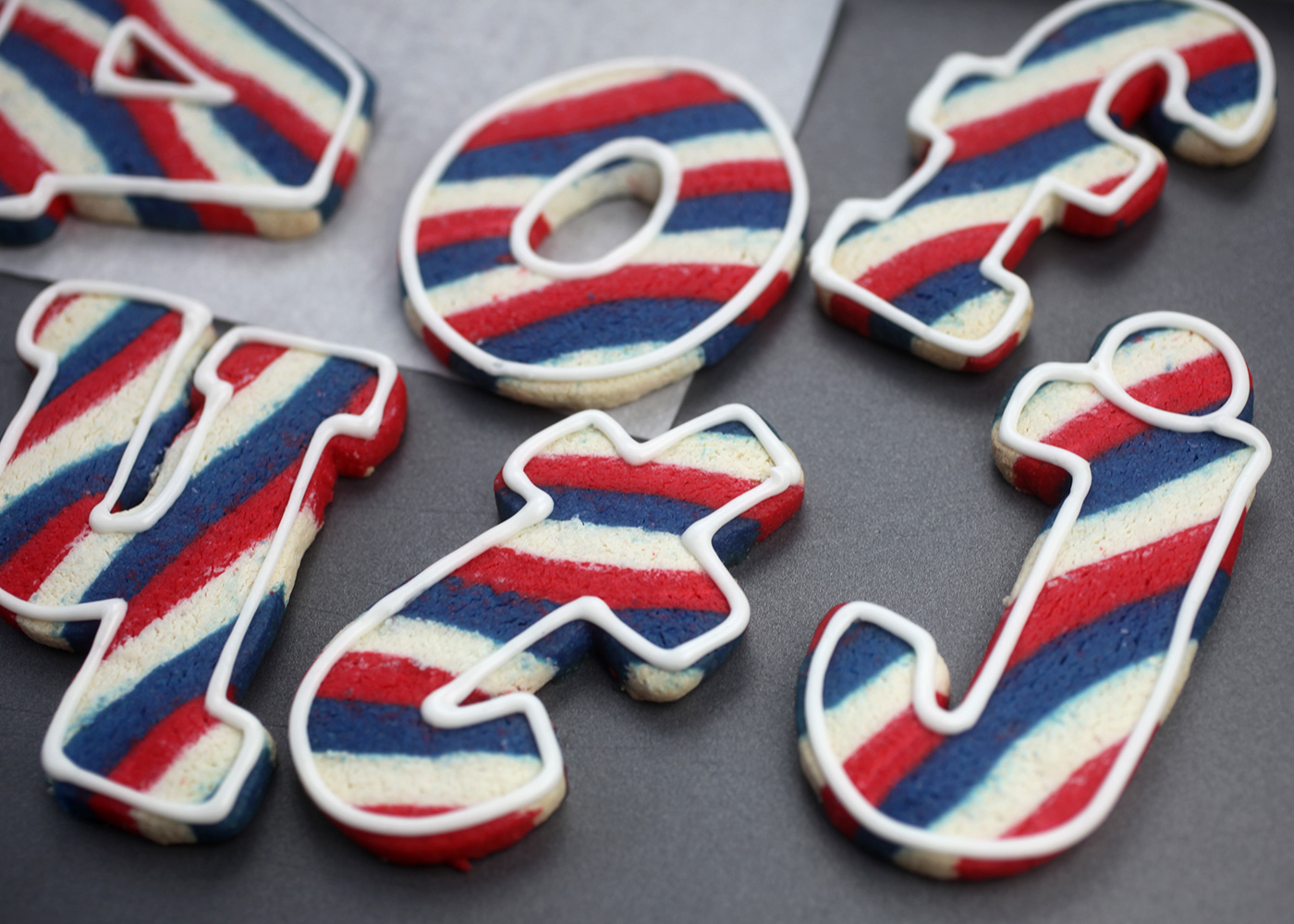 Like so.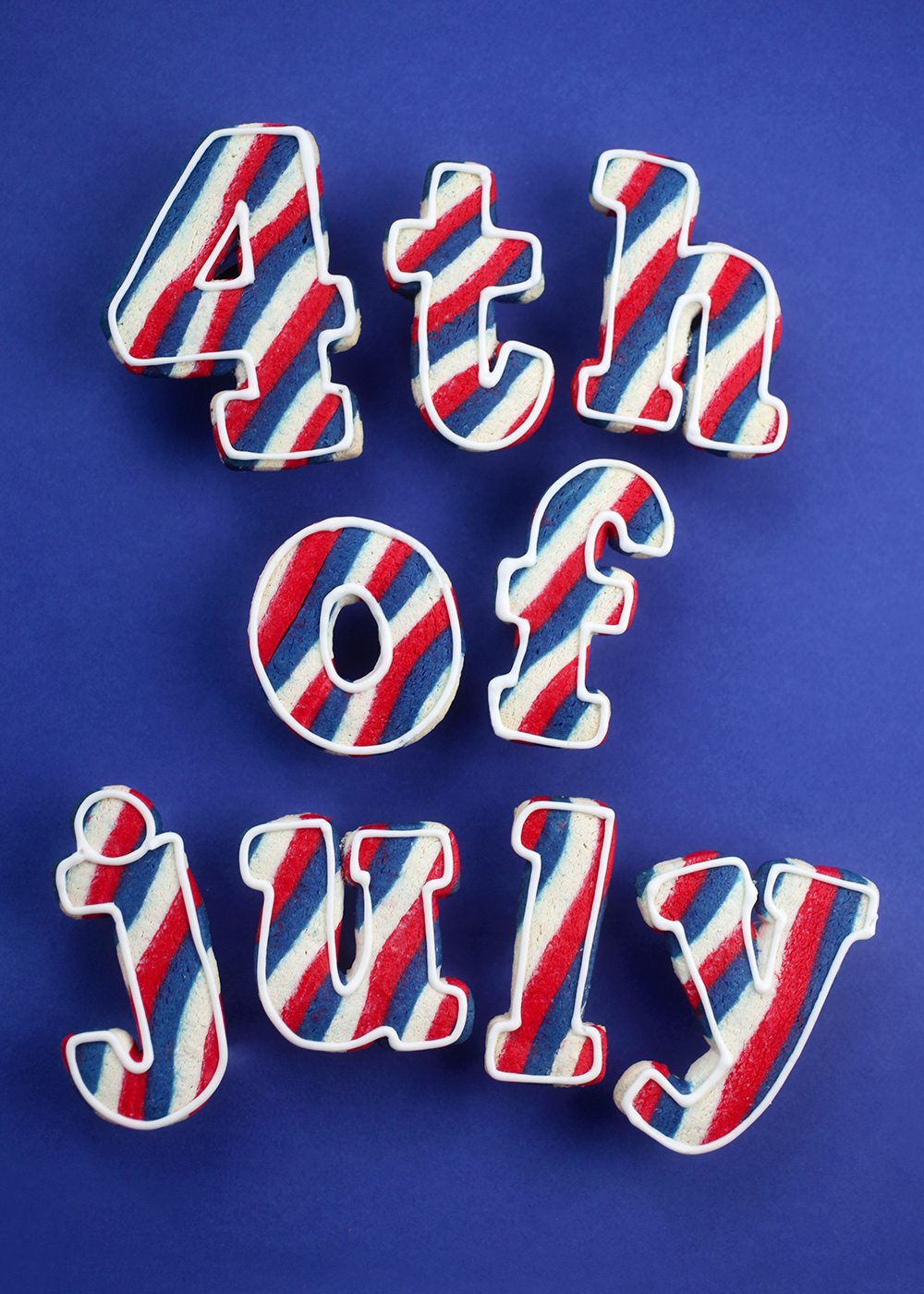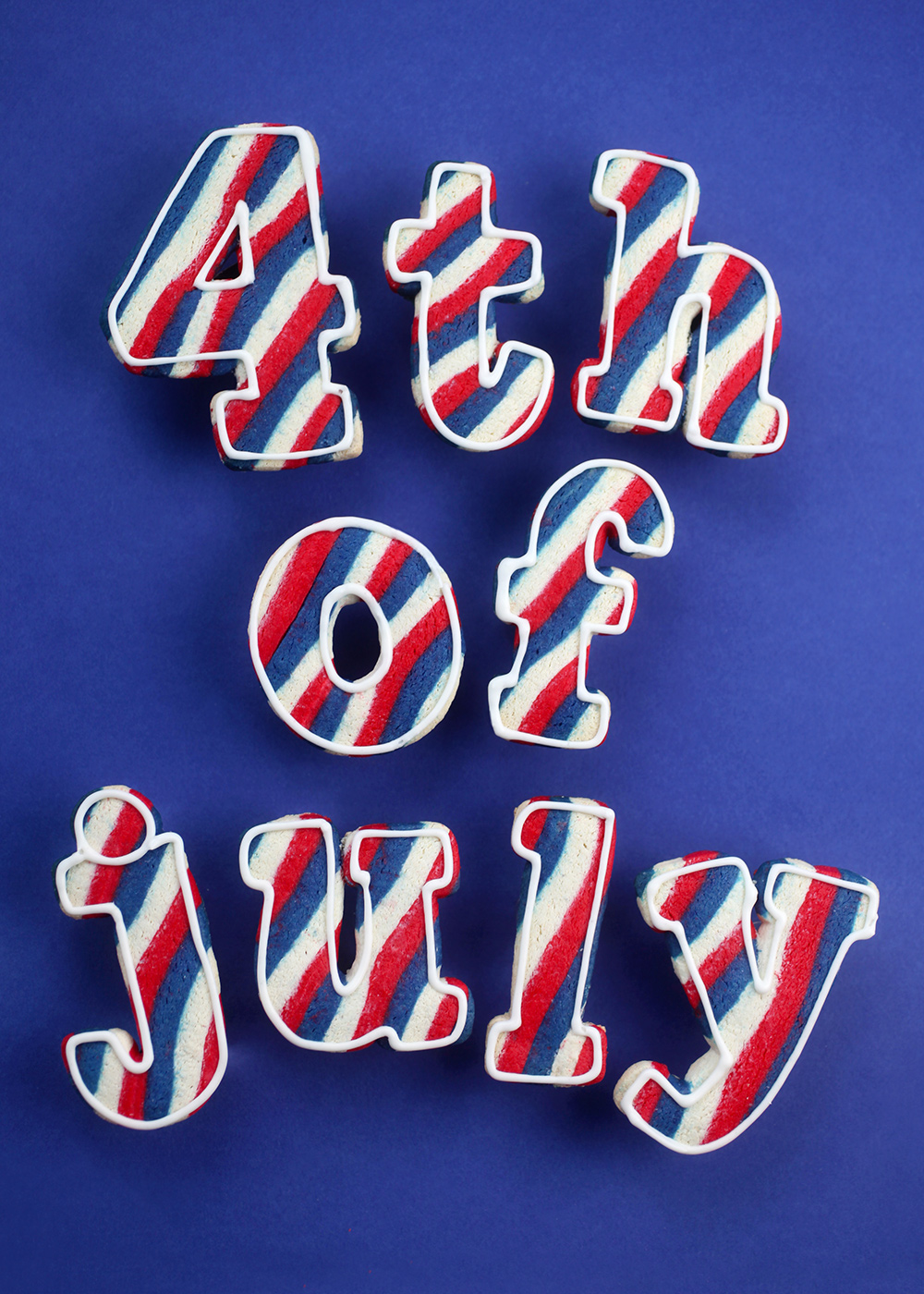 YAY! Again, I'm glad this worked out like I pictured it in my head. Things don't always do.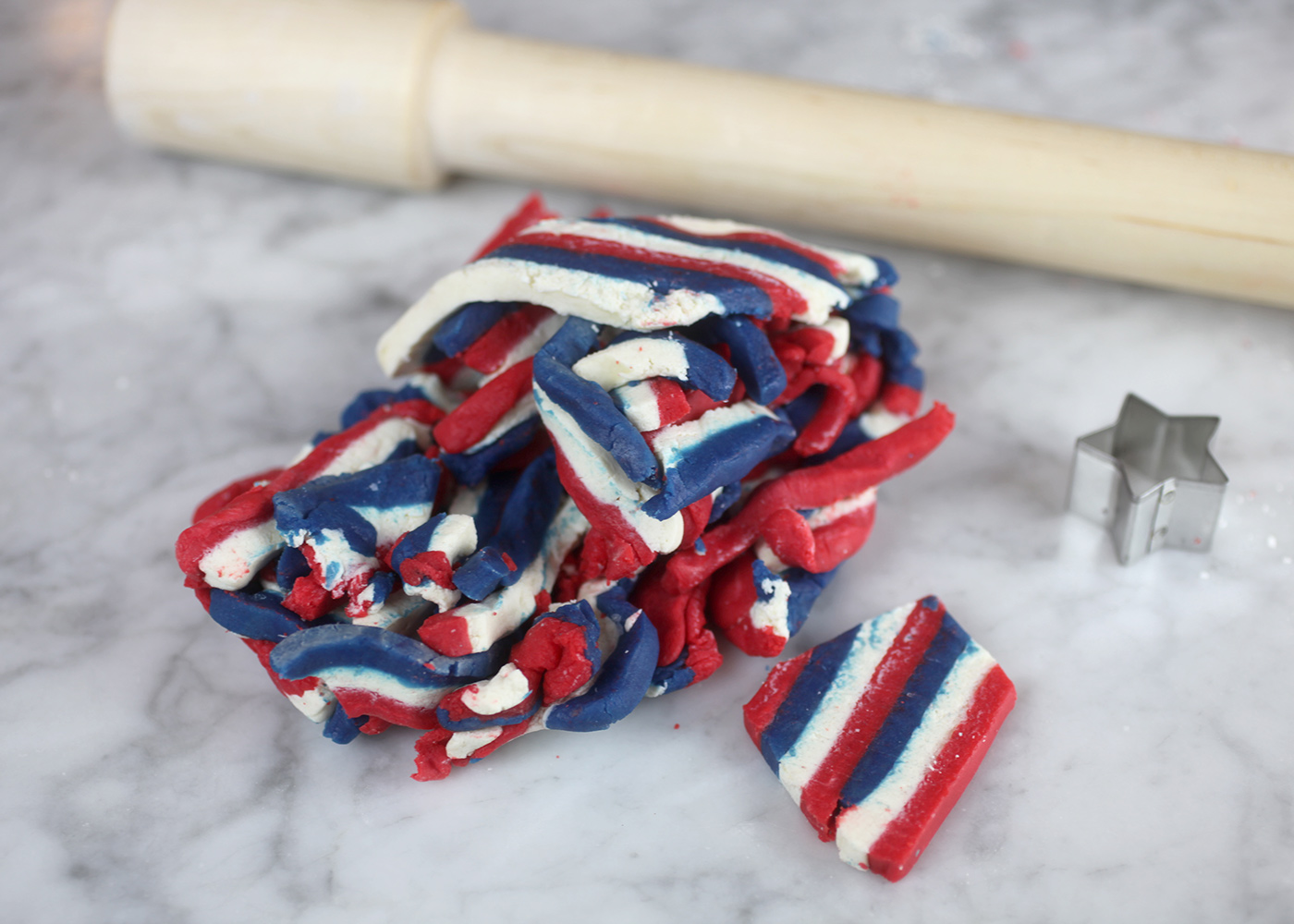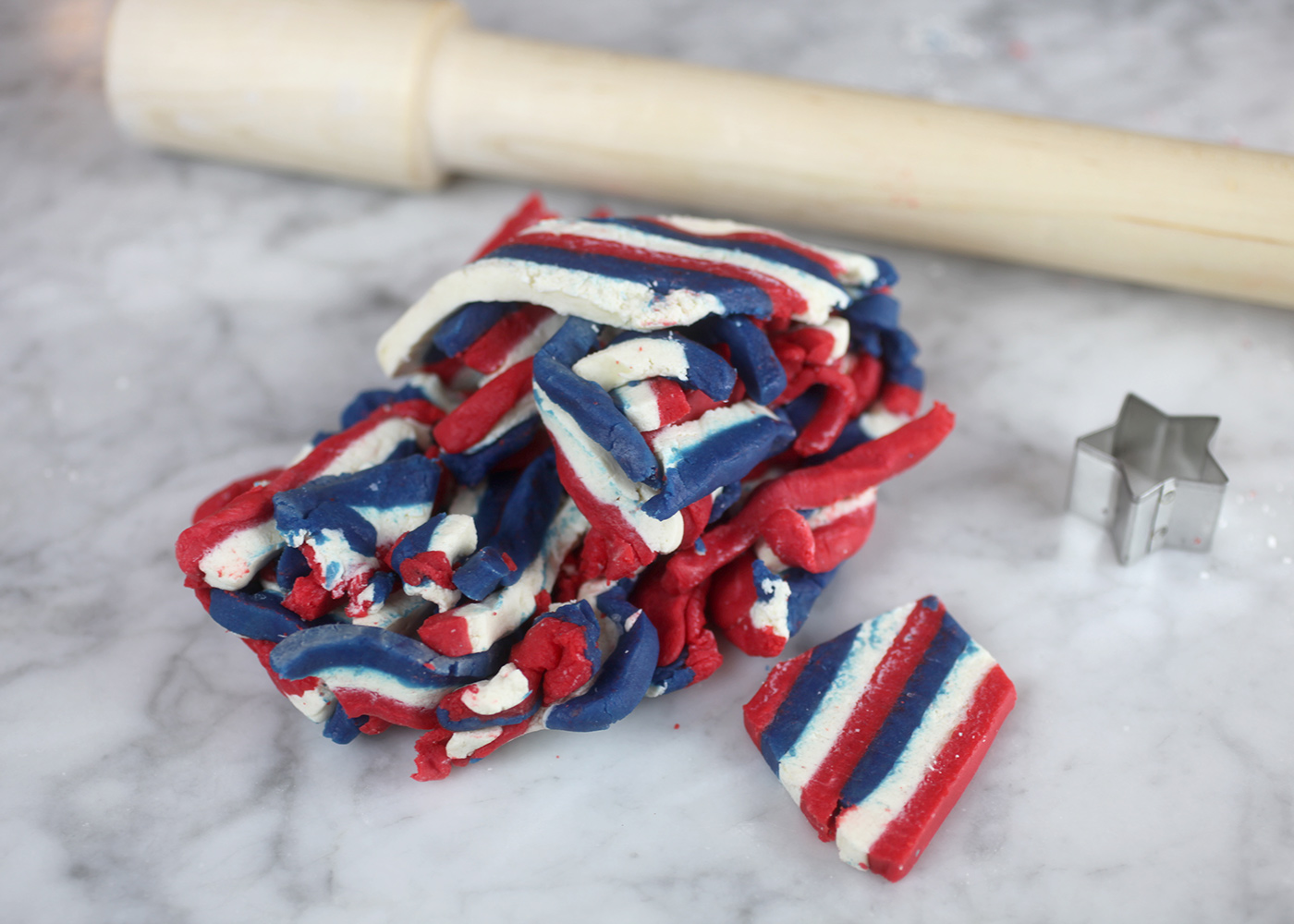 Now, for all those scraps. Since I couldn't use them for more letters, I just re-rolled the dough together.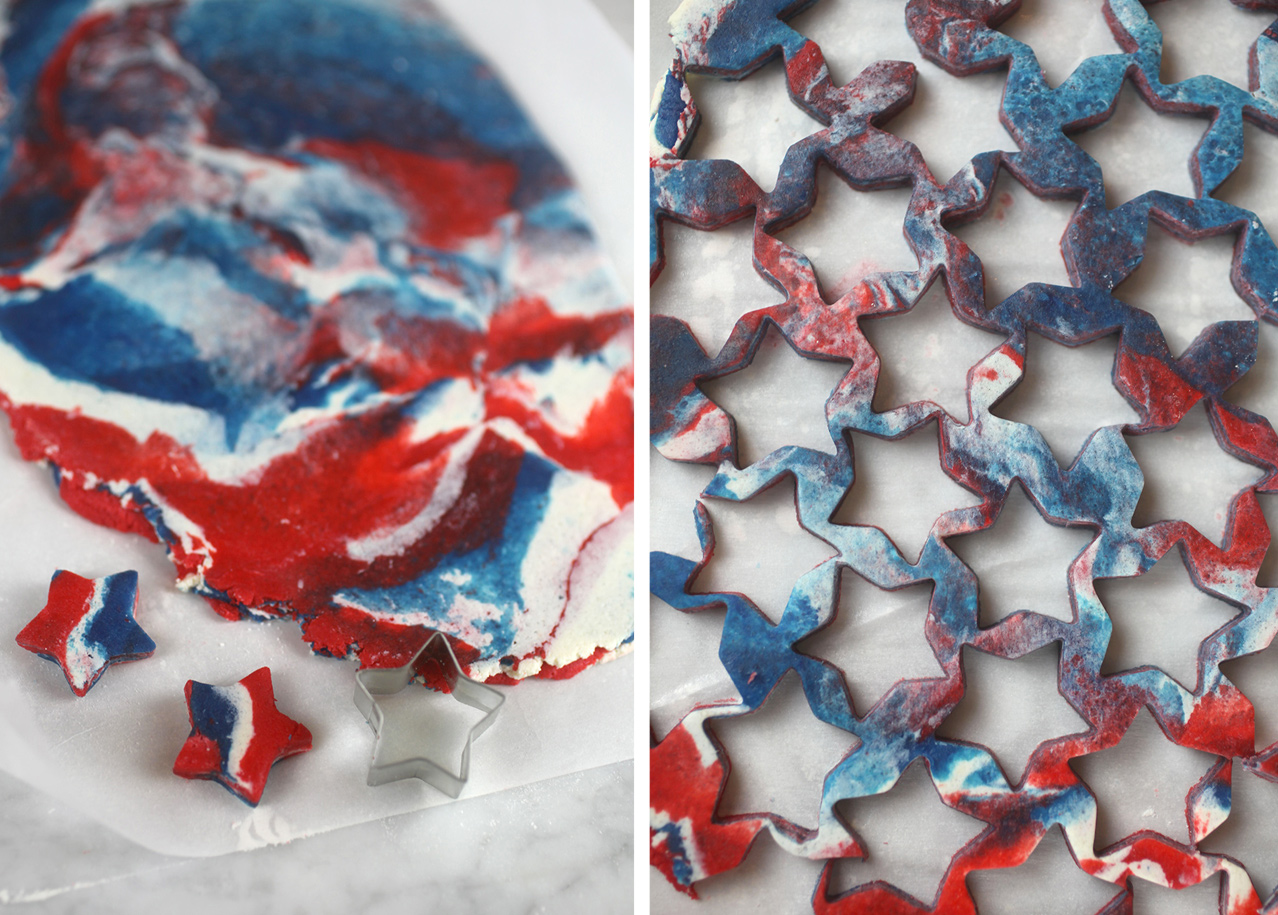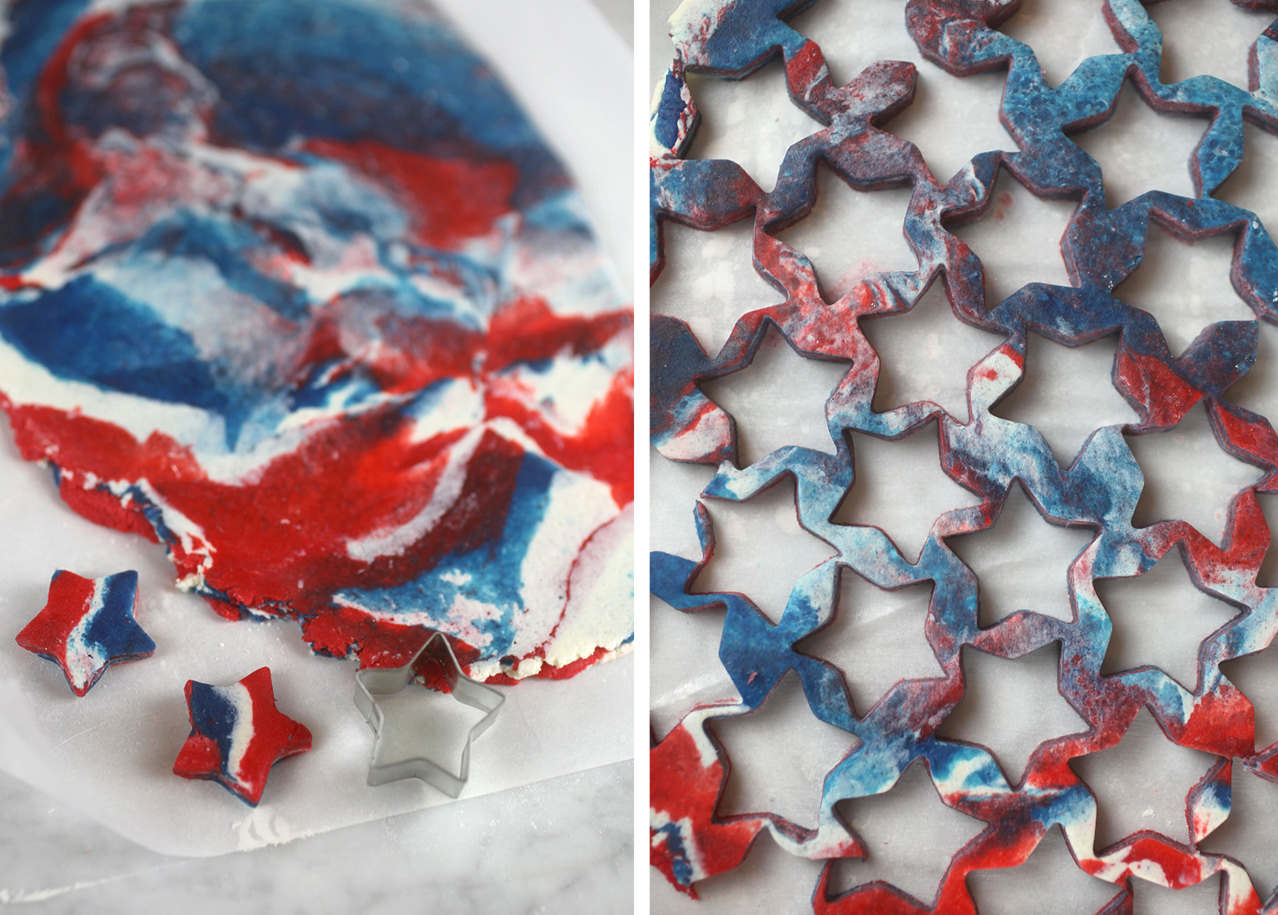 It makes a cool pattern if you don't over mix the dough and then you can just cut out some cute little stars and pipe those with royal icing if you like also.
Extra Notes:
The cookie cutters I used are from Sweet Sugarbelle. It doesn't include numbers, so I just hand cut the 4 to match the style of the letters.
This is the rolling pin I used. I love it because it makes even layers of rolled cookie dough.
I used this cookie and royal icing recipe. Make two cookie batches if you want more than a dozen letters. Also, you only need to make a half batch or really even a quarter batch of the royal icing since you aren't using much.
If things aren't working out, just make sure the dough is chilled and firm. It will help immensely.
And if some of the blue dough gets on the white dough when you slice it, you can gently scrape the thin layer of blue off of the white with a knife when the dough is chilled and firm.
Laying the sliced dough on smaller individual parchment sheets is super helpful and gives you more flexibility.
Don't feel like you need to make letters. You could use the same technique and just make striped stars for instance.
Try these with other colors for a completely different theme.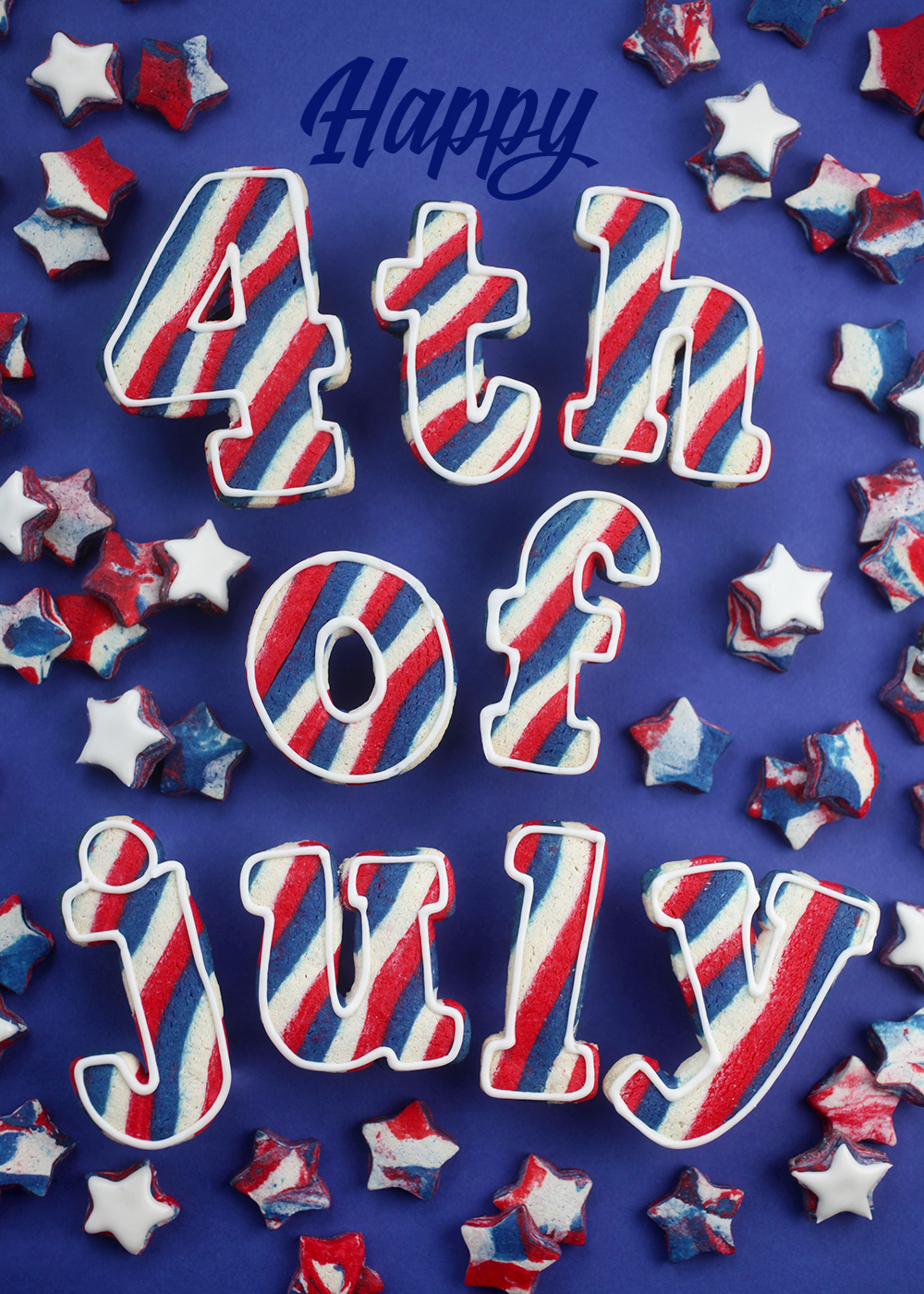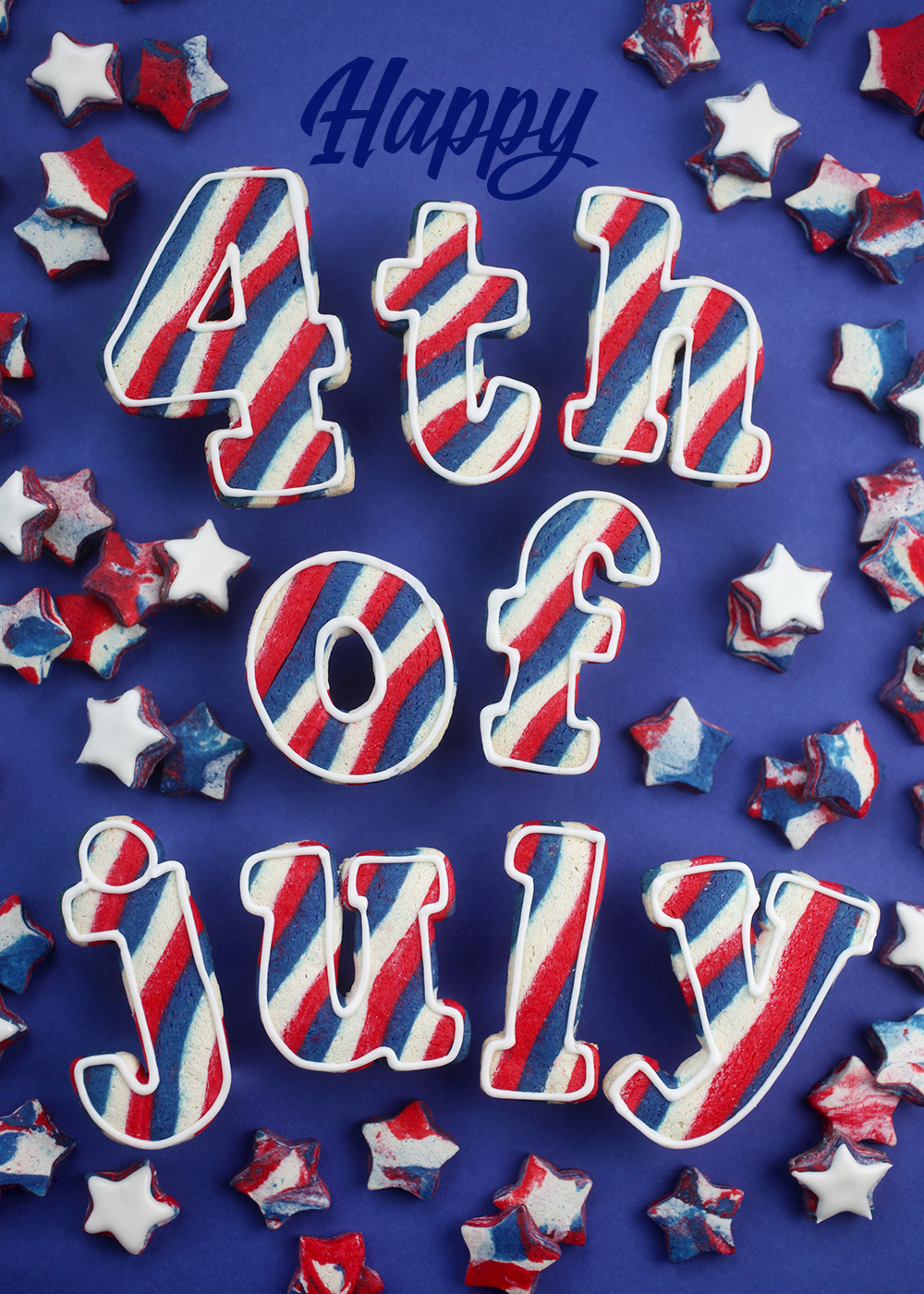 Enjoy the Fourth!