I went for something a little easier after last week's colorful cake casualty. This one is an enhanced box mix recipe and uses Sprite and pudding mix to pump it up. You know… there must be something wrong with the universe when a box mix cake comes out better than one I made from scratch. But I won't complain too much because it was really good and oh so moist inside. See……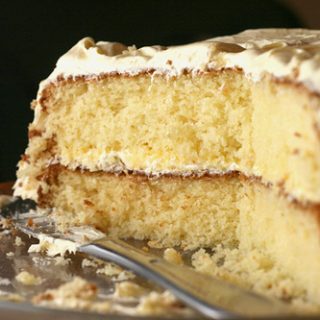 Yield: one 9-inch layer cake
Simple Sprite Cake
Additional Time
15 minutes
Total Time
1 hour
15 minutes
Ingredients
Sprite Cake
1 white cake mix
4 eggs
3/4 cup vegetable oil
1 box instant vanilla pudding (3 oz. size)
8 oz. can of Sprite (the mini one)
Buttercream Frosting
1 cup (2 sticks) butter, softened
1 teaspoon pure vanilla extract
1 1b. confectioners' sugar
1-3 teaspoons milk, half and half or cream
Instructions
Preheat oven to 350 degrees.
Grease and flour two 9 inch cake pans.
Mix ingredients on low until combined and then increase speed to medium and mix for about 2 minutes.
Pour batter into pans and bake for about 30 minutes or until a toothpick inserted comes out clean.
Frosting: Using a mixer, cream softened butter and vanilla with until smooth. Add sugar gradually, allowing butter and sugar to cream together before adding more. If you want it a little creamier, add a teaspoon of milk at a time and beat on high until you get the right texture.
Notes
Make it simple all the way and tear open a can of vanilla ready-made frosting… (don't worry I won't tell) or you can use this really easy frosting recipe: