I was in the mood for some cookies this weekend. Feel good cookies. Comfort cookies. Something simple and delicious and quick to fix.
I used three kinds of chips in the batter.
And a lot of them.
Like 4.5 cups of them.
White Chips.
Milk Chocolate Chips.
Butterscotch Chips.
Chips. Chips. Chips. Or morsels. Whatever you want to call them… I'm using chips today.
You'll need to grab a few basics to make these cookies.
I used more brown sugar than regular sugar for extra yumminess.
After mixing all of the ingredients and adding the chips you can use a small scoop to place your dough on the cookie sheet.
Like so.
It helps to get more uniform-sized cookies
By using a 1.5 inch scoop, I managed to get a ton of cookies out of this recipe.
5 dozen cookies to be exact.
Minus the handful from this photo that are already in my tummy.
I really liked the taste of all the extra chips.
It guarantees some in each and every bite.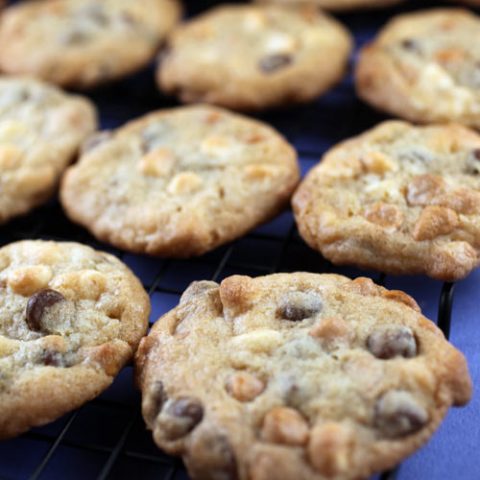 Yield: 5 dozen cookies
Triple Chip Cookies
Prep Time 15 minutes

Cook Time 10 minutes

Total Time 25 minutes
Ingredients
2-3/4 cups all purpose flour
1 teaspoon baking soda
1/2 teaspoon salt
1 cup butter
3/4 cup sugar
1 cup brown sugar
2 teaspoons vanilla
2 eggs
1-1/2 cups milk chocolate chips
1-1/2 cups butterscotch chips
1-1/2 cups white chips
Instructions
Preheat oven to 350 degrees and line baking sheet with parchment paper.
In a large bowl, mix flour, soda and salt with a wire whisk and set aside.
Using a mixer, mix butter and both sugars for about 2 minutes until light and fluffy.
Add eggs and vanilla and mix until thoroughly combined.
Add flour in two additions, scraping down the sides in between. Mix until thoroughly combined.
Mix chips together in large bowl and stir into the cookie batter.
Use a 1.5 inch scoop to place cookie batter 2 inches apart on baking sheet. Bake for about 10-12 minutes.
Notes
For 1-1/2 cups of chips you'll need a 10.5 - 12 oz. bag. This will give you a few left over. But you can also get away with using the entire bag in the batter if you like.

Tasting Update: Try baking these closer to 10 minutes. These were crunchy today when I ate one. Or three so far. Just thought I would update you since I usually like softer cookies. Although that hasn't stopped me from continuing to eat them. Yum!
Enjoy!