I have shared my love for Biscoff cookies with you before. Remember these cheesecake bars I made with a certain cookie crust? Delta gives these cookies out on their flights and when the flight attendants make their way down the aisle, I get excited like a little kid waiting for a snack. It's gotten to where one little two-pack isn't enough when I'm traveling so sometimes I even buy my own package to bring along. It's a problem.
Recently I tried them dipped in coffee for the first time.
Oh. My. Cookies.
I don't really drink coffee unless it's with dessert, but I may have to start a new habit just so I have something to dip these cookies in.
If you haven't tried it before. Don't. And save yourself a little addiction.
Speaking of new addictions, Biscoff also makes a spread that tastes like their cookies.
I've tried to avoid it for my waistline's sake, but it finally got me.
And, it's so good. I think I'm in trouble. Big Biscoffy trouble.
I decided to try making some fudge with it the other day so I wouldn't end up eating the entire jar in one sitting,
I usually make Peanut Butter Fudge during the holidays, but I thought it would be fun to try this kind. too.
Off to a good start.
Getting better.
Full rolling boil. Beautiful.
And the star of the show.
Biscoff spread.
You can see why I thought it would be a great replacement for peanut butter.
Creamy. Dreamy.
And on it's way to delicious.
Throw in some marshmallow creme.
Mix it all together…
And throw it in the pan.
Spread it right away because it doesn't take long to set.
And, if you want a little crunch, throw in some crumbled Biscoff cookies for good measure.
Or just do half if you're indecisive like me.
Press the cookie pieces in pretty good or they will fall off.
Yum! Yum!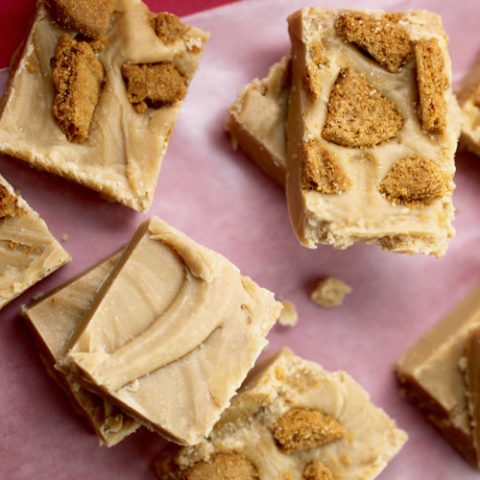 Biscoff Fudge
Ingredients
1-1/2 cups granulated sugar
6 Tablespoons margarine
1/3 cup evaporated milk
1/2 tsp vanilla
1/2 cup Biscoff spread
3.5 oz. or half a jar of Marshmallow Creme
Instructions
Combine sugar, margarine and evaporated milk in a medium pot. Bring to full rolling boil, stirring constantly.
Reduce heat to medium and continue boiling for 4 minutes, stirring constantly to prevent scorching.
Remove from heat and stir in Biscoff spread until melted.
Add marshmallow creme and vanilla. Use a mixer to beat in the pot until well blended.
Pour into greased 8 X 8 pan. Let cool and cut into small squares.
Notes
If the fudge gives you any trouble, it's usually one of a couple of things for me. Getting the sugar mixture too hot and the fudge turns out kinda crumbly or not hot enough and it doesn't quite set as firm. I've had both happen on occasion. You also want to make sure you have the right amount of marshmallow creme. I usually eyeball it. These are borderline crumbly, but still so good. I suspect I got it too hot, but I also wonder if it has something to do with the Biscoff itself. Guess I'll have to make it again one day soon to see.

I do have to admit, the Peanut Butter Fudge is still probably my favorite, but these are good for a change.
Now, if you'll excuse me, I have an opened jar of Biscoff and a spoon waiting for me in the kitchen.
Who's with me?