These brownie sandwich cookies are all kinds of yum.
And so tasty that I could have eaten them just like this.
Wait… I did do that.
I had to stop myself so I would have enough cookies left to take pictures of them doubled up for sweet little sandwiches.
That's right, I decided to pipe circles of vanilla buttercream on half of them…
And fill the centers with caramel.
Because caramel is the right thing to do.
I used my pink decorating bags to pipe the buttercream and love them!
Okay, time to make the sandwiches. Gently press the tops on to secure all that deliciousness in place.
They stack up so sweet.
And taste even sweeter with that hidden surprise of caramel inside. Soooo YUM!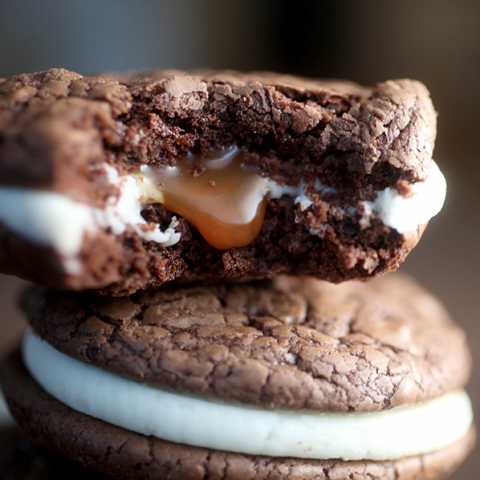 Yield: 12 sandwich cookies
Brownie Caramel Sandwich Cookies
Prep Time 1 hour

Cook Time 8 minutes

Additional Time 15 minutes

Total Time 1 hour 23 minutes
Ingredients
Cookies
12 oz dark chocolate (I used Guittard Bittersweet 74% Cacao)
7 tablespoons butter, salted
1/3 cup all purpose flour
1/2 teaspoon baking powder
1 cup sugar
1-1/2 teaspoons vanilla
3 eggs
Caramel Filling
1 cup sugar
6 tablespoons butter, salted
1/2 cup heavy whipping cream
Frosting
12 tablespoons butter, salted
2 cups confectioner's sugar
1 teaspoon vanilla
1 teaspoon heavy whipping cream
Instructions
Cookies: Preheat oven to 350 degrees farenheit and line baking sheets with parchment paper.
Place butter and 10 ounces of the chocolate in a heatproof bowl. Position the bowl over a pot of simmering water. Stir occasionally until the chocolate is melted and smooth. Set aside to cool.
Chop remaining 2 ounces of chocolate into small pieces and set aside.
In a small bowl, whisk together flour and baking powder and set aside.
Mix sugar, eggs and vanilla in a stand mixer on medium high for about 8 minutes. Add melted chocolate to the sugar mixture and fold until combined. Then add flour and remaining chopped chocolate and stir until just combined and the flour has disappeared.
Let rest for about five minutes and then scoop dough onto prepared baking sheet about three inches apart. Bake for 8 minutes.
Caramel Filling: Heat sugar in a medium pot stirring constantly with a wire whisk. The sugar will turn clumpy and then melt before turning into a thick amber-colored liquid. As soon as this happens (Be careful not to allow the sugar to burn) immediately add butter, whisking until completely melted.
Remove from heat and slowly add cream. Whisk until combined and smooth. Pour into a glass jar and set aside to cool and thicken. Note: This makes more than you'll need for the cookies, but you can store in the refrigerator up to two weeks and then reheat to use over ice cream or other treats.
Frosting: Using a mixer, beat butter until smooth and creamy. Slowly add confectioners' sugar and continue beating until combined. Add vanilla and heavy cream and mix until combined.
Pipe buttercream circles on half of the brownie cookies. Fill the centers with thickened caramel and gently press remaining brownie cookies on top to sandwich.

Notes
UPDATE: A few of you have had problems with the recipe. Both variations worked well for me. Make sure to let the dough rest. And you can also chill the dough for about 15 minutes as well. If you're worried about them being too flat, follow the note below. Hope that helps! ~ xo Bakerella

The photo below is of a second batch I made where the cookies came out a little more mounded. Just use a 1/2 cup of flour instead of 1/3 and 5 tablespoons of butter instead of 7 in the above recipe. They were good this way too, but the flatter cookies were tastier.