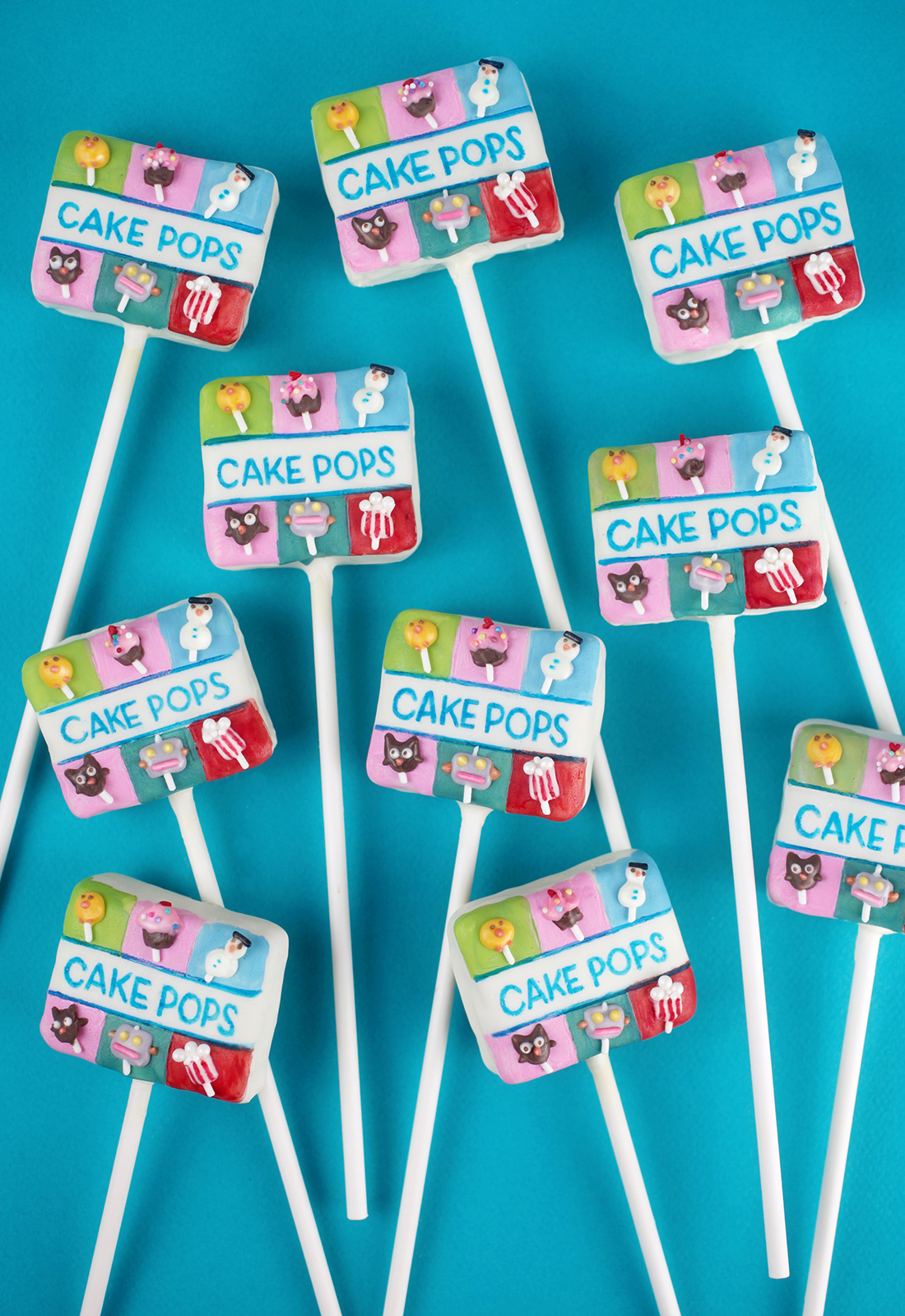 Hi friends! My Cake Pops Book turns 10 today and to celebrate, I couldn't think of a more appropriate treat to make than pops that look like the book cover.
I can't believe it's been more than a decade of sharing these tiny treats with you guys and now officially ten years since the book was released. When I started making pops and giving instructions on the blog, I never could have predicted the impact they would have around the world. It's been so fun seeing your creative treats, meeting you guys on book signings, and sharing so many smiles with you over the past years. Thank you for making this adventure so sweet!
Yay, I'm having a fun Cake Pops Collection Giveaway!!!
You could win a copy of all three of my books, my cake pops toy, kits and cards, too. Basically, everything in the photo below except for the candy jars. ; ) See how to enter at the end of the post.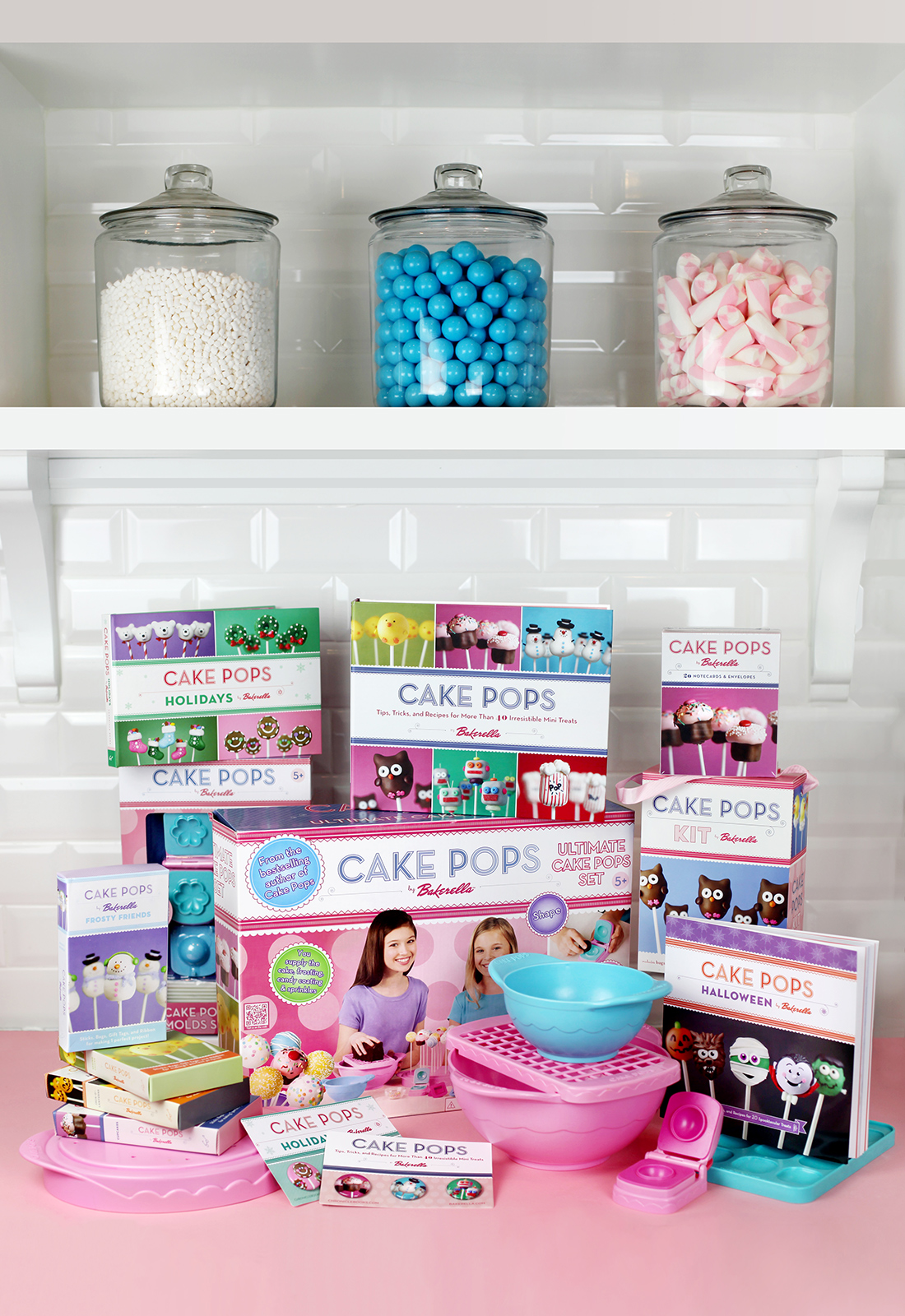 Now, I realize it's unlikely that you will want to make these book cover cake pops, but I want to show you how to, just in case there's a part of the process that gives you an idea on your next pop project.
HOW TO MAKE BOOK COVER CAKE POPS
Follow my basic cake pops recipe to roll into balls and shape and decorate with the instructions below.
I rolled these balls a bit bigger at about 2 inches to accommodate the size I needed for the book cover.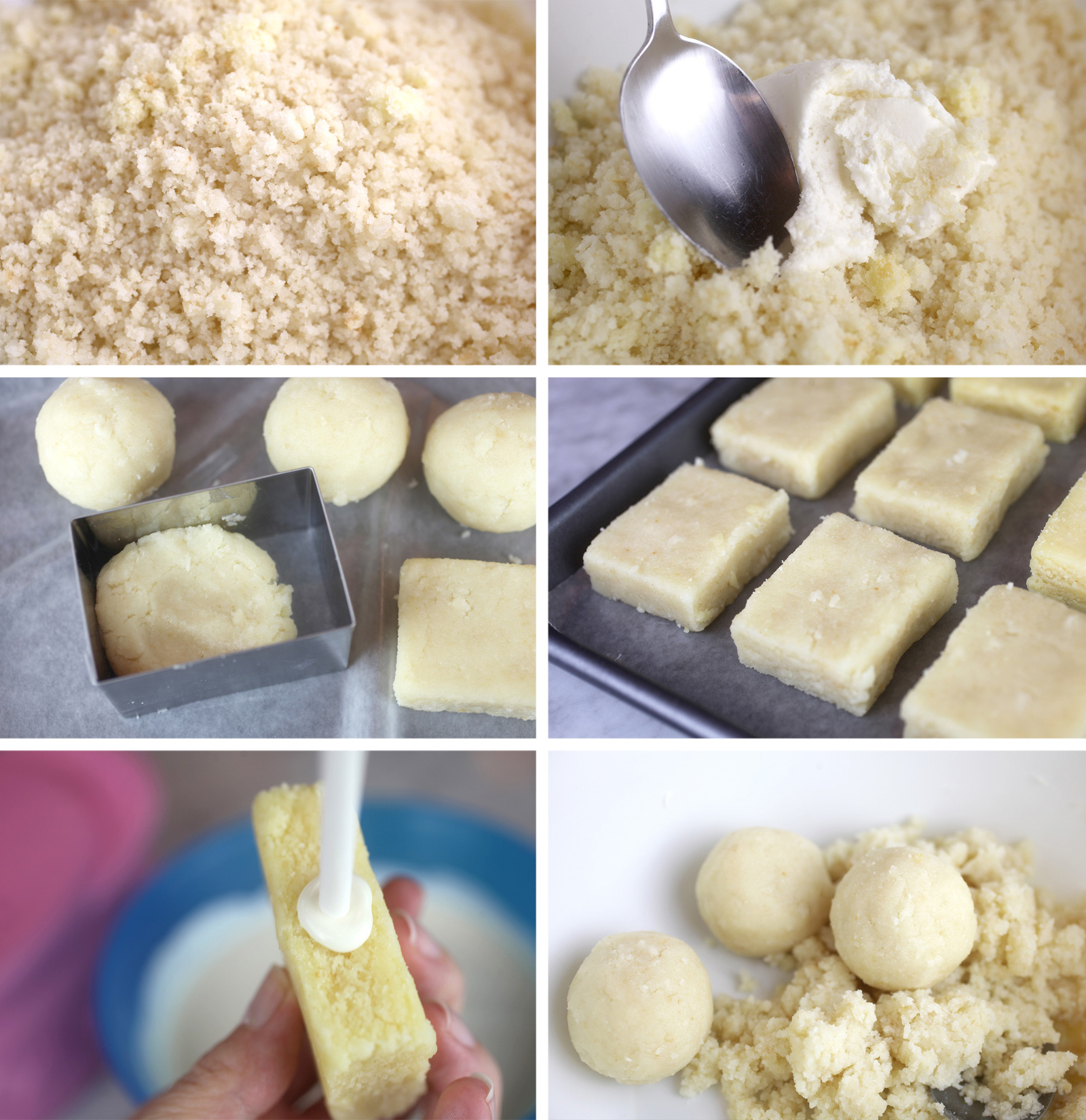 To shape, I used a rectangular cutter to help with straight edges. Flatten the cake pop mixture and then cut out or cut off the sides with the straight edges. Chill until firm, but not frozen.
I used cookie sticks instead of lollipop sticks to help support the extra weight since these were larger than usual.
Dip the end of a cookie stick into melted and fluid vanilla coating and then carefully insert into the bottom of a chilled, shaped rectangle. Press your fingers on the sides as you insert to keep the mixture from breaking apart since they aren't as thick as say a rolled ball, the mixture may try to separate. If it does, you can always apply a bit of melted candy coating to any cracks to kind of glue or hold it together.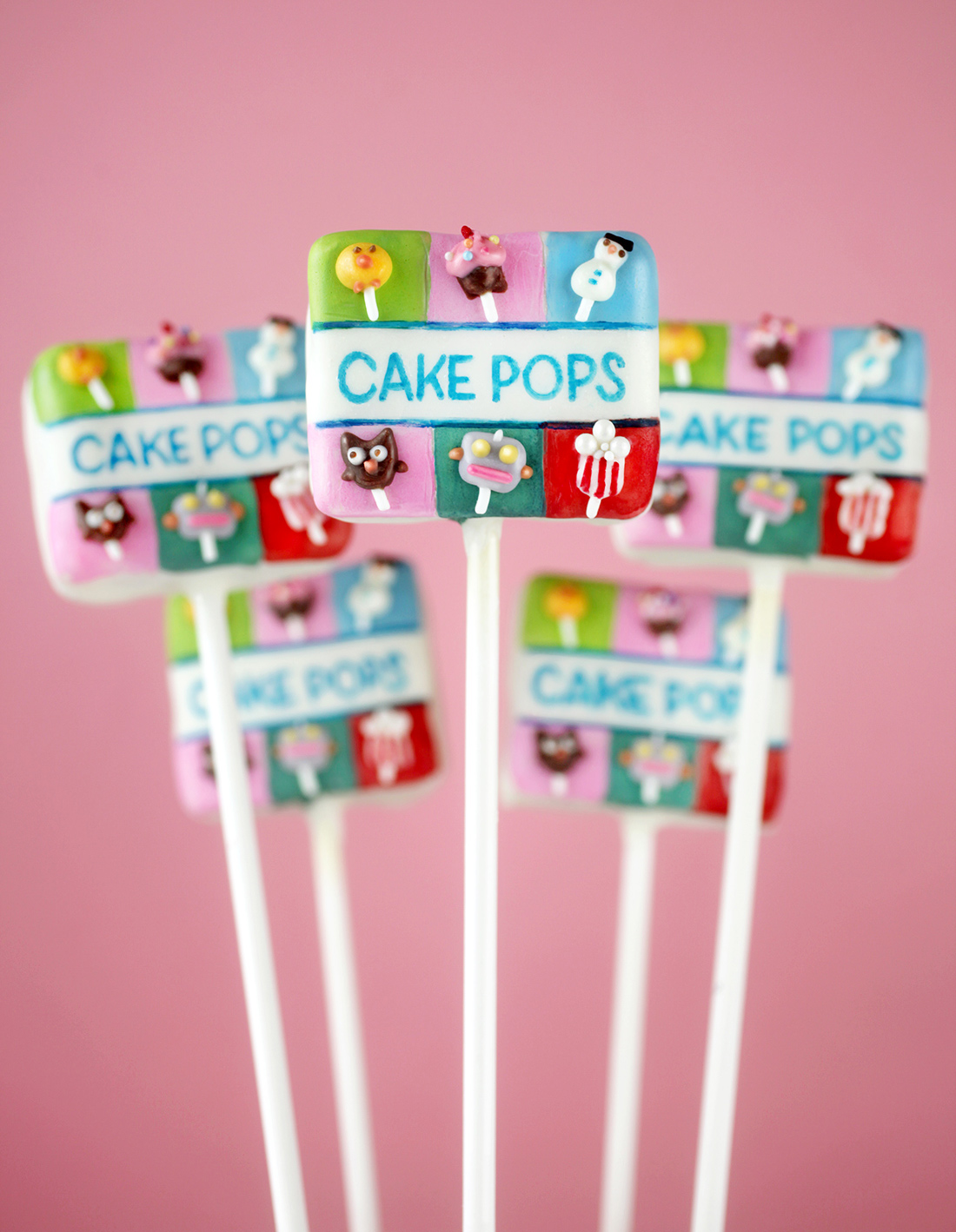 Now, let's see how those white rectangles turn into these? It's time consuming for sure, but worth it for some 10-year celebration pops.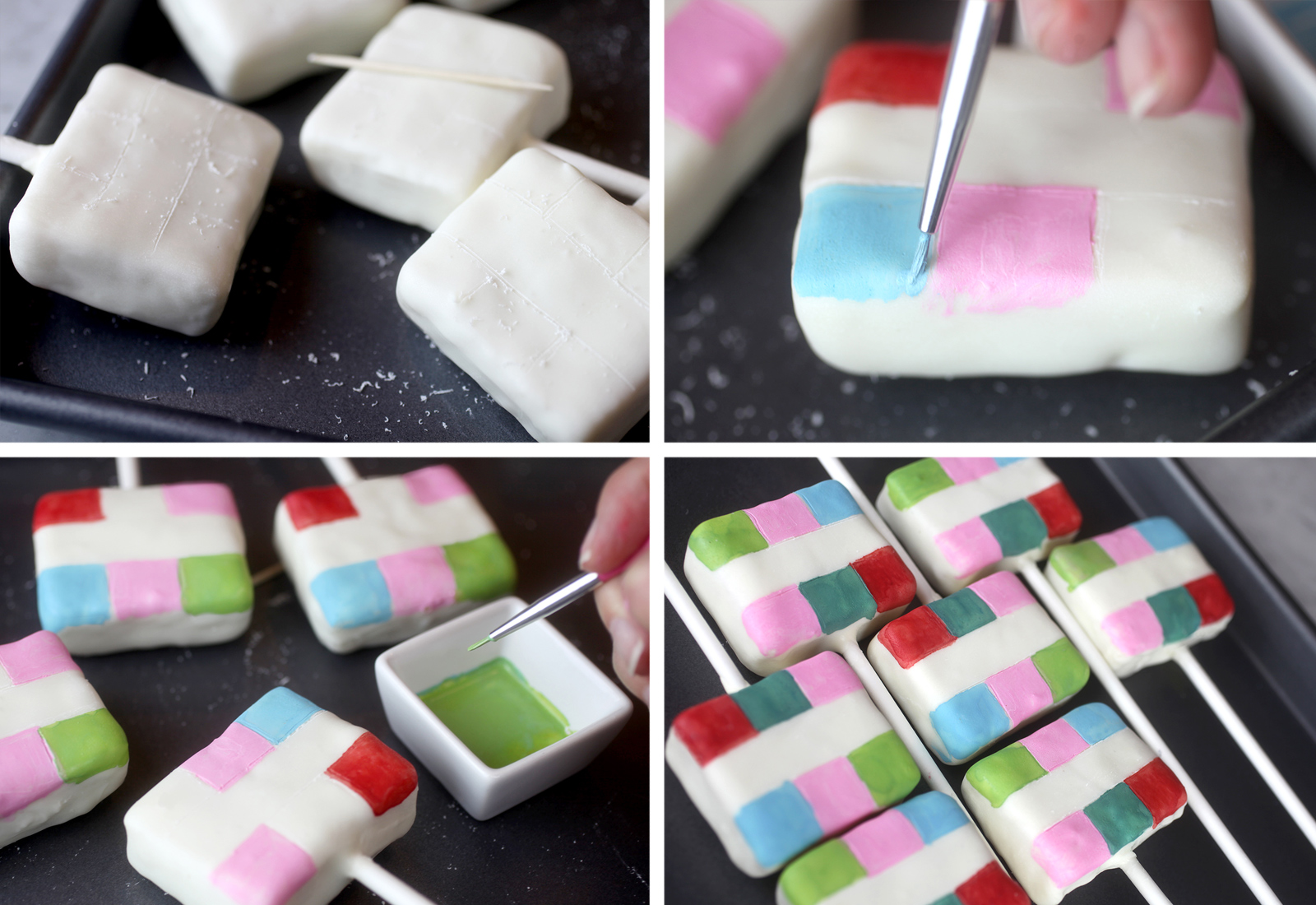 First, I used a toothpick to etch guide lines into the candy coating for the six squares. Then I used a small brush to paint on the surface with edible Poppy Paint (Just one of the cool cake pop products that came about over the years from readers like you).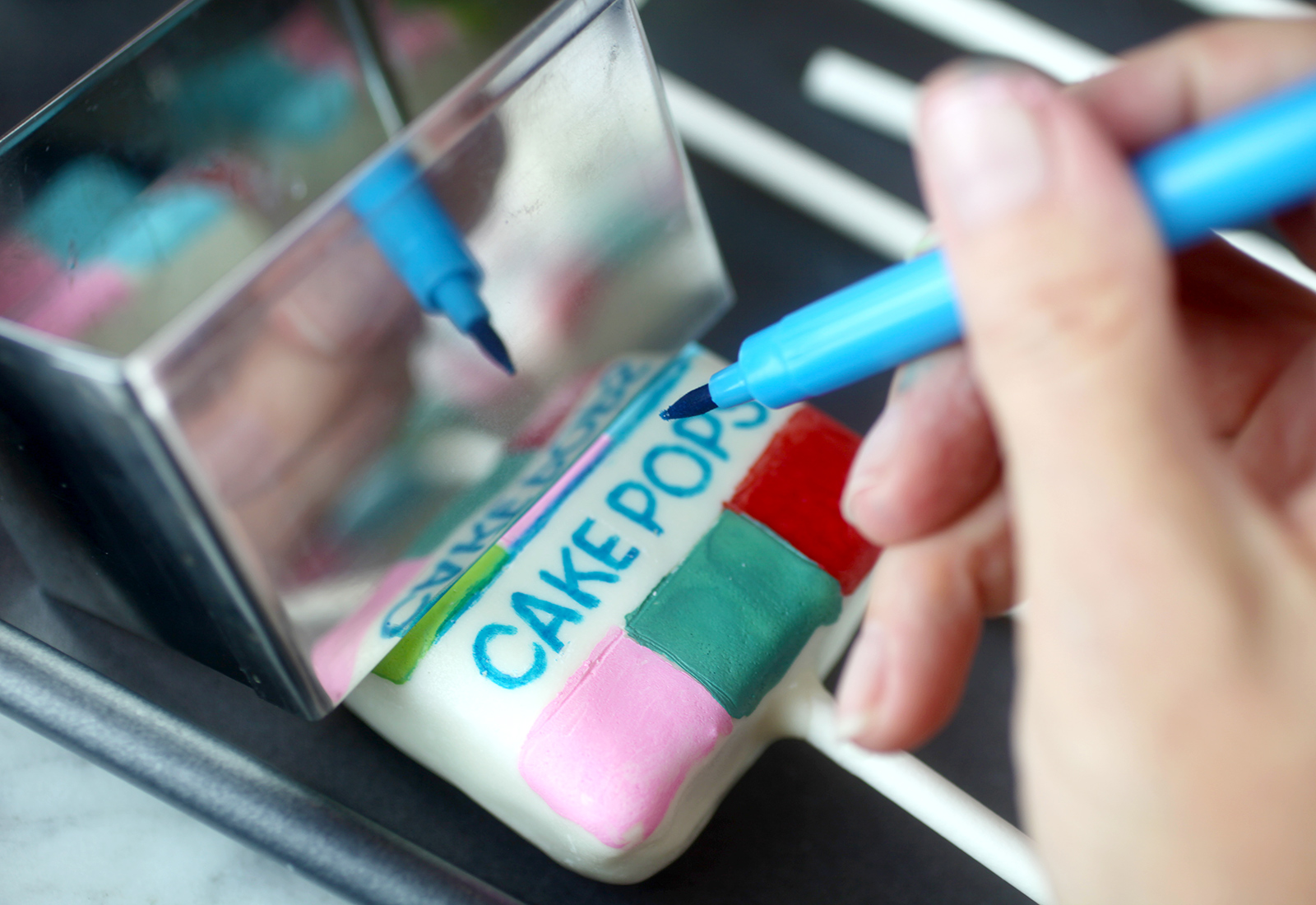 Next, I had to write out the title of the book. Gotta say, this was probably the hardest part. And as I was doing it I was super thankful that the cover used block letters instead of calligraphy. That would have been so much harder.
I used the blue Americolor Gourmet Writing Pens to carefully mimic the type as much as possible. Then I used the edge of my rectangular cutter to make two straight blue lines, overlapping the edges of the color blocks.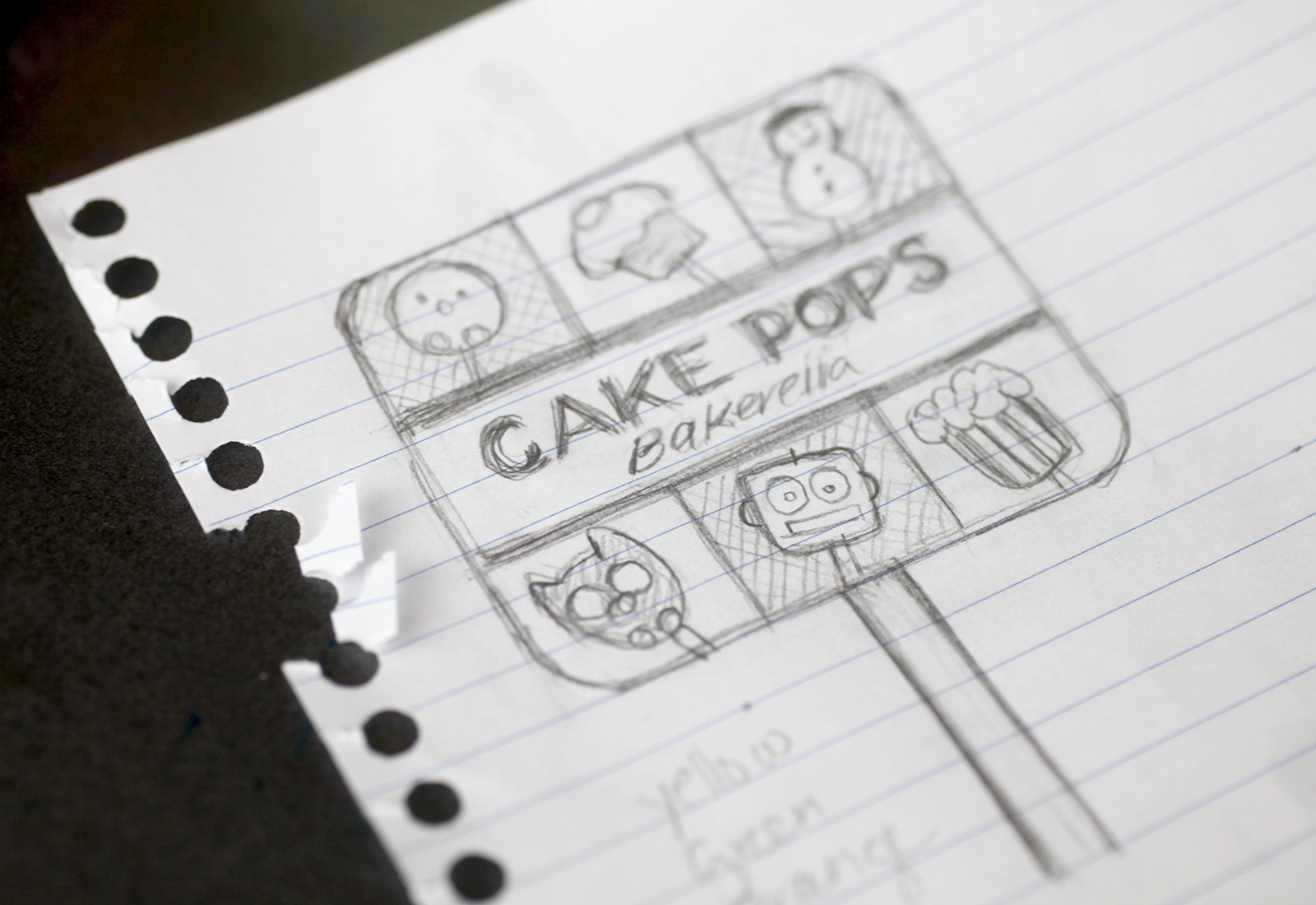 Here's a drawing I did to simplify the cover as much as possible. I ditched including my name because I would have totally screwed that up at such a small scale.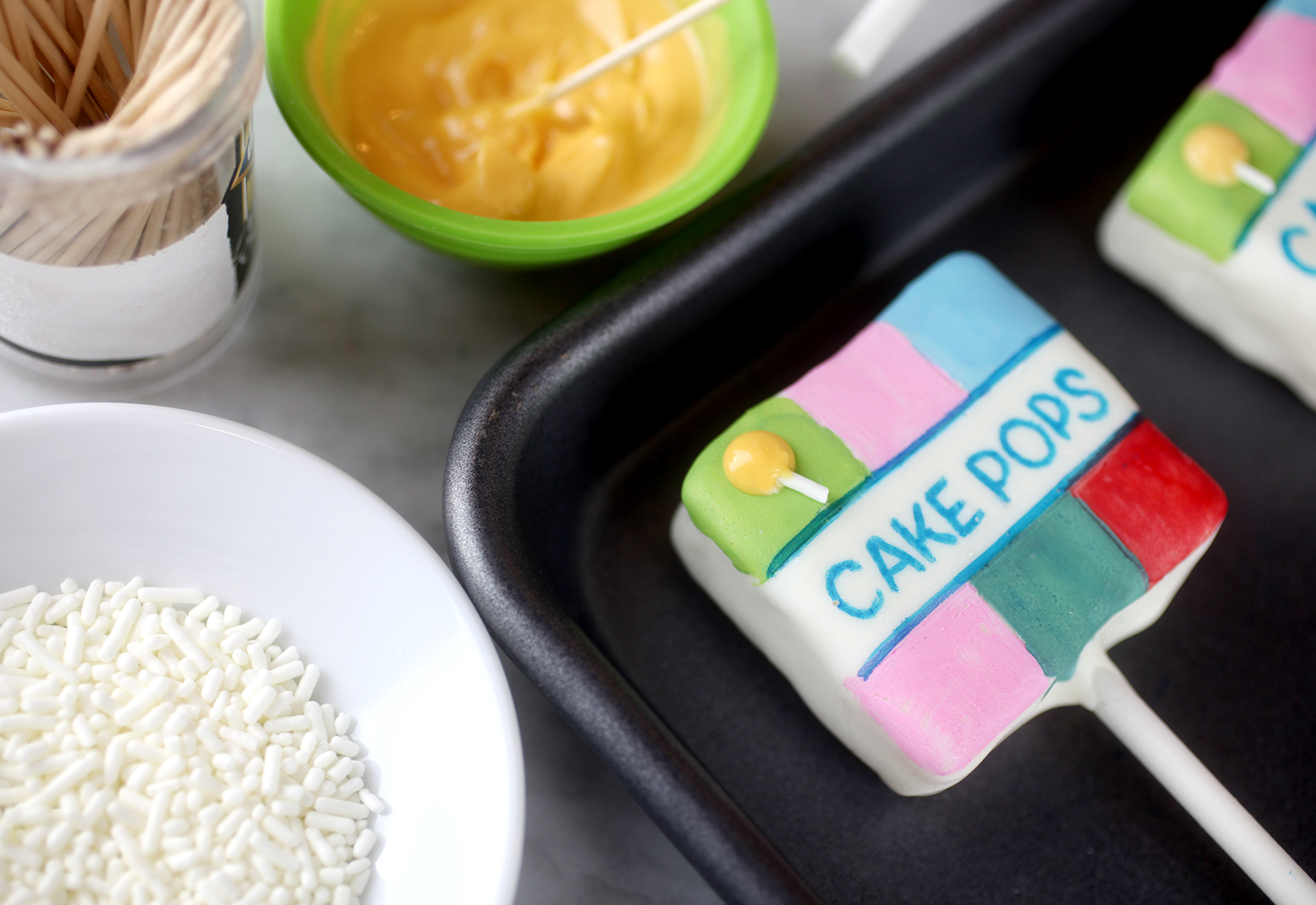 Okay, lightbulb moment! I was going to draw lollipop sticks on the surface with vanilla candy coating, but how perfect are white jimmies. I mean, it's crazy all the ways sprinkles can be used to decorate, but this may be one of my favorites. Perfect lollipop sticks and the exact proportion I needed for these pops.
To recreate the six designs on the cover, I used a toothpick to dot small amounts of melted candy coating on top and coerced it into each shape I needed. I placed a small amount of coating first, attached the jimmies and then placed more coating on top to secure the jimmies in place.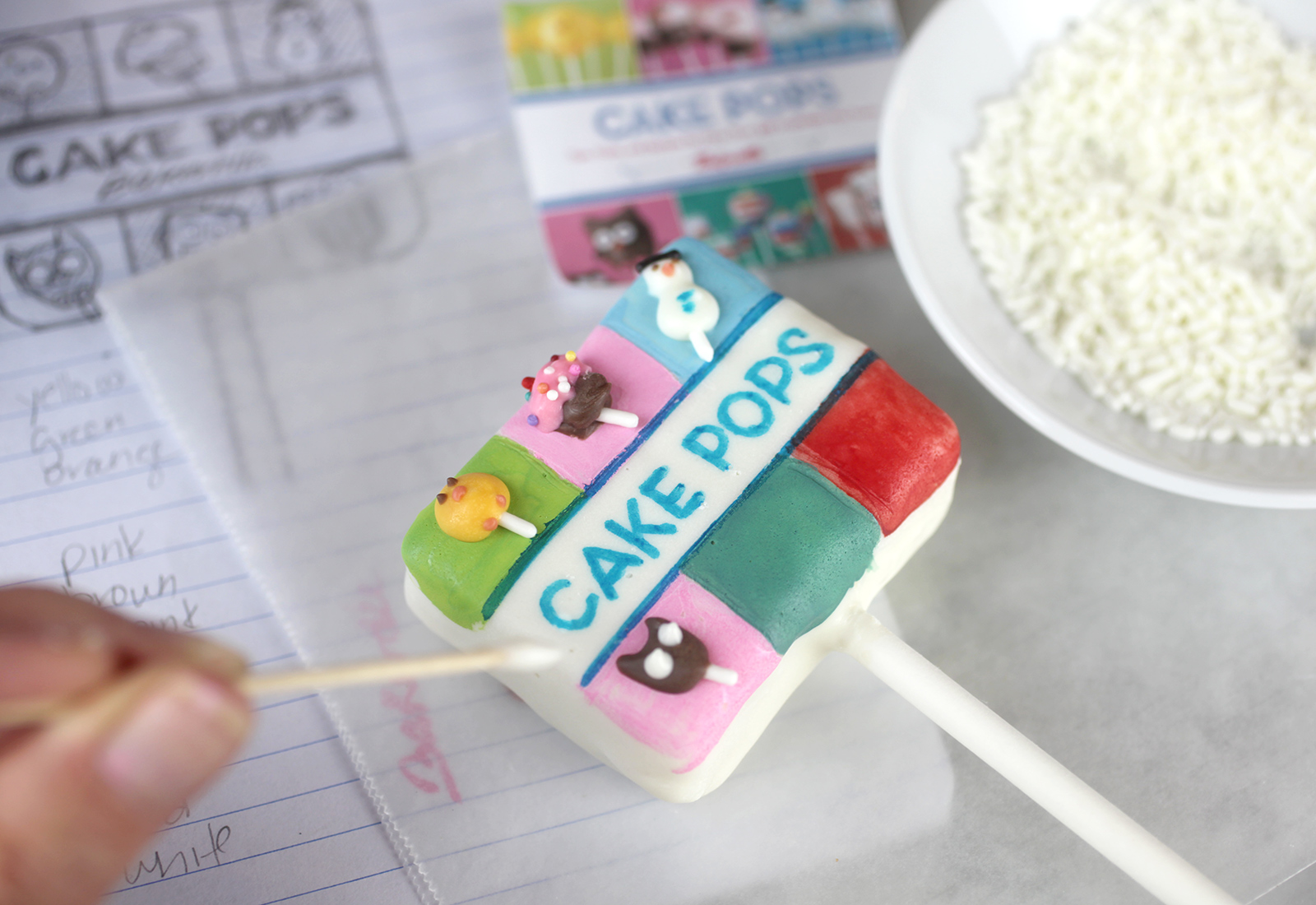 I used tiny, tiny, tiny non-pareils for the cupcake pop sprinkles and black jimmies for the snowman's hat.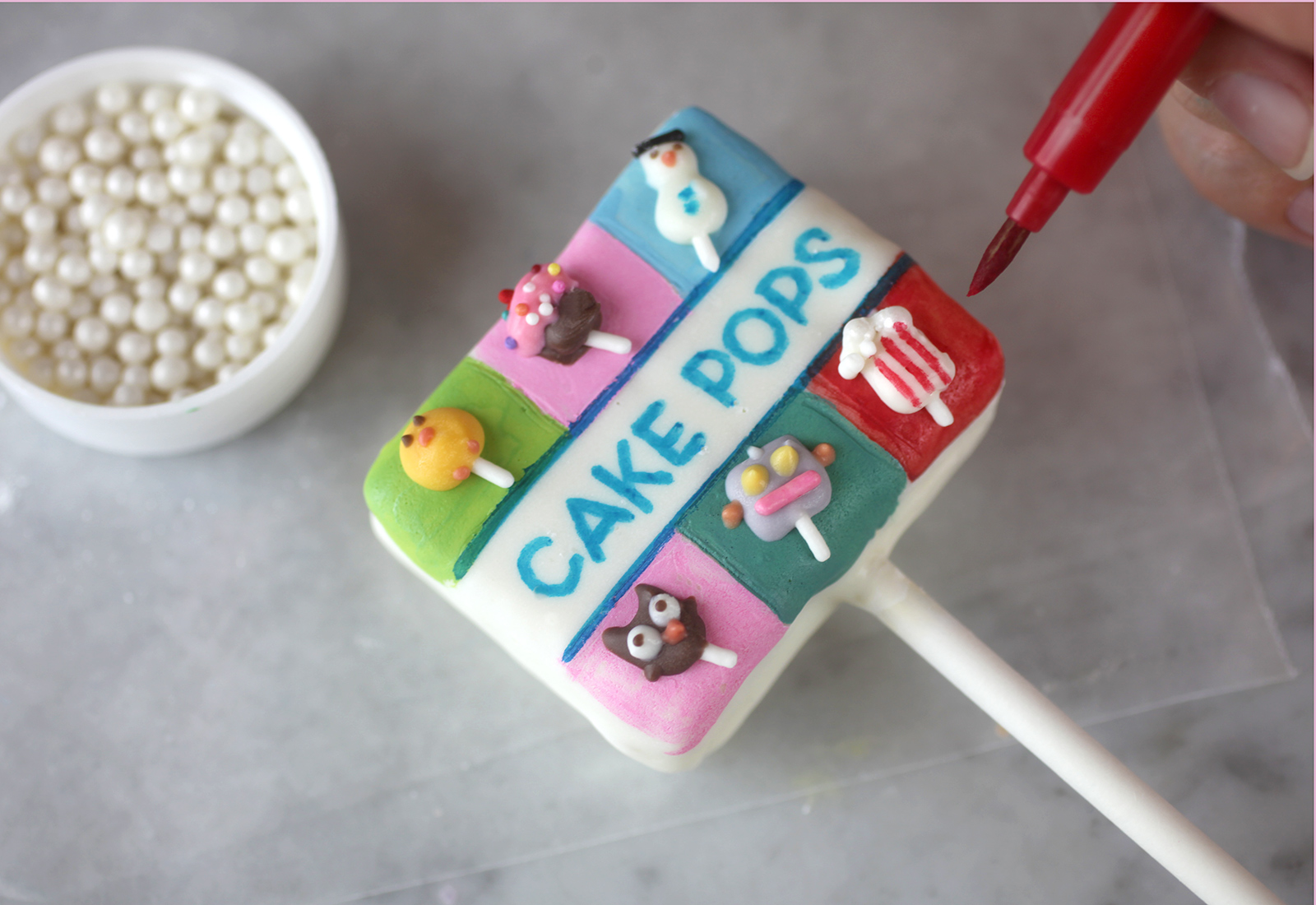 And for the popcorn, I used tiny white sugar pearls and a red edible ink writing pen. All of the other details were just little dots of colored candy coating.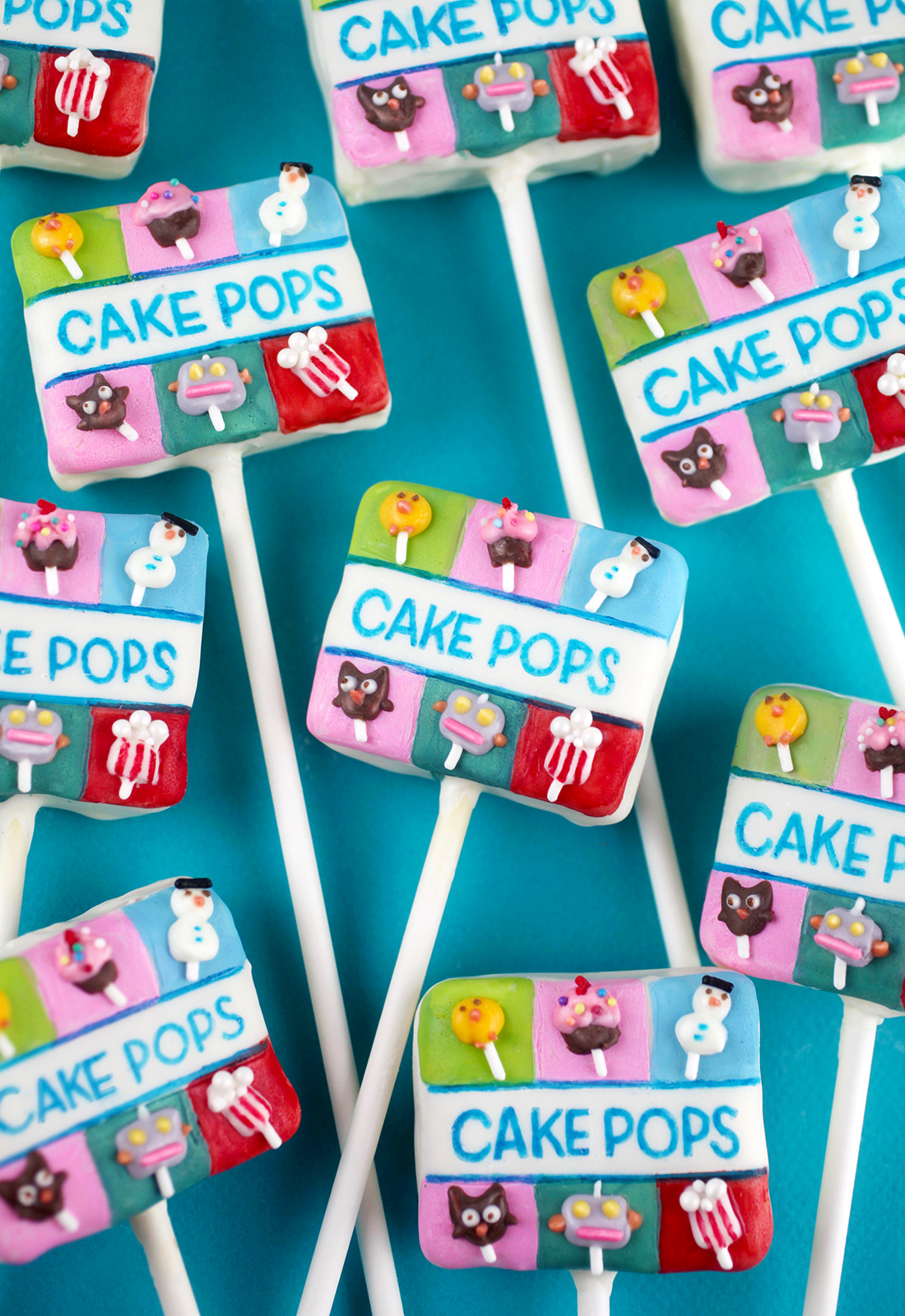 A book about cake pops turned into cake pops, with tiny cake pops on the cover. So meta.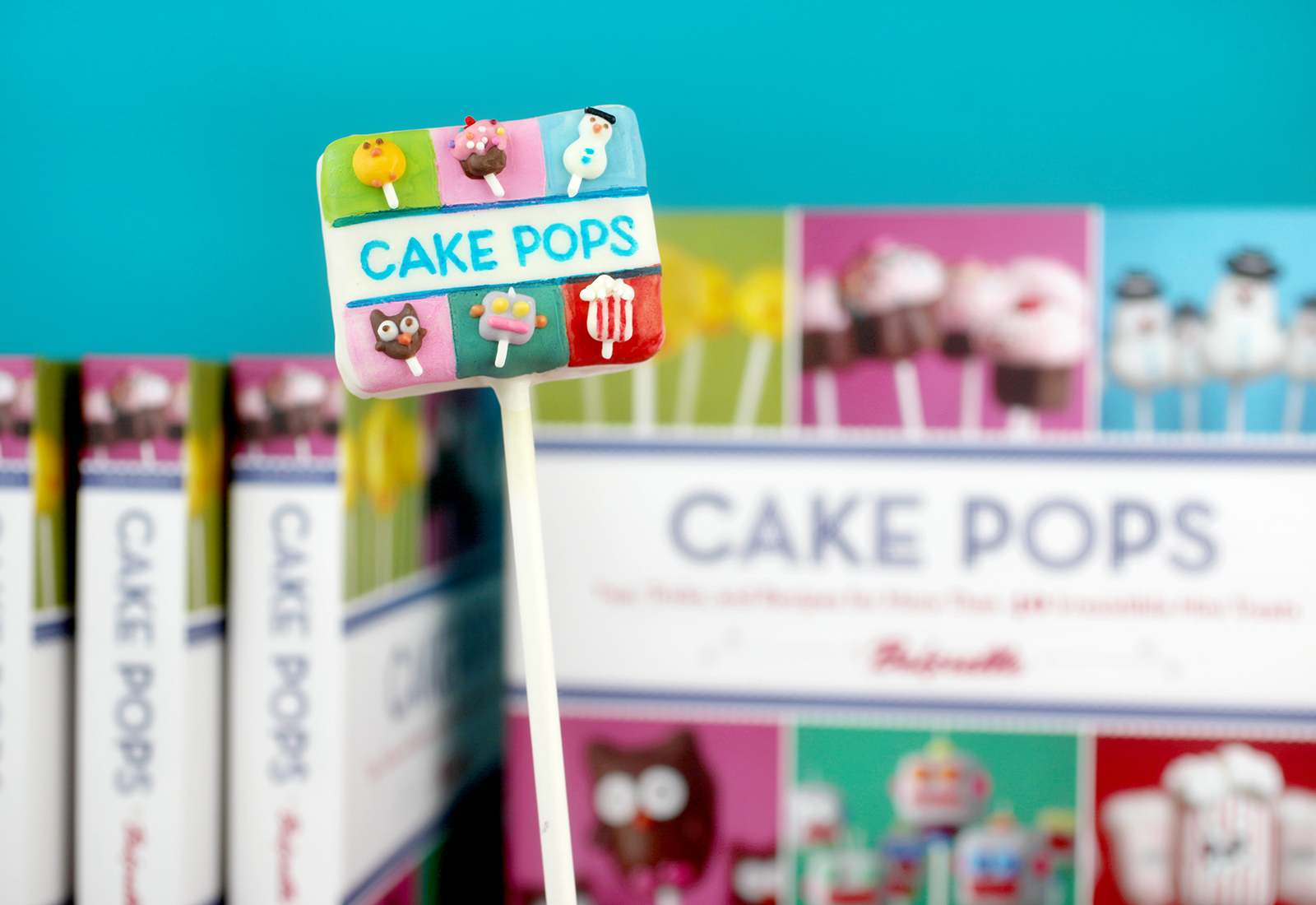 Super cute!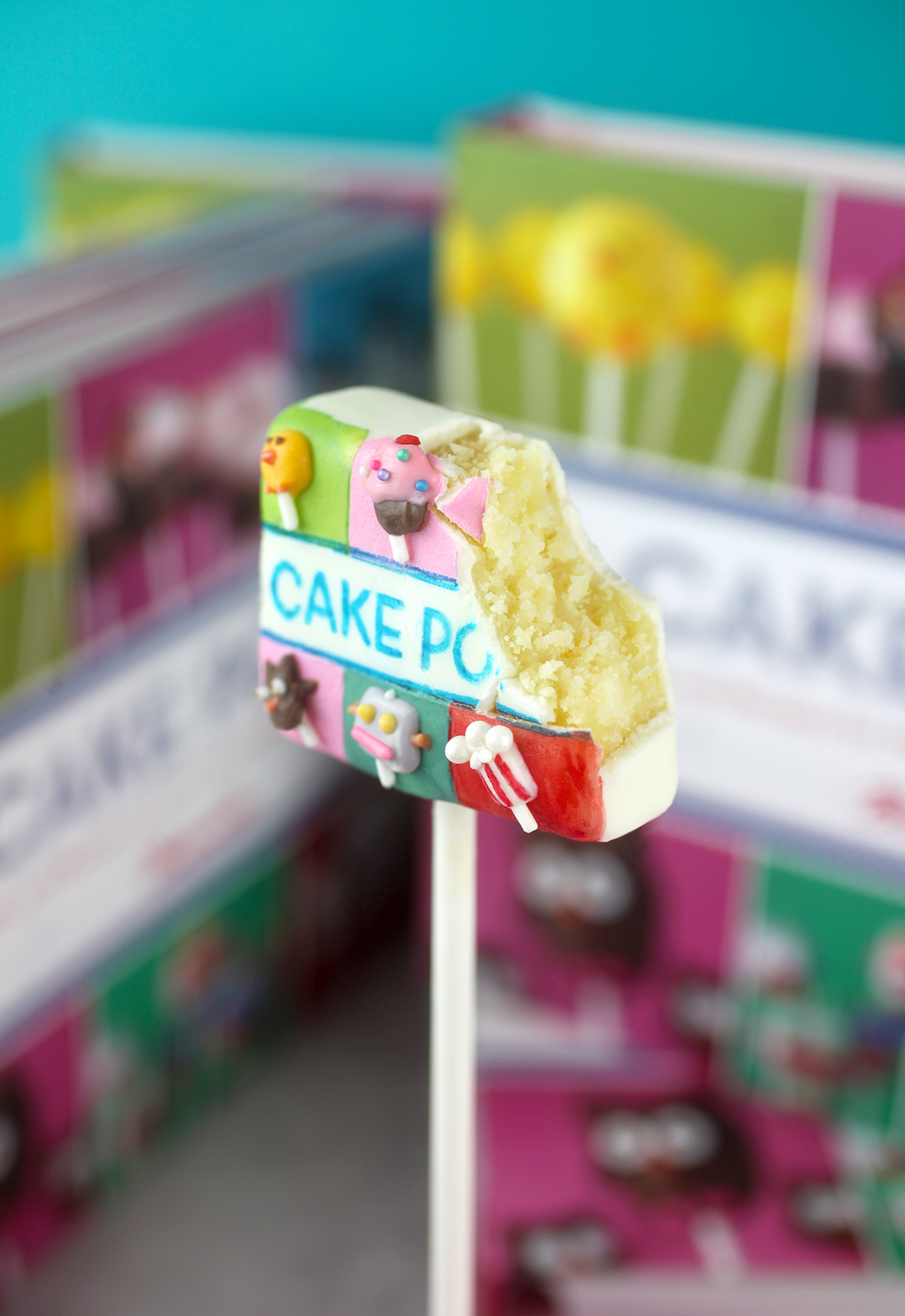 And pretty sweet, too.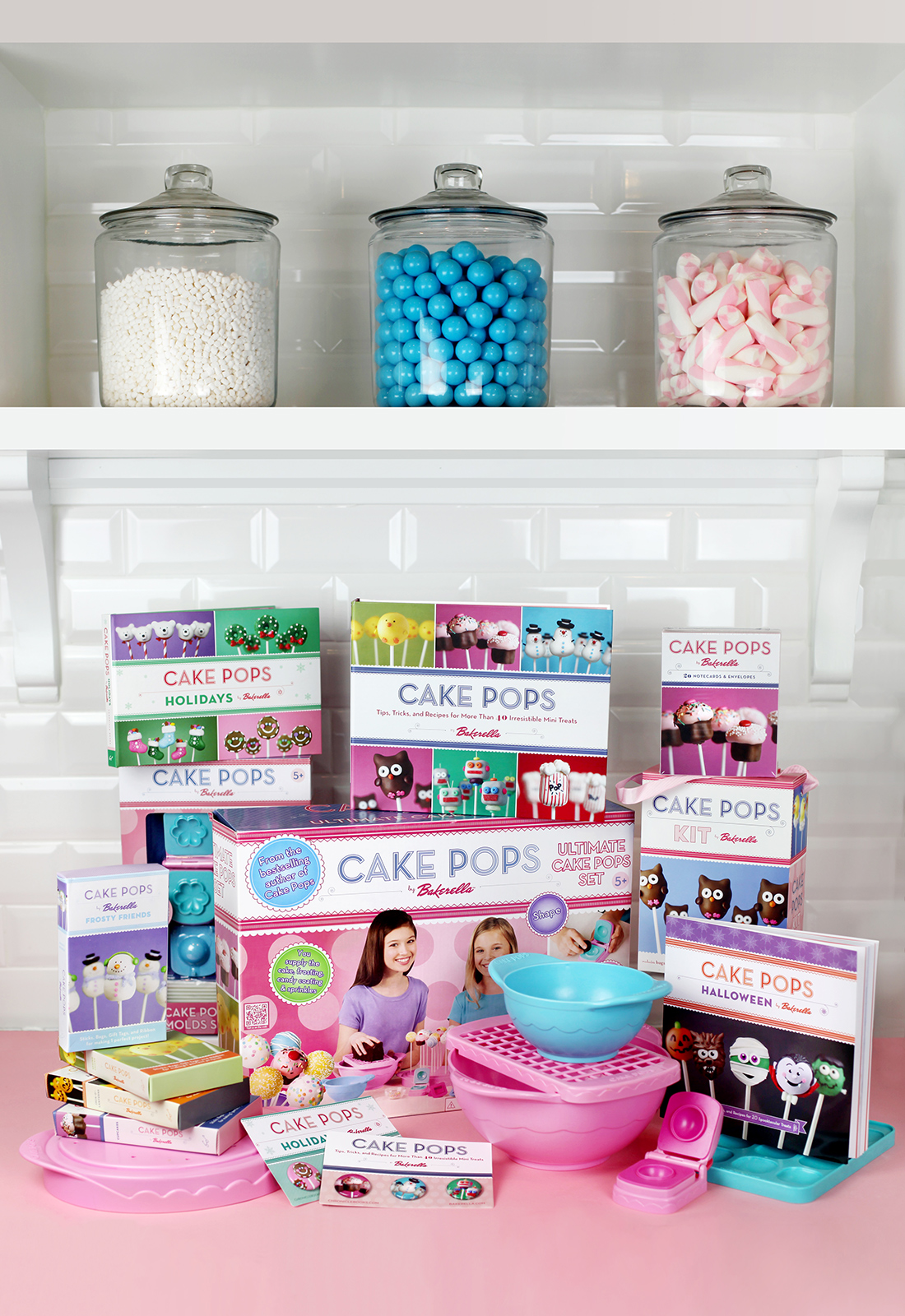 ////////////////////////////////////////////////////////////////
CAKE POPS COLLECTION GIVEAWAY
Enter for a chance to win the entire collection including:
Cake Pops by Bakerella Book
Cake Pops Toy
Cake Pops Holidays Book
Cake Pops Halloween Book
Cake Pops Kit
Cake Pops Notecards
Cake Pops Mini Kits
Cake Pops Buttons
To enter, leave a comment on this post and share your favorite cake pop design or memory.
Deadline to enter is Thursday, September 10 at midnight ET. (Sorry, giveaway is closed. Winner announced below.)
One winner will be chosen at random and announced here on this post.
////////////////////////////////////////////////////////////////
We have a winner! I loved reading all of your comments. So many wonderful memories that made my heart happy. And it was fun to hear all of your favorite cake pops. Definite frontrunners were the original pink cupcake pops, the spring chicks and hello kitty pops. And so many of you love making them for Halloween, too.
Now for the winner … Congratulations Carina Rodriguez! Hope you have fun with all of the goodies!