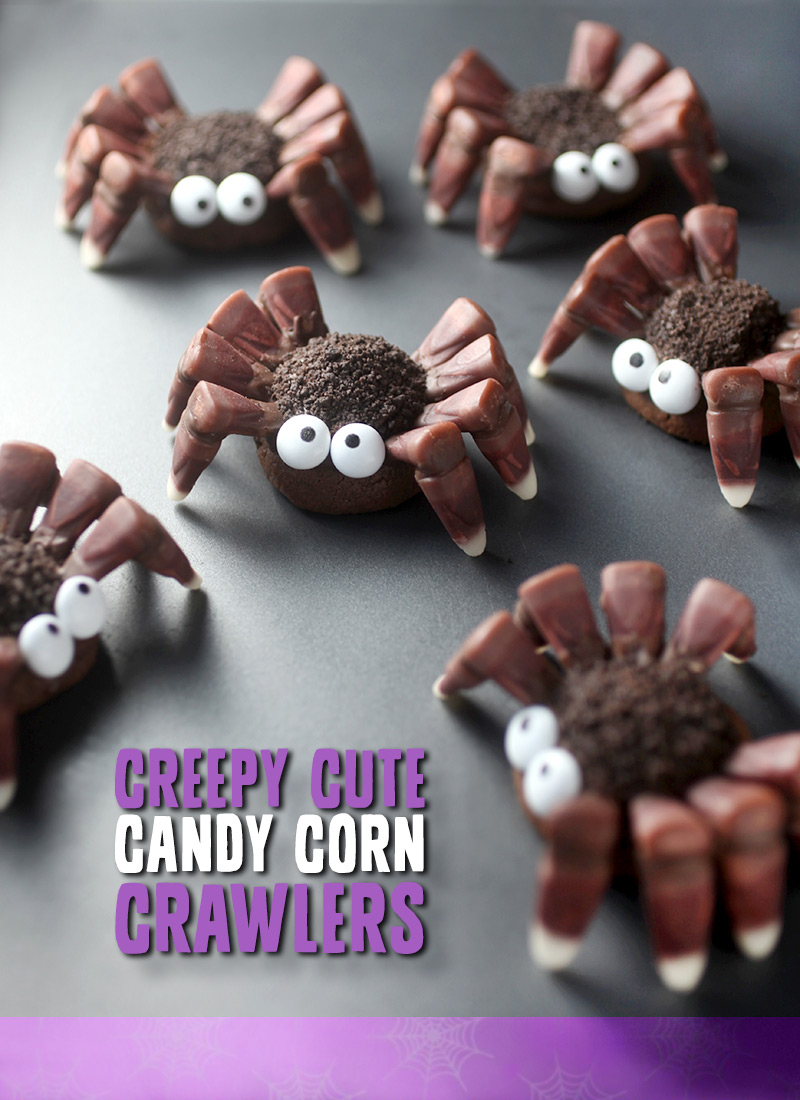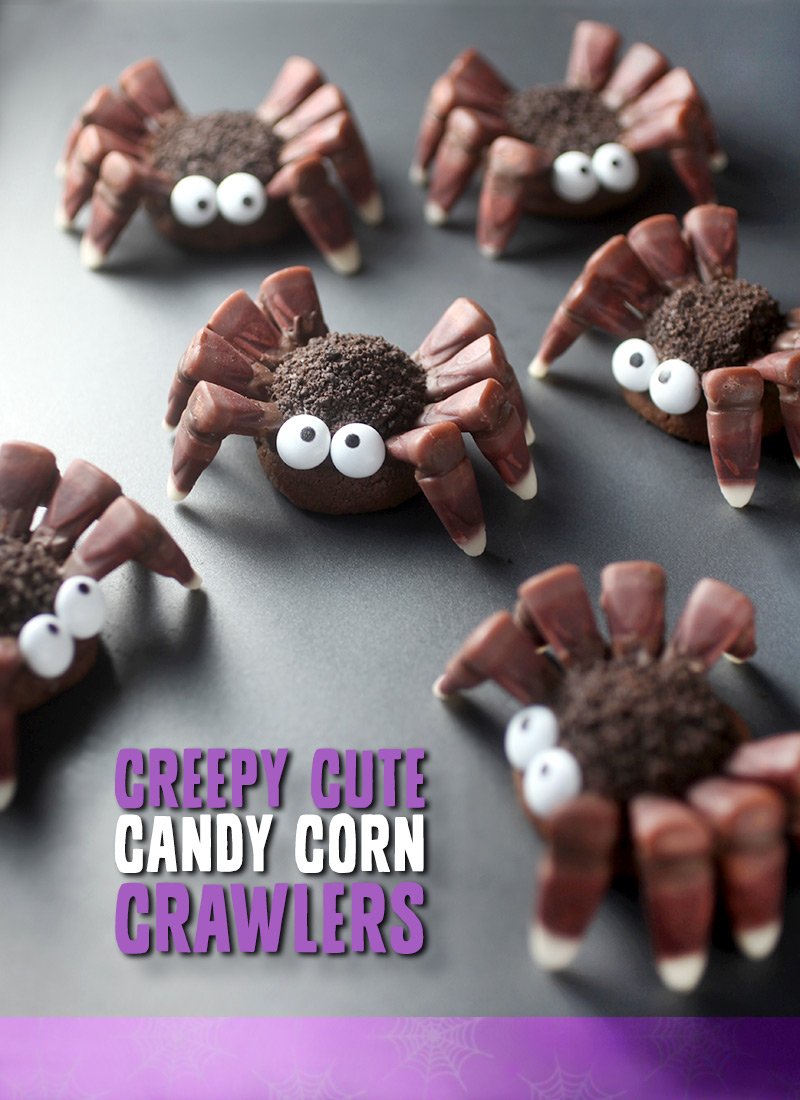 I bought a bag of sea salt chocolate candy corn a couple of weeks ago because I thought the color might be fun for some kind of Halloween treat… but at the time I didn't know what. Well after staring at the bag long enough I finally decided on spiders this past Sunday and made these creepy crawling chocolate cookies.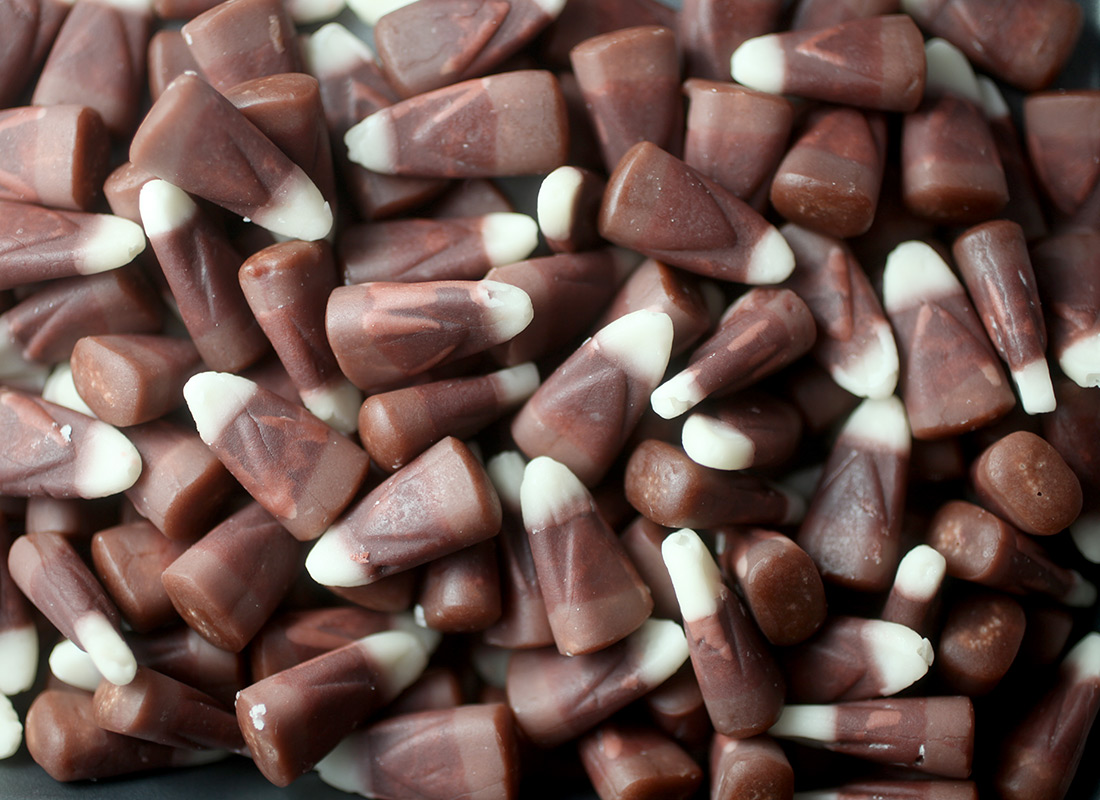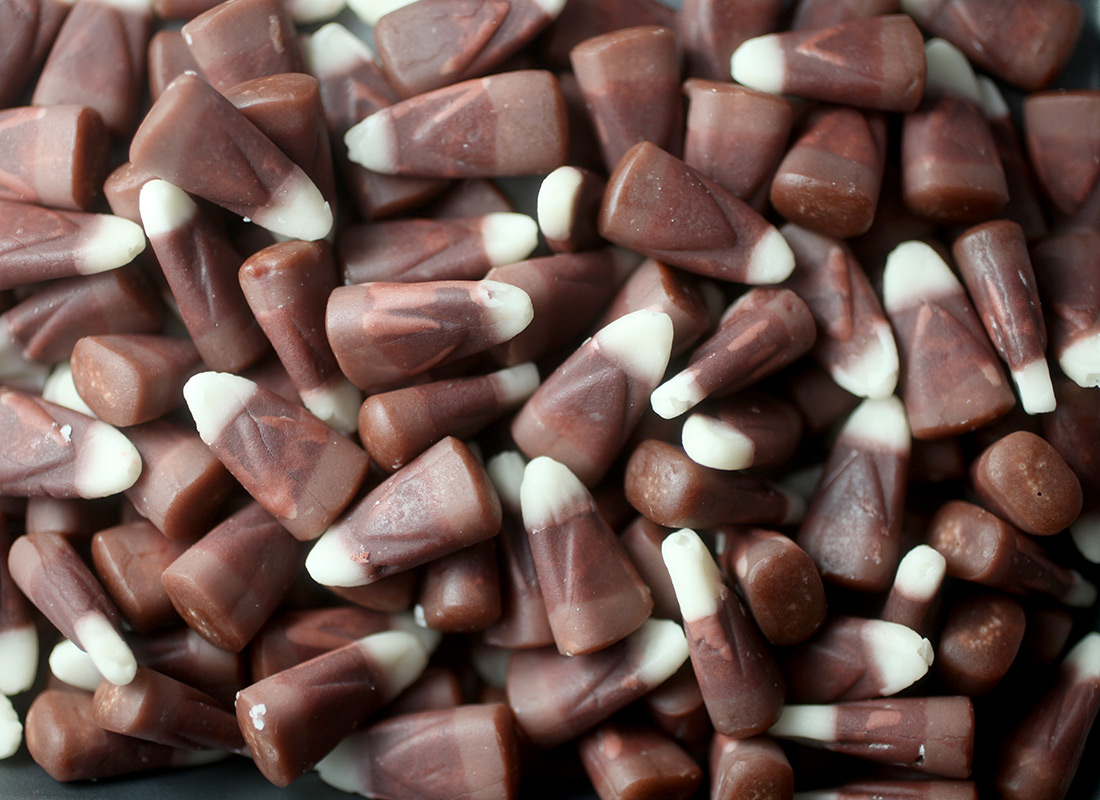 I love the look of this candy corn. The slight color variation in the brown and the white tips make awesome spider leg details.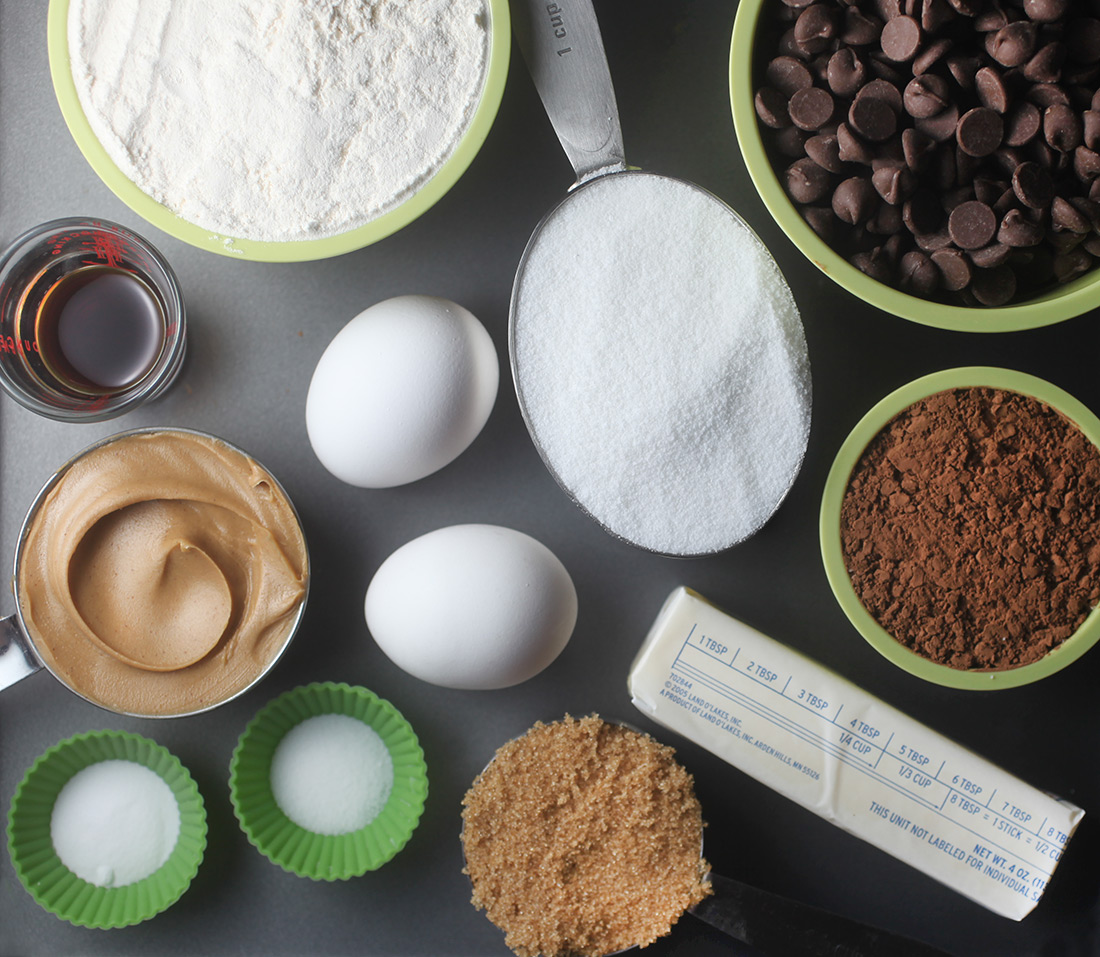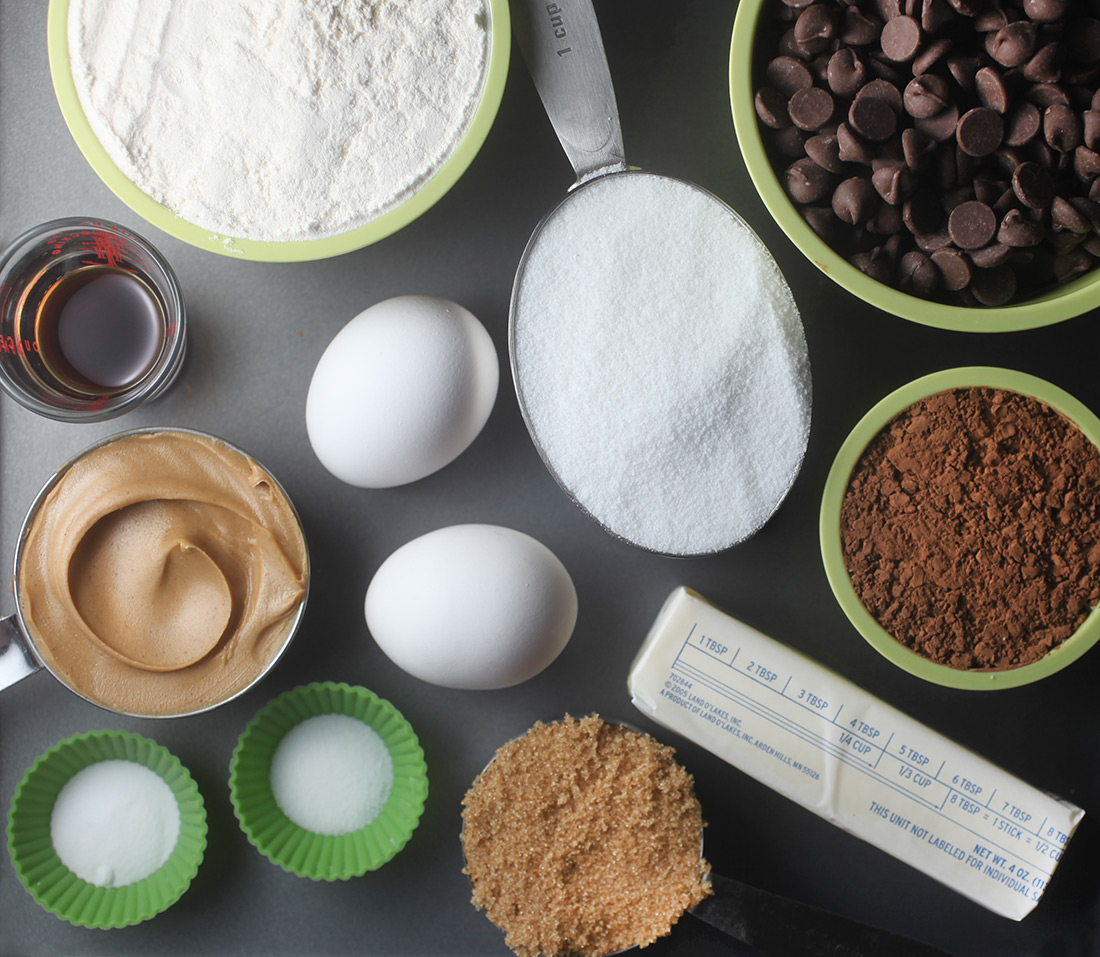 Okay let's make some cookies. Grab flour, sugar, cocoa, brown sugar, butter, peanut butter, eggs, vanilla, baking soda, salt and milk chocolate morsels.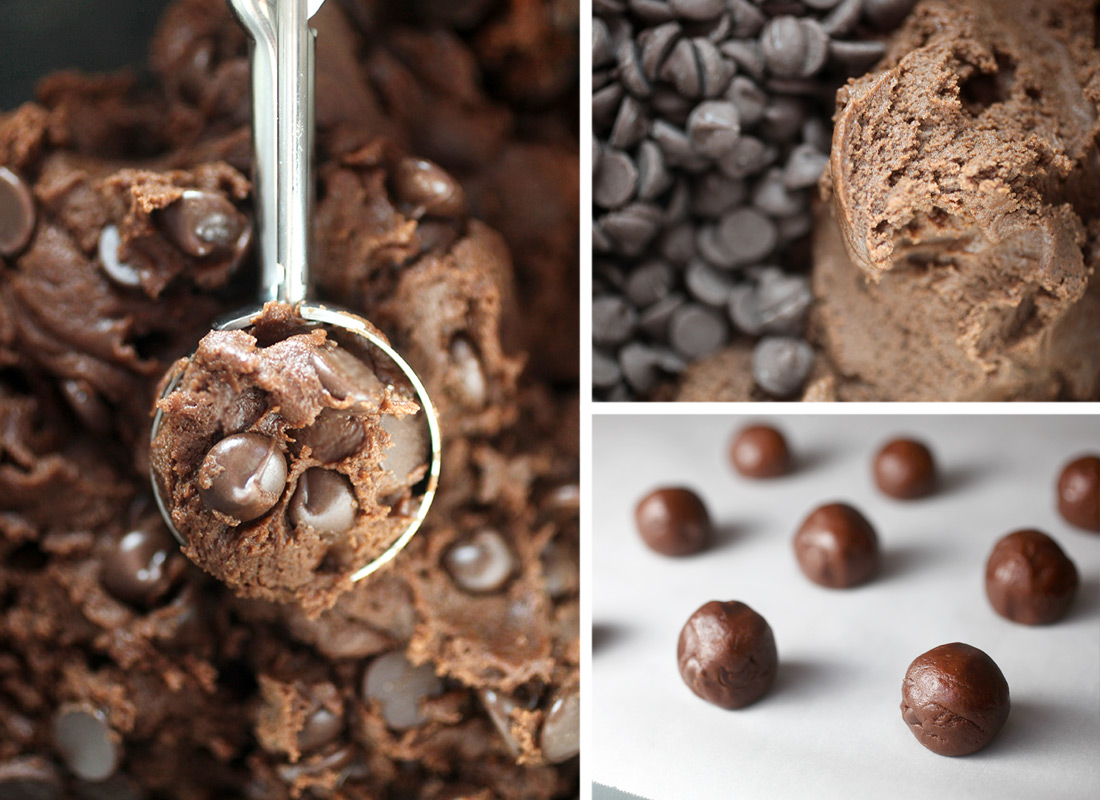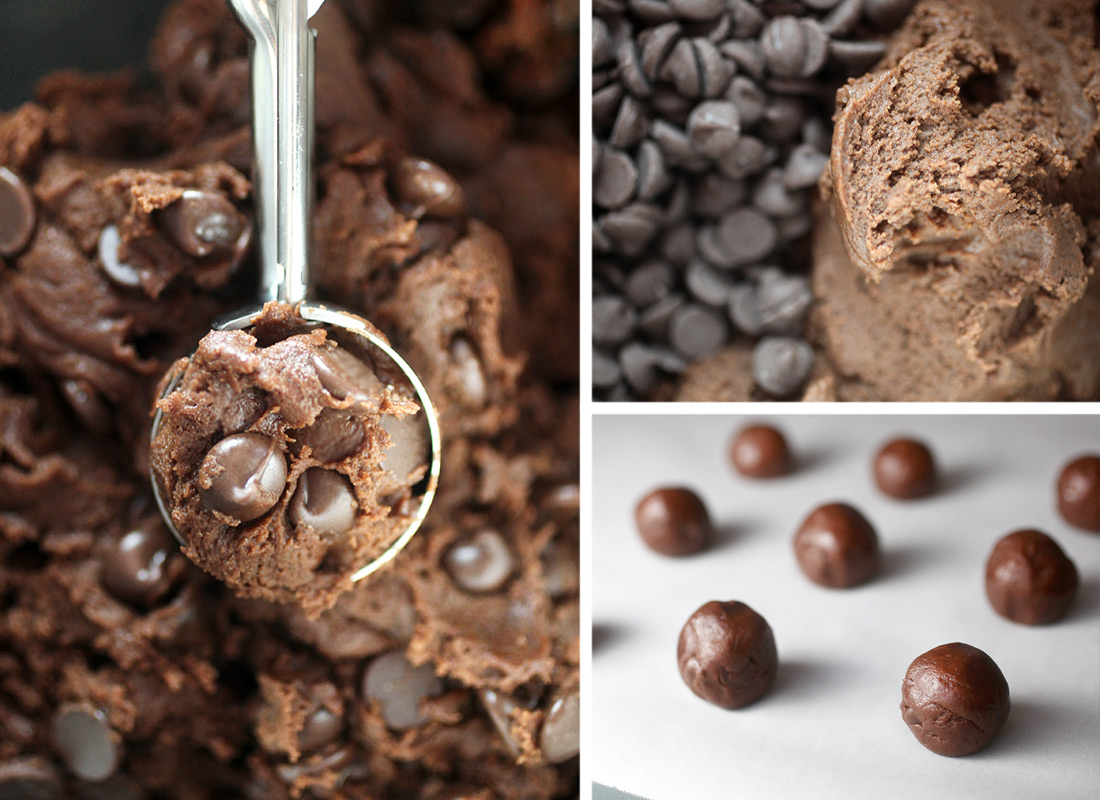 Once you have the cookie dough ready, scoop and roll into 1 1/4 – 1 1/2 inch balls.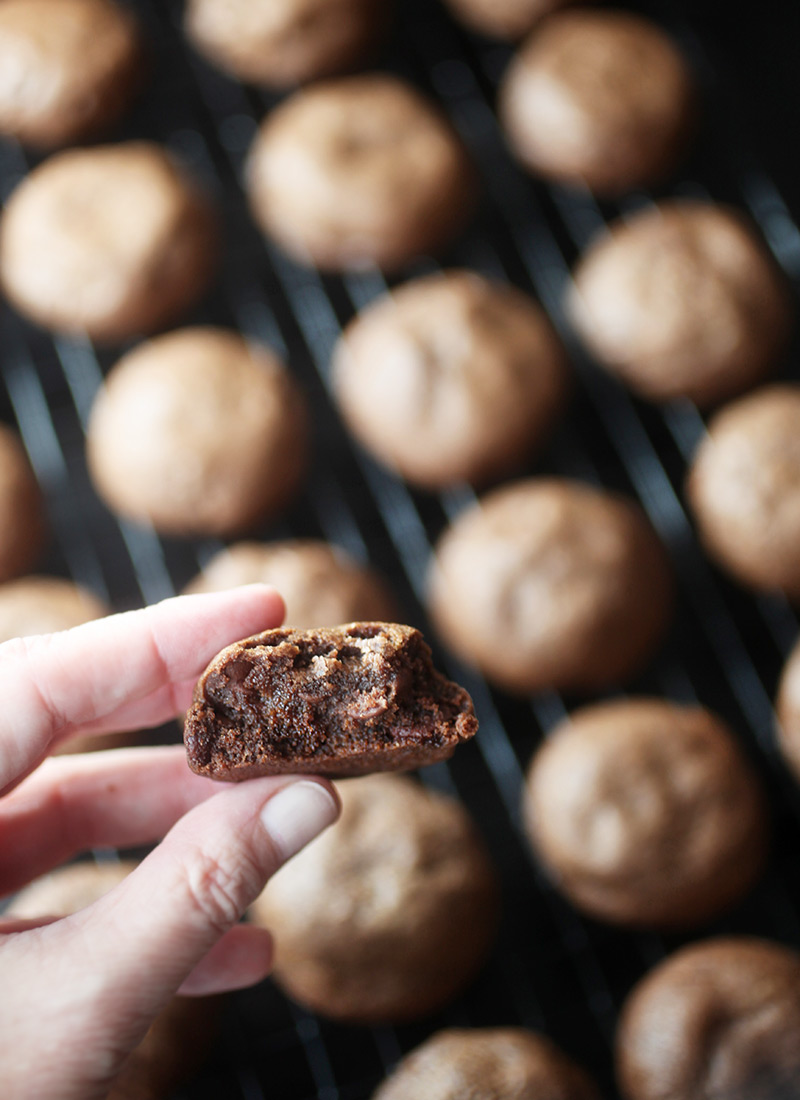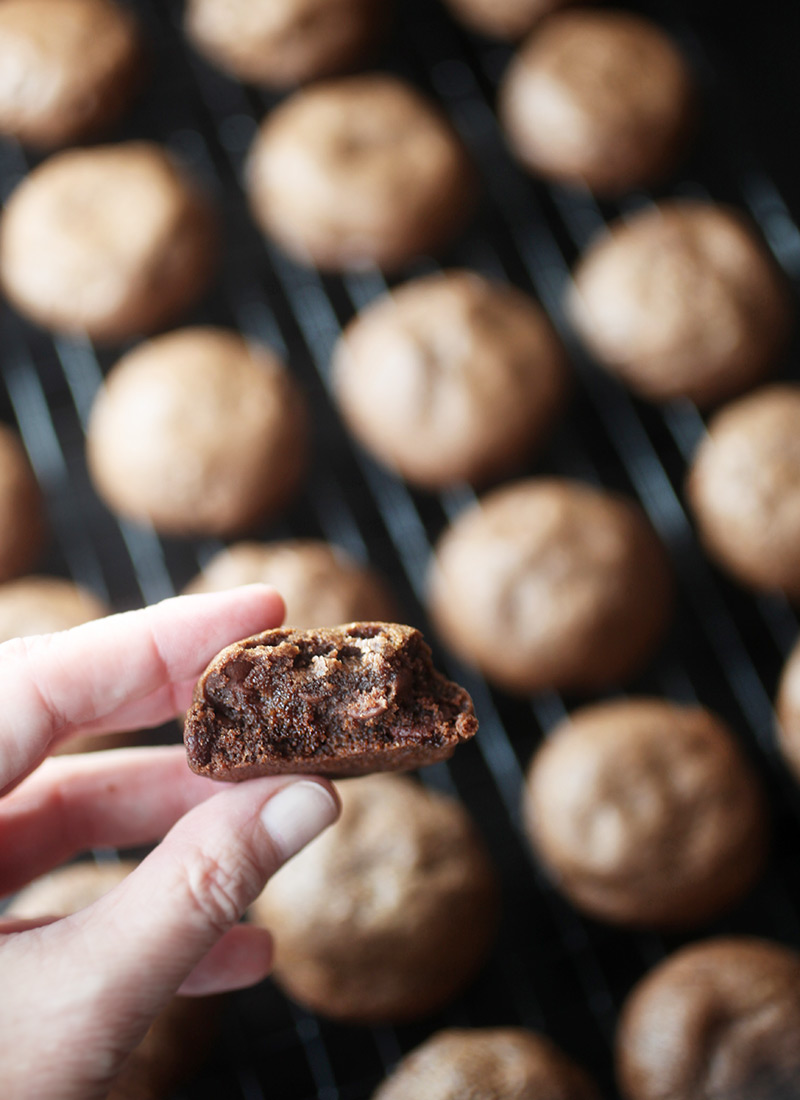 When baked, they are the cutest little 2-inch mounded cookies and soooooooo soooooooo good. I highly recommend eating a few while they are still warm…
And if you want to turn them into spiders, then follow the instructions below.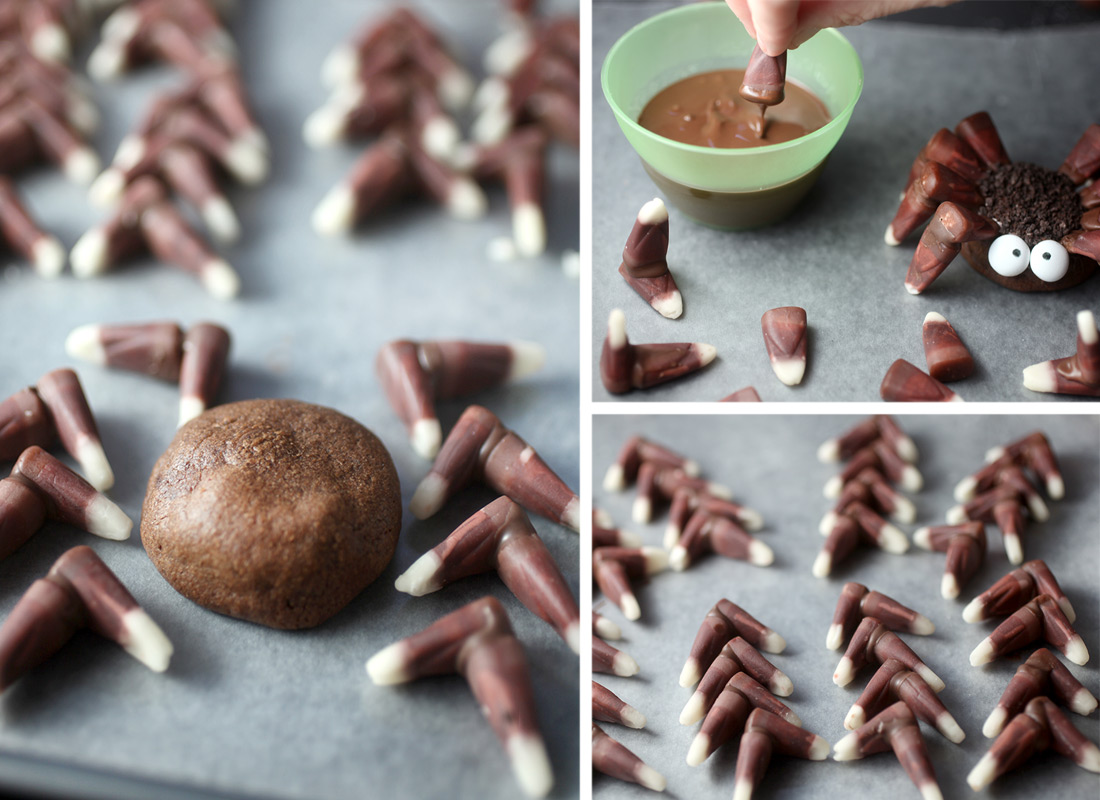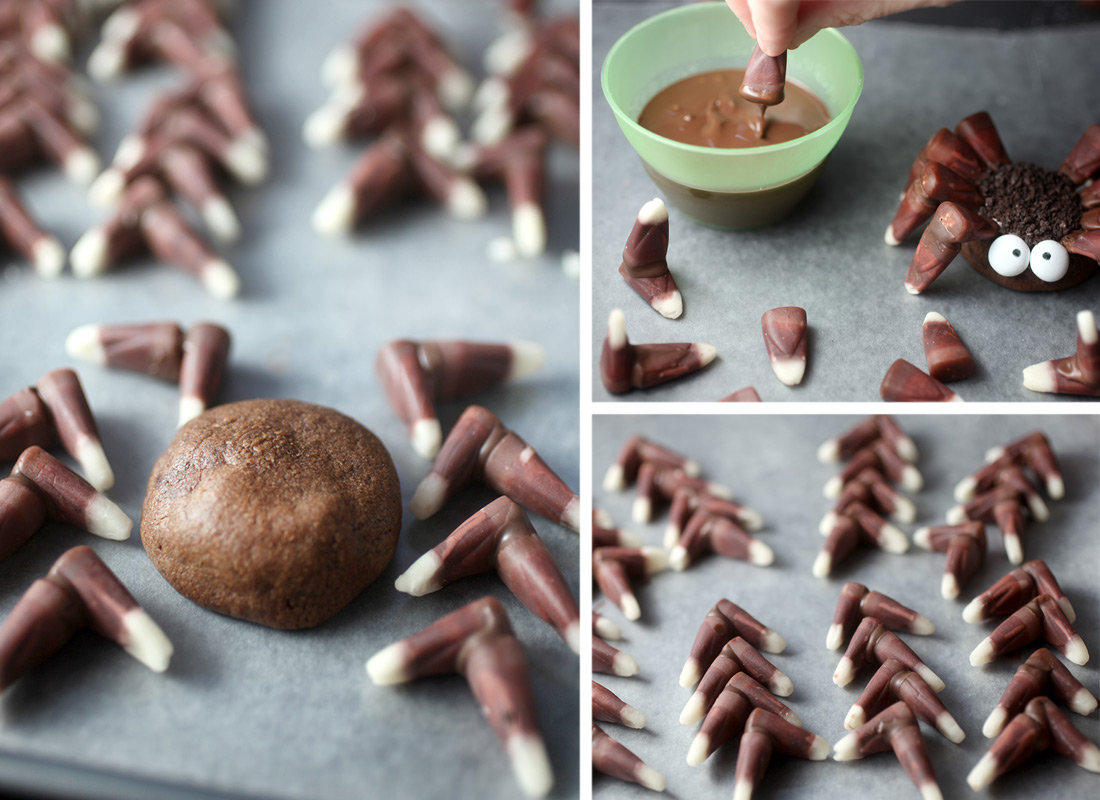 First prepare the legs. Just dip the bottom of a candy corn in melted chocolate candy coating and then attach to the large side of another candy corn. Hold in place a few seconds and set down on wax paper to dry completely. You'll need 16 pieces to make 8 spider legs for one cookie. But if you want to save a little time and go for 6-legged spiders I won't tell.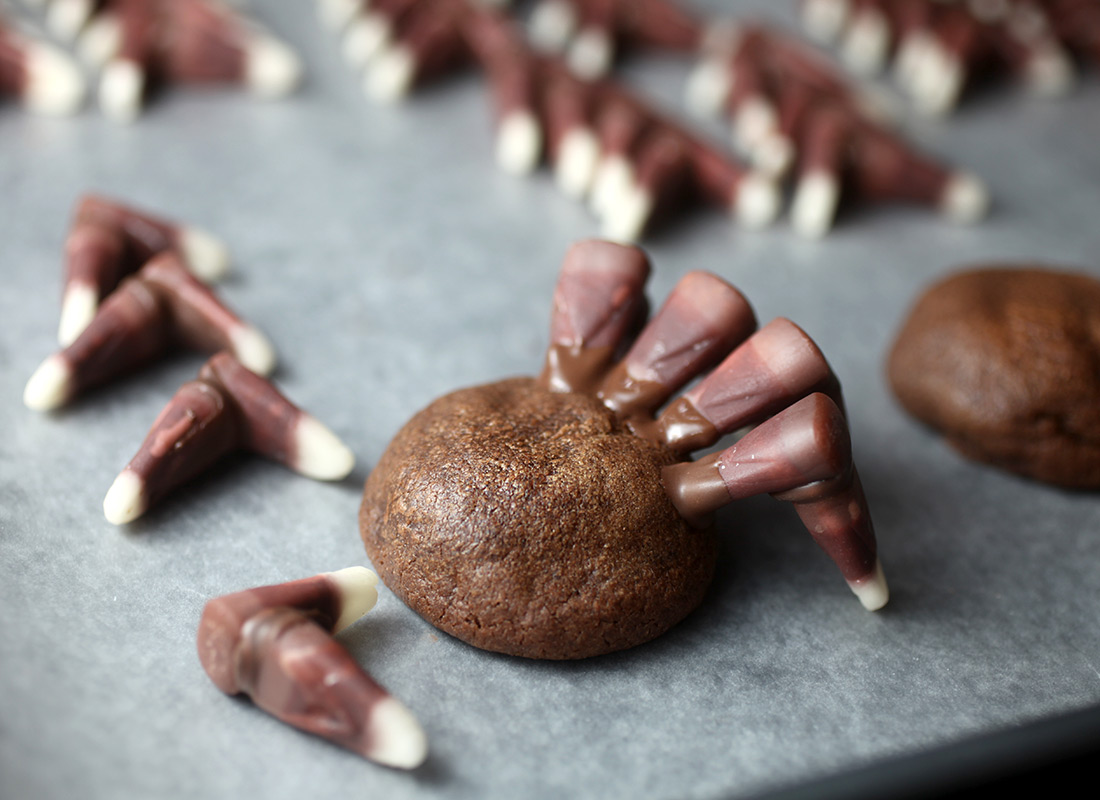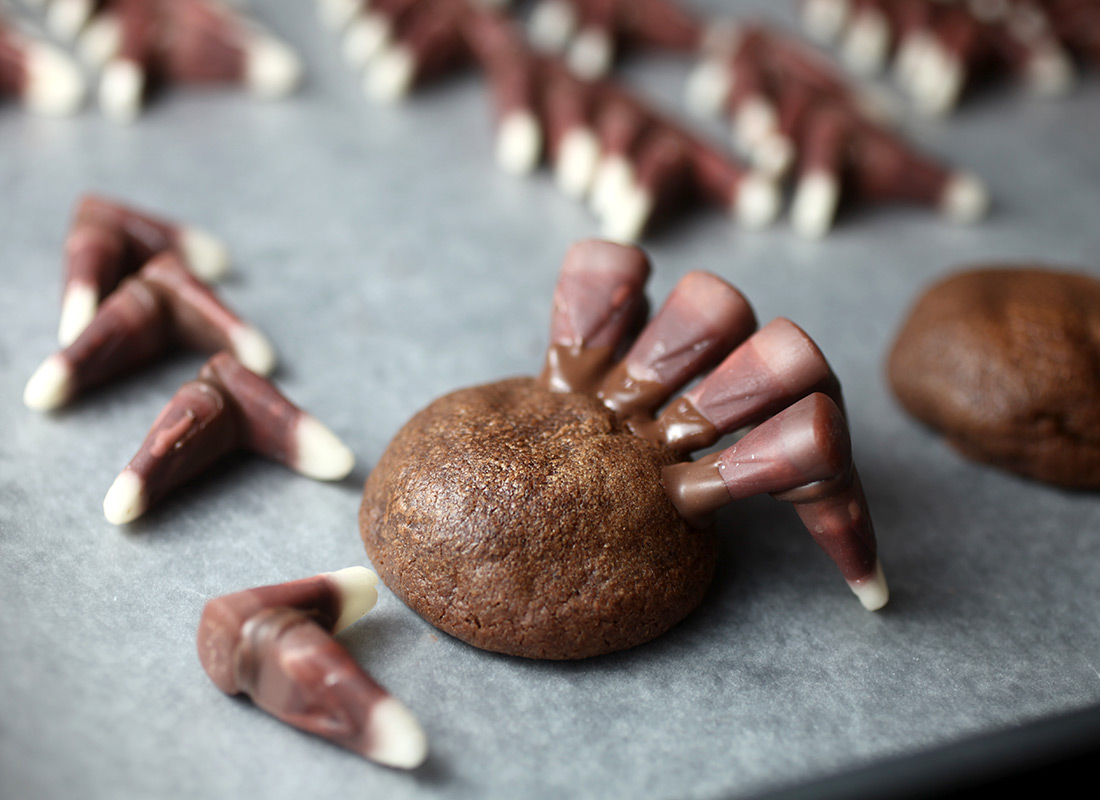 When you have all the legs you need ready to go, then dip the white end of the short part of the spider leg into more melted candy coating and very gently press into a cookie just enough to hold the leg in place while it dries. Don't press so hard that you break the legs. Repeat for all 8 legs and let dry before moving.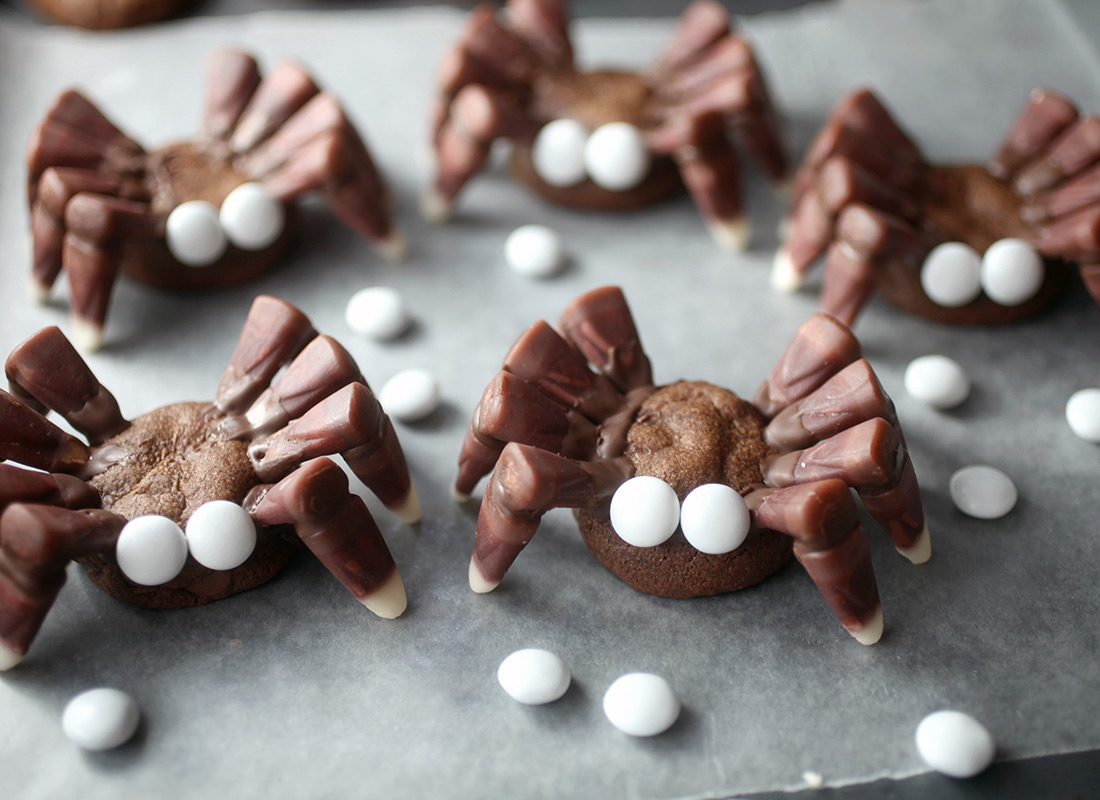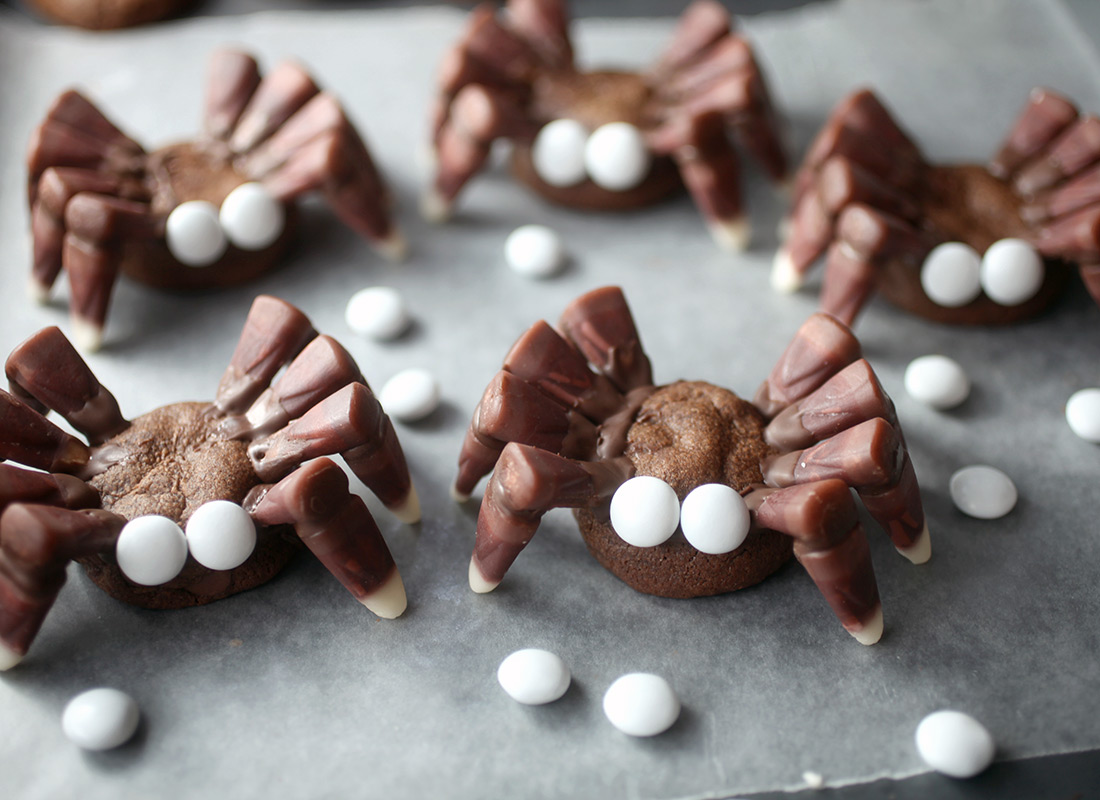 Attach two white M&M's candies in position for eyes with melted candy coating and let dry.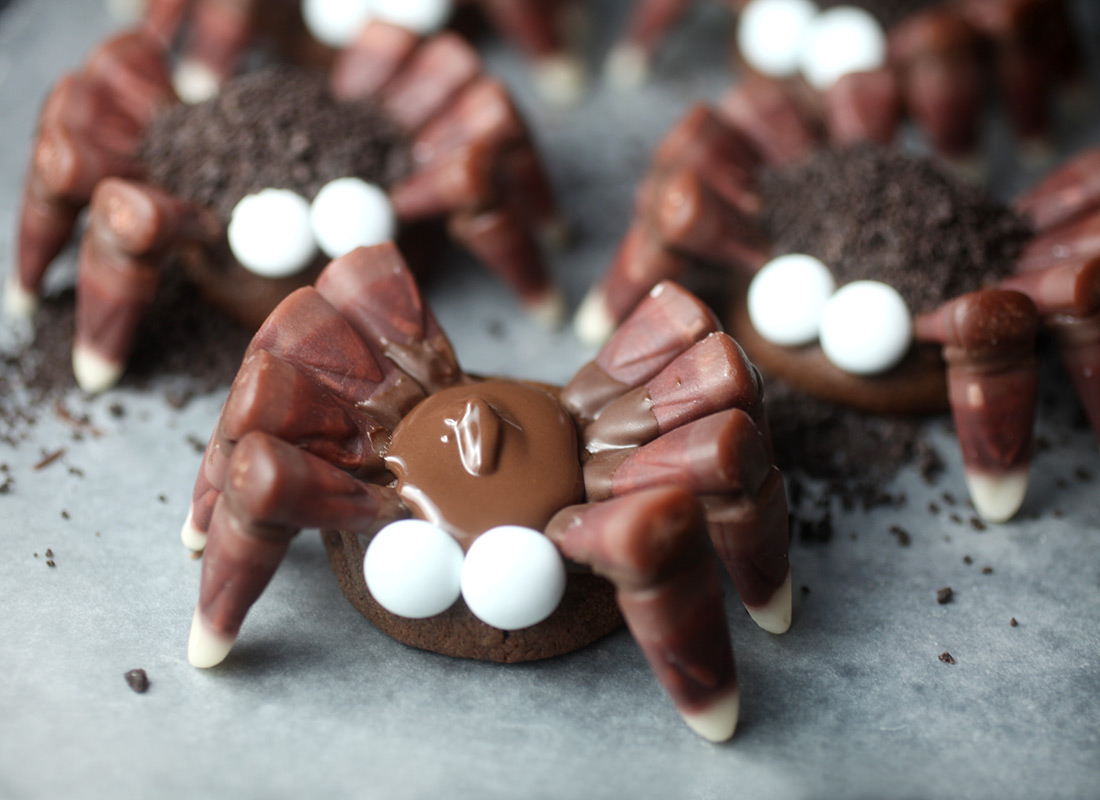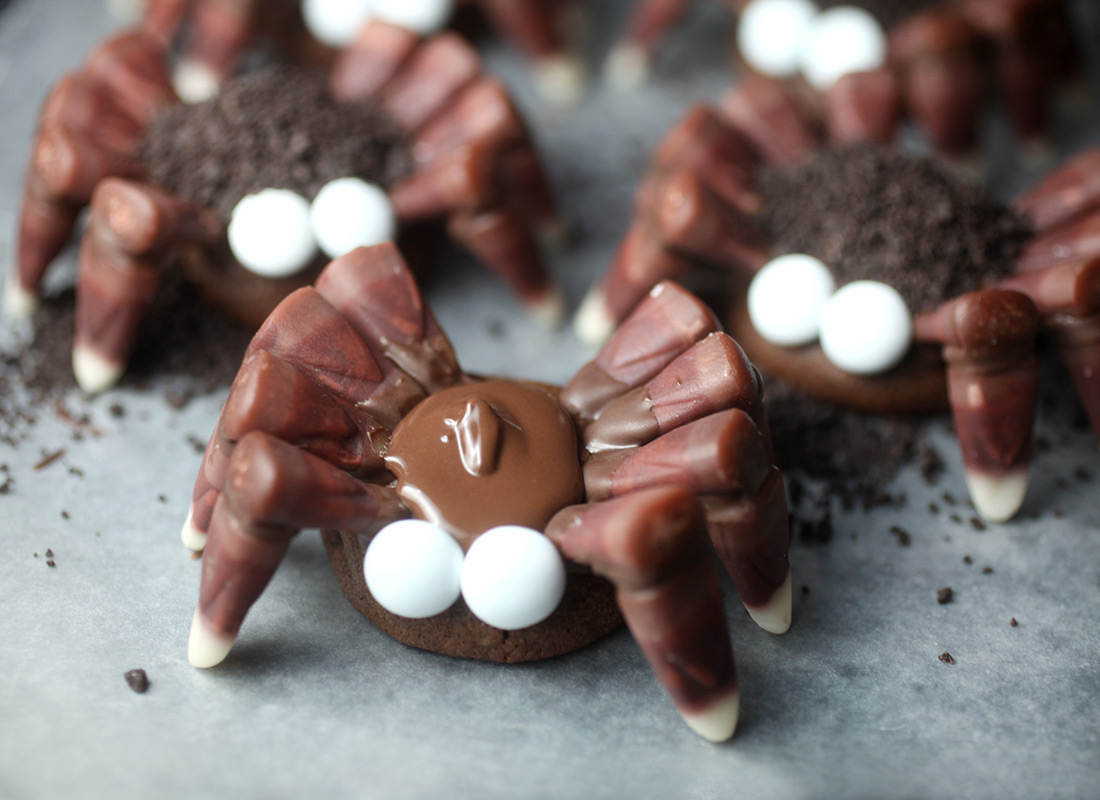 Now spoon a small amount of the candy coating on top of the spider's back. Use a toothpick if needed to coerce the coating around in a circle and make sure it touches the legs that are already attached. This will give them a little more support.
Before the chocolate dries, cover with Chocolate Crunch Sprinkles.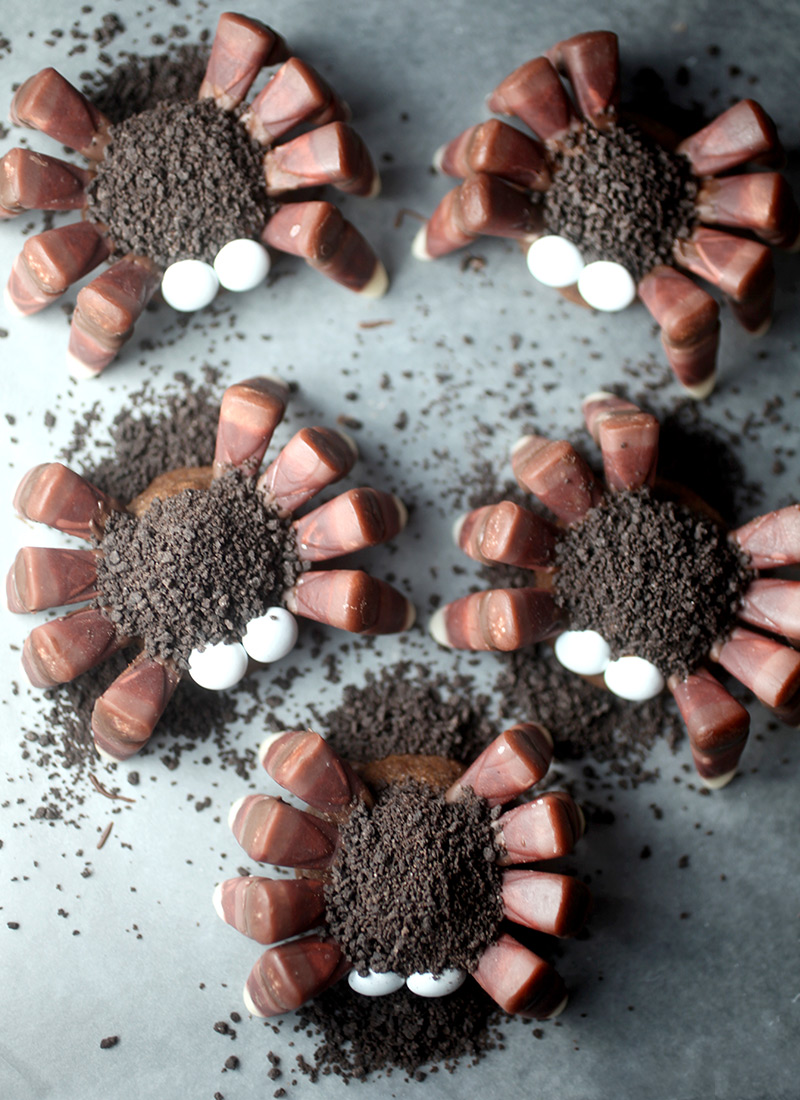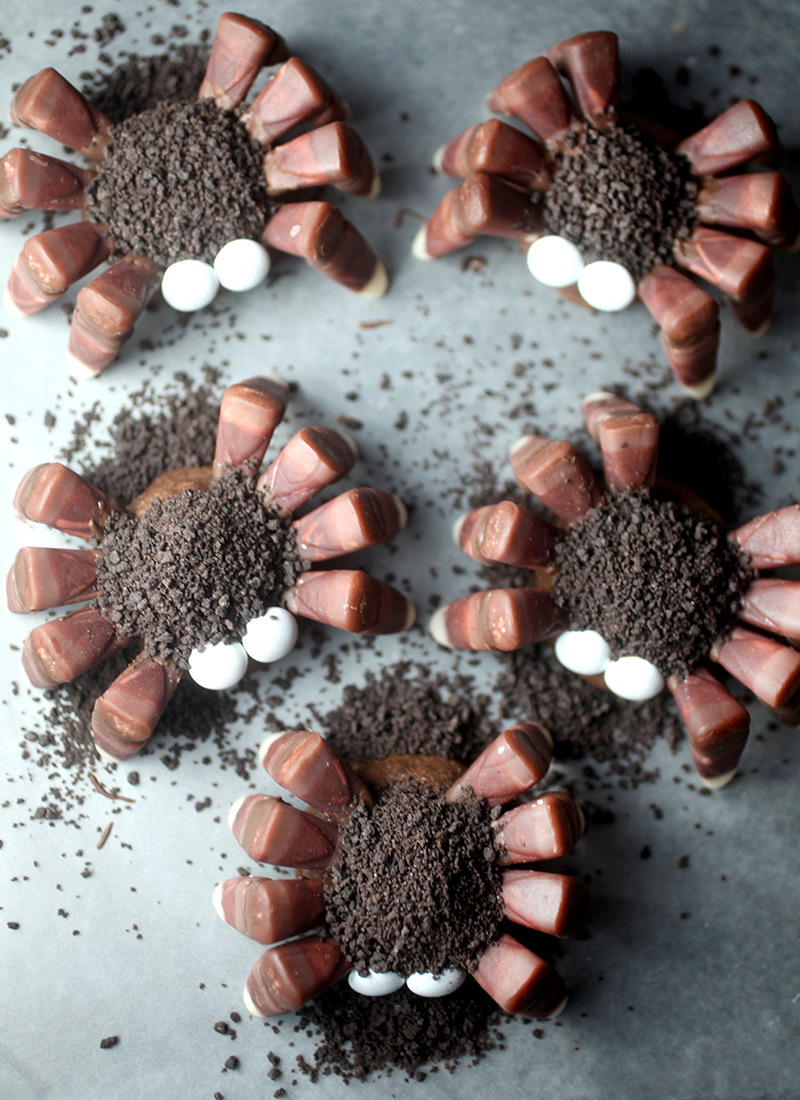 When dry, turn upside down and shake off any of the excess sprinkles.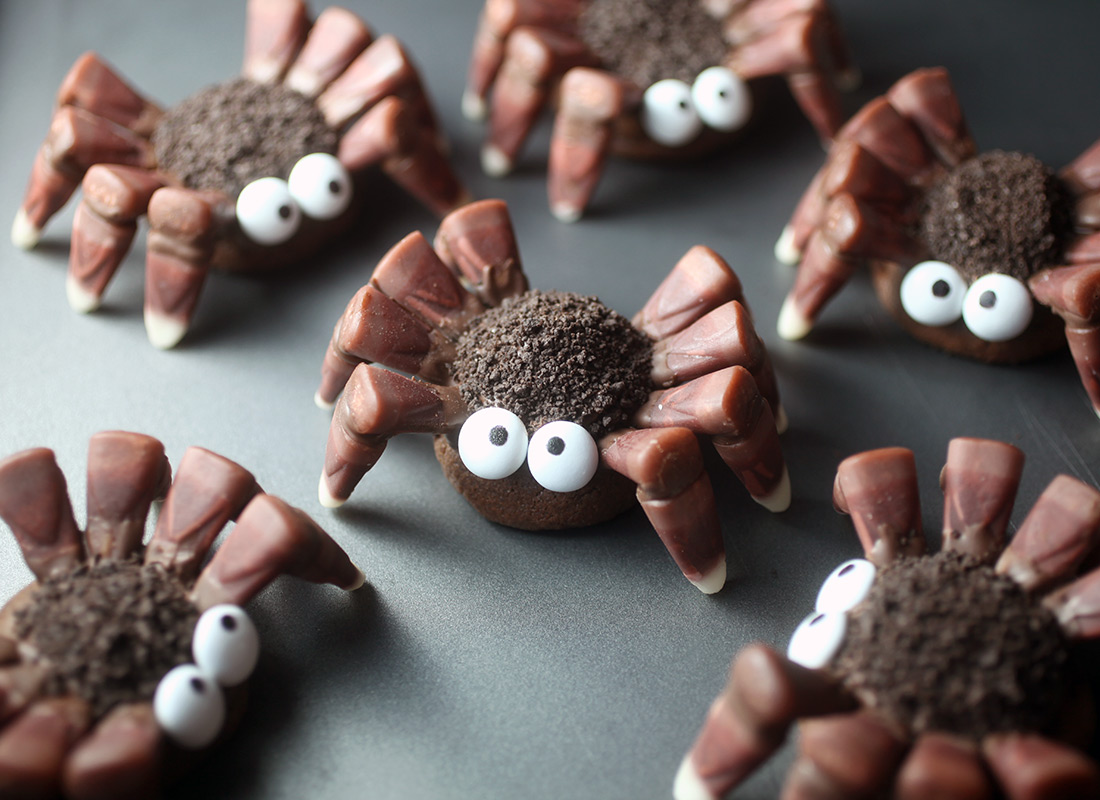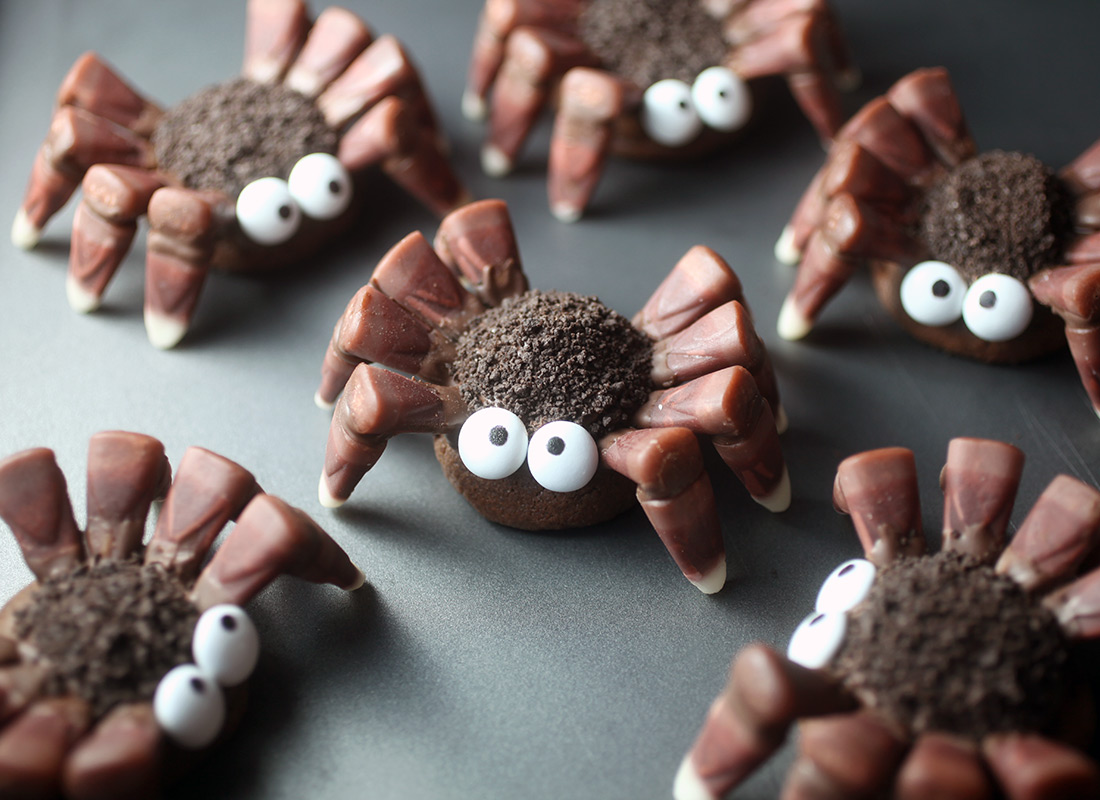 Now all that's left is dotting the eyes. Use a black edible-ink writing pen to draw on the M&M's.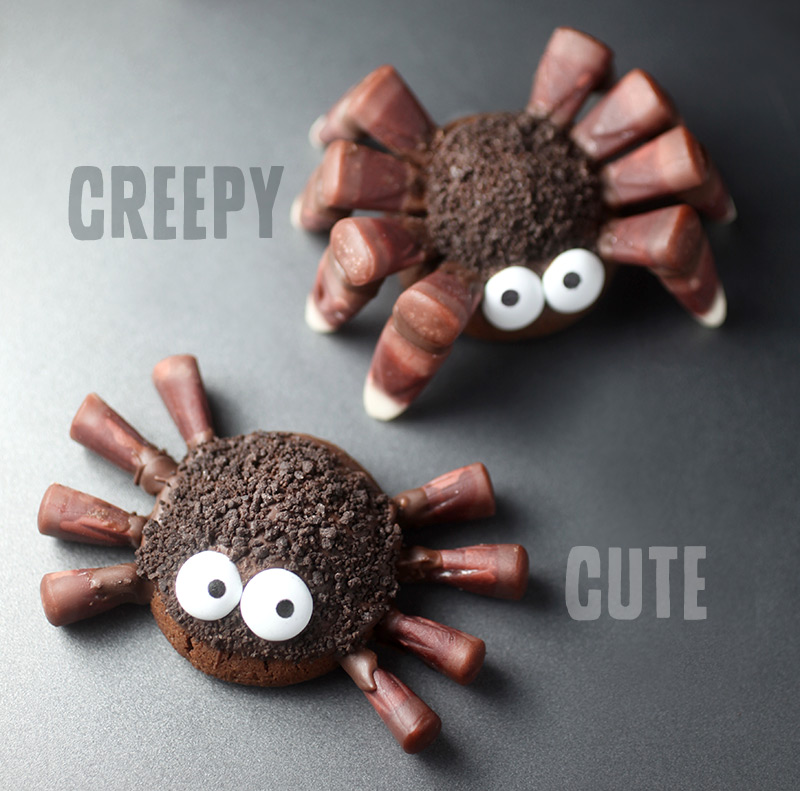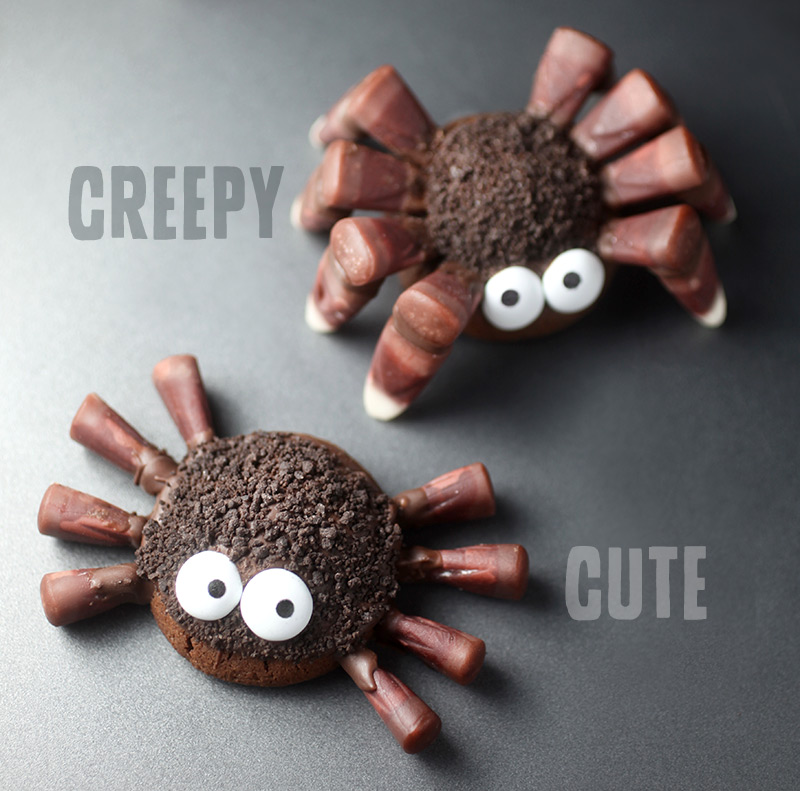 P.S. If you want simpler spiders that are a little sweeter than they are creepy, then just turn the candy corn pieces on their sides and attach to the cookies with melted candy coating. It also helps to break off a little bit of the tips so they aren't as pointed where the candies meet the cookie.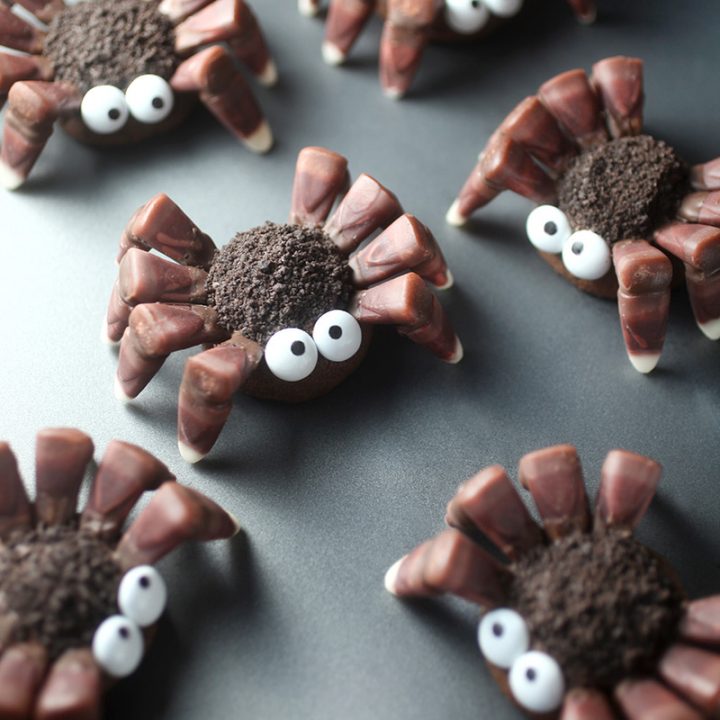 Yield: 36 2-inch cookies
Creepy Cute Candy Corn Crawlers
Prep Time 10 minutes

Cook Time 10 minutes

Total Time 20 minutes
Ingredients
1-1/2 cups all-purpose flour
1/2 cup natural unsweetened cocoa powder
3/4 teaspoon baking soda
1/2 teaspoon salt
1/2 cup butter, slightly softened
1 cup granulated sugar
1/3 cup brown sugar
1/2 cup peanut butter
2 eggs
2 teaspoon vanilla
1-1/2 cups milk chocolate morsels
For decorating, you'll need:
Sea Salt Chocolate Candy Corn*
Chocolate Candy Coating
Chocolate Crunch Sprinkles
White M&M's candies
Black edible-ink writing pen
Instructions
Preheat oven to 350 degrees.
In a small bowl, mix flour, cocoa, soda and salt using a wire whisk and set aside.
In another bowl, cream butter, both sugars and peanut butter until light and fluffy.
Add eggs and vanilla and mix until combined.
Add flour mixture to creamed mixture and mix until just combined.
Stir in morsels.
Roll cookie dough into 1-1/2 inch balls and place on parchment paper covered baking sheet. Bake 9-10 minutes.
Press tops down gently if they are too mounded and let cool.
Notes
*I found the Sea Salt Chocolate Candy Corn made by Brach's at Walgreen's. The 15 oz bag had enough candies to make a dozen creepy crawling spiders or two dozen cute spiders.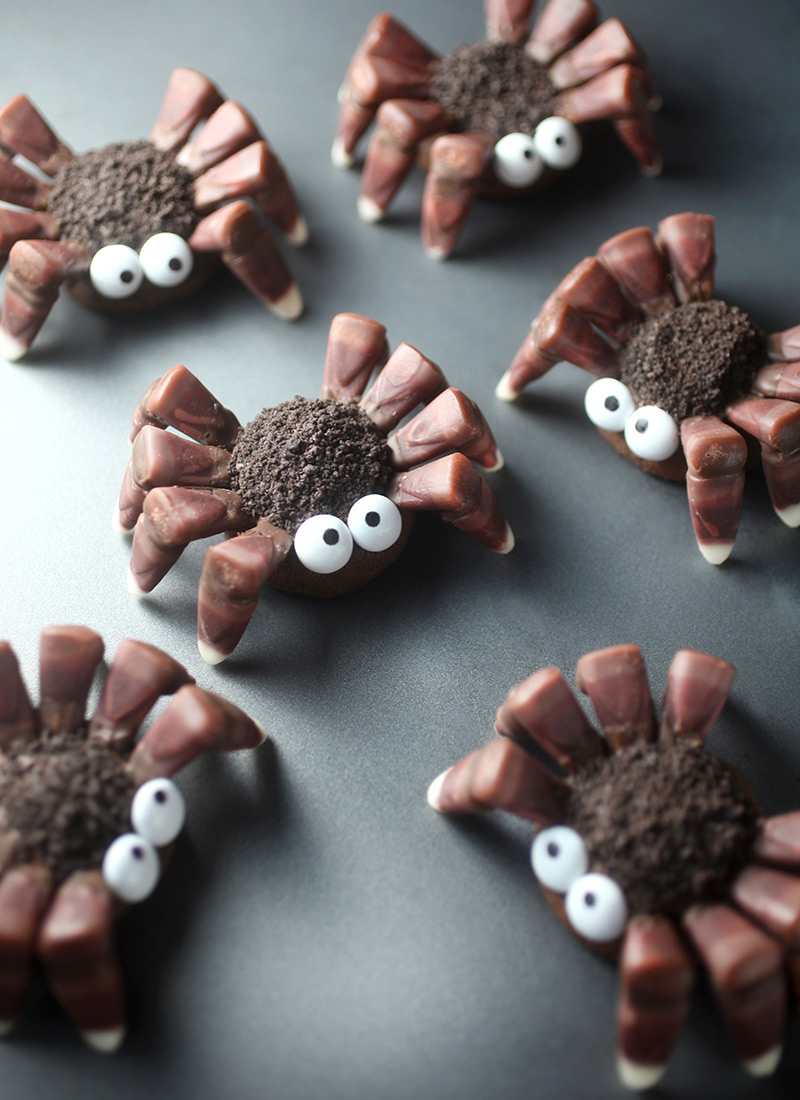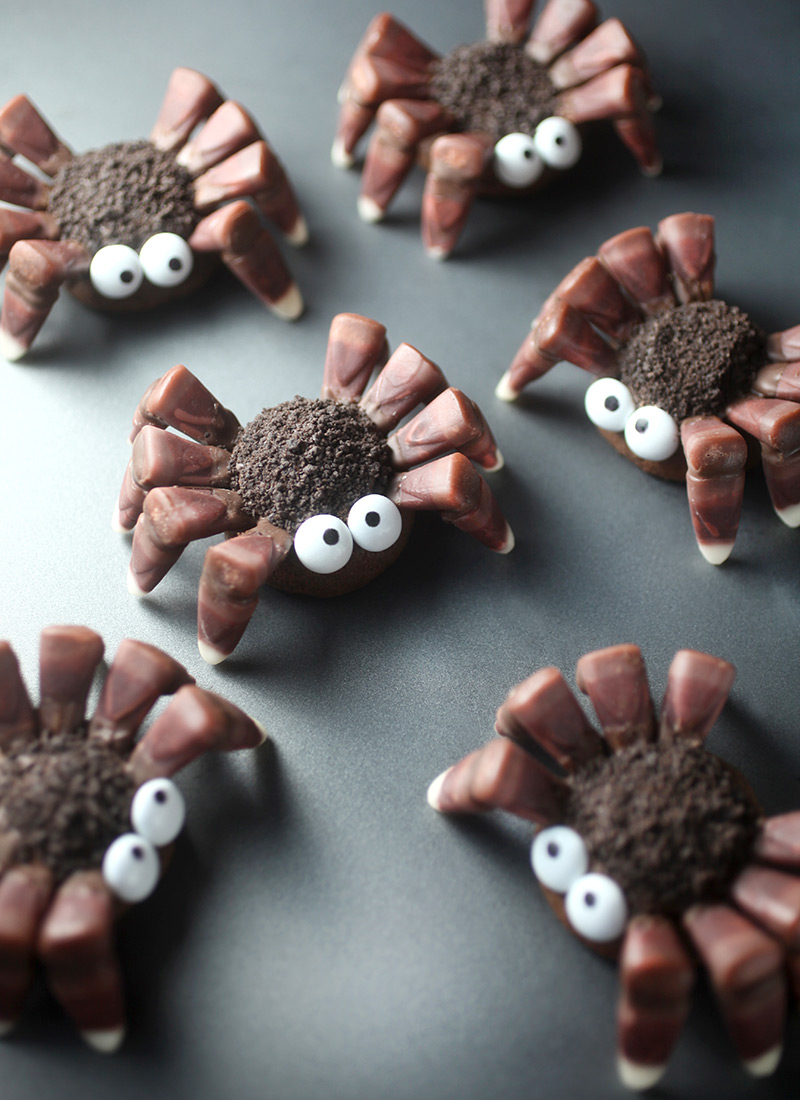 Enjoy!