Need a fork? Or maybe a shovel. This is one ginormous piece of cheesecake. And oh boy, was it good. The cheesecake, that is. Personally, I can do without a bunch of fru fru when it comes to cheesecake. But, I wanted to dress a slice up and make it all pretty for you. This one is topped with raspberry, whipped cream, and white chocolate. It's also the first real grown-up cheesecake I think I've ever made. Yay me! (Anyone else, hear London Tipton in their head when they read that? If you didn't, don't worry, that means the Disney Channel hasn't infiltrated your brain.)
The only other kind of cheesecake I've made are these itsy-bitsy mini ones. Take a look. You'll love how easy they are.
Anyway, when it comes to cheesecake, this is how I like mine.
Plain. Jane. No whipped cream. No whole fruit. Ever. Just dense and delicious. But, on occasion, I don't mind a little raspberry sauce to touch it. I actually don't mind fruit flavors at all. I just won't eat the actual fruit. For instance, on these itsy bitsy mini ones. The cherries had to go. Cherry sauce… fine. Cherries… trash can. I know. I'm weird like that.
But, not totally weird. I do like other cheesecake flavors, like Oreo, chocolate, of course, and just about every other combination from the Cheesecake Factory – as long as it's served without whipped cream or whole fruit. But, I usually gravitate towards the classic… and then I hope someone else orders a different flavor so I can try it.
And now that I've had success, I may just have to do some more experimenting on my own. This was really so easy, I don't know why I've been hesitant to try making one for so long.
Start with the crust. Graham cracker crumbs, sugar and melted butter mixed together.
Then press the mixture into the bottom and up the sides of a springform pan
.
Cream cheese, eggs, sugar, sour cream, vanilla, flour, and lemon juice. Dump it in.
And in a little over an hour, voila…
… cheesecake!
Now, it wasn't perfect. It did have a crack going through the middle. From what I understand, this can be a common annoyance. You can see a hint of it to the right in this photo. But, that's ok. You can cover stuff up like that with a sauce, or chocolate, or caramel and nuts, or (gags) whipped cream. Or just go ahead and slice the cheesecake, avoiding any defect.
For the raspberry sauce, I just used some jelly and heated it up until it was thin enough to spread on in a thin layer. Easy!
Here's the entire recipe if you want to give it a go.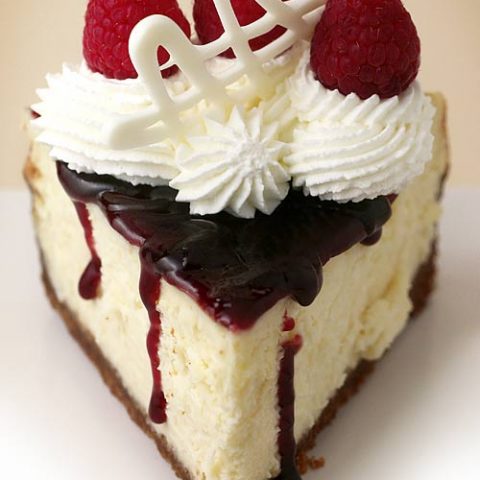 Yield: one 9-inch cheesecake
Cheesecake
Prep Time 30 minutes

Cook Time 1 hour 25 minutes

Additional Time 3 hours

Total Time 4 hours 55 minutes
Ingredients
Crust
2-1/2 cups graham cracker crumbs
2 Tbsp sugar
1/2 cup butter, melted
Filling
4 (8oz.) packages cream cheese
1-1/2 cups sugar
3 Tbsp flour
5 eggs
1 cup sour cream
1 Tbsp vanilla
1 Tbsp lemon juice
Optional
raspberry jelly
fresh raspberries
1 cup heavy whipping cream + 2 Tbsp powdered sugar
white chocolate
Instructions
Preheat oven to 325 degrees
To make crust, combine graham cracker crumbs and sugar. Stir in melted butter until moistened.
Pour the mixture into a 9-inch springform pan (3 inches tall). Press the crumbs into the bottom and 1 inch up the sides of the pan.
Bake for about 10 minutes. Remove and cool to room temperature.
To make the cheesecake filling, cream the sugar, cream cheese and flour with an electric mixer on medium until light and fluffy.
On medium low, add eggs one at a time, mixing well with each addition. On low, add sour cream, lemon juice and vanilla just until combined.
Bake for about 1 hour and 15 minutes at 325.
Make sure to take it out of the oven before the center looks done. It will be kind of wobbly and it will move in one piece. The center will look more shiny than the edges. That's ok because it will continue to cook a little while it's in the pan.
Remove from the oven and let cool completely to room temperature. Hope that it doesn't crack.
Go ahead and separate the cheesecake from the sides of the pan by running a knife around the edges. I also opened and reclosed the springform pan to help separate.
Chill in the refrigerator overnight. That's right. It's best to make this the day before because it needs plenty of time to chill and firm up.
Before serving: Heat up some raspberry jelly on low heat until the consistency is thin. Spread on top of the cheesecake. Refrigerate while you do the following.
Melt some white chocolate and put it in a ziploc bag or squeeze bottle. Draw abstract shapes on wax paper and let dry.
Pour some heavy whipping cream in a small chilled metal bowl. Add 2 Tbsp powdered sugar and beat the cream on high until it becomes firm and thick.
Remove the cheesecake from the refrigerator and spoon on whipped cream or use a decorating bag with a 1M tip to decorate.
Top with fresh raspberries and white chocolate decorations.
Enjoy!
Now, before I let you go, I'm curious. How do you roll?
Plain Jane or Fancy Shmancy?
Or somewhere in between?