There's nothing like a good chocolate chip cookie… unless of course, if it's super-sized and more than an inch thick. So when I found this recipe from my aunt's Nestle Classic Recipes Cookbook
a while back, I knew it was a must-make. Serve it warm, with ice cream, with syrup… and with caution… because you'll definitely want another slice.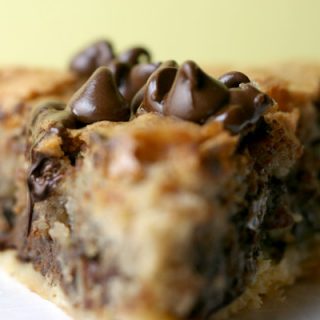 Yield: one 9-inch pie
Chocolate Chip Cookie Pie
Prep Time 15 minutes

Cook Time 1 hour

Total Time 1 hour 15 minutes
Ingredients
1 unbaked 9-inch (4-cup volume) deep-dish pie shell*
2 large eggs
1/2 cup all-purpose flour
1/2 cup granulated sugar
1/2 cup packed brown sugar
3/4 cup (1-1/2 sticks) butter, softened
1 cup (6 ounces) semi-sweet chocolate morsels
1 cup chopped pecans
Serve with ice cream (optional)
Instructions
Preheat oven 325 degrees F.
Beat eggs in large mixer bowl on high until foamy.
Beat in flour, granulated sugar and brown sugar. Beat in butter.
Stir in morsels and nuts and spoon into pie shell.
Bake for 55-60 minutes. Cool on wire rack. Serve warm.

Notes
* If using frozen pie shell, use deep dish style and thaw completely. Bake on baking sheet and increase baking time slightly.

Recipe from Nestle Classic Recipes, 2003