So truffles are like really easy. And as it turns out completely beautiful without even one single colorful confetti sprinkle or jumbo red candy heart attached. I had to resist the urge you know.
Last week when I made some ganache for those yummy butterscotch brownies, I realized it has been forever since I made chocolate truffles. Like since I was in college forever. And the best I can remember it was only that one time. So I wanted to make some more ganache and truffle it all up. But … ugh … I had no heavy whipping cream on hand and no desire to drive to the store.
So I made these with cream cheese instead.
Easy. Easy.
Chocolate. Peanut Butter. Melt. Mix with Cream cheese, Chill. Scoop and roll.
And then the fun part. You can coat the balls with good stuff…
… Like cocoa.
… like chopped peanuts.
…like powdered sugar.
…like chocolate sprinkles.
Like YUM!
And …… why hello …… cutest little chocolate sprinkles ever. So delicate and delish. I love you.
These are made by India Tree since I know you'll want to know.
By the way, I had to resist dipping these in candy coating too. You know I'm kind of dipping addicted. But I refrained. : )
When they're covered, you can do a couple of things with them.
Place them in cute little candy cups like these in pink foil. Love!
Then, you can package them in small candy boxes, too.
The candy cups will keep them clean and cozy. And easy to move without getting cocoa on your fingertips.
You can also wrap them in 4-inch foil candy wrappers like these.
Or be ballsy and leave them on display and uncovered at your party. Just chill again if they get to room temp. But I bet they won't last long enough for that.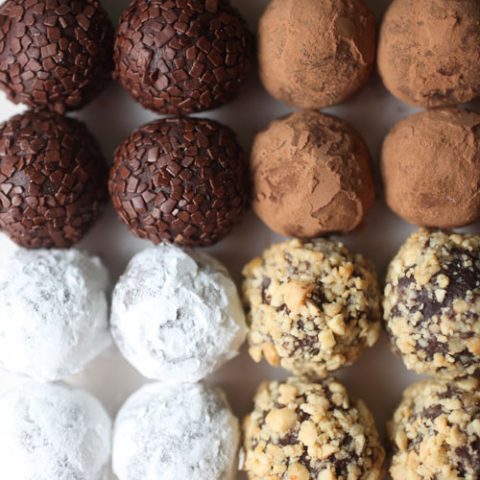 Yield: Three Dozen Truffles
Chocolate Peanut Butter Truffles
Ingredients
8 oz cream cheese, softened to room temperature
10 oz semisweet chocolate
1/2 cup peanut butter
Instructions
In a mixer, beat cream cheese until creamy and smooth.
Melt chocolate in microwave in 30 second intervals, stirring in between until melted and smooth.
Add peanut butter to chocolate and stir until smooth.
Pour over cream cheese and stir until completely combined.
Spread into an 8X8 dish and chill for several hours.
Scoop chocolate out with a spoon or melon ball size scoop. Roll chocolate mixture into balls and chill for a few minutes if necessary as your body temperature will warm up the balls.
Coat balls in your choice of cocoa, powdered sugar, sprinkles or chopped pecans. Keep refrigerated.
Notes
Feel free to omit the peanut butter if you would like them straight up chocolate.
Enjoy!
________________________________________________________________
Also …
If you like balls of the cake variety, then check out the February issue of Woman's Day on stands now. There's an updated version of my Valentine's Day Candy Cake Box inside. Fun for February! YAY! Here's a peek inside…