I was in Columbus, Ohio last weekend visiting with some sweet friends that I've met through blogging… Wendy of Wenderly, Bridget of Bake at 350, and Amy of She Wears Many Hats. Hi guys! I mean girls.
Wendy lives in Ohio and invited us to spend a few days at her cabin in the woods. Has anyone seen that movie? And yes, I totally spent the weekend suggesting scary movie situations to them. What if this – and what if that. But mostly scaring myself. I definitely watch way too many SyFy Sunday movies. If you watch that channel, you know the ones I mean.
Anyway, we kicked off our fun cabining weekend with a straight from the airport pitstop for lunch and then Jeni's ice cream. Yay!
Jeni's is based in Ohio and I've been wanting to visit one of her scoop shops for some time now.
She has some incredible flavors. Or should I say splendid.
And yogurt too.
I love all the chalk writing and window words. So cute.
The inside of the store is perfect with the ceiling strung in little lights and paper garland.
You can buy ice cream by the scoop and by the pint. Whoohoo!
So many flavors. Signature and seasonal ones too.
Like this one for flu season. Influenza sorbet.
Soothing for the sickly. Made with cayenne pepper, ginger, bourbon, honey, orange and lemon juices.
Handwritten! Love it and love how the same flavors are written by different people. What a fun way to add that personal touch.
And now I have a strange desire get a job handwriting ice cream labels. I wonder if I could add hearts and smiley faces.
By the way, if you're in Ohio, stop what you are doing right now and run and get some of that Maple Walnut ice cream. It's fantastic. I think that container on the top right is actually mocking me right now with all of its maple amazingness. I even tried to order some more today online, but that flavor is seasonal and isn't shipping. Wipes tear. So get it in stores while you can.
Sweet friends, ice cream and a great start to our winter weekend away.
You know what, you can also make your own Jeni's ice cream. Check out her book: Jeni's Splendid Ice Creams at Home.

The staff at Jeni's was great. Super patient. They didn't even mind the 571 samples we asked for. But I think that's pretty smart of them, because then we ended up ordering 571 scoops to enjoy. You know … just to be absolutely sure they were good. : )
Okay not really 571 scoops, but several. Here's a few of the flavors we all sampled.
Enjoyed and instagrammed. It's a mandatory food blogging thing … to share when something is so so good.
My favorites right now: Dark Chocolate (of course) and that Maple Walnut. Goodness. Very goodness!
While we were laughing and sampling, we had a fun surprise. Jeni stopped in the location we were at. With several stores, we certainly weren't expecting that. Wendy had met her before so she introduced us.
Hi Jeni! Your ice cream makes my tummy happy.
Such a great smile. It's nice to see when people are doing something they love.
Visit Jeni's Ice Cream for online ordering, scoop shop locations and where to buy by the pint in other states.
______________________________________________________________
Had enough ice cream yet? Want more?
How about 17 of Jeni's signature flavors?

That's right. I'm giving away a complete set of Jeni's Signature Collection including:
BANGKOK PEANUT • BLACK COFFEE • BRAMBLEBERRY CRISP • BROWN BUTTER ALMOND BRITTLE • CHERRY LAMBIC SORBET • DARK CHOCOLATE • GOAT CHEESE WITH RED CHERRIES • LEMON FROZEN YOGURT • PISTACHIO & HONEY • QUEEN CITY CAYENNE • RIESLING POACHED PEAR SORBET • SALTY CARAMEL • THE BUCKEYE STATE • THE MILKIEST CHOCOLATE IN THE WORLD • UGANDAN VANILLA BEAN • WHISKEY & PECANS • WILDBERRY LAVENDER
Enter for a chance to win Jeni's Signature Collection (That's 17 pints y'all!)
To enter, just leave a comment on this blog post and answer the following question.
Are you all about ice cream, serious for sorbet, or full on frozen yogurt? What's your favorite frozen treat?
Deadline to enter is Saturday, January 26, 2013 at 9 pm ET. SORRY, TIME'S UP. WINNER ANNOUNCED BELOW. This giveaway is open to US residents only since Jeni's ships in the United States. I'm sorry international friends.
One winner will be selected at random and announced sometime Sunday on this post.
Note: The winner can choose the collection or a gift card for the equivalent. You know, in case 17 pints of ice cream won't fit in your freezer. : )
Good luck guys!
Well. I'm happy to see so many of you are as fantacial about ice cream as I am. And now we have a winner.
YAY! Nicole G – Start getting your freezer ready! Congratulations.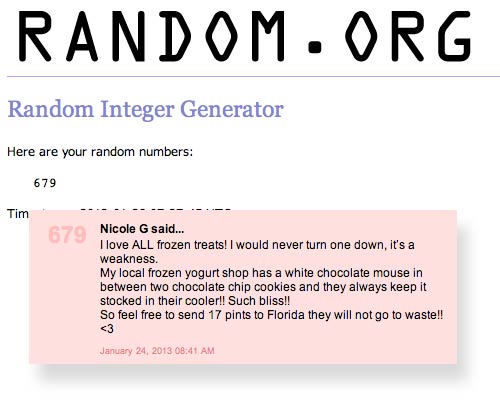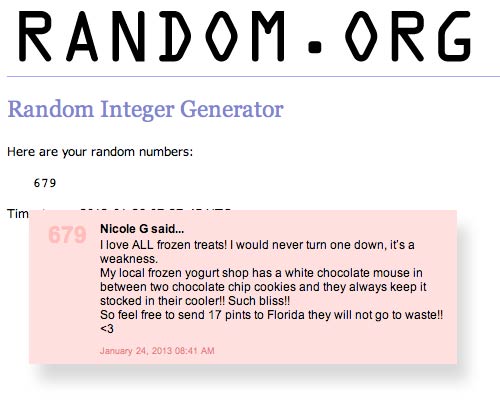 Giveaway sponsored by me.