Okay… finally, the post from last weekend. My camera never did wake up by the way. But I did manage to get all the photos off using a friend's card reader. Yay! Unfortunately, no built in card readers on my printer or computer… Boo!
And, I would have posted this last night, but I spent the evening at Pioneer Woman's book signing in Atlanta. Fun! Fun! More on that soon. Thankfully, I did have a working camera with me for that. A brand new Canon Digital Rebel XSi that I borrowed. It's nice having generous friends. But, I kinda wish I hadn't started using it. I might not be able to give it back. Bigger screen, More megapixels. And I've convinced myself the photo quality is far superior. It is. I know it is. Maybe my camera will be unfixable. Is that a word?
Anyway, here's the goods or goodies from last weekend.
It's coming up on Christmas, so I wanted to make some decorated sugar cookies. But I didn't really want to make traditional Christmas shapes. So instead, I used a cute little cupcake cutter I recently bought. I also went with a less than traditional color scheme and chocolate sugar cookies to help make the colors pop.
I love sugar cookies. Too bad I love them more than they love me. I'm still trying to perfect my piping. I will not give up. I will have non-lumpy lines one day.
These were two of the better ones.
These … not so much. But squint and they'll look better.
See …… Okay, I'm kidding. I kid. These are the good ones. Well, the better ones anyway.
It helps to plan ahead when you work with royal icing. Draw out the colors you want for borders and the colors you want to fill with in advance.
The cookie recipe is from the book, Cookie Craft. Get a copy if you have any desire to learn how to make these kind of decorated cookies. It's jam-packed with tips and tricks.
Or maybe you'll win this.
Yes, the original Cookie Craft came out with a mini Cookie Craft Christmas book.
Also with recipes, ideas, and tips. It's very cute. And small, which you know I like.
You'll also get this cute 2-piece cupcake cookie cutter set. Love it!
And some cupcake stencils. You can use these on cookies, too.
A cupcake-shaped cake tester. This totally unnecessary utensil was too cute to pass up.
And so were these mini spatulas. I bought all the goodies (except for the cookie book I picked up at the bookstore) from Crate & Barrel if you want to look them up. I like finding cute things. Hope you like them, too.
And it all comes stuffed in a sparkly stocking.
Enter to win it all.
Just leave a comment on this post and tell me what you want this Christmas. Big or small. Silly or Serious. Let's share.
Me first… I want to spend time with all my family. Laughing. Hugging. Eating. And I want to take lots of pictures of them with my brand new, big, shiny camera. Yeah, that sounds good.
Deadline to enter is Wednesday, December 9 at 7:00 pm ET.TIME'S UP!
Winner selected at random and announced sometime Wednesday evening on this post.
Good luck.
Winner.
We have a winner. And it's a high number this time.
#5935 – YAY CAROLINE! Hope you like the stocking full of stuff and hope you get that immersion blender, too.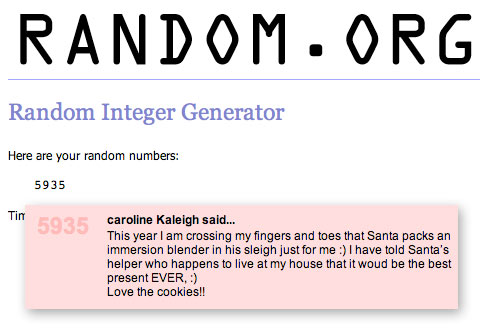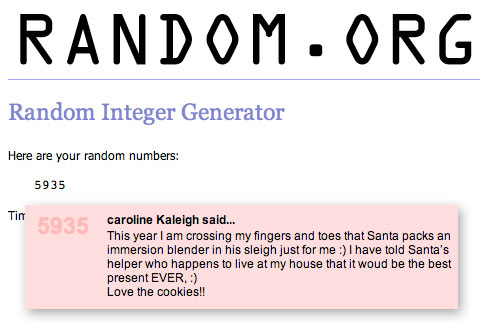 And everyone else that entered. Thank you for sharing your Christmas wishes. I've smiled and cried multiple times reading through them. Some really important ones out there. I hope you get them granted. Hugs to you all.