I think I forgot how much I love snack cakes. Easy, single layer cakes that take all the fuss out of cake decorating and throw in all the fun of snacking on sweets. This yummy one is a Cocoa-Cola Cake with Chocolate Icing that I just made from Back in the Day Bakery's brand new book, Made with Love.
I wanted to try one of their recipes out because this Wednesday, I'm going to be chatting it up with none other than Cheryl and Griff Day… the delightful duo of Back in the Day Bakery. If you are in the Atlanta area, stop by Little Shop of Stories on Wednesday, May 6th at 7 p.m. for the Q&A and book signing. It's going to be good times. (More info here.)
Okay, let's make a cake.
This one calls for easy ingredients including Coca-Cola. Awesome.
Mix everything up and spread the batter in a baking pan lined with parchment paper.
Oh yeah, we'll me marshmallowing this baby up, too.
Right after the cake finishes baking, sprinkle mini marshmallows on top and place back in the oven for a couple of minutes to get all melty. Yum!
Then whip up the chocolate frosting.
And mix in chopped pecans. This just keeps getting better.
Oh my oh my. Place large spoonfuls of frosting all over the top of the cake to make it easier to spread without messing with the marshmallows underneath too much.
Spread evenly on top.
Reserve some of the chopped pecans to sprinkle on top of the cake, too if you like.
If I had the patience to let this cake cool all the way before I made the first cut, I think it would look a prettier. But, I COULD NOT wait to dive in. Actually, I took a spoon to the corner of the pan before I even cut into it. Highly recommended deliciousness.
P.S. Now I want a whole book on snack cakes.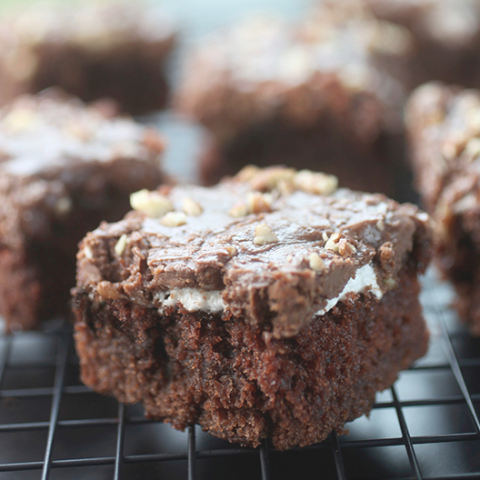 Cocoa-Cola Snack Cake
Prep Time 30 minutes

Cook Time 30 minutes

Total Time 1 hour
Ingredients
Cake
2 cups unbleached all-purpose flour
1/4 cup Dutch-processed cocoa powder
1 teaspoon baking soda
1 cup Coca-Cola, room temperature
1/2 cup buttermilk
2 tablespoons pure vanilla extract
1-3/4 cups granulated sugar
1 cup unsalted butter, room temperature
2 large eggs, room temperature
1-1/2 cups mini marshmallows
Frosting
8 tablespoons unsalted butter, melted
5 tablespoons unsweetened cocoa powder
1/3 cup Coca-Cola
1 teaspoon pure vanilla extract
one 16-ounce box confectioner's sugar
1 cup chopped pecans
Instructions
Preheat oven to 350 degrees fahrenheit. Grease 9 X 13 inch baking pan and line with parchment paper, leaving an overhang on two opposite sides.
Sift flour, cocoa and baking soda together and set aside. In a small bowl, mix together the cola, buttermilk and vanilla. Set aside.
In the bowl of a stand mixer, cream the sugar and butter on medium high speed for 4-5 minutes, until light and fluffy. Add the eggs one at a time, mixing well after each addition and scraping down the sides of the bowl with a rubber spatula if necessary.
Turn the mixer to low and add the flour mixture in thirds, alternating with the cola mixture and beginning and ending with the flour. Remove the bowl from the mixer and scrape the bottom with a rubber spatula to make sure everything it incorporated. Spread evenly into prepared pan. Bake for 30-35 minutes, until toothpick comes out clean.
Scatter marshmallows over the top of the hot cake and return to the oven for two more minutes to get melty. Remove from oven and let cool on a wire rack.
Make the chocolate icing: In a medium bowl, combine the melted butter, cocoa, Coca-Cola and vanilla. Mix with a spoon until smooth and creamy. Gradually add the confectioner's sugar, mixing until the icing is completely smooth. Fold in the pecans. Spread frosting over the warm cake. It will firm up as the cake cools. Store in an airtight container at room temperature for up to 3 days. Note: I added an extra tablespoon of melted butter to my frosting to make creamier. I also reserved some of the chopped pecans to sprinkle on top of the cake.


Notes
Recipe from Back in the Day Bakery Made with Love, © 2015

Hope you enjoy this cake as much as I do.
And here's a little peek at some of the other deliciousness you'll find inside the book Made with Love. So much yum!