I love having cookies around. Whether I need a little pick me up or just a quick sugar fix. Having cookies handy is comforting. And knowing I can have one and be good or eight and feel good, cookies equal comfort for me.
And chocolate cookies. well they just make it all even better.
Chocolate cookies with chocolate chips.
Uh huh. That's the stuff.
I found these dark chocolate chips at the grocery store and had to use them right away.
I guess they're new from Nestle. It's about time they joined the party. I love dark chocolate.
Oh, I forgot. The cookies are kissed with peanut butter, too.
Yes. Yum.
Start out by creaming the butter, sugar and peanut butter.
Add the eggs and vanilla.
Beat it all together.
Add whisked cocoa, flour, baking soda and salt to the creamed mixture.
Then add in those dark chocolate chips and stir it all together. Oh yeah.
Take the cookie dough and roll into small balls roughly 1 1/4″ in size.
Place on parchment paper and bake away.
They'll be on the smaller side, but they'll bake up nice and thick.
And oh so good.
Help. Me.
If you're a nut lover, you can also roll them in chopped pecans right before baking.
Just like so.
I baked some plain and some with pecans to play.
But, I like the plain ones better. Plain, slightly under baked and warm – right out of the oven.
Hard to resist. Basically, I like to torture myself. Then I can seek comfort with more cookies.
It's probably good to be alone when you take them out of the oven. No one needs to see that behavior.
Just curious. Raise your hand if you've ever eaten an embarrassing amount of cookies before they can even cool.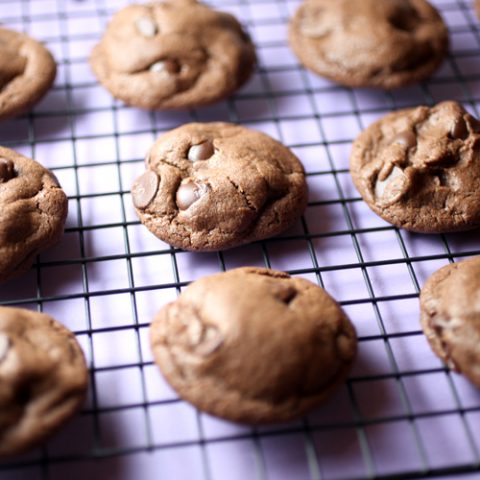 Yield: about 30 2-inch cookies.
Dark Chocolate Chip Comfort Cookies
Prep Time 15 minutes

Cook Time 10 minutes

Total Time 25 minutes
Ingredients
1-1/2 cups all purpose flour
1/2 cup natural unsweetened cocoa
3/4 teaspoon baking soda
1/2 teaspoon salt
1/2 cup butter, slightly softened
1-1/2 cups granulated sugar
1/2 cup peanut butter
2 eggs
1 teaspoon vanilla
10 oz. dark chocolate chips
chopped pecans, optional
Instructions
Preheat oven to 350 degrees and line baking sheet with parchment paper.
In a small bowl, mix flour, cocoa, soda and salt using a wire whisk and set aside.
In another bowl, cream butter, sugar and peanut butter until light and fluffy.
Add eggs and vanilla and mix until combined.
Add flour mixture to creamed mixture and mix until combined.
Stir in dark chocolate chips.
Roll cookie dough into 1-1/4 inch balls. (If desired, roll balls in chopped pecans.)
Place on parchment paper covered baking sheet. Bake 10 minutes.
Place cookies on cookie rack to cool.