I had a package of Oreo cookies that I have been waiting to use for a while now. I think since February. I know. I know. Unheard of. But, I was planning on using them for a Valentine's treat, and for whatever reason… I can't remember now… I didn't. And on top of that, I'm not much of a snacker, so they've just been sitting on my counter as a constant reminder that I need to make something with them.
So this weekend I decided a good way to get rid of them all would be to make Cookies and Cream Cupcakes with cookies in and on top of the cupcakes.
So I got busy baking.
First the flour.
Then the sugar.
And cocoa.
Soda, salt and powder.
A quick whisk together. Fluffy and pretty.
Forgive me for all the close-up photos, but I just think the ingredients look so luxurious.
Next, add the milk, eggs, oil and vanilla and mix all together before adding the hot water.
You can fill the cupcakes with cookies two different ways.
With broken cookie pieces or with one whole cookie.
Then add the batter and bake.
Oooh. I like the look of these.
Yes, yes I do.
All they need is a little frosting.
Or a lot.
I usually make frosting with butter and powdered sugar, but for these, I tried it with shortening instead of the butter. I wanted to make sure the frosting came out white instead of off white. It looks prettier against the cookies and shows off the crumbs that are mixed with it. But I still like regular buttercream best.
Top each cupcake off with a whole cookie.
You can also apply the frosting in a mounded shape and dunk them in a bowl of cookie crumbs to coat. These cupcakes have the whole Oreos inside.
Just place a cookie in the bottom of each baking cup. The batter I used was very liquid. I thought they would stay on the bottom of the baking cup, but they actually rose to the surface before they went in the oven.
And I liked how they looked when they baked that way.
Now I just need some milk. Yum!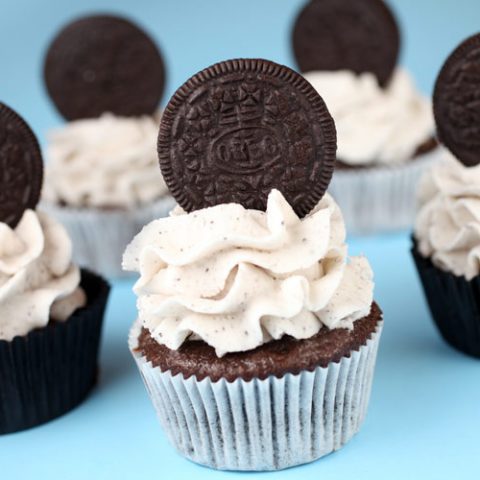 Yield: one dozen cupcakes
Cookies and Cream Cupcakes
Prep Time 20 minutes

Cook Time 18 minutes

Additional Time 20 minutes

Total Time 58 minutes
Ingredients
Cupcakes
1-1/2 cups all purpose flour
1/2 cup natural unsweetened cocoa
1-1/4 cups sugar
3/4 teaspoon baking soda
1/2 teaspoon baking powder
1/2 teaspoon salt
2 eggs
1/2 cup vegetable oil
1 teaspoon vanilla
3/4 cup milk
3/4 cup hot water
24 Oreos, plus more for crumbs
Frosting
1 cup shortening
1 lb. powdered sugar
1 teaspoon vanilla
3-6 Tablespoons milk
2 or more teaspoons Oreo cookie crumbs
Instructions
For the cupcakes: Preheat oven to 350 degrees and line tray with 12 baking cups.
Place one whole cookie in each cup or break apart at least 12 cookies and place the broken pieces into each cup.
Mix the flour, cocoa, sugar, baking soda, baking powder and salt in a large mixing bowl using a wire whisk.
Add the eggs, oil, vanilla and milk and mix well until thoroughly combined. Add the hot water and mix until combined.
Transfer the batter (it will be very liquid) to a large measuring cup and then pour batter into each baking cup so it's about three quarters full. You should have a little left over. Bake for 16-18 minutes.
For the frosting: Beat the shortening in a mixer until smooth.
Add vanilla and mix until combined. Add the powdered sugar in three additions, scraping down the sides after each addition. Add a Tablespoon of milk at a time and mix together until you achieve the consistency you like.
Add the cookie crumbs and mix until completely combined. You can add more if you like, but I just wanted a light speckling to show off the white frosting.
Place frosting in a decorator bag with a 1M tip and swirl on top of each cupcake. Insert a cookie on top of each cupcake.
You can also apply frosting on each cupcake in a mounded shape. Turn upside down and roll the top around in a small bowl of cookie crumbs to coat.
Notes
Note: If you choose to pile the frosting on high like I've shown here, you should double this recipe to make sure you have enough.
Enjoy!