I was in the mood to make some red velvet cupcakes this weekend. Red velvet cake is so pretty on it's own, you really don't need to do much to decorate it. A luscious cream cheese frosting works just fine most of the time.
But since Valentine's Day is coming up soon, I wanted to do something simple and fun for the occasion.
So I made some cute cupid's arrows to adorn them.
To make these love struck cupcakes, you just need to insert a 6-inch lollipop stick through the top part of the cupcake papers.
You can use a toothpick to pierce through the paper on each side to make it easier to push the stick through. Hold the paper on each side as you push the stick through so the paper doesn't separate from the cupcake.
Then you can cut out sweet little hearts to attach to each end.
Actually, cut out the hearts ahead of time so you're prepared.
Attach the small heart to one end with a small piece of tape and cut two slits through the larger heart to allow the stick to slide through.
Cut along the white lines on the larger heart for a more feathery look. I decided not to because I thought they looked cleaner this way.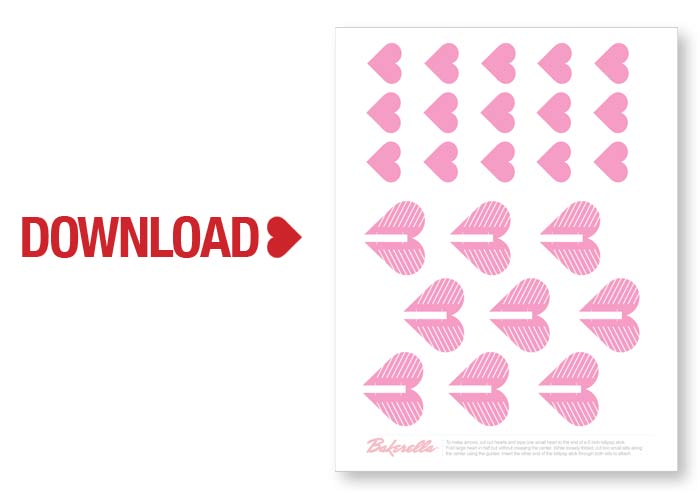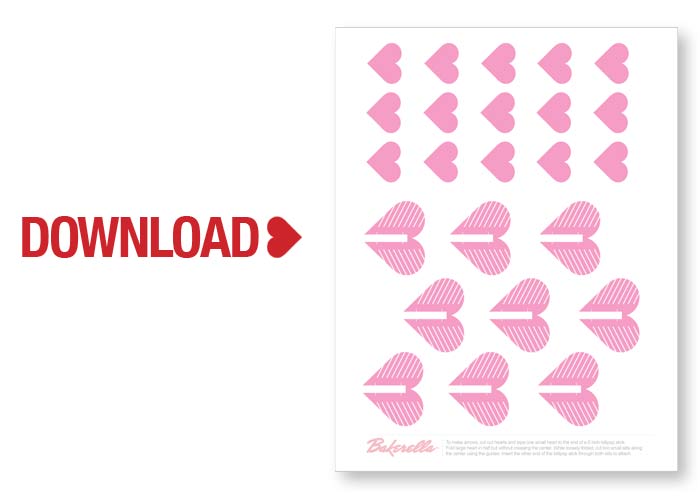 Here's a pdf if you want to download the ones I made. There's a pink and a red version of the hearts in the pdf.
Or if you are more prepared, you can look for two different size heart paper punches and some pink or red heavyweight paper and save a lot of cutting time.
Obviously, I wasn't prepared.
But in a pinch, these hearts work great, too.
To decorate the cupcakes, I used an Ateco Tip #807 to swirl on a mountain of creamy cream cheese frosting.
Yum.
And then I sprinkled a few of these tee-niny heart sprinkles right on top.
Perty!
But if you want to make them even easier, you can simply insert the arrow straight down through the frosting and into the cake below.
You can turn them into bleeding heart cupcakes, too. So easy!
Just attach a few hearts sprinkles upside down onto the frosting.
I used jumbo, regular and miniature heart sprinkles.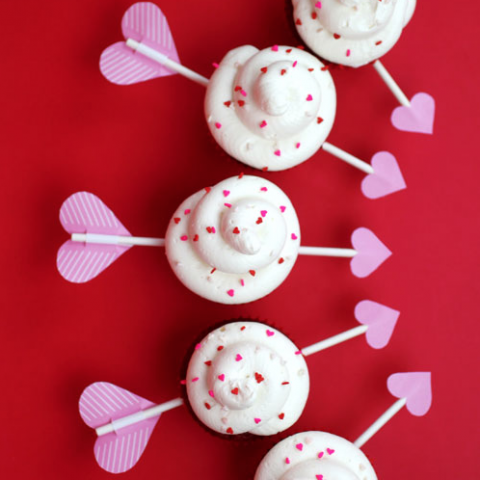 Yield: two dozen cupcakes
Red Velvet Cupcakes
Prep Time 20 minutes

Cook Time 18 minutes

Additional Time 20 minutes

Total Time 58 minutes
Ingredients
Red Velvet Cupcakes
2-1/2 cups all purpose flour
2 cups sugar
1 Tablespoon cocoa
1 teaspoon salt
1 teaspoon baking soda
2 eggs
1 cup oil
1 cup buttermilk
1 Tablespoon vinegar
1 teaspoon vanilla
1-2 oz. red food coloring
Creamy Cream Cheese Frosting
8 oz. cream cheese, room temperature
1 cup butter, room temperature
1 teaspoon vanilla
6 cups confectioners' sugar
Instructions
For the cupcakes: Preheat oven to 350 degrees. Line trays with cupcake papers.
Lightly stir eggs in a medium bowl with a wire whisk. Add remaining liquid ingredients and stir together with whisk until blended. Set aside.
Place all the dry ingredients in your mixing bowl and stir together with another wire whisk.
Add wet ingredients to the dry ingredients and mix on medium-high for about a minute or until completely combined.
Pour into cupcake pans and drop the pans on the counter a few times to release any air bubbles.
Bake for about 18 minutes or until a toothpick inserted comes out clean.
For the frosting: Sift sugar and set aside. Beat cream cheese and butter on high until creamy. Add vanilla. Then, add the sugar in batches. Scrape down the sides in between each addition. And frost away.
Either way you want to decorate, enjoy!
oh… and eat your heart out.