I made some cute chocolate cupcakes for you today.
And they're mini, too. It's hard to tell in this picture I know.
But because the cupcakes were mini, I was able to use chocolate chips to dress them up as sweet little pandas.
Chocolate chip covered pandas that are super easy to make.
First frost your cupcakes. Use a decorator bag with Ateco Tip #807 and you can whiz right through this part.
Pipe a small mound of frosting on top. You don't need to cover the cupcake completely.
Because you will be pressing it into a bowl of sanding sugar to cover all the frosting. And when you do, the frosting will spread out and cover most of the top.
Like so.
Then you can start making panda faces.
Insert a chocolate chip sideways and towards the bottom for a nose.
Then press two chips pointed side down into the frosting to start on the eyes and two more in position for the ears.
I used Ghiradelli dark chocolate chips because they are a little larger in diameter and were better for panda proportions.
And the great thing about covering them in sanding sugar first, is that you can easily reshape the face if necessary without getting frosting all over your fingers.
If you want to add mouths, try black or chocolate jimmies and press them into the frosting.
Then you just need to finish the eyes.
Use a black edible ink pen to draw on white confetti sprinkles for dotted eyes and then attach them to the chips with a tiny bit of frosting to hold them in place.
You could also just pipe frosting on for eyes if you want to skip the pin and sprinkles.
There you go. Easy little pandas.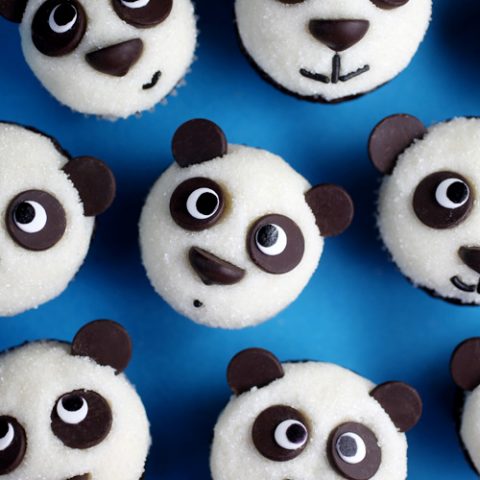 Chocolate Cupcakes
Prep Time 15 minutes

Cook Time 15 minutes

Total Time 30 minutes
Ingredients
1-1/2 cups all purpose flour
2/3 cup natural unsweetened cocoa
1-1/3 cups granulated sugar
1 teaspoon baking soda
1/2 teaspoon baking powder
1/2 teaspoon salt
2 eggs
1/3 cup oil
1 teaspoon vanilla
2/3 cup whole milk
2/3 cup hot water
Instructions
Preheat oven to 350 degrees fahrenheit.
Fill mini cupcake tray with cupcake liners.
In a large bowl, mix dry ingredients together with a wire whisk.
Add eggs, oil, vanilla and milk and mix until combined.
Add hot water and mix. Fill cupcake liners about 3/4 full.
Bake for 15 minutes. Cool and decorate.
To decorate, you'll need:
Frosting (I used the one from this post)
Decorator bag and Ateco tip 807 (or just use a ziploc bac and cut an end off)
White sanding sugar
Chocolate Chips (I used Ghiradelli dark chocolate chips for their size)
Jimmies (Chocolate or black and you could also just leave them off)
Pastel confetti sprinkles (just the white ones)
Black edible ink pen
Enjoy!