I love the idea of serving ice cream in fun ways. And this one is just that.
A fun and easy no-bake mint chip ice cream cake!
Yes and yum!
And it doesn't hurt that it's stuffed with mint Oreo cookies either.
They're in the crust, in the "cake" and on top too.
Want to make one?
Okay good! First chop up some of the cookies for the crust.
Mix the crumbs with melted butter and then press into the bottom of a 7-inch springform pan. But first cover the bottom section of the pan with plastic wrap before securing the ring on top. It will make it easier to transfer the cake to a plate when you're ready to serve.
Time for the ice cream. You can use your favorite flavor. I'm going with mint chip today.
It's not my fave…my first choice would be chocolate of course… but it's a fun flavor for St. Patrick's Day.
Spread a layer of ice cream on top of the cookie crust base.
Add in some oreos and then layer on more ice cream almost to the top edge of the pan.
Then layer on some whipped topping and place in the freezer for at least three hours.
Note: Next time I would break all the cookies into pieces to make the cake easier to cut.
When you are ready to serve, unclasp the springform ring to slide it off from around the cake.
Then just separate the plastic wrap from the base to serve.
Add some more oreos on top and you are ready to go.
Just slice…
And bite! Easy as pie… I mean ice cream cake!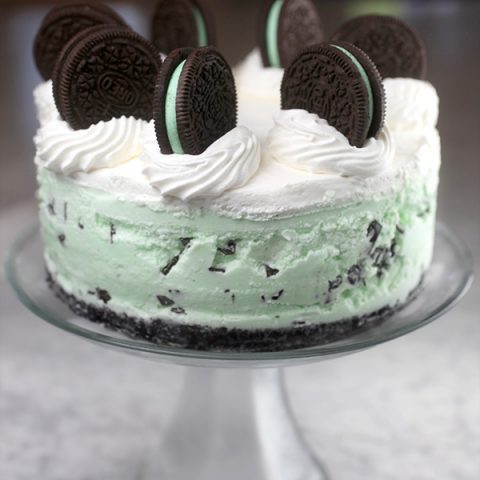 Yield: One 7-inch ice cream cake
Easy Oreo Mint Chip Ice Cream Cake
Prep Time 40 minutes

Additional Time 3 hours

Total Time 3 hours 40 minutes
Ingredients
30 Mint Oreos (1 package)
2 Tbsp butter, melted
Plastic Wrap
7-inch Springform Pan
1.5 quart container Mint Chip Ice Cream, softened
8 oz. container Cool Whip Topping, thawed
Instructions
Crush 16 cookies in a food processor. Add melted butter and combine.
Cover bottom section of springform pan with plastic wrap and secure ring in place.
Press cookie crumbs into the bottom of prepared pan. Use the bottom of a glass to press the crumbs firmly in place.
Chill pan in the refrigerator for 30 minutes.
Remove and spread a layer of mint chip ice cream over the cookie base. Break seven Oreos into small pieces and place on top. Then layer more ice cream almost to the top edge of the pan. You'll have a little bit left over that you can enjoy straight from the box.
Spread on a layer of whipped topping and place in the freezer for 3 hours. It helps to place your cake and serving plates in the freezer as well to keep the cake cold longer once you remove from the freezer.
When ready to serve, unclasp the ring to remove it from the cake. Separate plastic wrap from bottom of cake and place on serving plate. Top with remaining 7 oreos. Cut into slices and serve right away. You can run a knife under hot water and wipe it dry to cut through the cake easily.
Enjoy!