Here's some eye candy (BARS) that I hope inspire you in the kitchen over the next several days. I just wanted to remind you guys that there's just about two weeks left to enter the Scharffen Berger Chocolate Adventure Contest. And since I know you'll be baking up a big sugary storm – why not be a little adventurous and take a shot winning the $25,000 Grand Prize at the same time. I would so love for one of you guys to win!!!
Here's a quick rundown reminder.
1. Create an original bar recipe. That could be layered bars, candy bars, cookie bars, ice cream bars, brownies. Basically any bar.
2. Your bar recipe just needs to use a Scharffen Berger chocolate product and at least one of this year's ten adventure ingredients.
Adventure Ingredients:
Bourbon
Turbinado Sugar
Fresh Pomegranate
Hibiscus
Extra Virgin Olive Oil
Peppercorns (Any Type – Black, Red, Green)
Pandan Leaf or Pandan Leaf Extract
Coconut Milk, Cream, Butter or Oil
Oat Flour
Carrot
Sesame Seeds (Black or White)
Fresh Croutons or Crostini
Okay, I know you guys are going to be making some kind of bar recipe over the holidays.
Bourbon? Who's planning on baking with Bourbon? I thought so.
Coconut Milk? Totally doable.
Pomegranate? Perfect for a festive treat.
Turbinado Sugar? You guys can totally do this.
Break out that family bar recipe and adventure that bad boy up.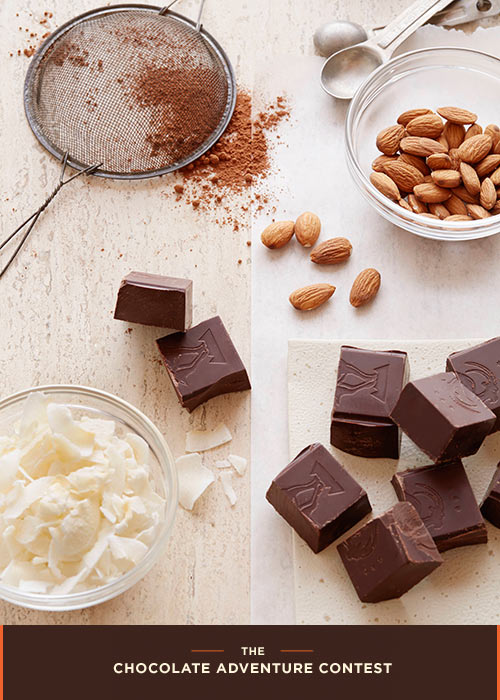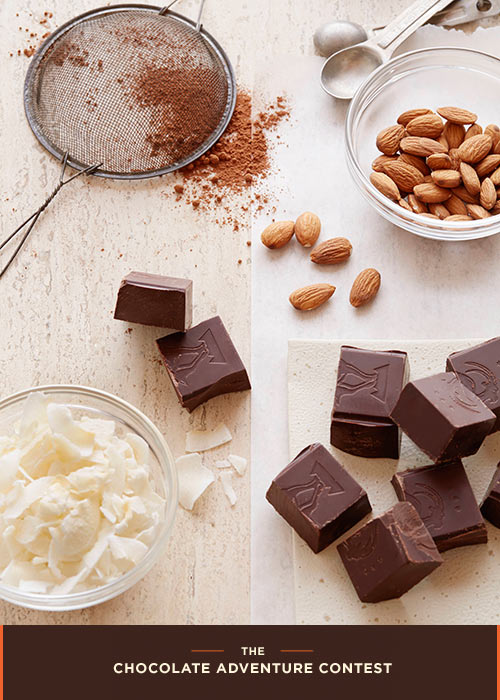 Here's the Chocolate Adventure Contest website with everything you need to know.
Contest ends January 2, 2014.
Hope you guys whip up something magical and make it hard for me to help pick a winner.
Now, how about those inspiration candy bars above that my friend and fellow judge, Matt Armendariz photographed to illustrate different kinds of bar possibilities… yes, yum… let's make some. Here are some more of his pics if you need more visual inspiration.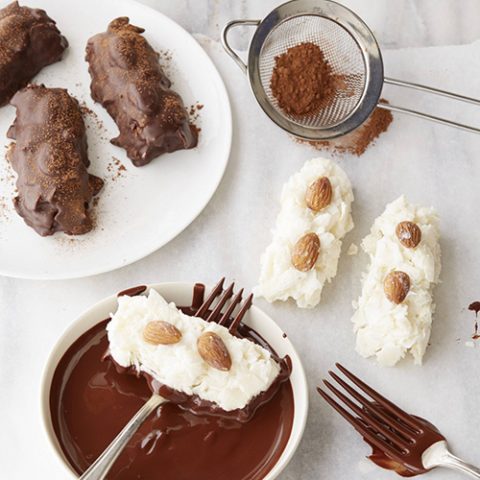 Dark Chocolate Almond Coconut Candy Bars
Prep Time 1 hour 30 minutes

Total Time 1 hour 30 minutes
Ingredients
1 cup whole almonds
3/4 cup powdered sugar, sifted
2 tbsp heavy cream
2 cups sweetened, shredded coconut
1/2 tsp salt
1 batch tempered dark chocolate**
2 tbsp unsweetened cocoa powder, to decorate
TO TEMPER CHOCOLATE:
3 cups ice
3 cups chopped high quality dark chocolate, 60% or higher.
Instructions
Preheat oven to 350 degrees F and line two baking sheets with parchment paper.
Place almonds on one baking sheet and bake for 10-15 minutes, until aromatic and lightly brown.
In a medium bowl, combine sifted powdered sugar and cream with a wooden spoon until you have a paste. Stir in coconut and salt. Shape into 2-inch firmly packed logs, with a slightly flattened top. Then place logs on second baking sheet and gently press two almonds on the top of each log. Refrigerate for 20 minutes.
While logs are chilling in the fridge, temper the chocolate.**
Remove logs from the refrigerator. Have tempered chocolate ready for dipping at 90 degrees F. Dip each log into the chocolate using two forks to help remove as well. Gently shake off any excess while on the forks. Then slide on baking sheet originally used to toast the nuts after relining with a new sheet of parchment paper. Dust each bar with a little cocoa powder. Let set at room temperature or place in the refrigerator for about 10 minutes to firm up. Serve at room temperature.
TO TEMPER CHOCOLATE: Place ice in a large bowl and set aside.
Reserve a handful of the chopped chocolate. Then melt rest gently in a stainless-steel bowl set over simmering water until it reaches 115 degrees F on a candy thermometer. Remove bowl from the heat. Wipe bottom of bowl with a dry cloth to prevent water from splashing onto work surface. Sprinkle reserved chocolate into melted chocolate and stir. Cool the chocolate by placing over the bowl of ice for a few seconds at a time, removing it, stirring until smooth, and repeating until the temperature drops to 82 degrees F.
Heat the chocolate again by bleaching the bowl back over the simmering water for 30 seconds to 1 minute at at time. Once temperature rises to 90 degrees F, the chocolate is ready to use for dipping. It's important to keep chocolate at 90 degrees, so as chocolate cools, reheat over pan of hot water for 30 seconds to 1 minute at a time until it returns to 90 degrees. Just don't overheat. Chocolate should not rise above 91 degrees.

Notes
**Okay… you know me and since we are talking inspiration candy bars here… I would probably just dip these in dark chocolate candy coating or chocolate bark so I don't have to worry about all that temperature stress. I'm getting nervous just thinking about it.

Source: © 2013 Handcrafted Candy Bars published by Chronicle Books

Enjoy and Happy Baking Adventures!
Which adventure ingredient would you want to tackle?