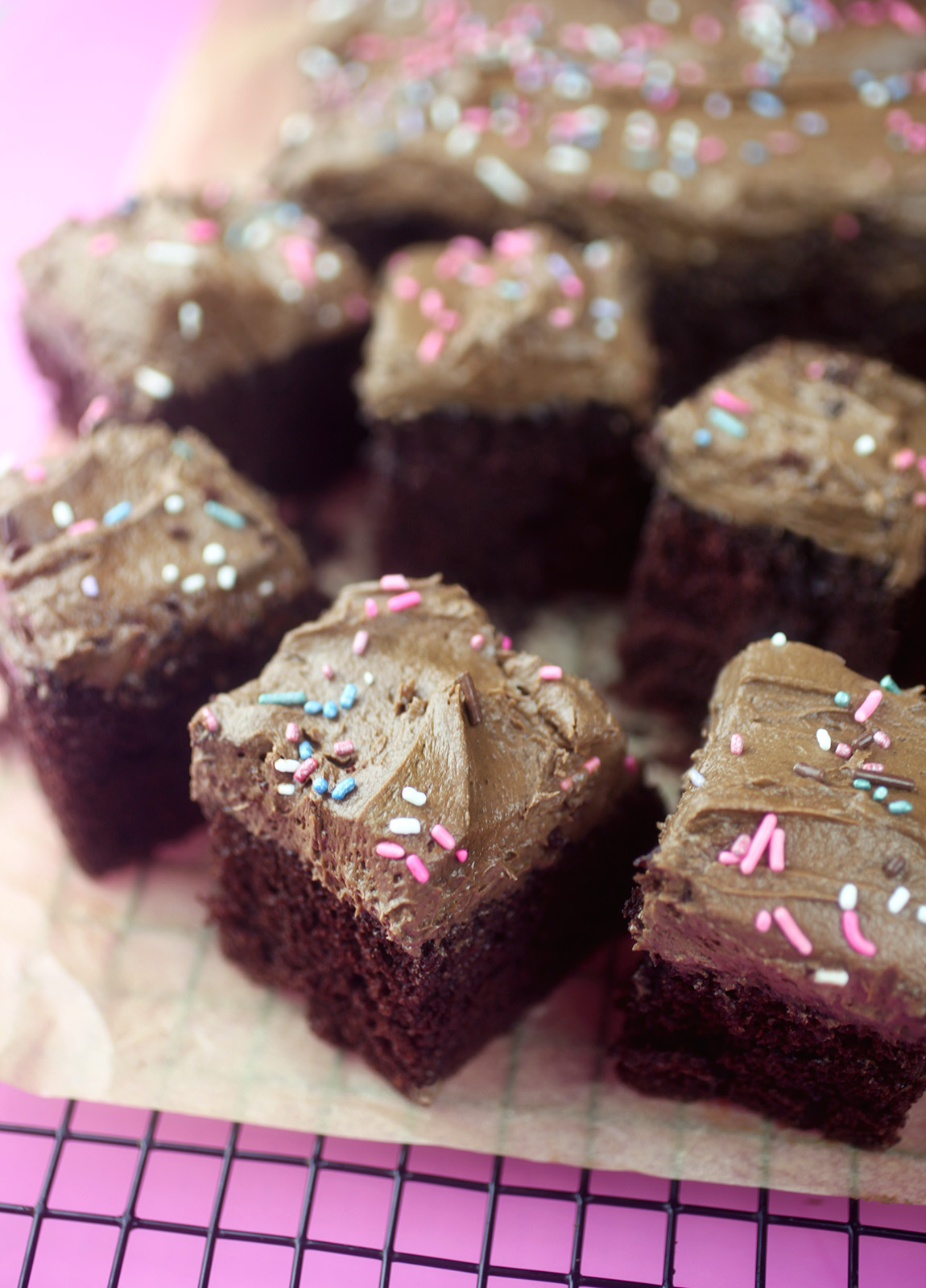 I have a new favorite chocolate cake. Like it is really good and the frosting … Oh my. I took one bite and immediately knew I was in trouble. In a good way, that is. This cake recipe found an instant place on my forever baking list. And I hope you will love it as much as I do.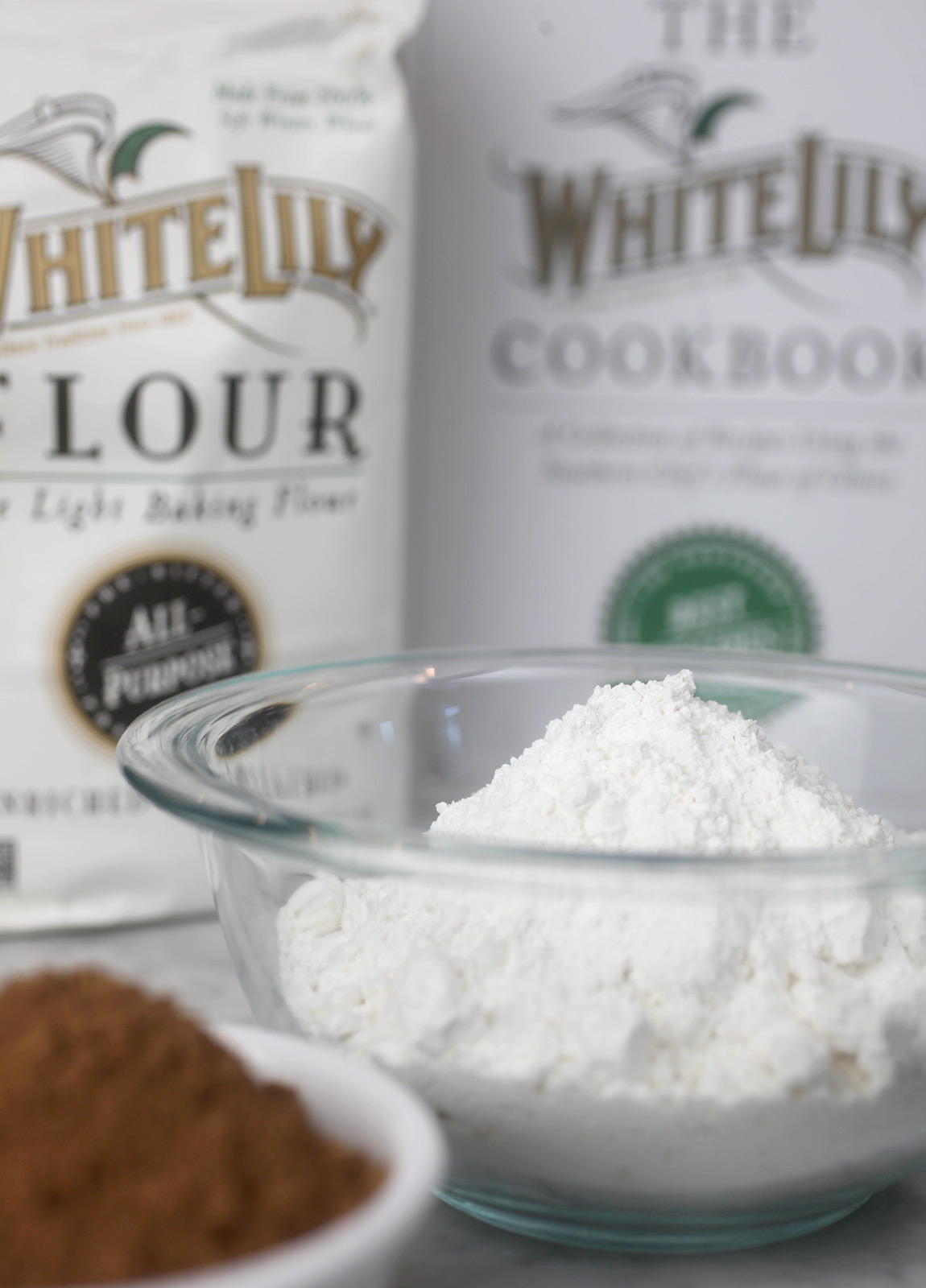 The recipe is from The White Lily Cookbook. I bought it as a Christmas present for my mom and borrowed it from her recently to check it out. I chose their Chocolate Cake with Chocolate Silk Frosting to start. And it was a great start.
I decided on making it as a snack cake instead of a 2- or 3-layer cake which they also recommend.
But I kept ALL of the frosting. Oh my goodness. It does not fall short on frosting.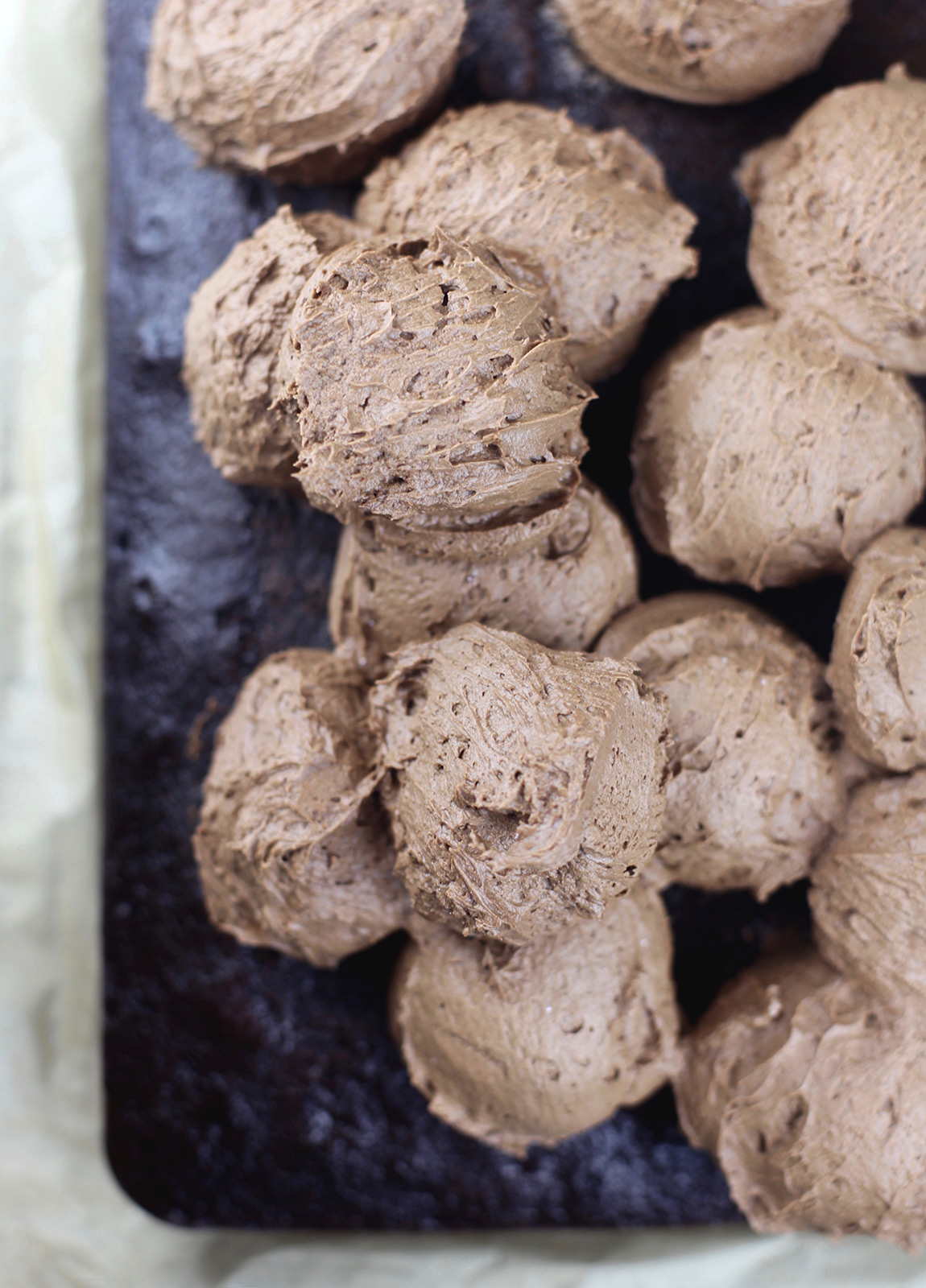 This is how things started.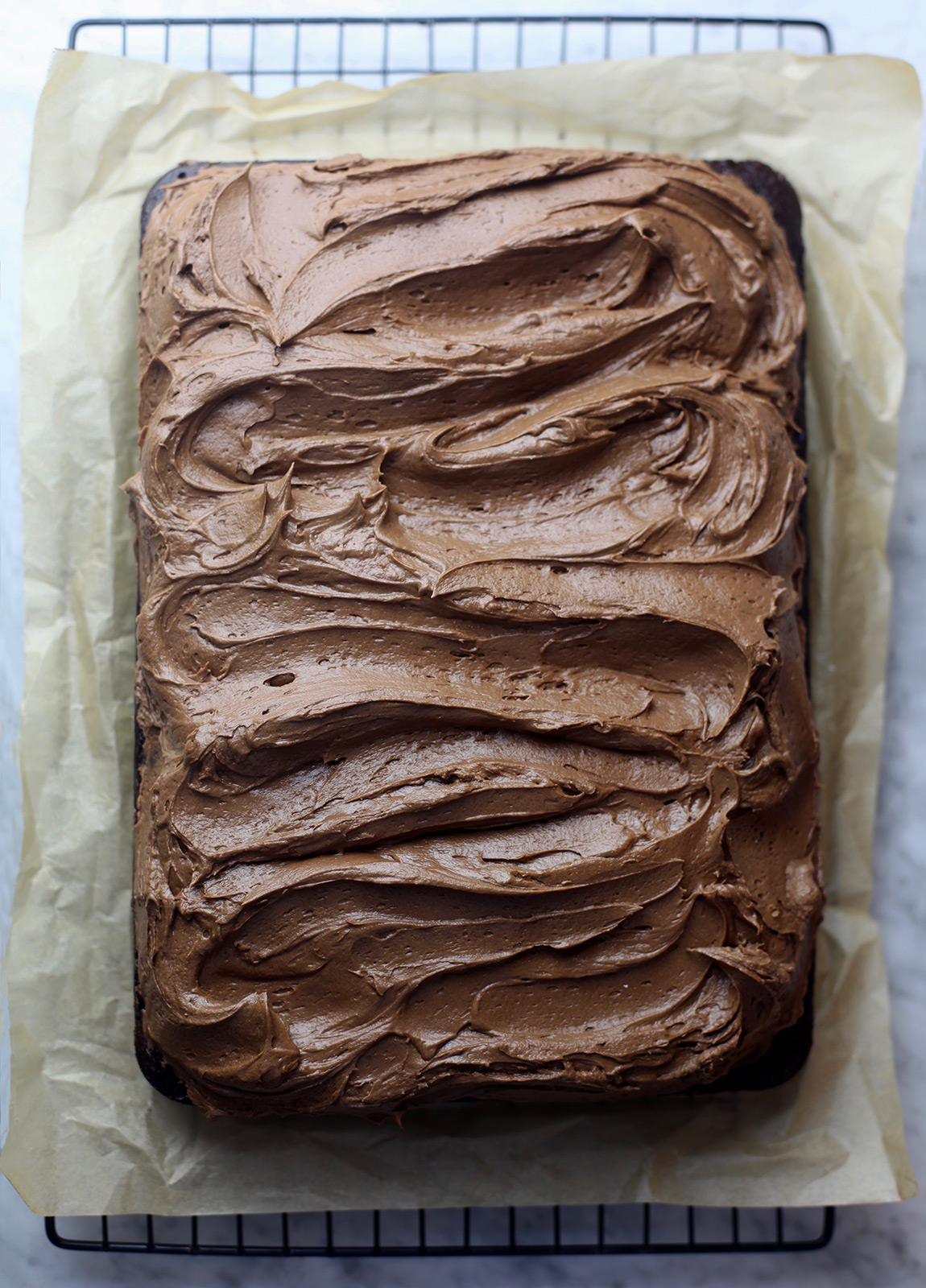 And then I spread it out into a thick layer of silky sweet chocolate buttercream.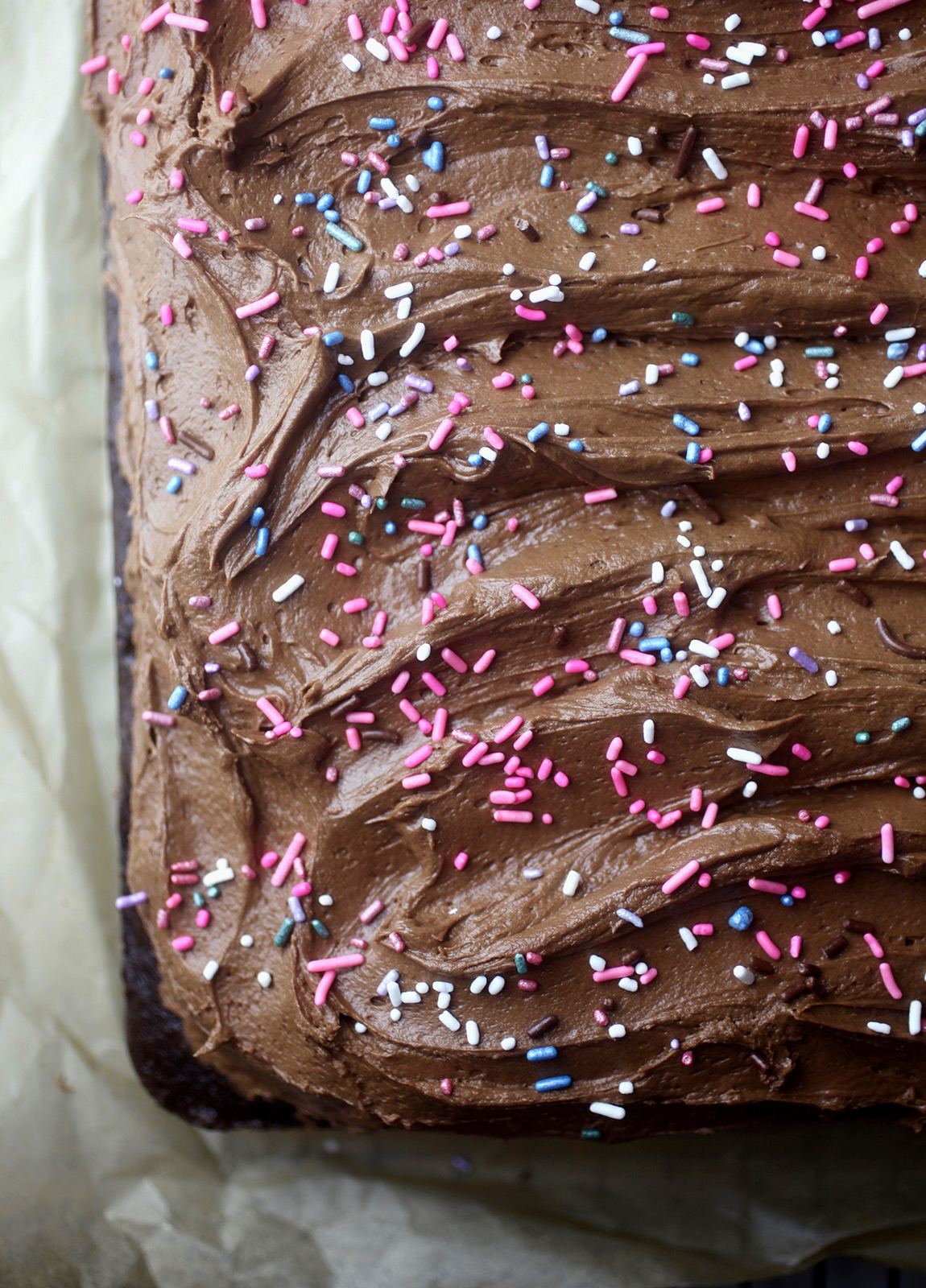 And added a few pastel jimmies on top to pretty it up a bit.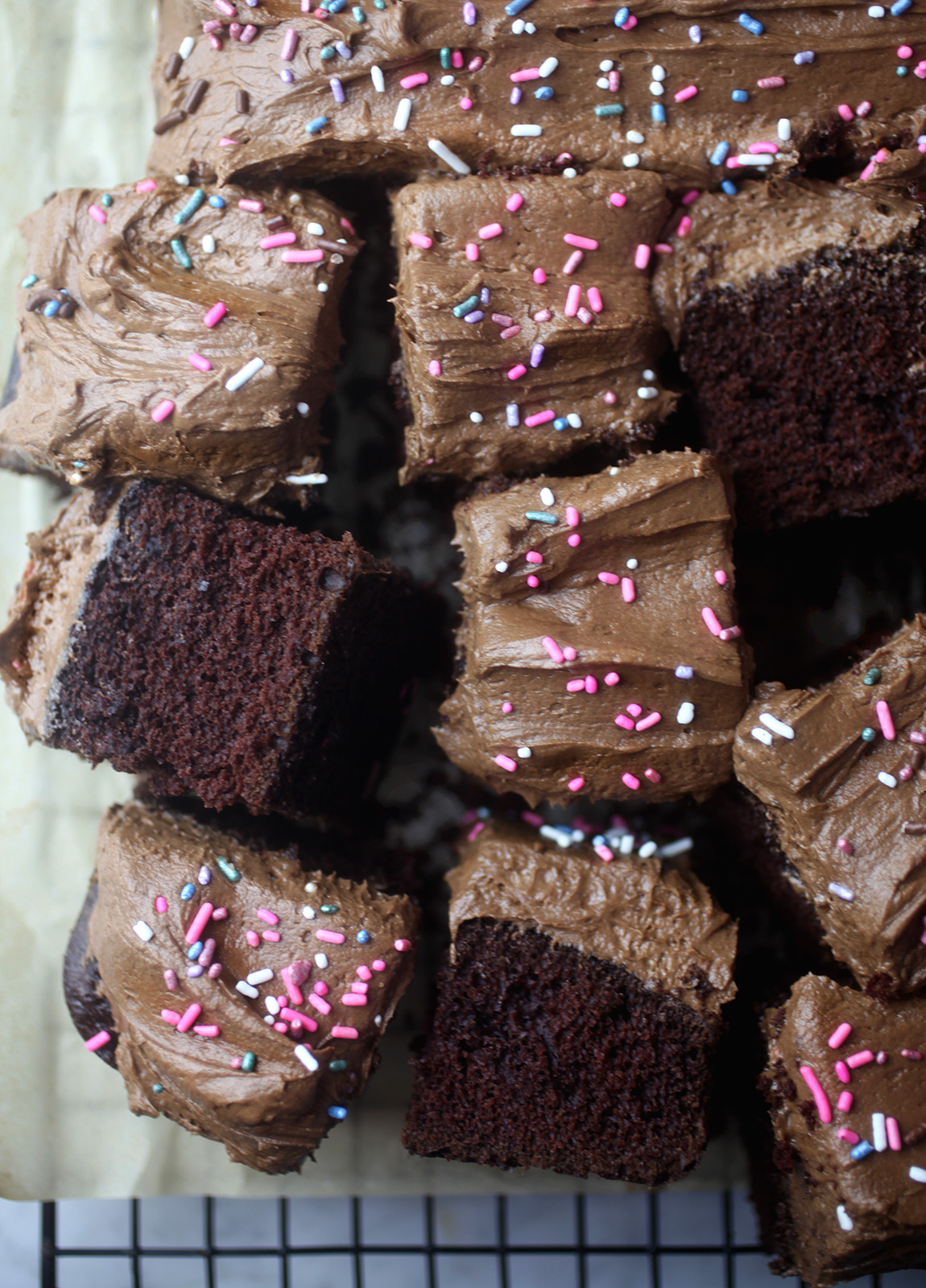 When I cut into it, I thought… okay I think it's going to be good.
But I was not prepared. Let's just say I had a snack attack.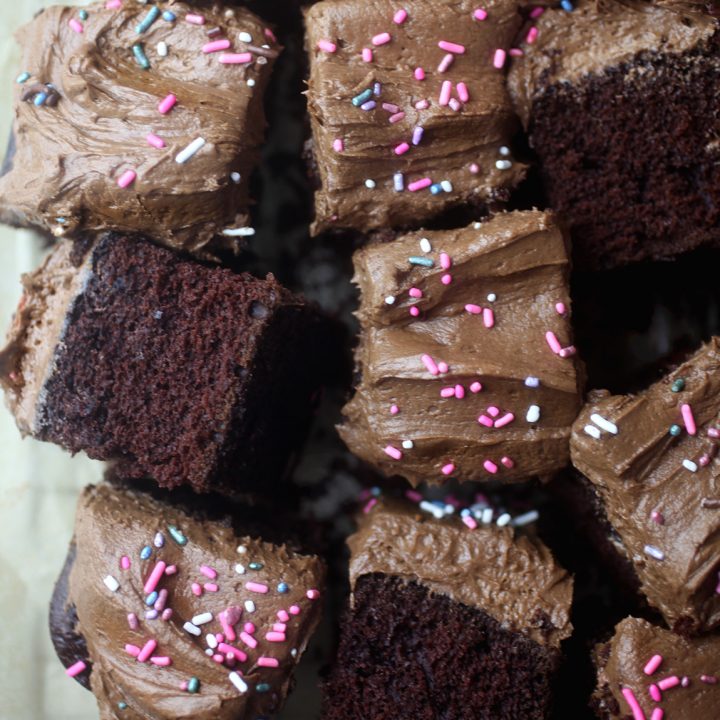 Yield: 13 X 9-inch cake
White Lily Chocolate Cake with Chocolate Silk Frosting
Cook Time
1 minute
15 seconds
Additional Time
20 minutes
Total Time
36 minutes
15 seconds
Ingredients
Chocolate Cake
2 cups White Lily All-Purpose Flour
2 cups granulated sugar
3/4 cup unsweetened cocoa powder
1 teaspoon baking soda
1/2 teaspoon salt
1/2 cup buttermilk, room temperature
1/4 cup vegetable oil
2 large eggs, room temperature
2 teaspoons vanilla extract
1 cup boiling water
Chocolate Silk Frosting
1 cup unsalted butter, softened
5 cups confectioners' sugar
3/4 cup unsweetened cocoa powder
3/4 cup heavy whipping cream
2 teaspoons vanilla extract
Instructions
Preheat oven to 350 degrees F. Butter and flour a 13 X 9 inch baking pan.
Sift flour and cocoa together into the bowl of your stand mixer. Add sugar, baking soda and salt. Whisk together until combined. Add buttermilk, oil, eggs and vanilla. Beat with the mixer at medium speed for two minutes. Stir in 1 cup boiling water until combined. Batter will be very thin. Pour batter into prepared pan.
Bake until a toothpick inserted in the center comes out clean. About 35-40 minutes. Let cool completely in the pan on a wire rack.
Spread the frosting on top of the cooled cake and add sprinkles if desired.
To make frosting: Beat butter with mixer at medium speed until creamy. Sift confectioners's sugar and cocoa into the bowl. Begin mixing. Add heavy whipping cream and beat at low speed until combined. Add vanilla and beat until smooth and creamy.
Notes
This recipe can also be baked as 3 (8-inch) layers, 2 (9-inch layers). If making as a layer cake, check baking time beginning at 20-25 minutes.
Recipe from The White Lily Cookbook, © 2021 by Hometown Food Company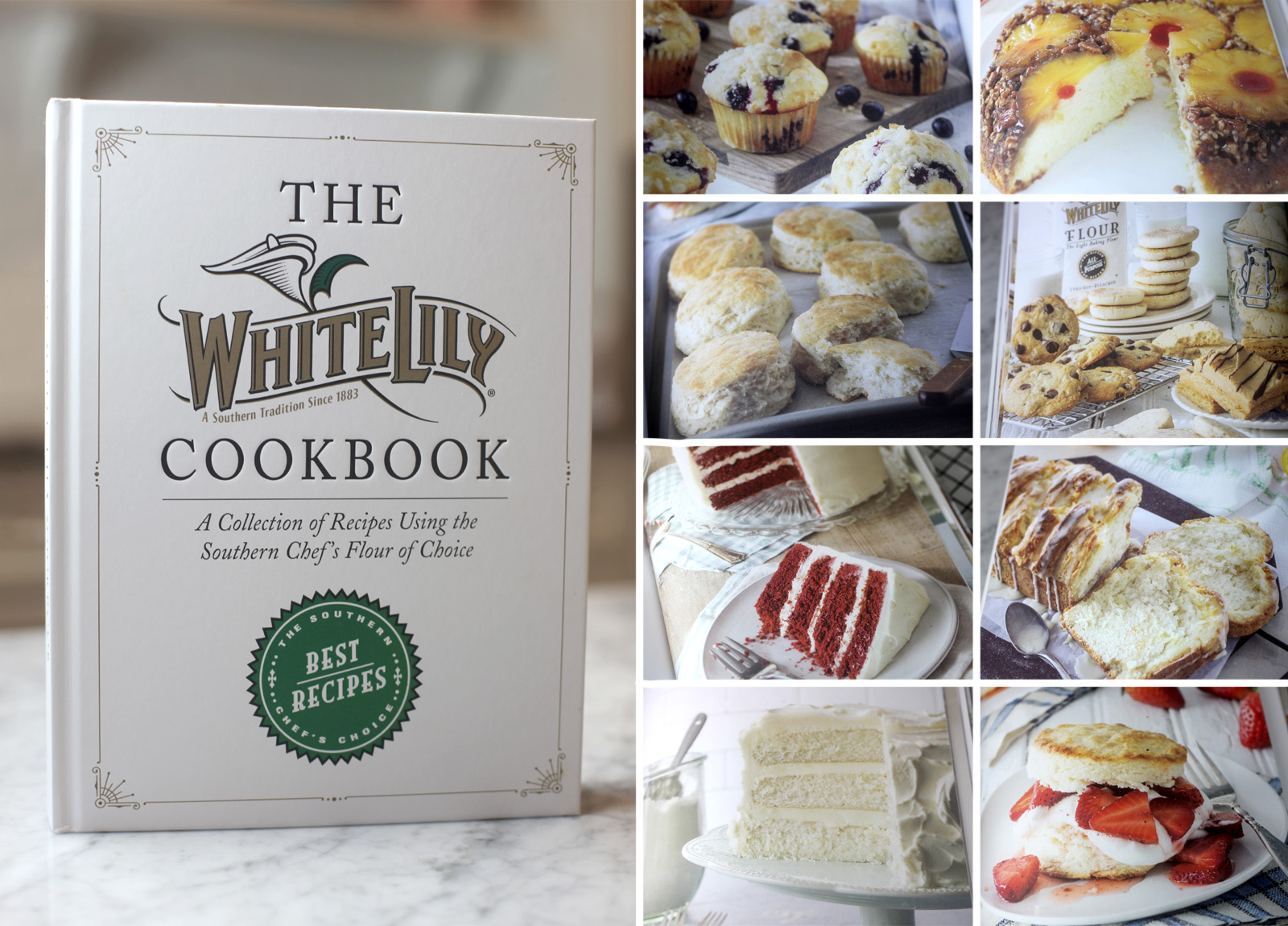 About the Cookbook: As I was working on this post I found out the cookbook is sold out. (Insert sad face.) I'm so bummed because it's a beautiful book with a great lineup of recipes for breakfast, supper and desserts, of course. On the bright side, I found on their website where they offer FREE DIGITAL COOKBOOKS from the 1940s to the 1990s. And hopefully they will add this gem to their list in the future, too.
A Little bit about White Lily All-Purpose Flour: Made from soft winter wheat, which has lower protein and gluten content, this flour is a great choice for baked goods like cakes and biscuits to yield a lighter, fluffy texture. White Lily Flours are easier to find in the south. Southern bakers have sworn by it for decades. If you have trouble finding in your area, check out this White Lily store locator or you can also try purchasing the all-purpose flour on Amazon.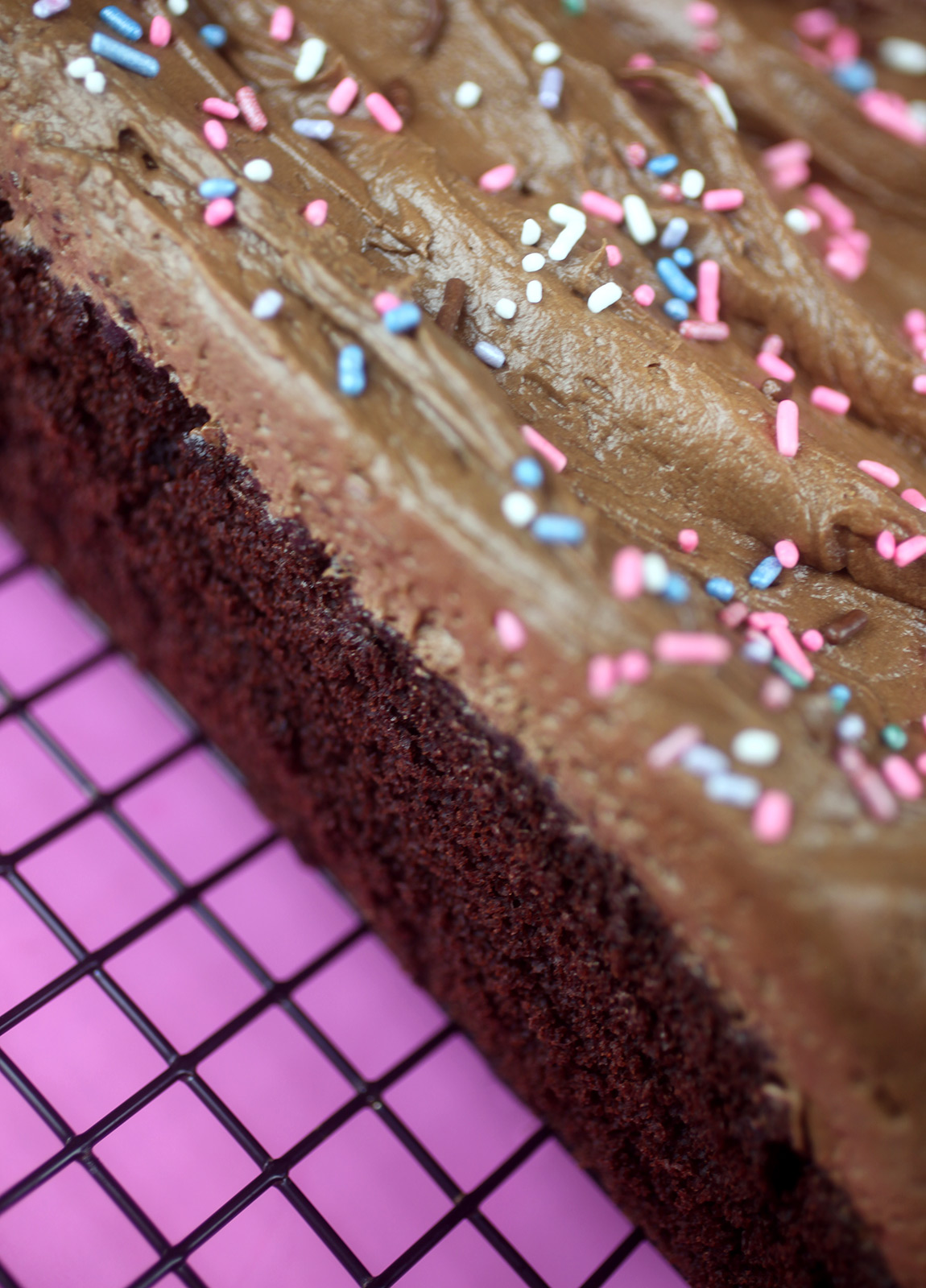 Hope you enjoy this delicious cake.