Chocolate, chipotle, cinnamon … sizzle! That's right, I said chipotle, as in pepper. As in, why in the world would I put that in a cupcake. Well, normally I wouldn't. But I was invited to join Iron Cupcake Earth, a monthly cupcake challenge using not so ordinary ingredients. I've been wanting to branch out and try using other flavors besides plain old chocolate and vanilla, so I figured this was the perfect way to force me to push myself. So I joined just in time to try this month's ingredient: chili peppers.
I made Chocolate Chipotle Cupcakes with Chili Chocolate Ganache and Cinnamon Dulce de Leche Ice Cream. Yummy!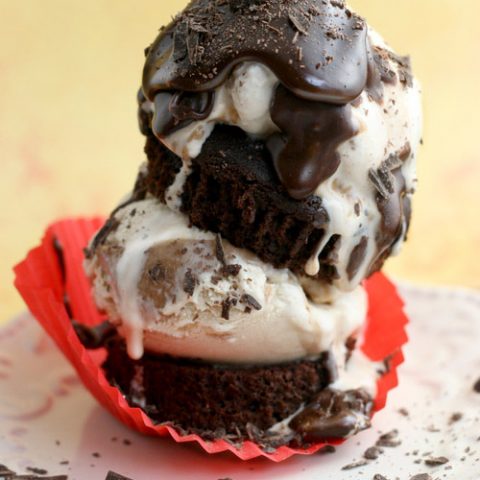 Yield: 36 cupcakes
Fire & Ice Cupcakes
Ingredients
Chocolate Chipotle Cupcakes
1 cup Scharffen Berger unsweetened cocoa
3/4 cup boiling water
2-1/2 cups all purpose flour
1 Tbsp baking soda
1 tsp cinnamon
1/4 tsp salt
3 tsp chipotle powder
2 cups sugar
1 cup butter, room temperature
4 eggs
2 tsp vanilla
1 cup buttermilk
2 Tbsp canned chipotles in adobe sauce, pureed
Chili Chocolate Ganache
3 oz. semi-sweet chocolate
3 oz. chocolate with chili pepper
3/4 cup heavy whipping cream
2 cups confectioners' sugar
Ice Cream
Cinnamon Dulce de Leche Ice Cream By Haagen Daz
Instructions
Cupcakes: Preheat oven to 350 degrees.
Line cupcake trays with baking cups (36)
Puree canned chipotles and set aside.
Boil water. Transfer 3/4 cup of boiling water to bowl. Stir in cocoa until dissolved to form chocolate mixture and set aside.
With a wire whisk, mix flour, baking soda, cinnamon, salt and chipotle powder in a separate bowl and set aside.
In a large mixing bowl, mix sugar, butter and eggs until light and fluffy. Add buttermilk and vanilla and mix well.
Add flour mixture to the wet ingredients in three additions, alternating with chocolate mixture in two additions, ending with flour mixture. Beat until combined with each addition.
Add pureed chipotles and beat until combined.
Scoop batter into prepared cupcake trays. Bake for 13-15 minutes and cool completely.
Ganache: Combine chocolates and heavy cream in medium bowl. Microwave on high in 30 sec intervals. Stir in between. Gradually add sugar and whisk mixture until smooth. Let cool. Pour into squeeze bottle.
Assembly: Remove paper liners. Cut cupcake in half horizontally. Place a small scoop of ice cream in between the two cupcake halves. Top with another scoop of ice cream and drizzle with Chili Chocolate Ganache. Sprinkle chopped chocolate shavings to top it off. Enjoy right away.
Here's the chocolate I used for the ganache. It's an organic dark chocolate bar with cayenne, pumpkin seeds, and cinnamon.
I also made some Chocolate & Vanilla Chipotle Cream Cheese Frosting for some of the cupcakes.
3 oz. chocolate with chipotles (Vosges Red Fire Bar)
1 8 oz. package cream cheese
1 stick butter
1 tsp vanilla extract
1 Tbsp. chipotle chili powder
1 tsp cinnamon
4 cups confectioner's sugar
Melt chocolate in microwave in 30 sec intervals., stirring in between until melted. Let cool.
Sift sugar and add chili powder and cinnamon. Set aside.
Cream butter and cream cheese and vanilla in a large mixing bowl on low until combined.
Add sugar in small batches until combined. Scrape down sides of bowl in between.
Set aside half of frosting and set aside for the Vanilla Chipotle Cream Cheese Buttercream.
Add melted chocolate to the other half and mix until combined for the Chocolate Chipotle Cream Cheese Buttercream.
Note: If you are extra generous with your frosting and only want to use the buttercream instead of the ganache, you may want to make two batches to ensure your cupcakes are covered.
I had chili powder and cupcakes everywhere by this time. My counters were covered and my cupcake carrying case
was full, so thank goodness I had this cute little cupcake stand
to put them on. If I win. I wouldn't have this problem. I could store them all in the fabulous Cupcake Courier
. It holds 36 cupcakes by the way.

You can vote for me, I mean your favorite recipe here between August 31 and September 4th at noon.
The winner will receive these super prizes:
You can also join in on the fun yourself. Learn more about the challenge at ironcupcake.blogspot.com.