Candy Hearts. These don't just make cute little ears for puppy dog cupcakes, they can also be used to make perfect little bows.
Bows on top of pretty present cake pops for instance.
When I posted those candy hearts last week, it made me think of these sweet little presents.
They are actually a project in my Cake Pops Holidays book. I thought I'd share the how to with you for those that don't have the book … yet. ; )
The white candy coating and especially the red candy hearts make them totally work for Valentine's Day. If I had used red and green for the boxes in the book, not so much.
But these can work … especially if you add some cute little tags to the lollipop sticks.
In the book I used tags that look like gift tags for presents. So, I thought I'd give you some tags to coordinate if you wanted to give some sweet love for the fourteenth, too.
Download the tags and use them with a 1 7/8 inch paper punch for cake pops or make cupcake toppers with them, too.
Happy Valentine's Day Tags
Conversation Hearts Tags – red
Conversation Hearts Tags – pastel (not shown)
And below is the in depth how-to for these. Have fun!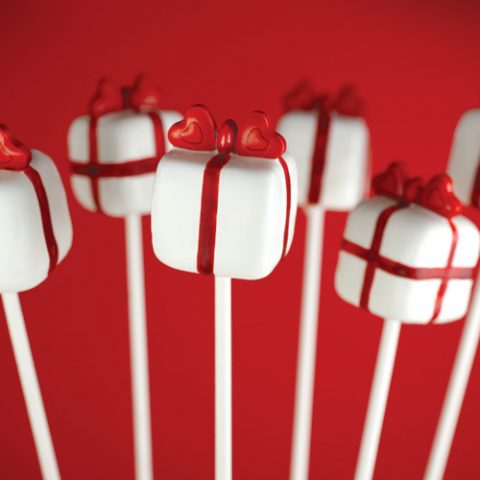 Yield: 48 cake pops
Give Love Cake Pops
Ingredients
9 X 13 cake, cooled (makes 48 cake pops)
Frosting
Wax paper
Baking sheet
Cookie cutter with a straight edge
48 oz (1.4 kg) white candy coating
Deep, microwave-safe plastic bowl
48 lollipop sticks
96 red candy hearts
48 red mini M&M's
Styrofoam block
Red colored cocoa butter (you can also pipe on red candy coating)
Small dish
Small paintbrush
Instructions
Crumble cake and mix with 2/3 - 3/4 container of ready made frosting or about 1 cup equivalent homemade until completely combined. Roll into 48 balls and place on a wax paper covered baking sheet. Place in the freezer for about 15 minutes to firm up and then transfer to the refrigerator to remain chilled (not frozen).
Remove the cake balls from the refrigerator and shape them, one at a time, into small squares to form the shape of a box. You can use wax paper to aid in shaping the sides. Take each side of your cake ball and slide it on a wax paper covered baking sheet. Rotate and repeat for each side to help create a flat surface. In addition, you can use the flat side of a metal cutter to cut off any rounded excess and to help form straight edges.
After shaping, put the shaped cakes in the freezer for about 15 minutes to firm up again for dipping. Once they are firm, transfer them to the refrigerator. Remove a few at a time for dipping, keeping the rest chilled.
Melt the candy coating in a microwave-safe plastic bowl, following the instructions on the package. The coating should be about 3 in (7.5 cm) deep for easier dipping.
One at a time, dip about 1/2 in (12 mm) of the lollipop stick into the melted candy coating and insert the stick straight into the bottom of the box shape, pushing it no more than halfway through. Dip the cake pop into the melted coating, and tap off any excess: Hold it over the bowl in your left hand, and tap your left wrist gently with your right hand. If you use the hand holding the cake pop to shake off excess coating, the force of the movement will be too strong and could cause the cake ball to loosen or fly off the lollipop stick. Tapping the wrist holding the cake pop absorbs some of the impact. The excess coating will fall off, but you will need to rotate the lollipop stick so the coating doesn't build up on one side, making it too heavy on that side. If too much coating starts to build up at the base of the stick, simply use your finger to wipe it off, spinning the lollipop stick at the same time. This can happen if the coating is too thin or too hot. It's not as hard as it sounds; it just takes a little practice.
While the coating is wet, place two candy hearts on their sides, with pointed ends facing each other on top of the pop. Leave room to place a mini M&M's candy in between. Tilt the hearts up to form the shape of a bow before the coating sets. Let dry completely in a Styrofoam block.
Heat the red cocoa butter in the microwave following the directions on the bottle. Pour a little into a small dish. Paint ribbons on sides and tops of the cake pop with a brush for a flat appearance. Or you can also use red candy coating instead of colored cocoa butter for ribbons. Pipe coating with a squeeze bottle or apply with a toothpick to draw the ribbons on for a more three dimensional effect.
Let the pops dry in the Styrofoam block.
Notes
Source: © 2012 Cake Pops Holidays by Bakerella
Enjoy!