Can I interest you in some pancakes?
Some Blueberry Cornmeal Pancakes?
With Orange Maple Butter?
I thought so. I had the same reaction when I saw these in the June issue of Martha Stewart Living
.
They called to me. Basically begged me to make them. And I'm so glad I did.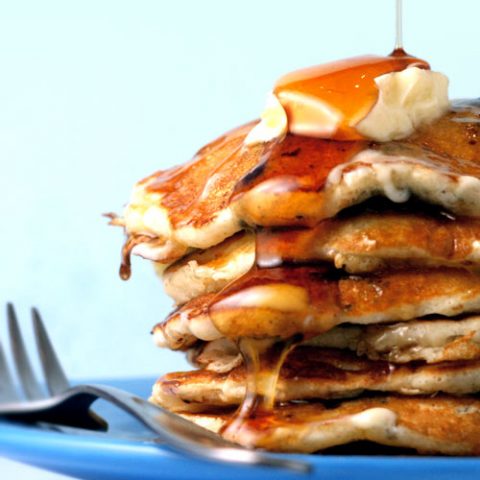 Yield: about 16 pancakes
Blueberry Cornmeal Pancakes
Ingredients
Orange Maple Butter (make the night before)
1 stick softened butter
1 tablespoon orange juice
1 tablespoon maple syrup
Blueberry Cornmeal Pancackes
1 cup all-purpose flour
1/2 cup cornmeal
1/4 cup sugar, plus two tsp for blueberries
1-1/4 tsp baking powder
1 tsp salt
1/2 tsp baking soda
1-1/2 cups buttermilk
1/4 cup milk
3 Tbsp butter, melted and cooled
1 egg lightly beaten
2 cups blueberries
Extra butter for coating griddle
Maple Syrup
Instructions
Orange Maple Butter: Combine all three in a small bowl with a rubber spatula. Spoon the mixture on a piece of wax paper. Roll and re-shape back into a stick of butter. Twist the ends to secure the wax paper and refrigerate.
Pancakes: Whisk together flour, cornmeal, sugar, baking powder, salt and soda in a large bowl. Set aside.
Whisk together buttermilk, milk, butter and egg in medium bowl.
Add milk mixture to dry ingredients and whisk together just until combined.
Toss blueberries in a small bowl with 2 tsp sugar.
Heat a griddle over medium heat. Take extra butter and run over surface of griddle. Repeat as necessary throughout process.
Pour batter on griddle 1/4 cup at a time. Add some of the sugared blueberries to each pancake. Cook for about 3-4 minutes.
Flip and cook the other side for about 2 minutes.
Notes
Recipe adapted from Martha Stewart Living Magazine, June 2009.
I started out doing three at a time, but my griddle was not as big as I like.
So I switched to doing one at a a time. Takes a little longer, but the pancakes are prettier.
Martha also offers a good tip. As you are making the pancakes. Keep the finished ones on a cookie sheet in the oven at 200 degrees F to keep them warm.
Then, when you're all done.
Stack 'em and slap on some Orange Maple Butter
Oh my! Then pour on the maple syrup.
Wait for it…
Wait for it…
Aaaaahhhhhh…
… that's better.
Then dig in.
You'll be glad you did.