I made my mom this cake Sunday afternoon. A Hummingbird Cake and it was so good.
This cake is basically healthy. At least in my mind it is.
I mean bananas, pineapple and nuts.
It's like dieting.
Okay, maybe not so much. Especially with the generous amount of cream cheese frosting I slathered all over it.
When I was a kid I would have skipped cake like this rather than putting something non-chocolate in my mouth.
Yeah, would not have touched it. Or I would have picked out all the nuts. Pecans and pineapple were not on the list of approved foods.
But my mom loves them. So I thought this would be a great cake to make for her.
Chopped and toasted pecans. Yum. I'm glad I can say that now.
The cake is super easy to throw together, too. You don't even need to break out your mixer for the batter. A spoon will do the trick.
The recipe makes a giant cake. Three 9-inch layers.
Level the cakes with a serrated knife to remove the mounded tops and make for a more even cake and easier to frost.
Here's something else I use that makes frosting cakes a bit easier for me.
I bought this pottery wheel thing to place my cakes on. It's awesome. And heavy and spins fast and smooth.
And the nice part is you can easily lift the plate right off the base.
Amaco No. 5 Pottery Decorating Wheel The metal isn't polished, so some areas could have a sharp or rough spot.
The removable base makes it easy to hold up in the air and see things at eye level.
I had a plastic turntable meant for cake decorating, but I didn't like that one so much. This one just feels better in my hands. But that's probably because it's on the smaller side. The plate is just 7 inches in diameter, but still worked out perfectly for this 9-inch cake.
Spin and spread.
I tried to go for that whole my cake is so messy that it's beautiful look.
I think I need to practice more.
But that's okay. It's what's on the inside that counts… And my mom loved it.
Hope you do too.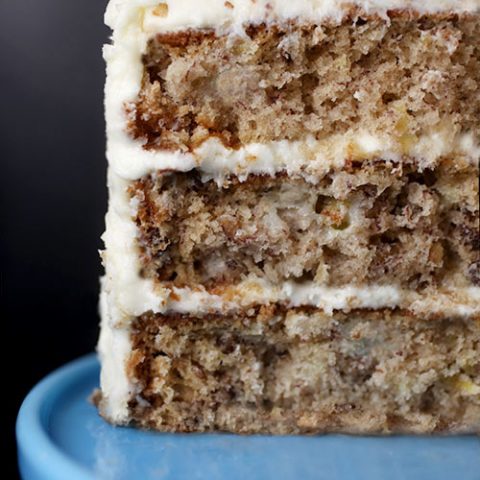 Yield: One 9-inch three layer cake
Hummingbird Cake
Ingredients
CAKE
3 cups all purpose flour
1 teaspoon baking soda
1/2 teaspoon salt
2 cups sugar
1 teaspoon cinnamon
3 eggs, lightly beaten
1 cup vegetable oil
2 teaspoons vanilla
8 oz. can of crushed pineapple, liquid included
2 cups chopped ripe bananas
2 cups pecans, chopped and toasted
FROSTING
16 oz cream cheese
1 cup butter
2 teaspoons vanilla
32 oz. confectioner's sugar
Instructions
To make the cake: Preheat oven to 350 degrees and grease and flour 3 9-inch cake pans.
Prepare toasted pecans. Chop pecans in small pieces and place on a parchment covered baking sheet. Bake for 5 minutes and keeping your eye on them so they don't burn. Set aside and let cool.
Whisk together flour, soda, salt, sugar and cinnamon in a large bowl.
Add lightly beaten eggs, oil and vanilla to the dry ingredients and stir until combined.
Add crushed pineapple and cut up bananas and stir until combined. Finally stir in 1 cup of chopped toasted pecans. Reserve the rest to sprinkle on top of the cake if desired.
Spread batter evenly among cake pans and bake for 22-25 minutes or until a toothpick inserted comes out clean. Remove and let cool.
For the frosting: In a mixer, beat butter and cream cheese until smooth and creamy. Add vanilla and beat until incorporated. With the mixer on low, slowly add confectioner's sugar a little at a time until incorporated. Scrape down the sides of the mixer bowl often.
To assemble: Gently level cakes using a large serrated knife to remove any mounded tops.
Place first layer cut side down and spread frosting on top with an offset spatula. Continue with the remaining two layers and then frost the sides. Store in fridge.
Notes
Source: Adapted from Southern Living.com