They're cookies. They're brownies. They're brookies. Whatever you want to call them they're good. They combine the taste of a chocolate chip cookie and with the texture of a moist brownie. The best of both worlds. Actually, they do have a name. They're called Congo Bars. Wait… I think I just heard a bunch of you go "oh, yeah … I've had those before."
Well, I had them for the first time the other day. My friend Lori gave me one to try and I subsequently held her hostage until she gave me the recipe
Sometimes I wonder where I've been and how I could have gone this long without tasting easy treats like this. What else am I missing out on?
Here's all the ingredients. Simple stuff.
If you follow the directions in the recipe, you combine everything by hand, but I decided to use my mixer and let it do all the work. They were yummy, but not completely the same texture as Lori's. So I made them a second time the very next day and did it her way. I like how they came out when stirring by hand better, but either way they're really good.
Look at that beautifully thick batter.
Spread it all out in a 13 X 9 pan and bake for about 30 minutes.
Cool and cut.
These are from the first batch. You can't really tell by the photos, but the texture is different from the ones below.
These are from the second batch and slightly… just slightly, more cakey when you sink your teeth in.
At first I thought it was just a difference in baking time, but Lori also made a batch using a mixer without knowing that was how I made mine and both of ours came out the same.
She likes the mixing by hand method better, too. Again, this is a subtle difference, just thought I'd share.
The great thing about these bars is that you can mix in different additions if you want.
How about butterscotch or peanut butter chips?
M&M's maybe.
You could even cut up a few caramel candies into small pieces if you wanted a chewy surprise inside.
Customize, baby.
Here's the recipe Lori uses. She's tried several, but settled on this one she found somewhere on the internet. If you google Congo Bars, you should find a bunch of variations to play with.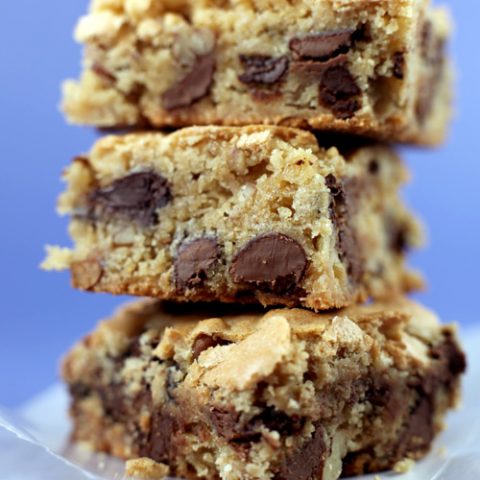 Congo Bars
Ingredients
2-3/4 cups all purpose flour
2-1/2 teaspoons baking powder
1/2 teaspoon salt
2/3 cup butter, softened
1 lb. light brown sugar (Oh my and thank you!)
3 eggs
1 teaspoon vanilla
11.5 ounce package milk chocolate chips
1 cup chopped pecans (optional)
Instructions
By mixer: Sift flour, baking powder and salt in a large bowl. Set aside. Combine butter and sugar using a mixer until blended. Add eggs, one at a time to sugar mixture, mixing on low in between each addition. Add vanilla and mix. Add flour and mix until combined. Stir in chips and then pecans.
By hand: Sift flour, baking powder and salt into a large bowl. Set aside. Stir brown sugar into softened (not melted) butter in another large bowl until butter disappears. You can use the back of your spoon to help incorporate the two together. Add eggs one at a time to butter mixture and stir well after each egg. Add vanilla, chocolate chips and nuts. Mix well. Add dry flour mixture and stir until well combined.
Coat a 13 X 9 pan with non-stick spray and spread batter evenly into dish.
Bake at 350 degrees for 30 minutes or until top is golden brown. Make sure you don't over bake.
Enjoy! Enjoy! Enjoy!
UPDATE: Hey guys. Seems some of you are having mixed results. Most find these awesome, but some say they're not done at 30 minutes. I'm starting to think my oven runs hotter than most. So, if the bars aren't done at 30 minutes and the tops feel like they are getting too brown, then place a sheet of aluminum foil on top and bake a little longer. Use a toothpick to insert and check for doneness before removing from the oven. Also make sure you sifted the dry ingredients and used room temp butter, not melted. The batter should be thick like the photo above.