I made some more minis this weekend. I'm talking tiny, one-bite brownies dipped and decorated with chocolate to look like little cupcakes.
They are so cute … I can't stand it. And even better… they are a breeze to make using a brownie mix…
… and some of the products in my new line with Make'n Mold.
(candy wafers, cups mold and pastry bags)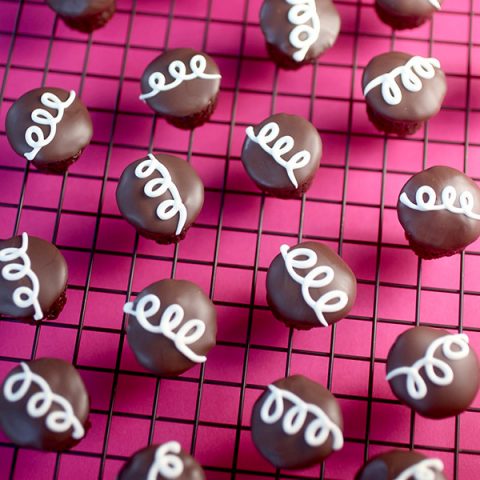 Itty-Bitty Brownie Bites
Prep Time 15 minutes

Cook Time 15 minutes

Additional Time 30 minutes

Total Time 1 hour
Ingredients
Brownie mix (eggs, water, vegetable oil)
Non-stick Cooking Spray
Silicone Cups Mold
Chocolate Fudge Candy Wafers (or another color for fun)
Medium microwave-safe bowl
Marshmallow White Candy Wafers
Pink Microwave-safe Pastry Bags
Instructions
Preheat oven to 350 degrees fahrenheit and spray candy cup cavities generously with non-stick cooking spray.
Prepare batter following directions for brownie mix. (I made mine with two eggs for a more cake-like brownie)
Fill mold cavities about 2/3 full with brownie batter. You can use a piping bag to make it easier and less messy.
Place mold on a small baking sheet for stability. Bake for 15-18 minutes or until done.
Cool and remove by gently pushing the bottom of each cup shape so you can easily lift out the brownie.
If you have multiple molds it will go more quickly, but if not simply clean the mold and repeat, coating with more non-stick spray each time.
Melt 4-6 oz of chocolate fudge candy wafers in the microwave using the medium bowl.
Microwave on medium-low for 30 seconds at a time stirring in between each interval until melted, fluid and smooth. Dip the tops of the brownies and place on a wax paper covered baking sheet for a few minutes to dry.
Place some of the marshmallow white wafers in the microwave-safe pastry bag, twist the end to secure and microwave for 30 seconds at a time. Knead the wafers in between each heating until melted and smooth. Then snip off the tip and pipe loops on the top of each brownie bite.

Enjoy!!!
Super cute!
And super tiny!
The perfect one bite brownie! Just be careful. I gave some to my mom and she said they were like popping grapes in your mouth… way too easy to eat.