This cake! Yes, this cake! It may look unassuming but let me tell you, it is everything.
Completely delicious and one of the best slices of chocolate cake I've had in a long, long while.
It's delish dusted with powdered sugar for breakfast or served for dessert with a dollop of whipped cream. But really It doesn't even need anything at all… it's that good. And that's actually how I like cake best. When it's so good, that plain is perfect!
The recipe is from Huckleberry Cafe's brand new cookbook.
Look at that cover!
This book is FULL of yum. There are tons of recipes for muffins, biscuits, scones, cakes, breads, doughnuts, pancakes, sandwiches and a bunch of brunch items, too. I think you'll love it. I do. It's published by Chronicle Books (my publisher, too) and photographed by my super-talented friend, Matt Armendariz.
Now, let's bring on the cake.
Starting with 1 3/4 cups chopped dark chocolate!
It's titled Chocolate Chocolate for a reason. Unsweetened cocoa in the cake batter and then chopped and melted dark chocolate folded in on top of that. Whoa.
The recipe calls for pastry flour. I ordered some from King Arthur Flour (right here) and while I was on their site, I picked up some of this non-melting sugar too. It stays perfectly powdery … and now I want to sprinkle it over everything.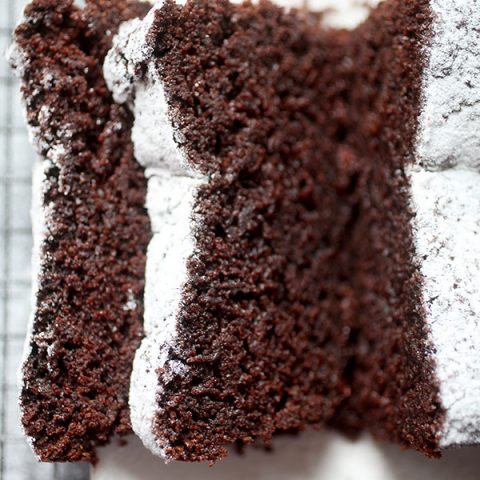 Yield: One 9 X 12 inch loaf cake
Huckleberry's Chocolate Chocolate Teacake
Prep Time 20 minutes

Cook Time 55 minutes

Total Time 1 hour 15 minutes
Ingredients
3/4 cup (100 g) pastry flour
6 tbsp (45 g) all-purpose flour
6 tbsp (30 g) unsweetened cocoa powder
1 tsp baking powder
3/4 tsp baking soda
1/2 cup (120 ml) strong brewed coffee, cooled
1/2 cup (120 ml) buttermilk
1 tsp vanilla extract
1-3/4 cups (300 g) coarsely chopped dark chocolate, 60-70% cacao
1/2 cup + 2 tbsp (140 g) unsalted butter, cubed, at room temperature
1 cup + 2 tbsp (225 g) sugar
1/2 tsp kosher salt
3 eggs
powdered sugar topping (optional)
Instructions
Position rack in middle of your oven and preheat to 350 degrees fahrenheit. Grease 9-by-5 in loaf pan with butter. Line bottom with a rectangular piece of parchment paper allowing for some of the paper to extend over the sides of the pan. Then grease paper with butter and dust inside of pan with cocoa.
Sift together pastry flour, all-purpose flour, cocoa powder, baking powder and baking soda. Set aside.
Combine coffee, buttermilk and vanilla. Set aside. Melt 3/4 cup (130 g) of the chocolate over a double boiler or in a glass bowl set atop a small saucepan of simmering water. Remove from heat, but leave bowl on top of saucepan to keep the chocolate warm while mixing the cake.
In a stand mixer, fitted with a paddle attachment, cream the butter, sugar and salt on medium-high speed for about 2 minutes, until light and fluffy.
Add eggs, one at a time, beating well after each addition. Scrape down the sides of the bowl well. With the mixer on low, slowly add the flour mixture until just combined. Continue on low speed, and pour in the coffee mixture.
Fold in the melted and chopped chocolate. Pour into the prepared loaf pan and bake for 55 minutes or until a toothpick comes out clean. Don't over bake. Cool Completely.
Holding the parchment paper, lift the cake out of the pan. Transfer cake to serving plate and dust with powdered sugar. Enjoy!
Notes
Source: © 2014 Huckleberry by Zoe Nathan, used with permission by Chronicle Books.
Now the hard part … try not to eat it all by yourself.
Enjoy!