I made this Key Lime Cream Cake to go along with a fun handbag giveaway for today.
If you've followed the blog for a while you may remember this Red Velvet Clutch or this Buttercream Bag from a while ago. I know – handbags are kind of weird to show on a baking site, but not when the theme is cake and when the bag colors come in fun flavors like Key Lime Cream. Umm… yes please. The bags are from the Petunia Pickle Bottom line called … Cake. And I've been enamored with them for a while now. They are actually fashionably disguised diaper bags. But you can totally rock them without having to carry diapers around all day to justify wearing one. They are definitely too pretty for just one purpose.
I'll show you in a minute. But first… a little Key Lime Cream Cake.
Decorated with swirls of whipped cream and graham cracker crumbs. Yum!
And four layers of key lime cake. Four uneven layers that I could have split better. But that's okay. Still good.
Here's the recipe or if you are more interested in the giveaway, just keep scrolling.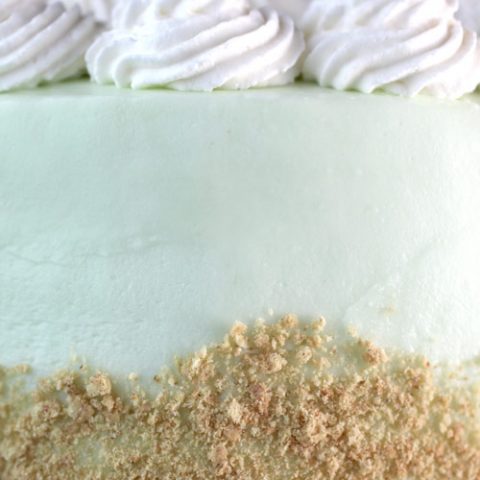 Key Lime Cream Cake
Prep Time 20 minutes

Cook Time 25 minutes

Additional Time 30 minutes

Total Time 1 hour 15 minutes
Ingredients
Cake
2 cups all purpose flour
1-1/2 cups sugar
3/4 teaspoon baking powder
1 teaspoon baking soda
1/2 teaspoon salt
3 eggs
2/3 cup oil
2/3 cup key lime juice
3/4 cup sour cream
Frosting
1 cup butter, softened
2 - 8 oz packages cream cheese, softened
2 - 16 oz boxes confectioners' sugar
1 teaspoon vanilla
1/4 cup key lime juice (optional)
green food coloring (optional for color)
Whipped Cream
16 oz. heavy whipping cream
3 tablespoons sugar
1 teaspoon vanilla
Instructions
For cake: Preheat oven to 350 degrees F. Grease and flour two 8-inch cake pans.
Sift flour, sugar, baking powder, baking soda and salt into mixer. Add eggs, oil and lime juice. Beat until smooth. Add sour cream and beat until smooth.
Pour into prepared pans and bake for 25 minutes or until a toothpick inserted comes out clean. Cool and frost.
For frosting: Beat butter and cream cheese until smooth. Beat in vanilla. For really creamy frosting, mix in 1/4 cup of key lime juice. You can also leave it out or add more confectioners sugar to make it thicker. Add a small amount of green food color if you'd like the frosting tinted.
For Whipped cream: Chill metal bowl and beaters in freezer for about 20 minutes. When ready to whip, add ingredients to the bowl and beat until stiff peaks form.
Divide cake into four layers and frost. Pipe top with whipped cream or add crushed graham crackers to the side of the cake if desired. Refrigerate.
___________________________________________________________
Hey there! Want to know more about the giveaway. Well, here's the bag in Key Lime Cream Cake. It's made of cut velvet and comes with straps to carry several ways. Pretty handy. Oh and it has a separate little clutch, too. Check out this post on the red velvet bag I gave away a while back – it really shows off some of the details. The custom stamped name and zipper pulls are enough to make you swoon. And for more info on the bags from Petunia Pickle Bottom, click here.
Want one? Want to pick your own flavor?
Enter for a chance to win a $325 Petunia Pickle Bottom Society Satchel Cake Bag.
To enter, just leave a comment on the blog and tell me which one of the flavors below that you'd like to win. Easy enough.
Deadline to enter is

Tuesday, June 26, 2012 at 7 pm ET.

Sorry, TIME'S UP! Winner announced below.

One winner will be chosen at random and announced sometime Tuesday evening.
Disclosure stuff: Handbag is courtesy of Petunia Pickle Bottom and giveaway is sponsored by me because I like these bags.
Good luck!
___________________________________________________________
Okay, we have a winner. Yay! And I thought for sure it would be someone that picked Black Forest Cake based on all of the responses.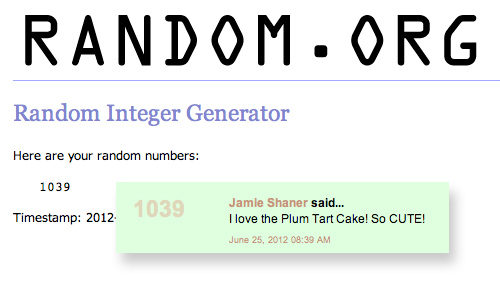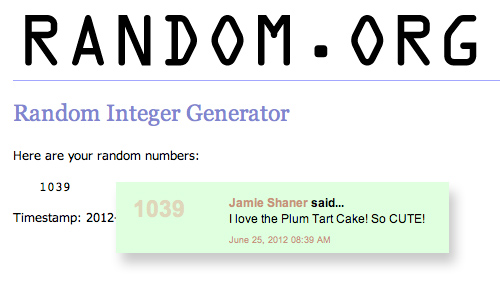 Congratulations Jamie! I hope you love your plum tart cake bag!