If you like your brownies rich then these are for you.
I'm talking chocolatey gooey goodness on the bottom, Kit Kat wafer bars in the middle and covered with a cheesecake topping to keep everything all cozy.
I wanted to make a Kit Kat cake the other day so I bought a bunch of candy bars. Then… I made the mistake of eating one. I put a package in the fridge because I like them cold with that extra little snap when you bite down. Then I did that again… thinking hey, I'll just make a smaller cake. And then again… So needless to say a cake would not be happening. So I figured I needed to get rid of the rest of the candy bars before I ate them all by myself … so I thought I would hide them in a batch of brownies.
Because I can't eat a whole batch right?! I'd totally have to share.
Look at that brownie batter.
It makes a perfect bed for these bars to rest on.
Just tuck them in slightly.
Then they get covered up with a cream cheese topping.
And it all goes into the oven to bake until it comes out in a big pan of perfection.
Then after they've cooled and chilled in the fridge, you can cut these super sweet brownies into squares to share because they are rich. So make sure you have some chocolate lovers nearby to help you out.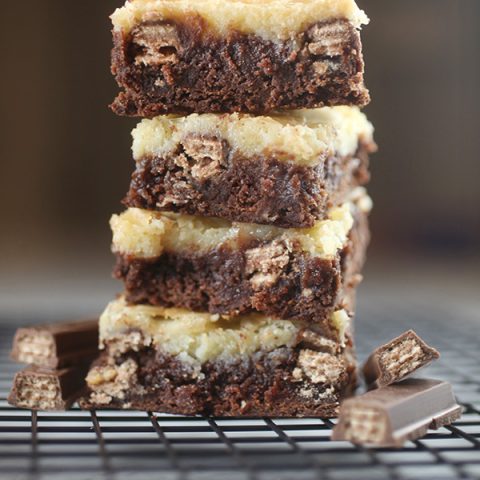 Yield: 24 brownies
Kit Kat Cream Cheese Brownies
Total Time
4 hours
20 minutes
Ingredients
Brownies
3/4 cup all purpose flour
1/2 cup unsweetened cocoa powder
1/4 teaspoon salt
1/2 teaspoon baking powder
3/4 cup butter
1-1/2 cups granulated sugar
3 eggs
2 teaspoons vanilla
Kit Kat bars (4 full-size packages)
CREAM CHEESE TOPPING
8 oz package cream cheese, softened
2 eggs, room temperature
16 oz package confectioners sugar
1 teaspoon vanilla
Instructions
Preheat oven to 350 degrees and grease a 13 X 9 pan.
Sift flour, cocoa, salt and baking powder in a medium bowl and set aside.
Melt butter in the microwave in a large plastic bowl. Stir in sugar. Then stir in eggs and add vanilla until mixed.
Next add the dry ingredients. Stir until combined about 50 strokes.
Pour into prepared pan. Gently press 16 individual Kit Kat bars on top of the brownie batter.
To make the topping, beat cream cheese with a mixer until smooth. Beat in eggs one at a time and mix until combined.
Gradually add confectioners sugar and then vanilla and mix until smooth. Pour on top of brownie batter and Kit Kats.
Bake for 55-60 minutes. The top will turn golden brown. You can place a sheet of aluminum foil on top of the pan for the last 10-15 minutes if the top starts to get to dark and the brownies aren't done.
Remove from oven and cool completely. Then chill in the refrigerator for a few hours or overnight before serving.

Enjoy!