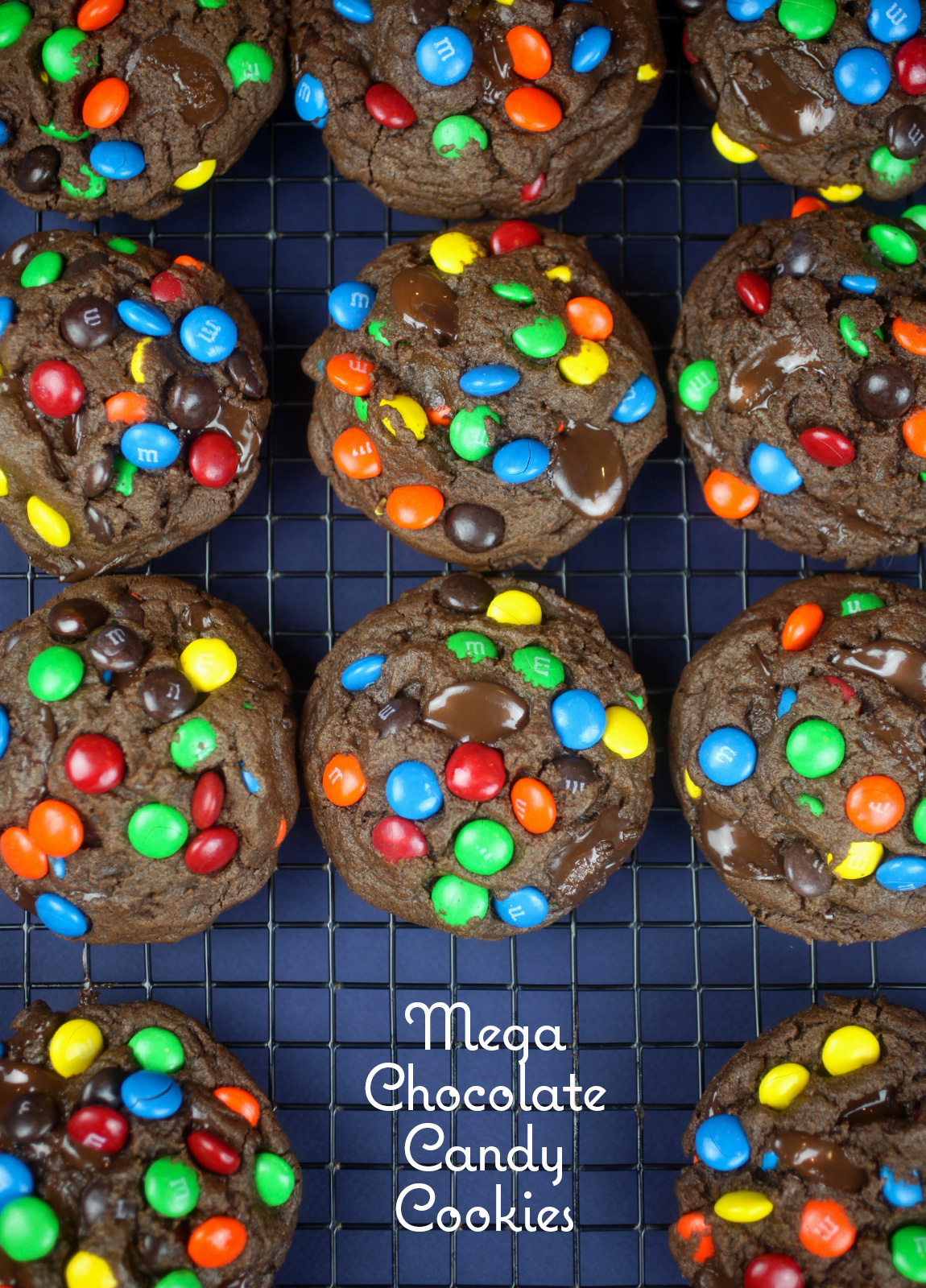 These are the kind of cookies that just make you smile when you see them. Simple and sweet, full of chocolate, and stuffed with so many bright and happy candy-colored gems. They'll make you want to take a great big satisfying bite.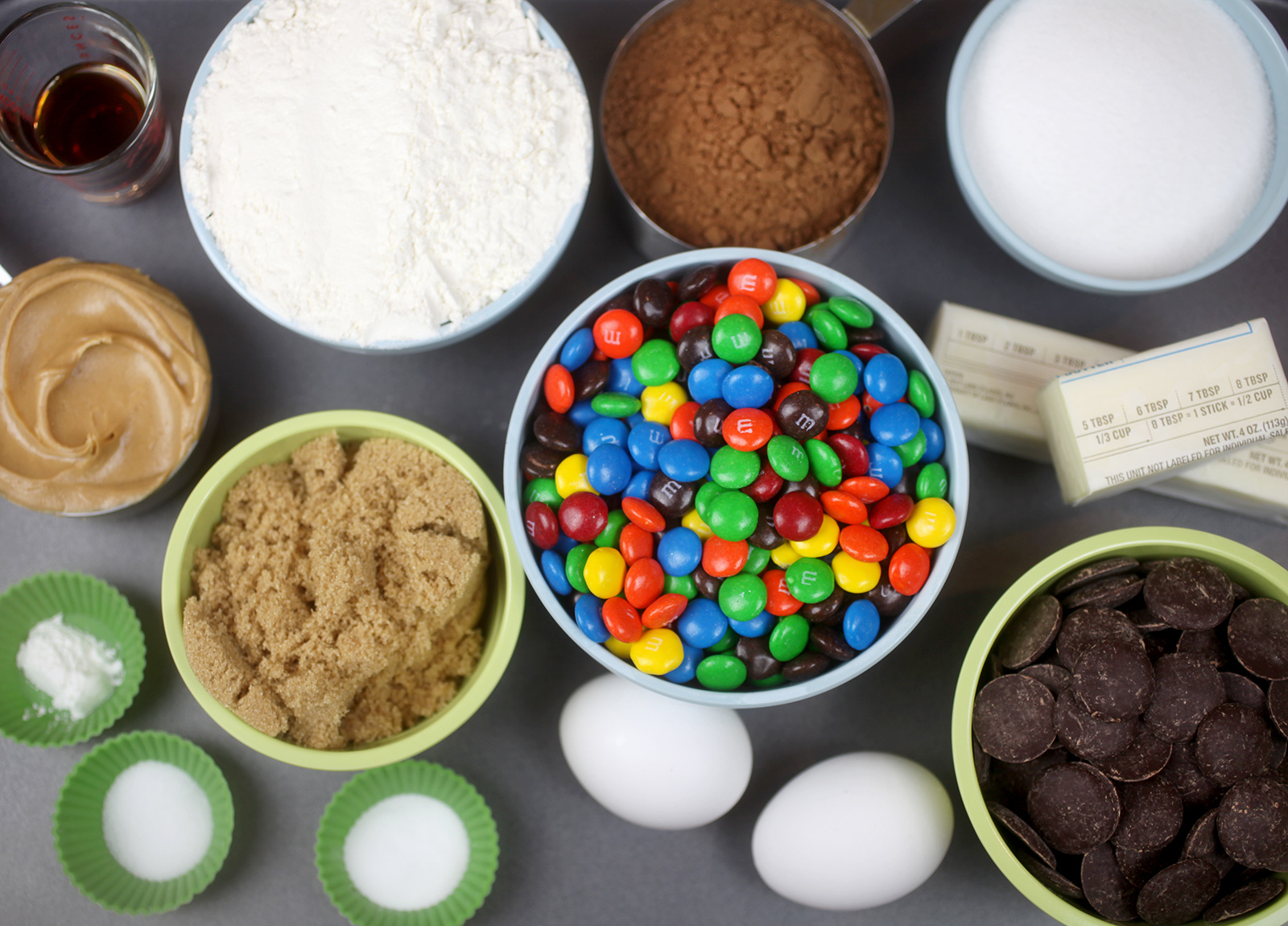 Most of the ingredients you need are probably in your pantry right now if you bake often. I did opt for some Guittard 60% semisweet chocolate wafers instead of chocolate morsels, though. Oh and there's a little peanut butter mixed in for even more yum.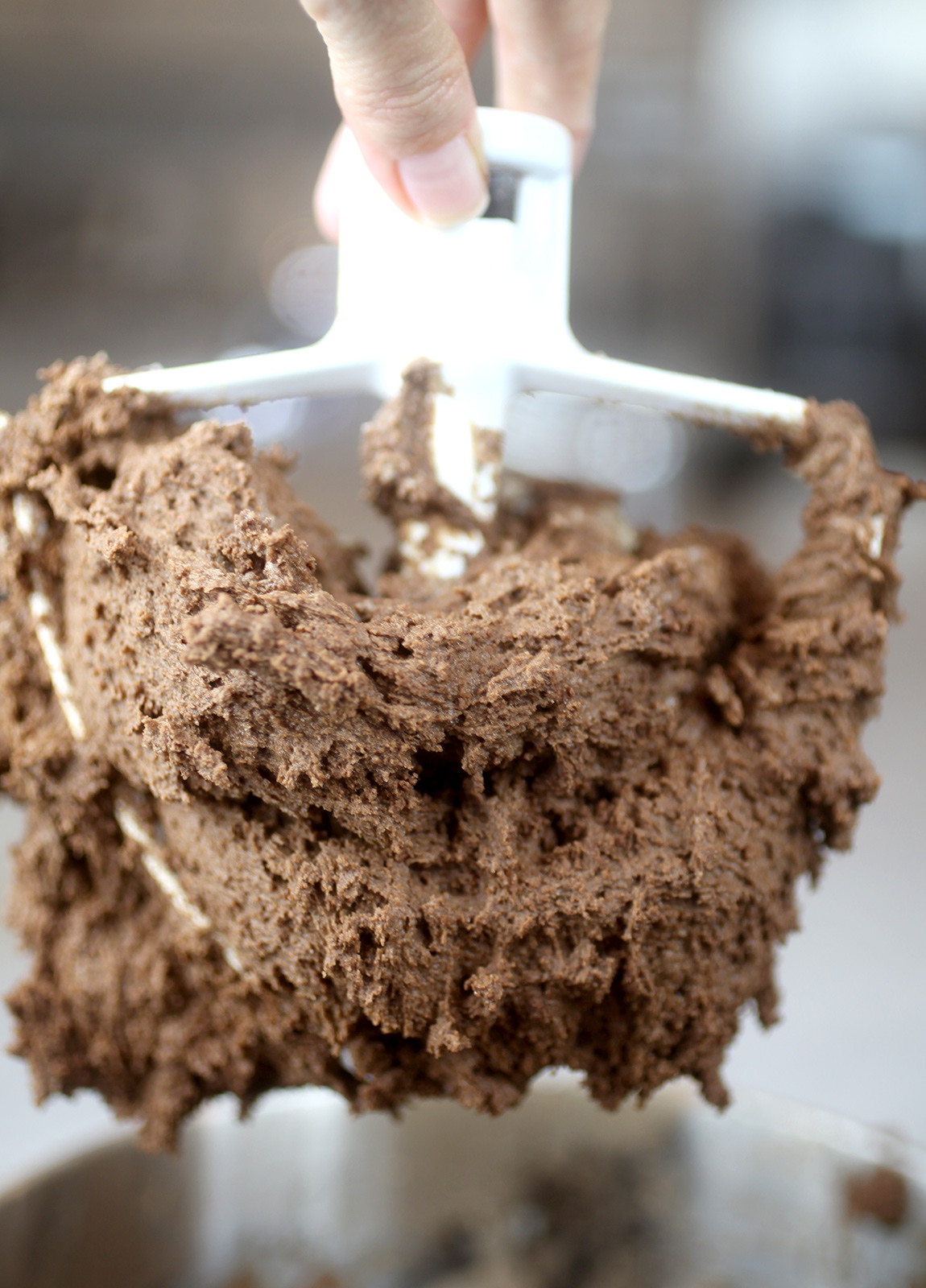 Look at that cookie dough batter. So thick. So dreamy.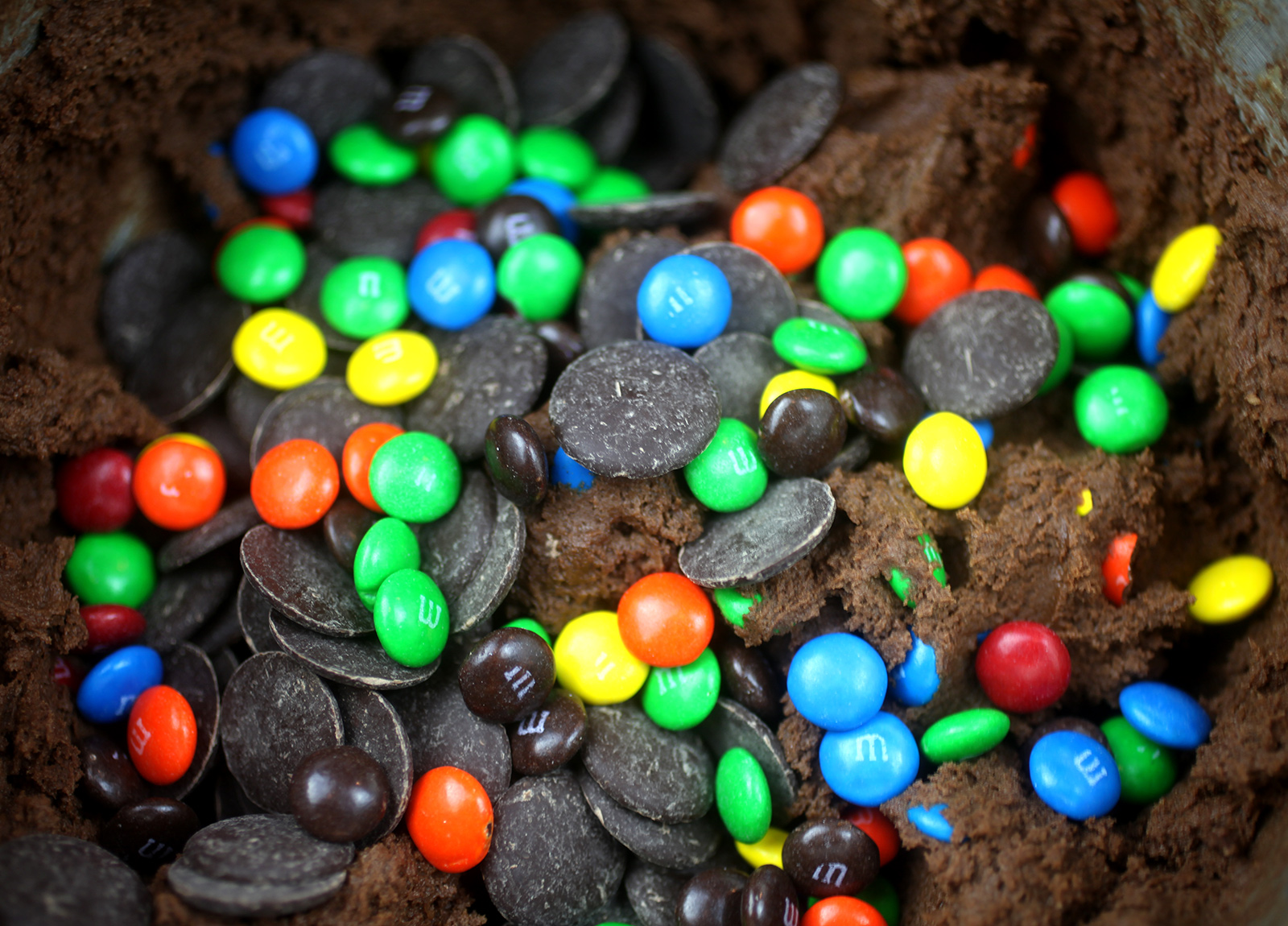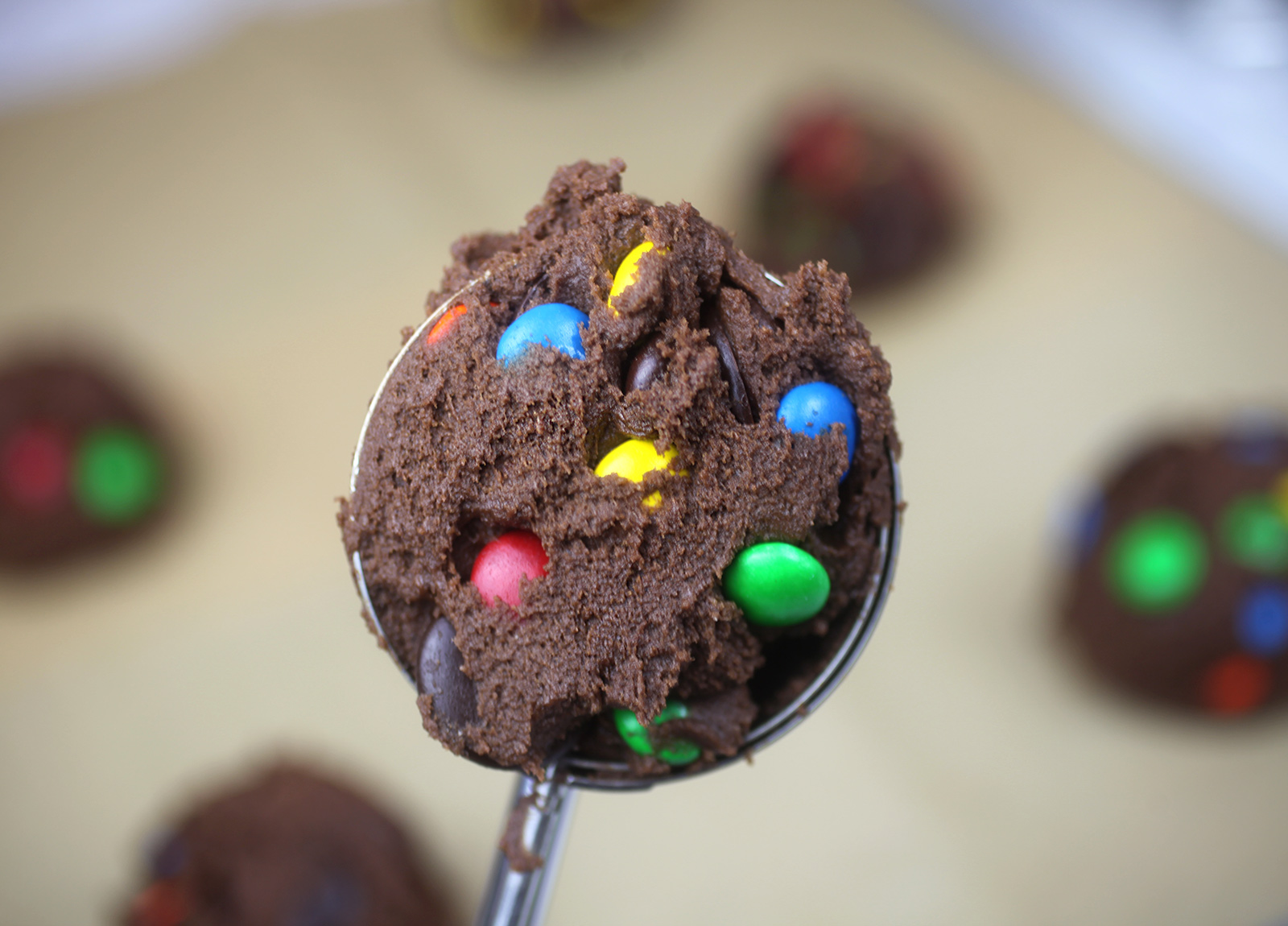 Add the M&M's and chocolate wafers to the dough and mix it all together with a large spoon.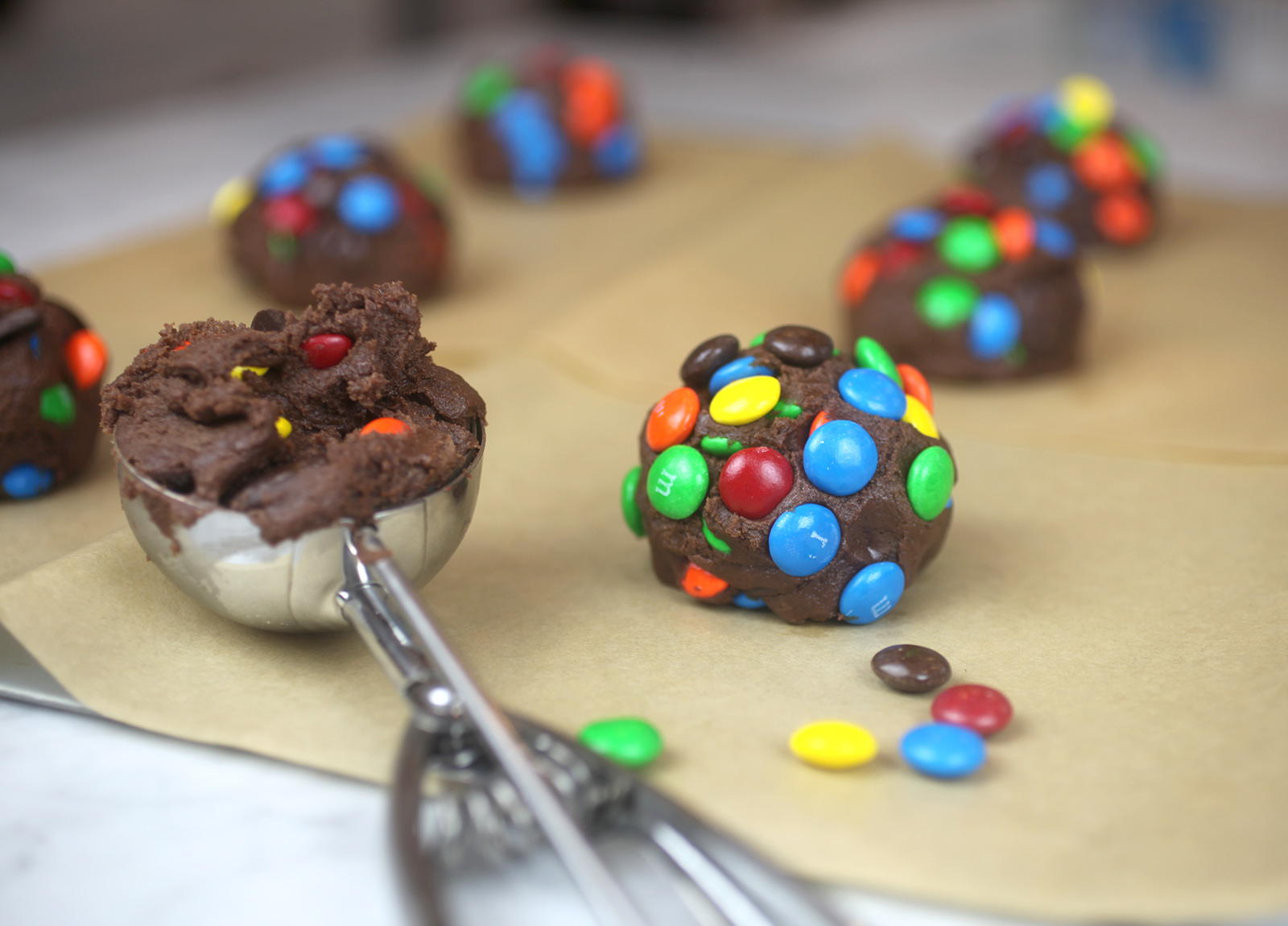 You can use a large 2-1/2 inch scoop for jumbo-sized cookies.
Place the giant cookie dough balls a few inches apart on a parchment paper covered baking sheet. You'll want to press more M&M's candies on top so when they bake, the exterior is dotted with lots of color.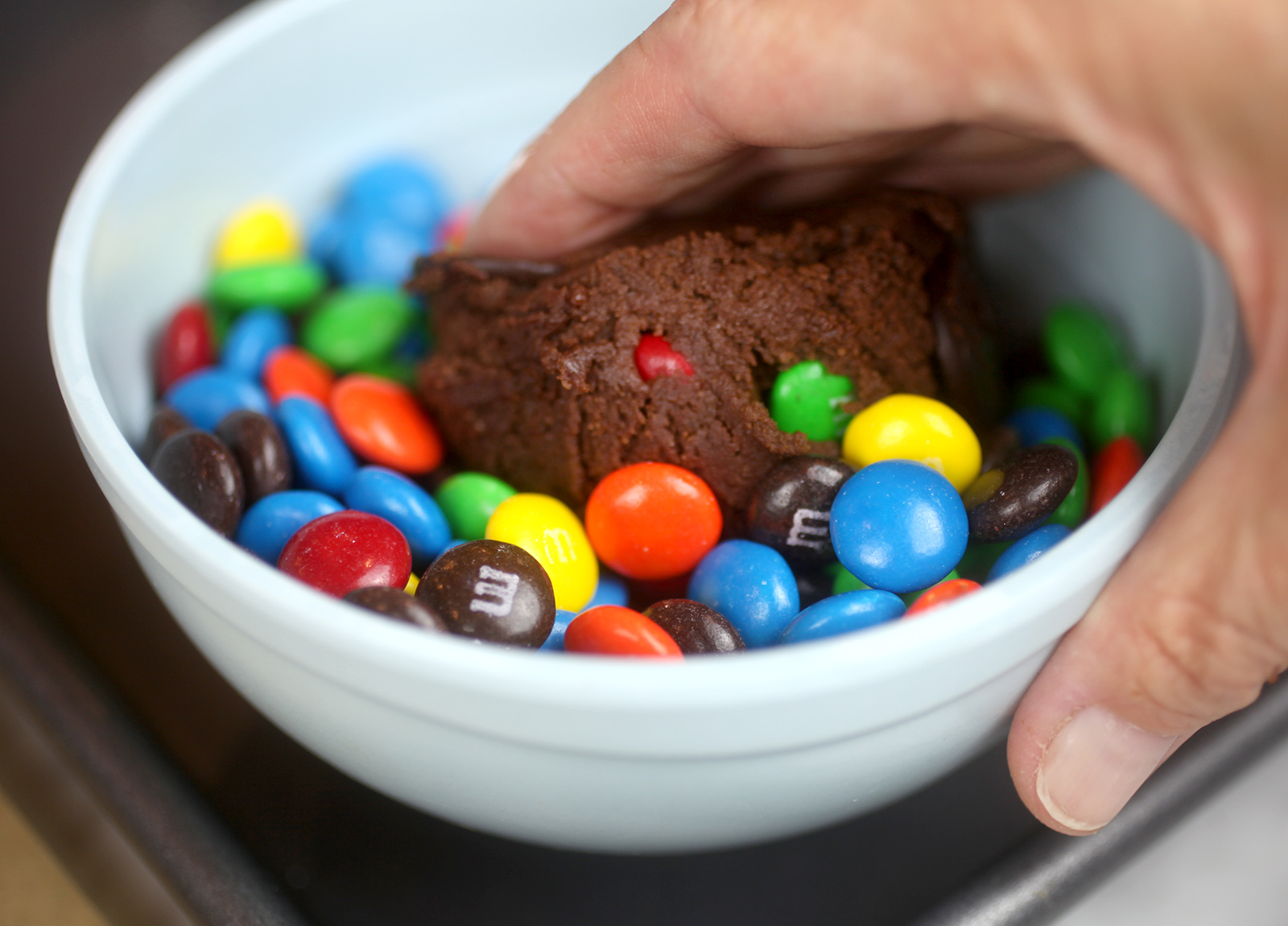 You can also place the candies in a bowl and gently press each scoop of dough into the bowl for candies to attach. Just make sure they are pressed in enough to stay secure when baking.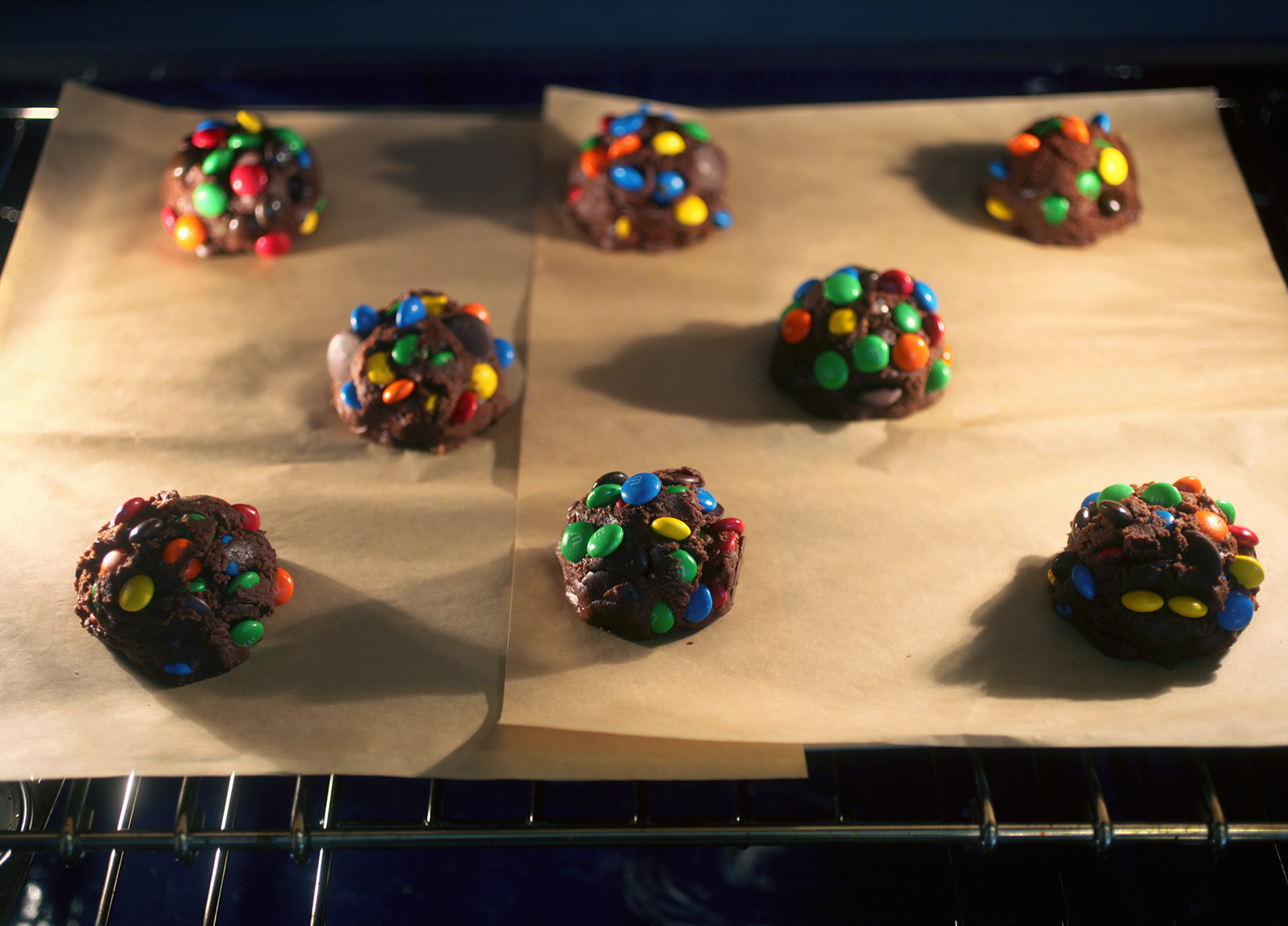 These cookies are big, so place them a few inches apart on a baking sheet.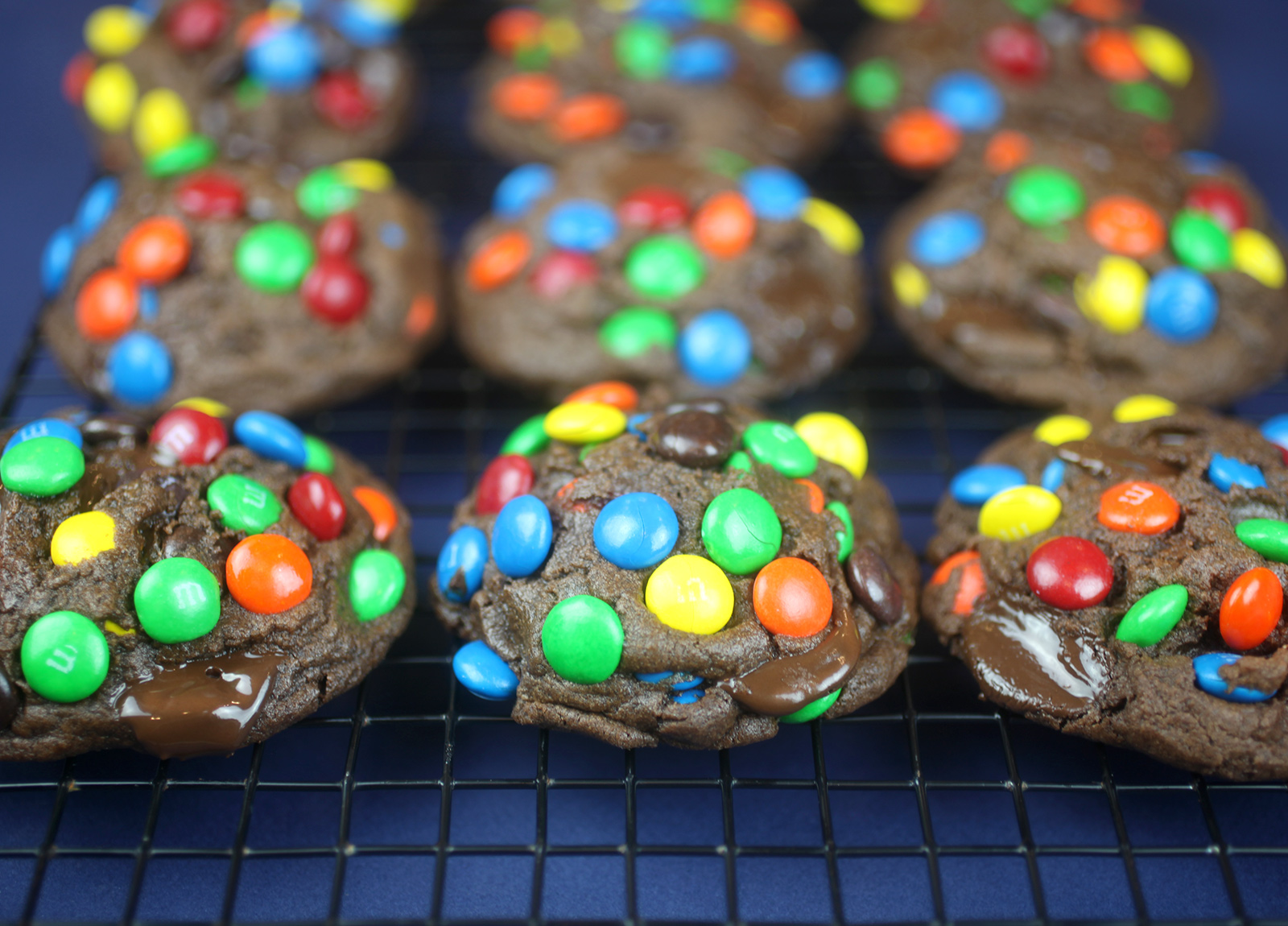 Bake these beauties for about 9-11 minutes. If they are staying too domed when baking, take them out at about 9 minutes, drop the baking sheet on the counter 1-2 times and then place back in the oven for another minute or so.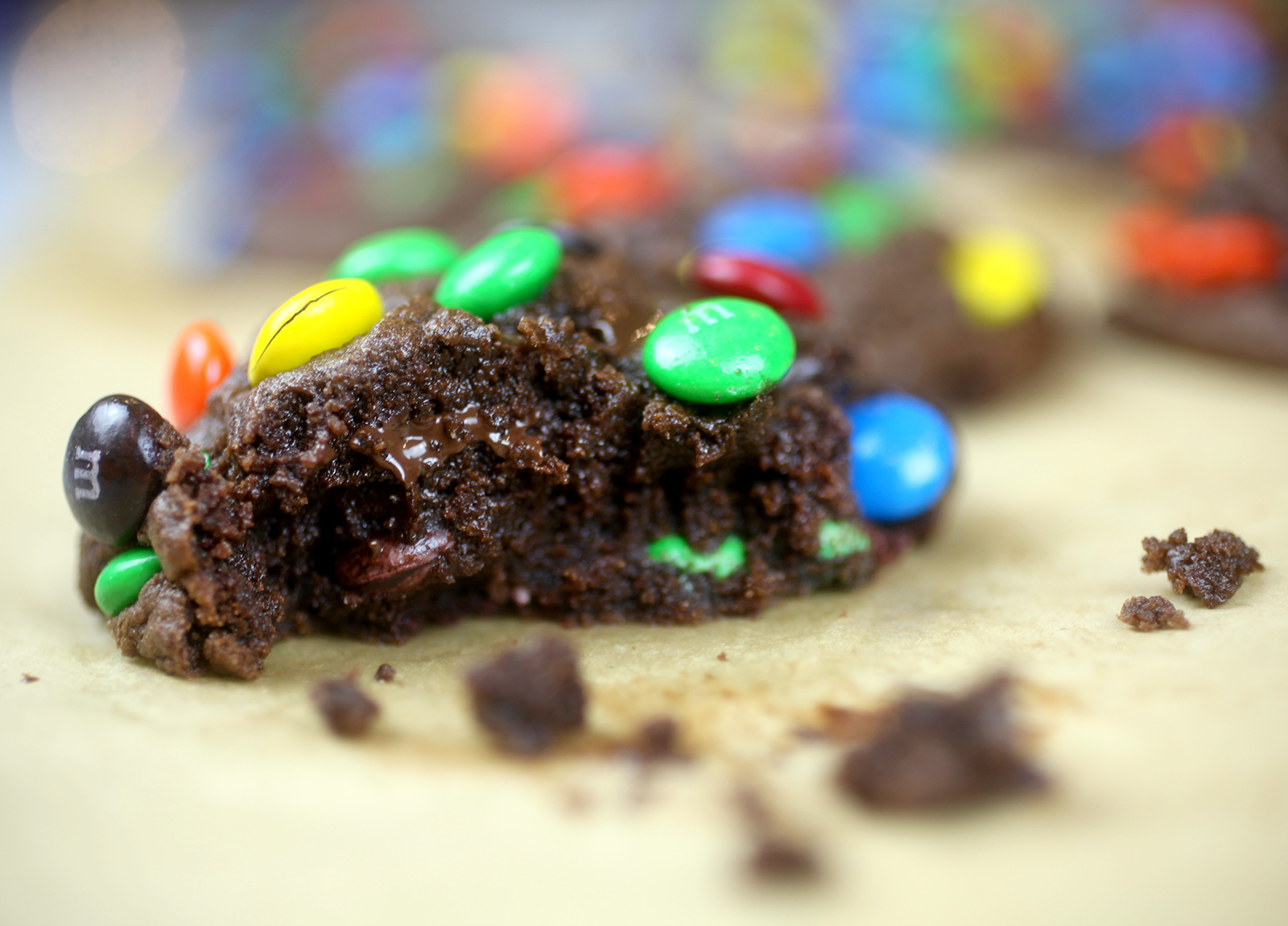 And of course you have to eat one while they are still warm right out of the oven. It's a rule. Place on a cooling rack to cool completely… if you can wait that long.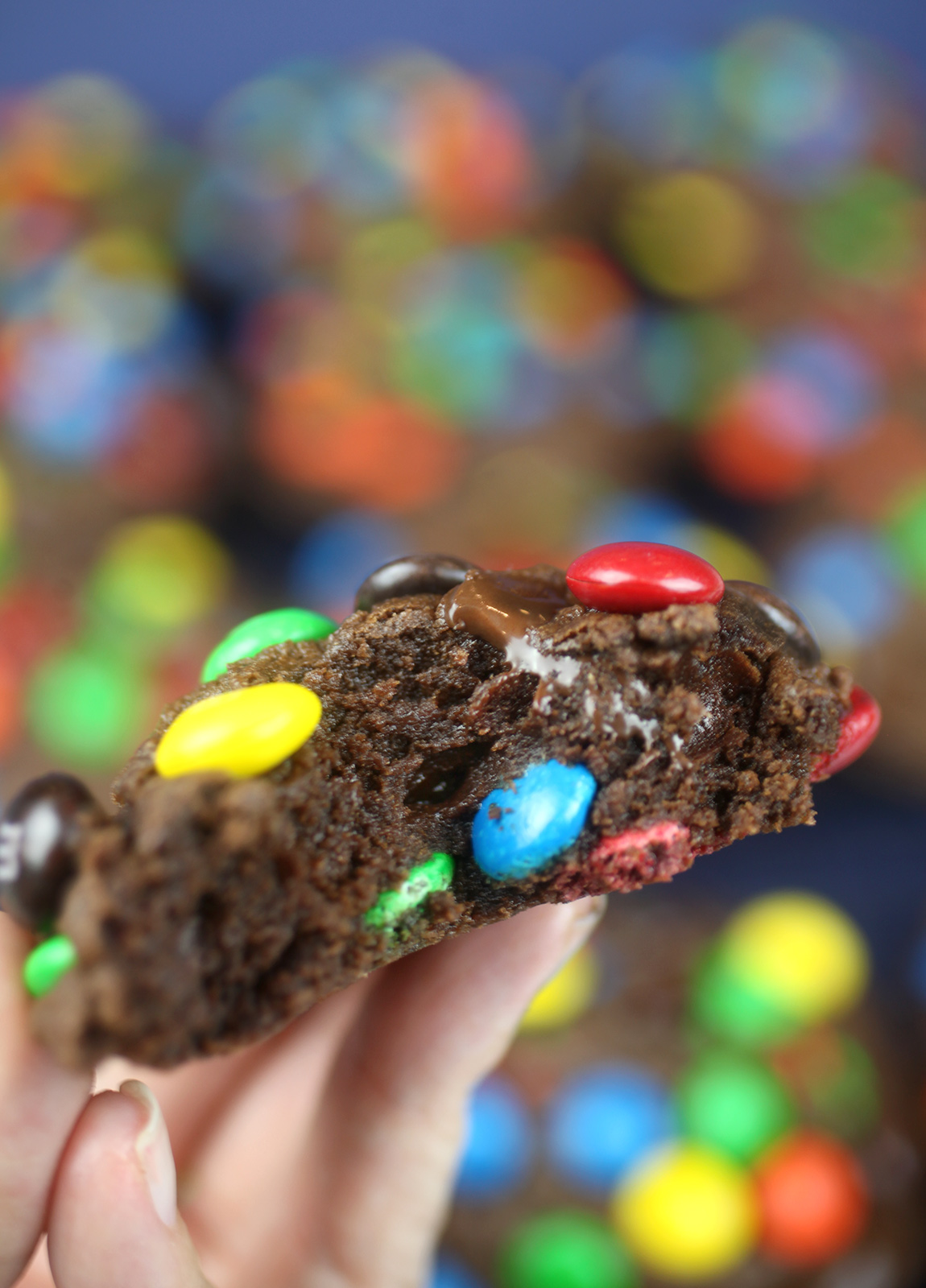 But you probably won't be able to stop there.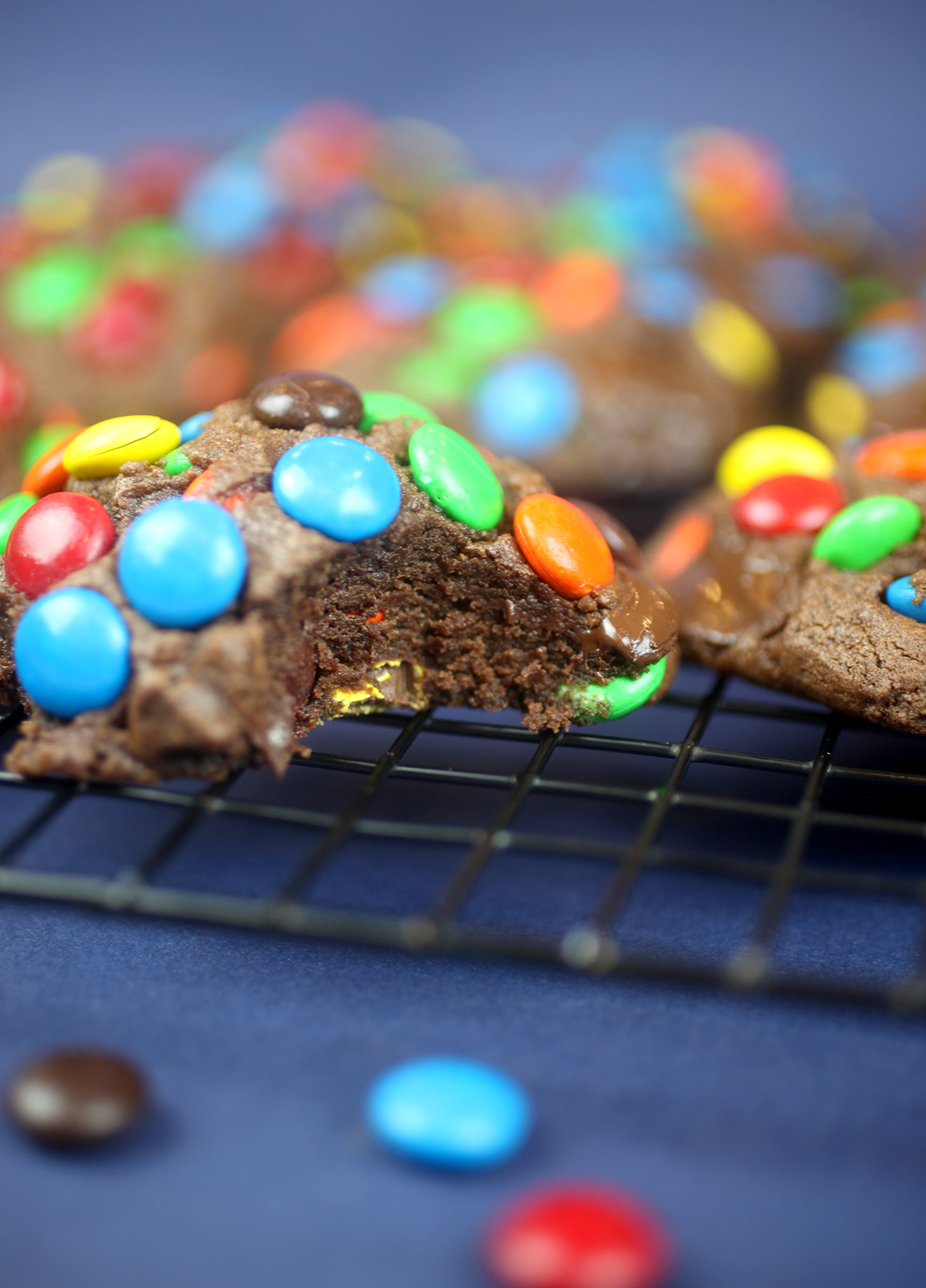 Have another bite, I won't tell.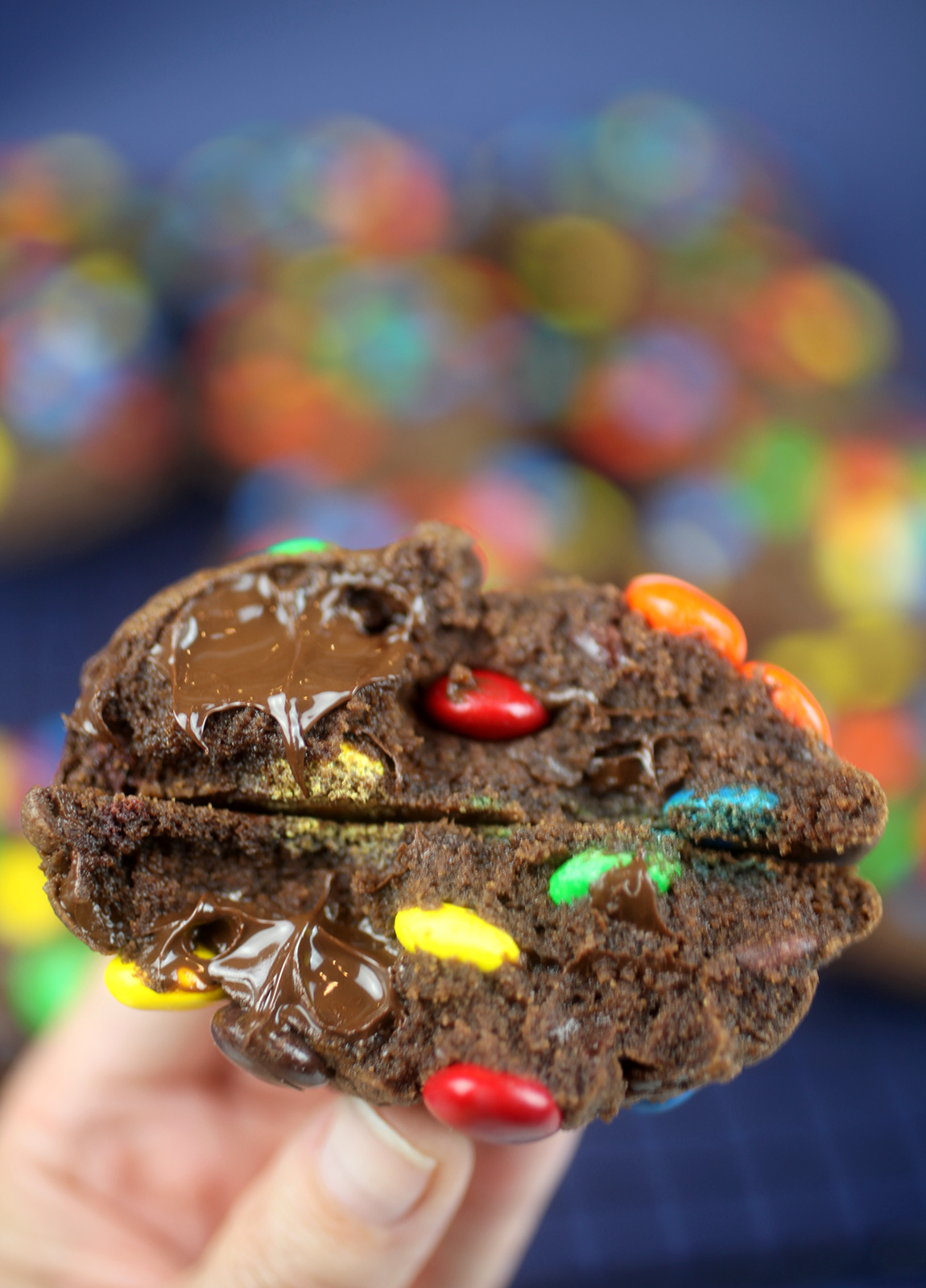 Okay, maybe one more.
These are so good and kind of remind me of biting into a brownie.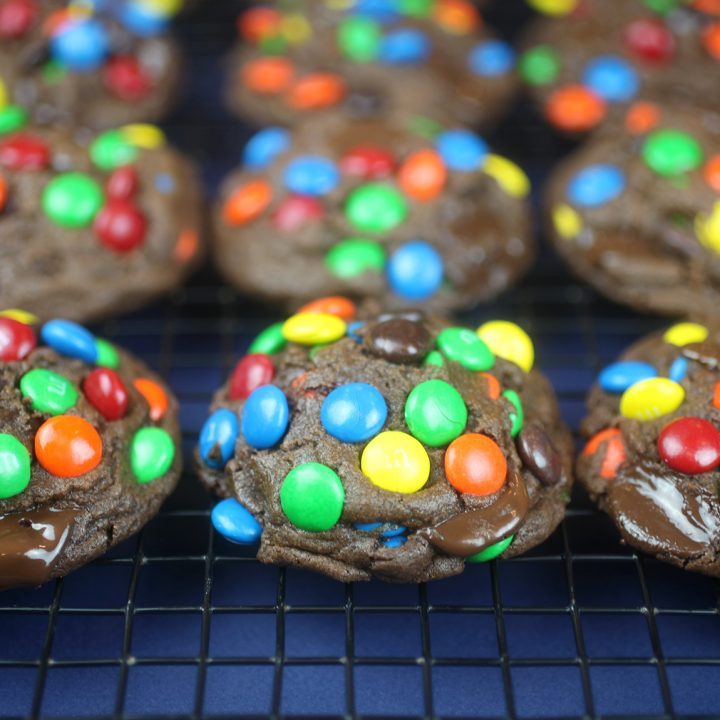 Yield: 14 jumbo cookies
Mega Chocolate Candy Cookies
Prep Time 15 minutes

Cook Time 9 minutes

Total Time 24 minutes

Super chocolaty cookies – with colorful M&M's candies, semisweet chocolate wafers and creamy peanut butter baked inside.
Ingredients
1-1/2 cups all purpose flour
3/4 cup natural unsweetened cocoa
1/2 teaspoon baking powder
3/4 teaspoon baking soda
1/2 teaspoon salt
1-1/2 sticks (3/4 cup) unsalted butter, room temperature
1/2 cup peanut butter
3/4 cup granulated sugar
2/3 cup light brown sugar, packed
2 eggs
2 teaspoons vanilla
2 cups M&M's candies
1 cup chocolate wafers (I used Guittard 66% cacao semisweet)
Instructions
Line a large baking sheet with parchment paper and preheat your oven to 350 degrees fahrenheit.
In a medium bowl, sift flour, cocoa, baking powder, baking soda and salt together using a wire whisk. Set aside.
Using a mixer cream butter, peanut butter and both sugars for about two minutes until light and fluffy.
Add eggs, one at a time and mix until combined. Add the vanilla.
Slowly add in the flour mixture and mix until just combined. Scrape down the sides of the bowl to incorporate completely.
Add the chocolate wafers and about 2/3 of the M&M's candies to the batter. Stir until incorporated.
Use a 2-1/2 inch scoop to place the dough on the prepared baking sheet about 3 inches apart. You'll want to bake the cookies in two batches.
Use the remaining 1/3 M&M's candies to place on the top of each cookie dough ball for pretty tops.
Bake for about 9-11 minutes. If it looks like your cookies are retaining too much of a domed shape, you can remove them at about 9 minutes and slam the baking sheet on the counter to flatten them slightly. Then just place them back in the oven for another minute. Don't over bake.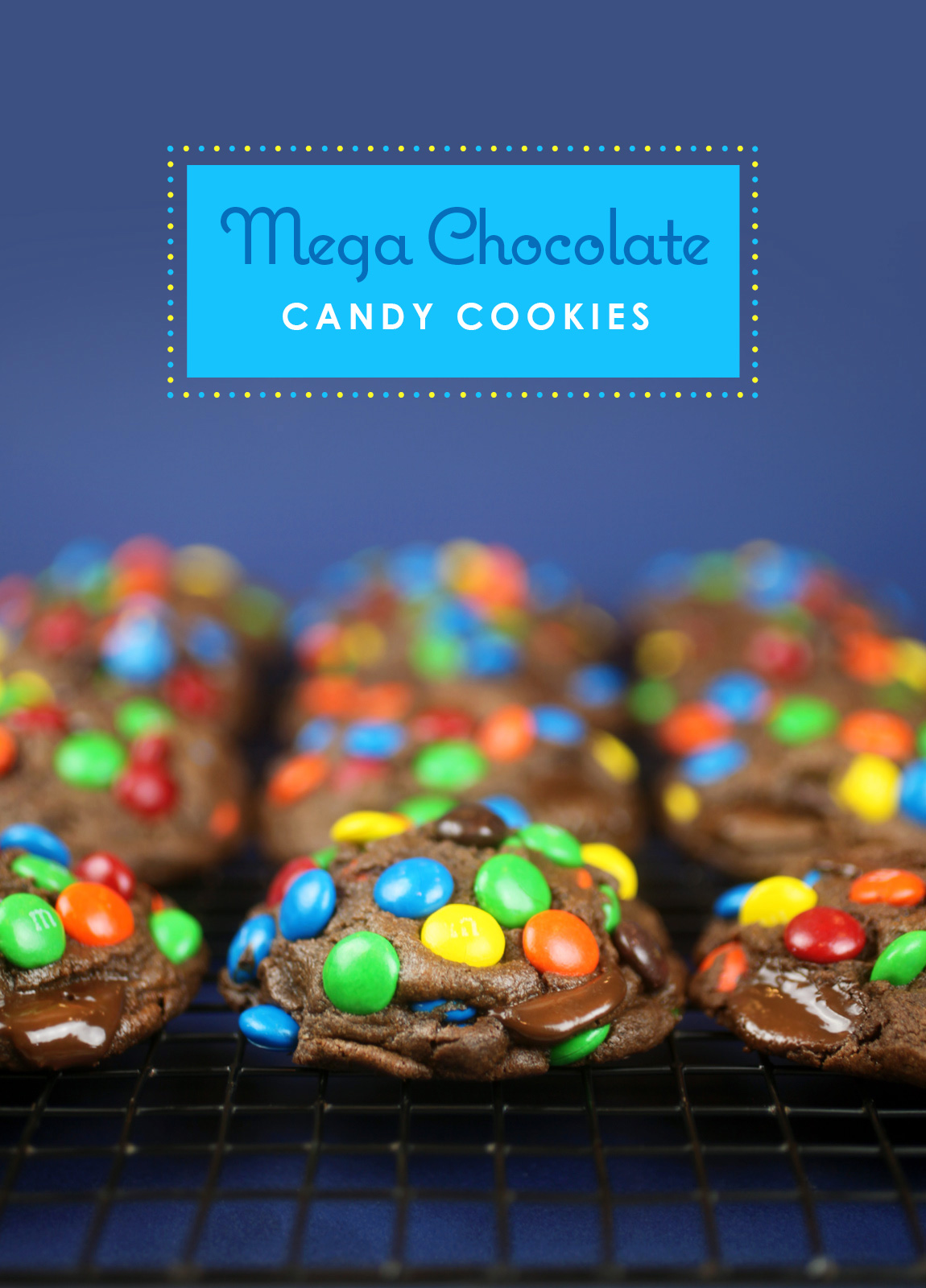 Enjoy! Hope your day is as happy as these cookies.