These may not look like all that much at first glance, but let me tell you they are fantastic! They're little lemon brownies or lemonies. My mom found them on Pinterest and said she wanted me to make some for her right away. So I came up with this version to give her on Mother's Day.
These are such a refreshing treat. A dense, tangy, cakey little bite of bliss. And it pains me to say that I might even choose them over chocolate. I know crazy, but they are that tasty. My mom loved them and so did I. Warning… they won't last long so load up on lemons and be prepared to make a second batch.
Pucker up. These pack the perfect amount of lemony punch. A combination of fresh squeezed lemon juice and lemon zest.
Zesty!
The ingredients are mixed in one bowl and stirred by hand. Nice!!!
And after they're baked and cooled, they're topped with a tangy lemony glaze.
Perfection.
Lemon Brownies may not be the right name because they're like the opposite of chocolate. And lemon bars don't really work since that dessert is already taken. (Speaking of lemon bars, I think you'll like this recipe, too.) Lemonies is a cute name that some recipes used. I think I like that best. Lemony Lemonies it is. Thank you for the recipe inspiration Pinterest and for helping me make my mom happy.
Sink your teeth into these right away. You won't regret it.
And here's more variations on Pinterest.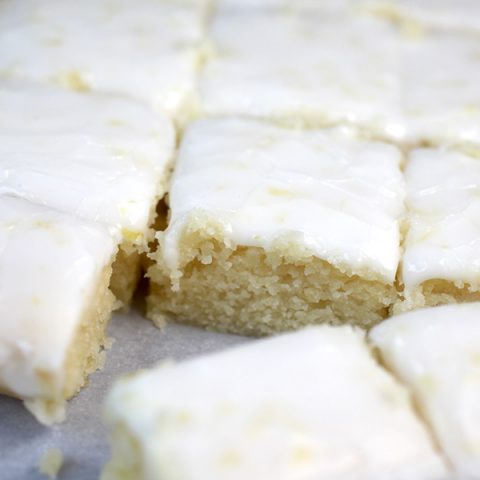 Yield: 25 small squares
Lemony Lemonies
Ingredients
Lemonies
1 cup all-purpose flour
1 cup sugar
1/4 teaspoon salt
1/4 teaspoon baking powder
1 tablespoon lemon zest
3/4 cup unsalted butter, almost completely melted and then cooled
2 eggs
3 tablespoons lemon juice
1 teaspoon vanilla
Glaze
1-1/2 cups powdered sugar
2 tablespoons lemon juice
1 teaspoon lemon zest
Instructions
Preheat oven to 350 degrees F. Grease an 8-inch square pan or line pan with foil and lightly coat with cooking spray to easily lift brownies out of pan.
Mix flour, sugar, salt, baking powder and zest together using a wire whisk.
Add melted butter, lemon juice, eggs and vanilla and stir until completely combined.
Pour into pan and bake for 20-25 minutes or until done.
Remove from oven and cool.
For lemon icing, sift powdered sugar in a medium bowl. Add lemon juice and zest and stir until completely combined and smooth. Pour over lemonies and let rest until icing sets. You can also place in the fridge to speed things up. Cut into 16 or 25 small bars.


Notes
I think they're even better slightly chilled for a few minutes.