Sweet squares of sugar and citrus. I love them … especially, when other people make them. Ha. What I mean is, when I think about baking something new, I usually lean towards recipes that include chocolate or either chocolate and sometimes chocolate. But every time I've ever eaten one of these yummy yellow squares, I think why haven't I ever made these things. So I did… kinda.
They're really easy and you don't even have to get out your mixer. First, grease and flour a 9 X 13 pan. I used a glass one. Next, you'll need to make a crust.
For the crust, you'll just need flour, butter and confectioner's sugar. Easy enough.
Whisk together 1 3/4 cup flour and 2/3 cup confectioner's sugar. Add 1 cup cold butter.
Then cut in the butter until the mixture is incorporated and crumbly. I used the back of a fork to work the butter into the flour. When it gets crumbly, pour it into your greased and floured pan and press firmly into the bottom. Bake for about 20 minutes at 350 degrees.
While the crust is baking, you can prepare the lemon topping.
Again, easy ingredients. Flour, sugar, eggs, baking powder and lemon juice. Pretend that's freshly squeezed juice from real lemons on the right. I didn't have any on hand.
But before we go on, let me show you my little helper. She always asks to crack the eggs open if she's around when I'm baking. And when she looks at me with those eyes, I'm sure you know the answer.
She's great at it, too. So good, in fact, that I let her finish up the rest of the work.
Slightly beat the four eggs and set aside. Then, measure 1 1/2 cups sugar making sure it exactly meets the line on the measuring cup. She's very precise.
Now you'll need 1/2 cup lemon juice. Right now I wish I had those lemons, so she could experience squeezing the juice out of them. Oh well… moving on. In another large bowl, add the 1 1/2 cups sugar, 1/4 cup flour, 1 tsp baking powder, 4 slightly beaten eggs and 1/2 cup lemon juice. Look at those hands. Steady.
Stir all that together really good.
And then pour it on top of the warm baked crust. Bake for another 20-25 minutes.
Remove and cool completely. Sprinkle with extra confectioner's sugar and refrigerate.
Yum! And even better, I still don't have to make them. She can do it for me while I make something chocolatey. Yippee!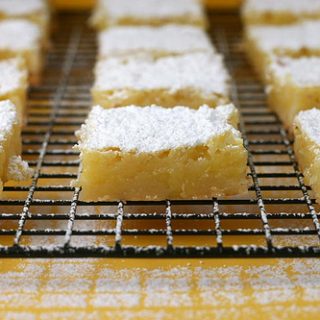 Lemon Bars
Prep Time 30 minutes

Cook Time 45 minutes

Total Time 1 hour 15 minutes
Ingredients
Crust:
1 cup butter
1-3/4 cups all purpose flour
2/3 cup confectioner's sugar (plus more for dusting)
Topping:
1-1/2 cups plain sugar
1/4 cup all purpose flour
1 tsp baking powder
4 eggs, slightly beaten
1/2 cup lemon juice
Instructions
Preheat oven to 350 degrees Fahrenehit and grease and flour a 9 X 13 pan
To make crust: In a medium bowl, whisk together flour and confectioner's sugar.
Cut in butter until combined and crumbly. Press mixture into bottom of pan.
Bake for 20 minutes or until golden.
To make topping: While crust is baking, prepare topping.
In a larger bowl, add sugar, flour, and baking powder.
Then add slightly beaten eggs and lemon juice.
Mix well and pour on top of warm baked crust. Bake for 20-25 minutes.
When cool, dust with confectioner's sugar and refrigerate.
Cut into bars and enjoy them cold!