Something sweet and just a little bit saucy. The recipe for these cupcakes comes from one of my fave cookbooks, Bundt Classics
. While the recipes are geared toward baking in a bundt pan
, I've made several of them into cupcakes and I haven't been disappointed yet. It has TONS of easy recipes for enhanced cake mixes and baking from scratch. So, I've overlooked the fact that it doesn't have any photos, which is usually a requirement before I buy a cookbook.
So here we go. Sweet potatoes and bourbon. Something I know very little about. Especially bourbon. I guess I bought the right kind. It says whisky, but in really small letters it also says bourbon… confusing. But, I liked the look of the bottle, so this was the winner. I bought one of the small bottles they have behind the counter since I didn't need a whole lot. But still, $8.99 … yikes.
I was super happy with the way the cupcakes came out with such pretty rounded tops. Especially since I was going to dip them in a vanilla glaze. Note: Usually when my cupcakes bake up on the flat side, I'll disguise it with a giant mound of buttercream frosting. Not necessary with these.
ooooooooh … that looks good!
Then, I made another syrup/glaze/frosting concoction to go on top of the vanilla glaze, because I thought the cupcakes needed a stronger bourbon taste. (Heck, I spent all that money on bourbon, so I want to taste it!) And, I say concoction because I started out making a syrup and then realized that wouldn't work over the glaze, so I added some confectioner's sugar to try and salvage it. I'll give you the recipe as I made it. It was good, but if I made these over again, I would find a way to just add the bourbon to the vanilla glaze.
Then, I decided to top them off with some candied pecans because I didn't want them to look so plain.
Here's the recipe: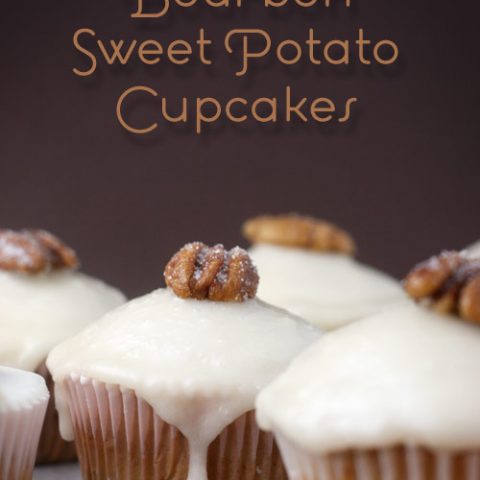 Bourbon Sweet Potato Cupcakes
Ingredients
Bourbon Sweet Potato Cupcakes
1-1/2 cups firmly packed brown sugar
1/3 cup butter, room temperature
2 eggs
1 tsp vanilla
2-3/4 cups all purpose flour
1 Tbsp baking powder
1 tsp pumpkin pie spice
3/4 tsp salt
3/4 cup whole milk
1 cup cooked sweet potatoes
1/3 cup bourbon
Candied Pecans
Vanilla Glaze
2 cups sifted confectioner's sugar
1 Tbsp butter, room temperature
1 tsp vanilla
3-4 Tbsps milk
Bourbon Syrup/Glaze/Frosting Concoction
1-1/2 cup sugar
1/2 cup water
1 tsp butter
2 tsp vanilla
2 Tbsp bourbon
Instructions
Cupcakes: Preheat oven to 350 degrees and line cupcake trays with 24 baking cups.
Whisk together flour, baking powder, pumpkin pie spice and salt in a large bowl.
In another large mixing bowl, mix brown sugar, butter and eggs until fluffy. Add sweet potatoes and vanilla. Mix well.
Add 1/3 of flour mixture to sugar mixture until combined. Add bourbon. Add second 1/3 of flour mixture. Add milk. Add final 1/3 flour mixture. Mix well with each addition.
Fill baking cups. Bake for 12-15 minutes or until done. Cool completely.
Candied Pecans: Add equal parts sugar and water to a pot. (I used 1 cup each.)
Add pecans. Simmer for about six minutes. Drain syrup off pecans.
In a deep fryer at about 375 degrees add pecans to oil. Heat for about 30 seconds to a minute or until frying noise stops. Be careful. The first attempt I made with these, I burned my pecans to a crisp. I guess my oil was too hot.
Lay on parchment paper lined tray and cool slightly. Sprinkle some extra sugar on top to make them prettier. Allow to dry completely. Note: These rocked! They can be made by themselves and served as a sweet snack.
Vanilla Glaze: In a medium bowl, mix sugar and butter. Add vanilla.
Add milk 1 Tbsp at a time until you get the desired consistency. (Adding more milk will make it thinner.) Mix until smooth.
Transfer glaze to a small bowl and dip the tops of your cupcakes in it. Let set.
Bourbon Syrup Glaze: In a small saucepan, bring sugar and water to a boil. Boil for five minutes and add remaining ingredients. Cook until a syrupy consistency.
Remove it from the stove and let it cool for a minute. Add 1/2 cup confectioners' sugar and 2 Tbsp milk to get it more like the consistency of the vanilla glaze. Spoon it on top so you can see the vanilla glaze underneath.
Add one candied pecan to each cupcake if you don't eat them all first.
Notes
Cupcake and glaze recipes amended slightly from the cookbook, Bundt Classics.
Enjoy!