Ooey Gooey Goodness!
Chocolate, graham crackers and marshmallows all baked up in a fudgy, gooey brownie. What could be better?
It's like having a campfire inside my oven.
I love a recipe that starts with chopped chocolate.
And ends in something like this.
The recipe for these is from one of my favorite cookbooks, Home Baked Comfort. At least favorite to look at anyway, because I've only made one other thing from it so far. But it's one of the few books I have that I'd want to make almost everything in. Here's the other recipe I tried out and love: Chewy Chocolate Meringues if you want to check them out. They are way good!
Melted chocolate is so pretty to me. So smooth, shiny, warm, and the beautiful beginning of these brownies.
Heat the chocolate with butter, whisk in sugars, add eggs, vanilla and salt.
And then sift in the flour and cocoa. Hello.
So, after I added the sugars, I realized I was going to need a bigger pot. But too late for that … no turning back.
So I carefully stirred it all together and added the crushed graham crackers to the mix before spreading in a pan.
Yummorama!
Then just top with marshmallows. I used 9 jumbo ones, but next time I think I'll try regular size. Read the notes in the recipe below if you decide to make these. The giant amount of gooeyness from these seeped in and made the brownies take longer to bake.
But if you like gooey melt in your mouth brownies, you'll love these.
Bake away.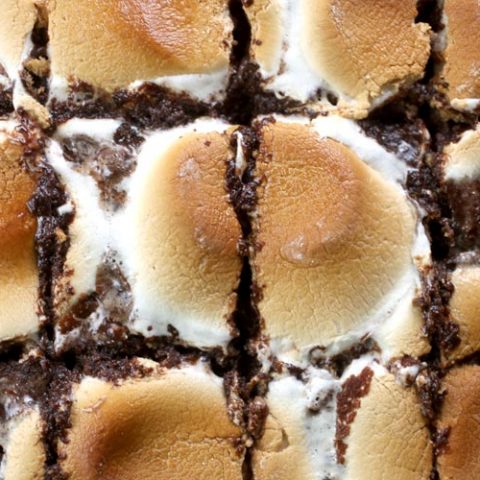 Yield: Two Dozen Brownies
S'mores Brownies
Prep Time 20 minutes

Cook Time 30 minutes

Total Time 50 minutes
Ingredients
1 cup unsalted butter
10 oz. bittersweet chocolate, chopped
1 cup sugar
3/4 cup packed light brown sugar
4 eggs
2 tsp pure vanilla extract
1 tsp kosher salt
1-1/3 cups cake flour
3 Tbsp natural cocoa powder
6-8 whole graham crackers, crushed in your hand
9 jumbo or 12 regular size marshmallows
Instructions
Preheat oven to 350 degrees and generously grease a 9-by-13 inch baking dish
In a large saucepan, melt butter and chocolate over low heat, stirring often until melted and smooth. Remove from heat and whisk in sugars. Then whisk in eggs one at a time, beating well after each addition. Whisk in the vanilla and salt.
Sift the flour and cocoa over the chocolate mixture. Use a rubber spatular to stir just until blended. Stir in crushed graham crackers. Pour into dish, spreading evenly and top with marshmallows.
Bake until a toothpick inserted comes out almost clean, 30-35 minutes. Cool and cut into gooey squares.
Notes
Try regular size marshmallows. The jumbo ones I used almost covered the entire surface of the brownie when baked and as they melted into the batter, caused me to increase the baking time significantly until done. About 30 minutes in, I covered the dish with foil to keep the marshmallowy tops from getting much darker. Smaller marshmallows would have yielded less goo and given the brownies more places to show through the surface. The few spots that weren't completely covered by marshmallow had a wonderful texture, but the marshmallow saturated sections were gooey even after increasing baking time to almost 45 minutes. But you may like that too. Either way - super yummy!

Source: 2011 Home Baked Comfort by Kim Laidlaw by Weldon Owen Books
And take a big bite.
Enjoy!