I want to show you this new book from Williams-Sonoma.
It's filled with delicious photographs and tons of recipes including …
Pretzels.
Pop Tarts.
And pies to name a few.
Are your taste buds warming up yet? Mine sure are. I could hardly stand to flip through the pages of this book without wanting to make everything in it.
Home. Baked. Comfort. Yes, please.
And guess what, else.
This book also includes recipes from several bakeries and bloggers across the country.
Like Smitten Kitchen, Tartine, Cannelle et Vanille, Flour, Baked…
And more.
Maybe even one from someone you know.
With all this yumminess, it was really hard to decide what to bake first. I flipped through the book several times before I finally decided.
When I saw that one of the featured bakeries was from Minneapolis, I knew right away that was the one to try since I'll be in Minnesota and at Williams-Sonoma in about two weeks for a book signing. (Details here.)
And now, I may just have to stop by this bakery, too.
Salty Tart. Cute name.
And her recipe for Chewy Chocolate Meringues is delish.
And easy.
And better yet, only needs four ingredients.
Finely chopped bittersweet chocolate.
Five tablespoons cocoa powder.
Sugar and egg whites.
This photo kinda makes them look like egg yellows though.
Whisk together the egg whites and sugar over – but not touching – simmering water until dissolved.
Remove from heat and beat the egg whites until stiff and glossy.
Then fold in the chocolate and cocoa.
Scoop out the batter on parchment lined baking sheets and bake away.
You want to see cracks. That's part of what I love about this recipe. No need to try and make anything look perfect. These are already perfectly imperfect.
And oh so good.
They are highly addictive, too. I don't want to tell you how many I ate before I even finished taking photos…
…but let's just say that this photo is missing quite a few.
I'm so glad I tried this recipe. I've never made meringues before because they never really looked all that appealing to me. But wow! These chocolate ones will be made again. And again.
Thanks Salty Tart.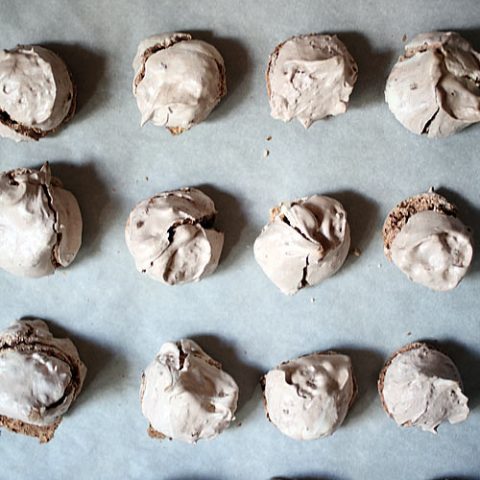 Chewy Chocolate Meringues
Prep Time 20 minutes

Cook Time 18 minutes

Total Time 38 minutes
Ingredients
Chewy Chocolate Meringues
1 cup (8 fl oz / 250 ml) large egg whites - about 7
2 cups (1 lb / 500 g) sugar
5 tbsp (1 oz / 30 g) natural cocoa powder
4 oz (125 g) bittersweet chocolate, finely chopped
4 oz (125 g) cocoa nibs*
Instructions
Preheat oven to 350 degrees and line baking sheets with parchment paper.
In a clean, dry heatproof bowl, whisk together egg whites and sugar. Set over, but not touching, simmering water in a saucepan.
Whisk constantly until the sugar is completely dissolved and remove from heat. (I tested to make sure I didn't feel any sugar granules.)
Beat the eggs on high using your mixer fitted with the whisk attachment. Beat until stiff and glossy.
Sift cocoa over the meringue. Sprinkle chopped chocolate (and cocoa nibs if you're using) on top. Then, fold together gently with a spatula until combined.
Use a scoop to drop even amounts of batter onto prepared baking sheets about two inches apart.
Bake for about 8-9 minutes. Rotate the pans and bake for another 8-9 minutes until the cookies are fluffy and full of cracks.
Transfer the cookies, leaving them on the parchment paper, to wire racks to cool.
Notes
Adapted from Home Baked Comfort.

* I omitted the cocoa nibs because I didn't have any on hand and the cookies still came out beautifully.

The recipe says it makes about 2 dozen meringues, but I ended up with about 60 using a 1.5 inch scoop. I also used a scale to measure my ingredients exactly.

…………………………………………………………………………………………
Home Baked Comfort by Kim Laidlaw
Photographed by Eric Wolfinger
Featured Bakeries
Baked, Brooklyn, NY
Floriole Cafe & Bakery, Chicago, IL
Flour Bakery + Cafe, Boston, MA
Huckleberry Cafe & Bakery, Santa Monica, CA
Pearl Bakery, Portland, OR
Salty Tart Bakery, Minneapolis, MN
Sugar Mama's Bakeshop, Austin, TX
Tartine Bakery, San Francisco, CA
Featured Bloggers
Cannelle et Vanille
La Tartine Gourmande
Smitten Kitchen
and me : )
The book is available at Williams-Sonoma until February 2012. Then you'll also be able to find it on Amazon.
…………………………………………………………………………………………
Until then, want to win a copy?
You do. I promise.
Leave a comment on this post answering the following random question.
What is your favorite Halloween candy?
Deadline to enter is Tuesday evening, September 27th at 6:00 pm ET.

SORRY, TIME'S UP!

One winner will be picked at random and announced sometime Tuesday evening.
Good Luck!
Disclosure: Giveaway sponsored by me. : )
And the winner is……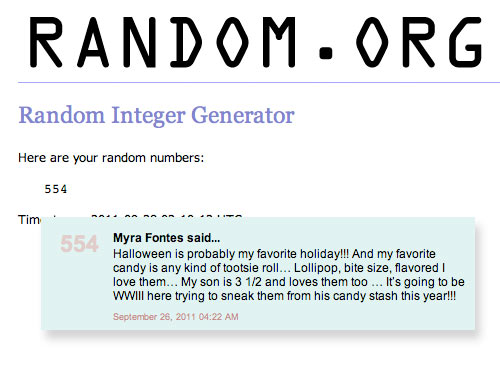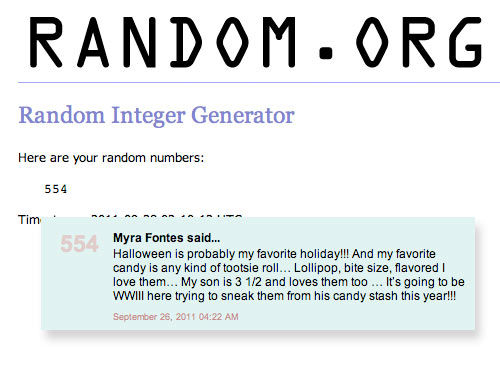 Myra – You're gonna love this book.