I made the cutest chocolate and peanut butter pug cake pops for you. These little guys were inspired by a recipe from Tablespoon.com. I'm working with them to put my spin on one of the sweets from their site. Not that they don't already have cute covered though. Tablespoon's community is overflowing with fun recipes, creative ideas for entertaining and more. I love the way they think with categories like rainbow, OMG, party, and mini.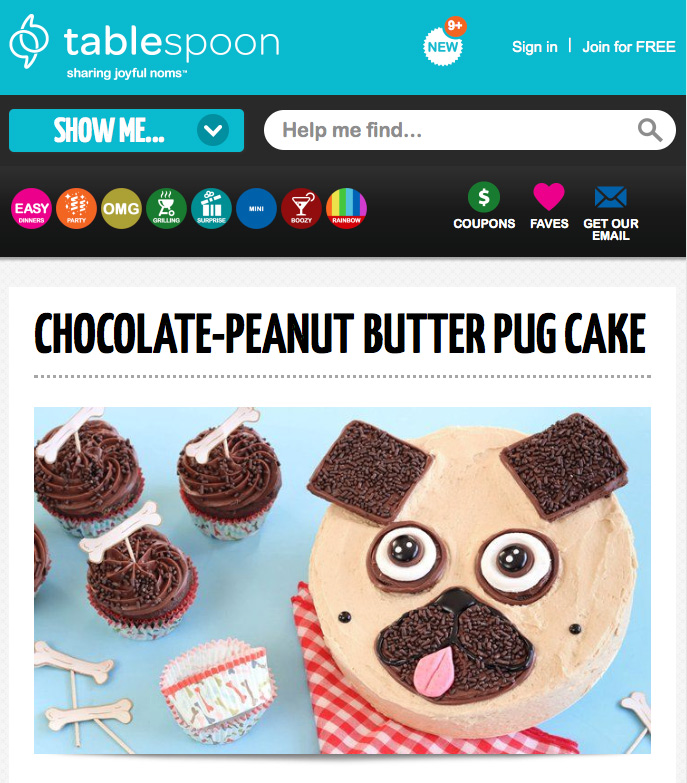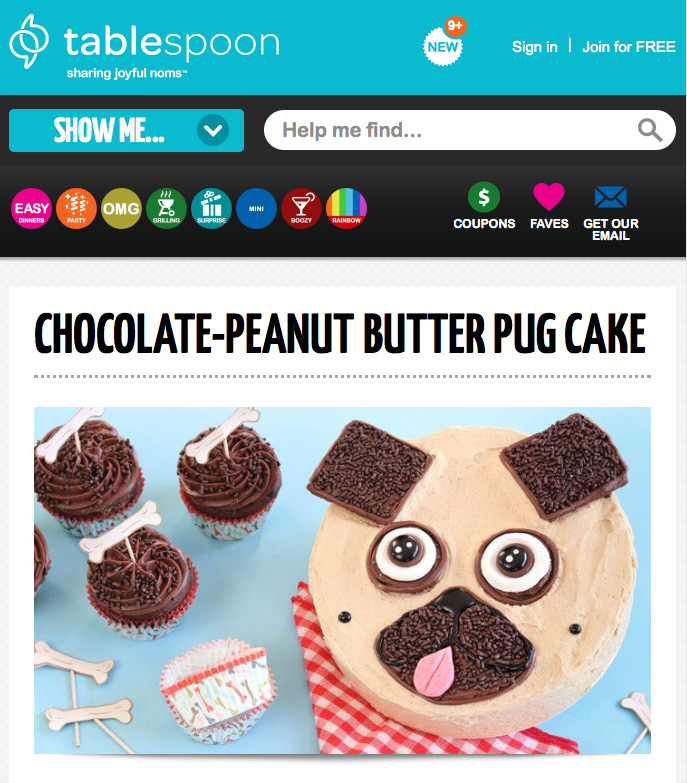 And you guys know it's no surprise that I love little treats, so when I found this adorable pug cake on their site, I knew I had to down-size it to bite-sized proportions. But the full-size version is just as fun if you want one big cake.
Alright. Let's get this pug party started.
Here are the goodies you'll need to make 16 Pug Pops.
4 cups crumbled chocolate cake
1/3 cup buttercream frosting
2 tablespoons peanut butter
White candy wafers
Chocolate candy wafers, reserve 16 wafers for decorating
Medium heatproof bowl, plus two smaller heatproof bowls
Wax paper
Baking sheet
16 lollipop sticks
Cake pop stand
8 Tootsie Rolls
16 black sunflower seeds
32 sugar eyes with black edible ink pen
Pastel confetti sprinkles
Candy Bones
Toothpicks. I can't live without toothpicks when it comes to decorating cake pops.
Here's a link to my full instructions for making basic cake pops if you need more help.
Stir peanut butter and buttercream until mixed together and then incorporate into chocolate cake crumbs until completely combined.
Roll the mixture into 16 balls and place on a wax paper covered baking sheet. Let the rolled cake balls rest for about 30 minutes and then place in the freezer for about 15 minutes to firm up. When firm, transfer them to the fridge to remain chilled (not frozen) for dipping.
Melt chocolate wafers with vanilla wafers. Start with vanilla and add a few chocolate wafers at a time until you achieve a lighter shade of brown. (Note: You can use peanut butter candy wafers insead of mixing chocolate and vanilla.)
When ready to dip, remove a cake ball from the fridge. Dip the end of a lollipop stick in the melted candy wafers and then into the cake ball and dip.
Make sure the cake ball is completely coated and tap off any excess.
Before the coating sets, place a chocolate candy wafer on the front – towards the bottom half of the pop. Hold in place until the coating dries and place in a cake pop stand until you're ready to decorate.
We're using Tootsie Rolls for ears, confetti sprinkles for tongues, sunflower seeds for noses and sugar eyes for the eyes. But you already guessed that one.
With the candy wafer already in position on the pop, dip a toothpick in melted chocolate and swirl two large dots on the front of the pop in position for eyes. Then gently press the sugar eyes right on top so that the chocolate surrounds the eyes.
Dot on coating in position for the nose and tongue and then attach a sunflower seed and pink confetti sprinkle and let dry.
Then finish the mouths. Use a toothpick dipped in melted chocolate candy wafers to apply coating on top of the already attached wafer … under the sunflower seed nose and down around the sides of the tongue. Make sure to overlap the confetti sprinkle so it looks like a sweet little tongue is sticking out.
Now for the ears. Cut a tootsie roll candy in four equal parts and hand shape into rounded triangles for ears. Note: microwave the candy for 3-4 seconds to make it easier to shape. Don't overheat.
Use more melted chocolate to attach the ears and add finishing details to the mouth.
Draw big black pupils on the eyes with the edible ink pen. Feel free to stop here, but if you want to add a few more details, then keep going with me.
Draw on eyebrows with a toothpick dipped in the melted lighter brown candy coating. Then dot tiny dark chocolate freckles on each cheek.
And most important, add a little sparkle to the eyes by dotting on melted white candy wafers.
Adorable!
But let's dress these doggies up a bit more…
… with candy bones.
Because they make the super cutest bow ties, you know.
Enjoy!
This post is a collaboration with Tablespoon.com.