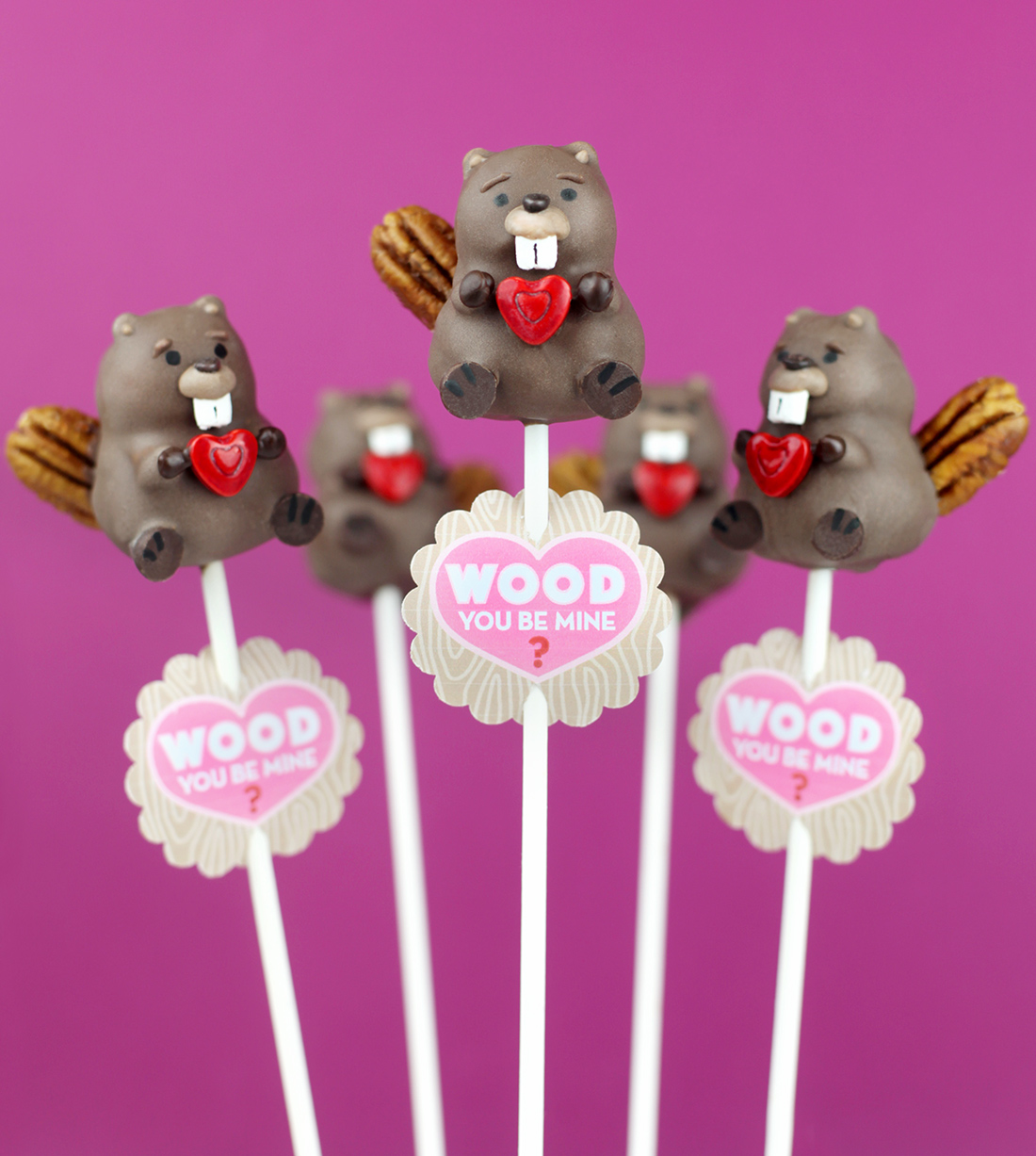 I've been busy as a beaver making these cute little cake pops for Valentine's Day complete with downloadable treat tags. They'd also be adorable for a woodland themed shower or birthday party – minus the tags, of course.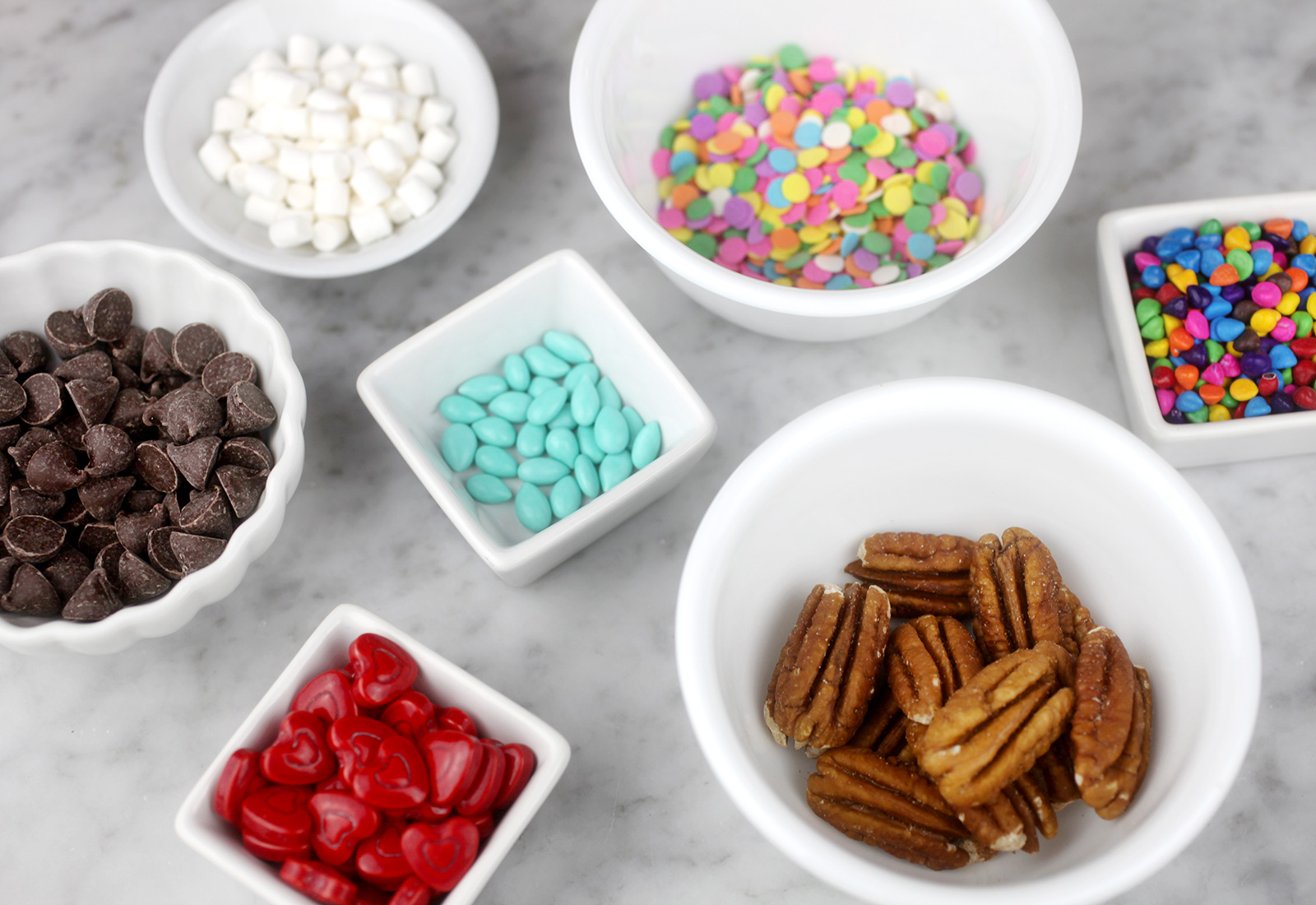 Let's see how these decorative add-ons transform a shaped cake ball into the sweetest edible valentine.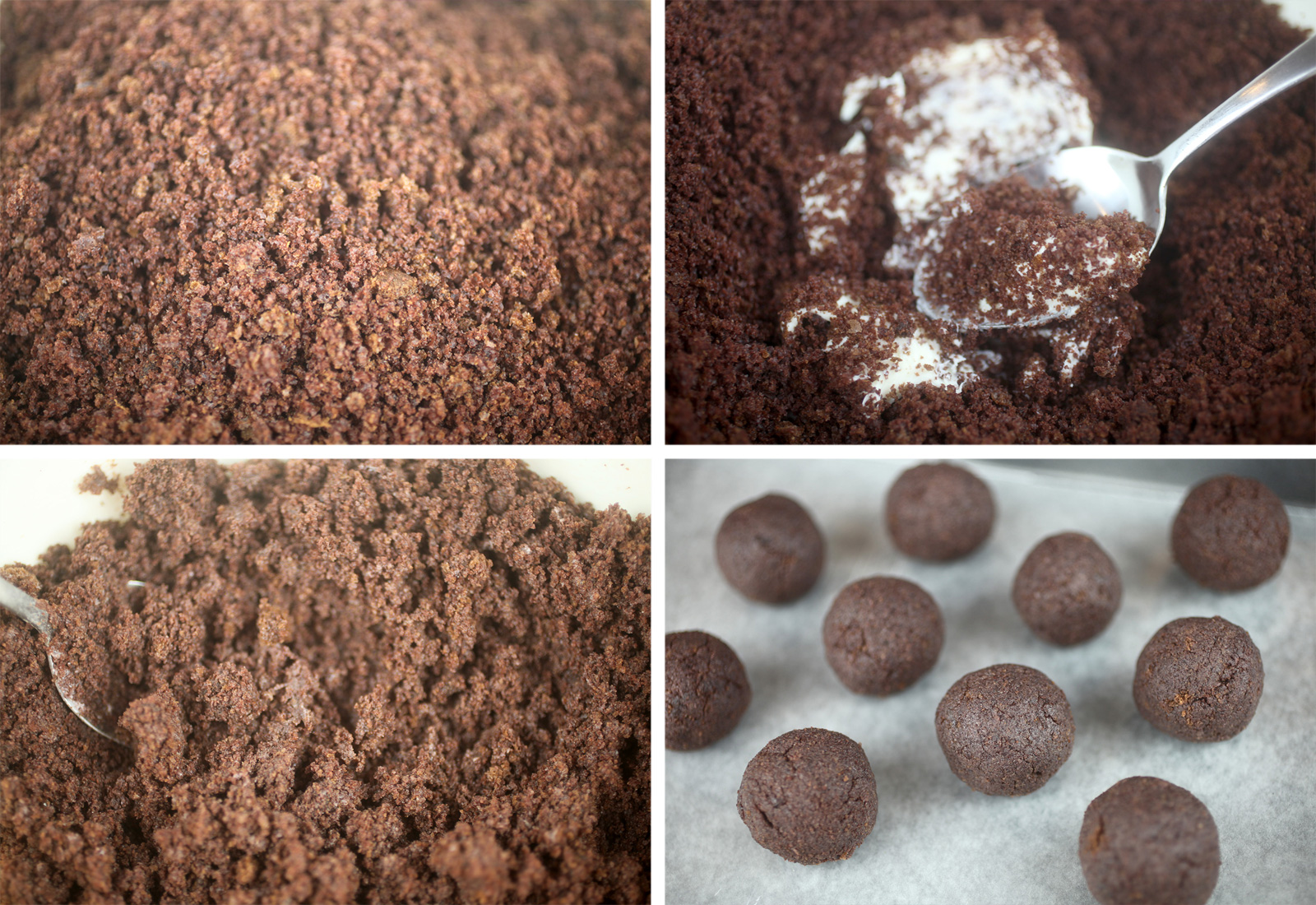 First up – let's make some cake balls. Use my basic cake pop recipe and then follow the instructions below to shape and decorate.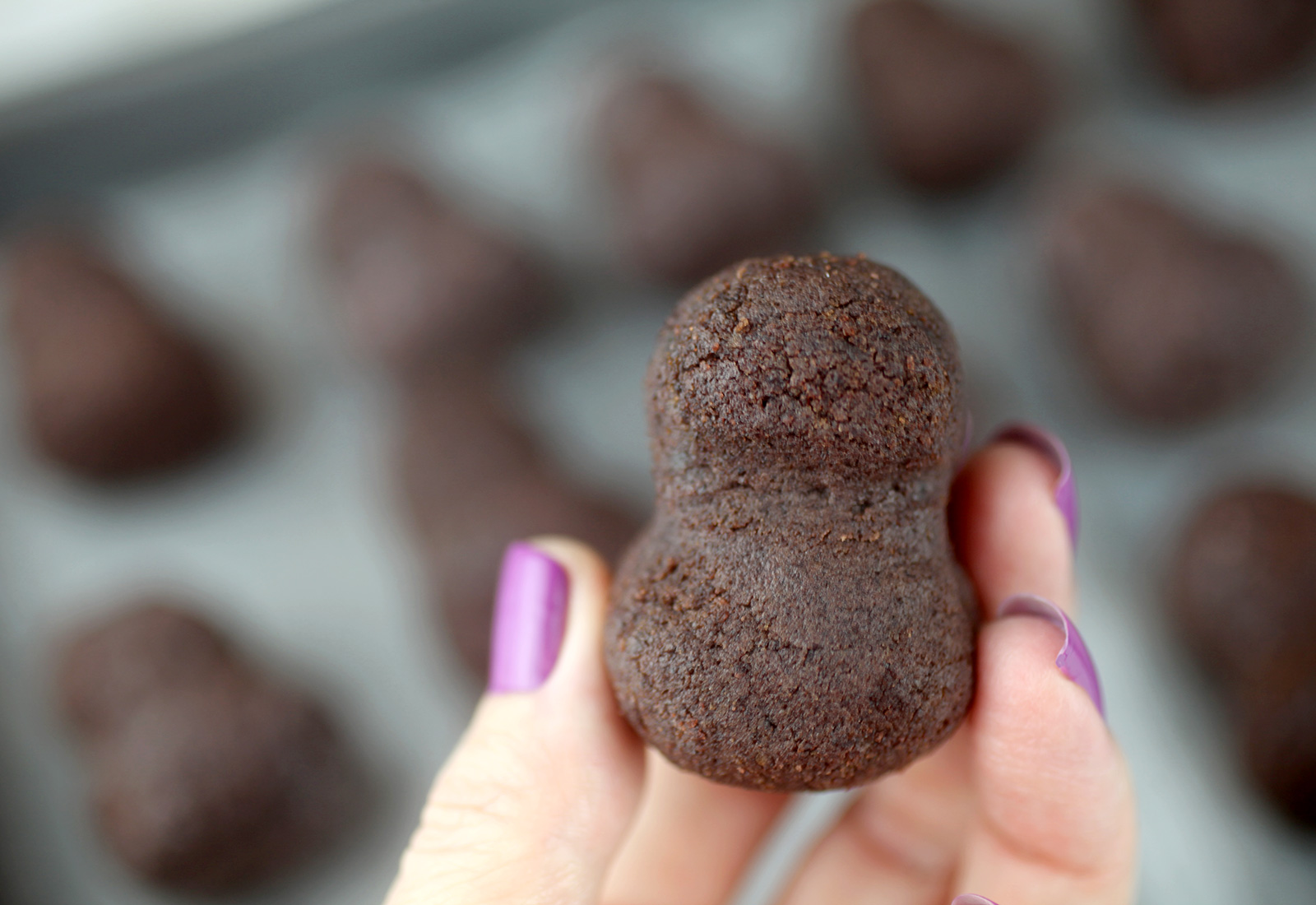 Shape each ball to look somewhat like a pear, but with more of a rounded top like shown.
Let the shapes rest for a few minutes and then place them in the freezer for about 10-15 minutes to firm up. Then transfer to the refrigerator to remain chilled and firm, but not frozen.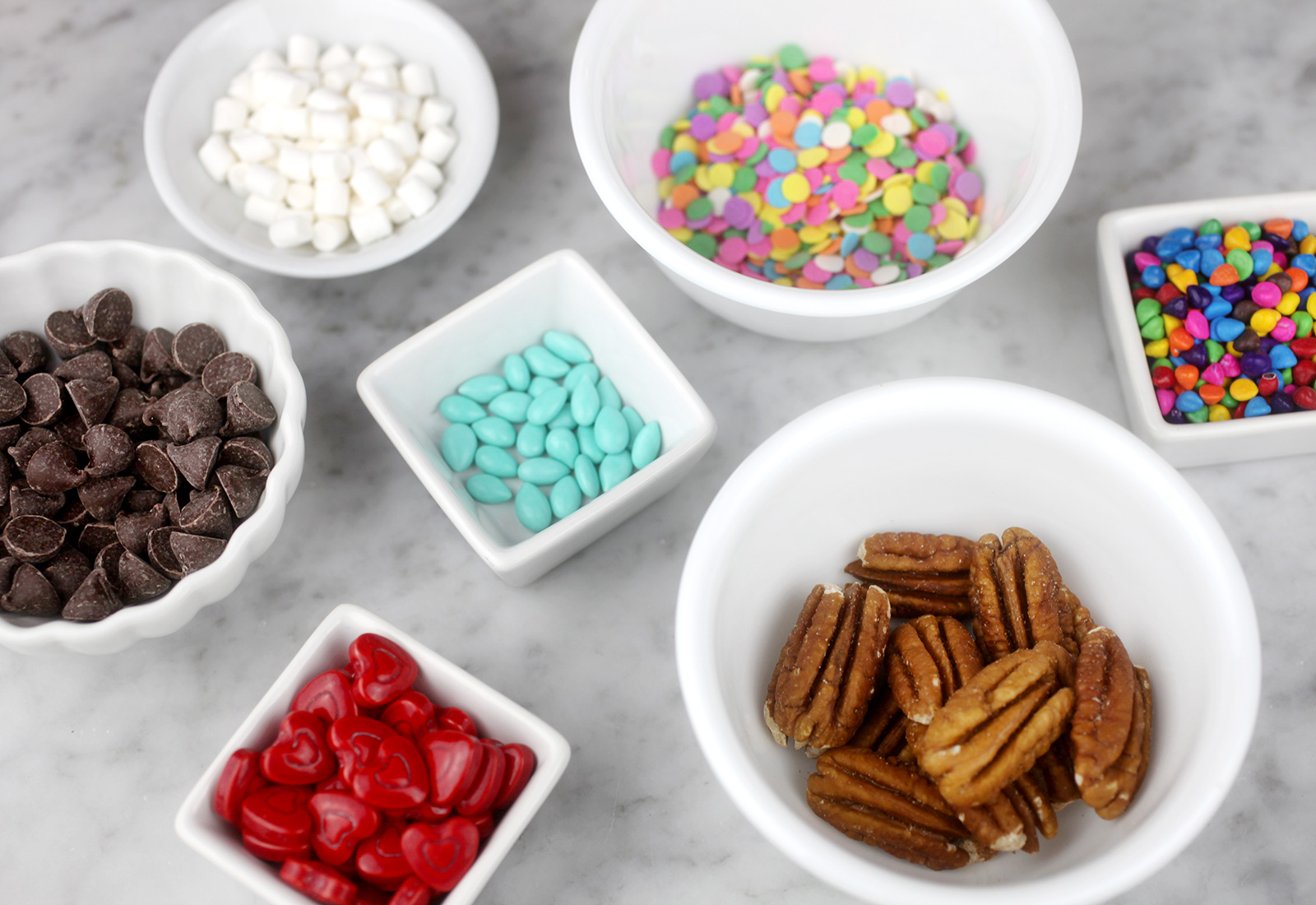 Gather up sprinkles and candies to use for decorating.
Here's how I used each:
Pecans = beaver tails
Confetti sprinkles = ears
Brown rainbow chip sprinkles = noses*
Coated sunflower seeds = arms
Dark chocolate morsels = feet
Marshmallow bits = teeth*
Jumbo heart candies = hearts to hold
* Instead of sprinkles, you can also use a toothpick to dot melted dark brown coating in position on the pop for noses or use a toothpick to apply/draw on vanilla candy coating in the shape of teeth.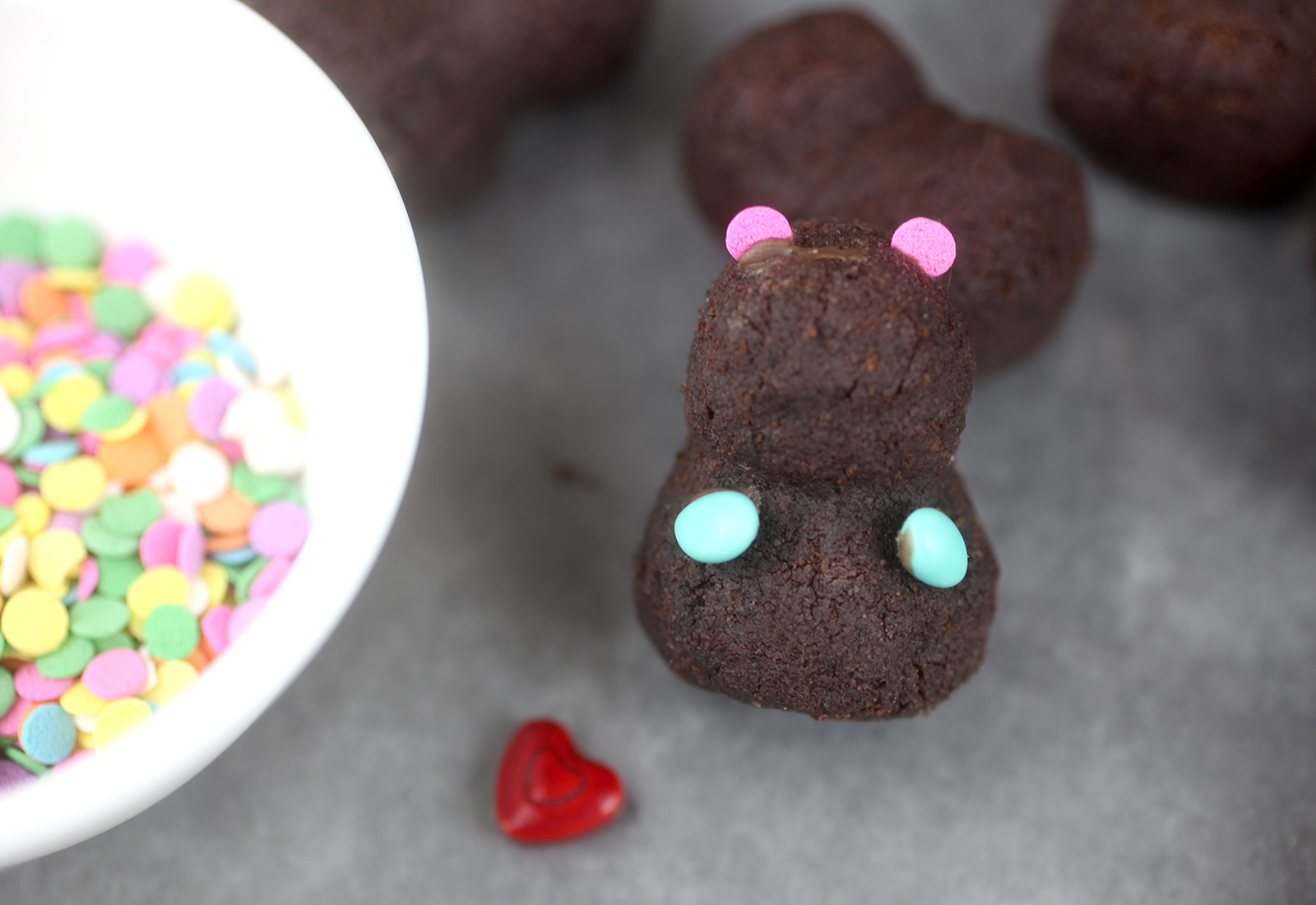 To start building the beaver, attach two sunflower seeds, pointed side down to the body using melted candy coating. Note that if you are going to add hearts after dipping, use the heart candy to guide where the arms should go – to allow enough room for it to fit in between them.
Then insert two confetti sprinkles dipped in coating into the top of the beaver body for ears. Return to the fridge to remain chilled for dipping.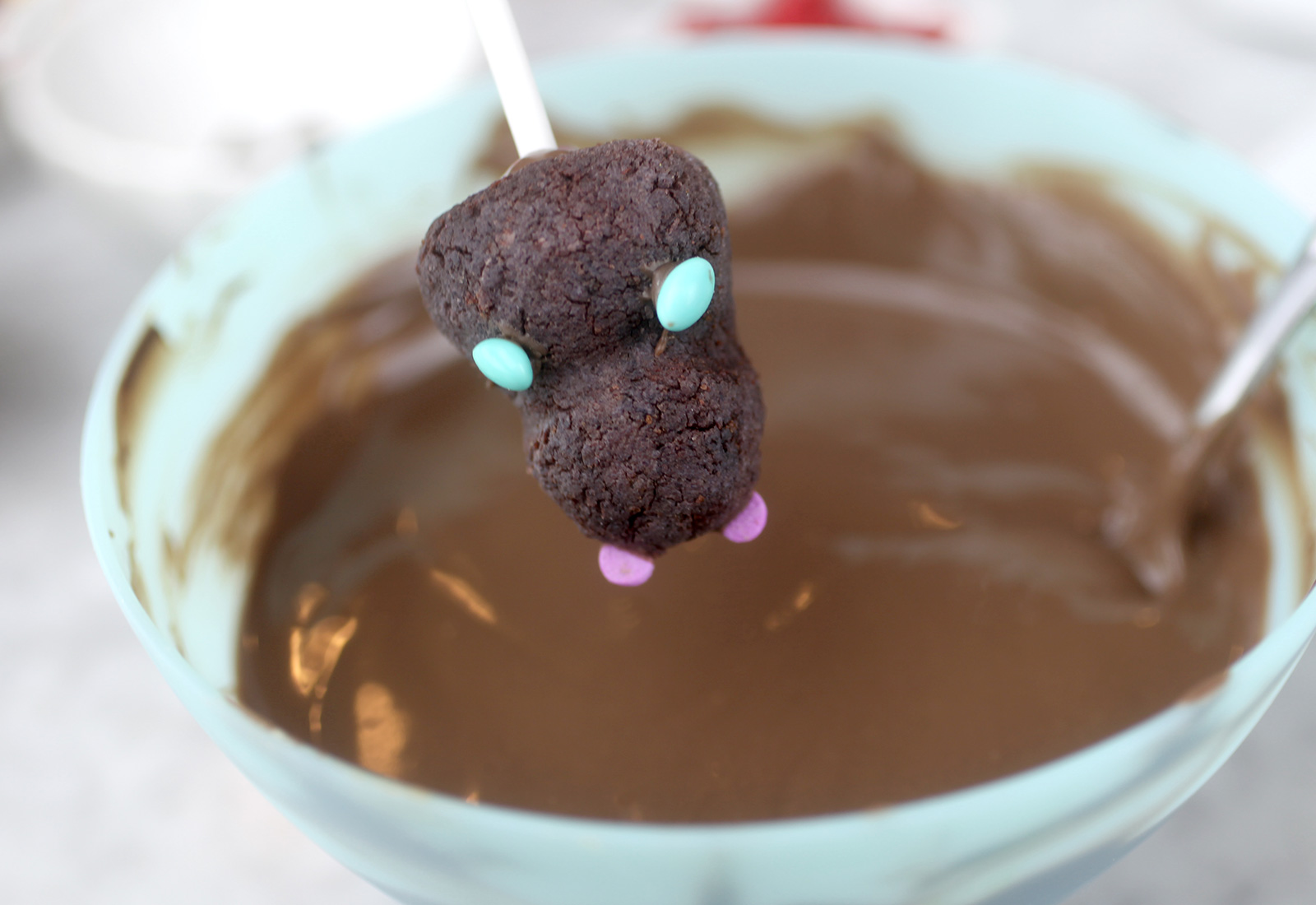 When ready to dip, melt chocolate candy coating with some vanilla candy coating in the microwave (to achieve a lighter shade of brown) for up to 30 seconds at a time, stirring in between each time, until completely melted and smooth. Then remove a shaped cake ball with arms and ears attached from the fridge. Insert the end of a lollipop stick in the melted coating and then into the bottom of the beaver. Holding by the lollipop stick, carefully insert the body into the melted candy coating, remove and gently tap off any excess.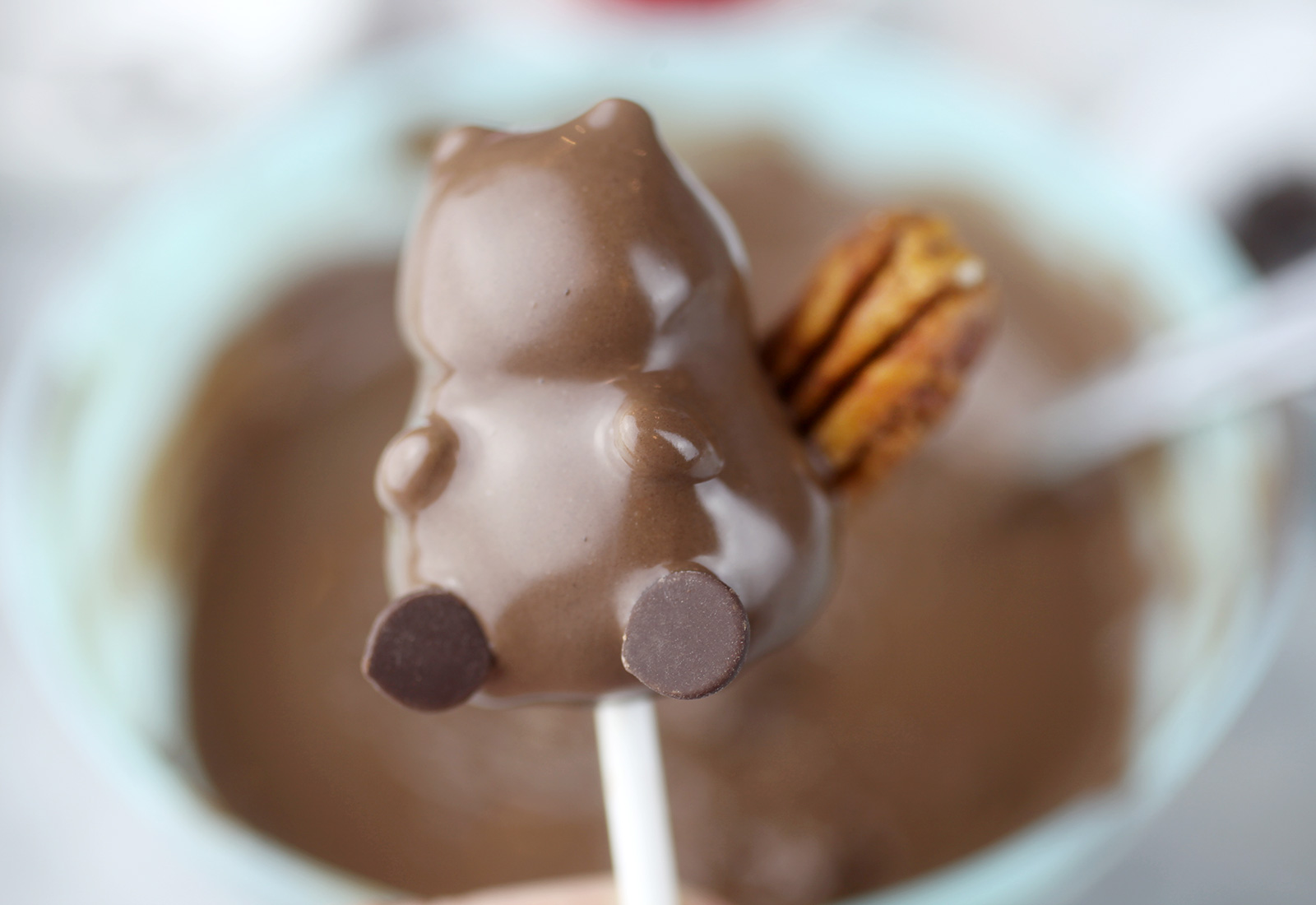 Before the coating dries, attach two morsels, pointed side down, in position for feet and one pecan in position for the tail.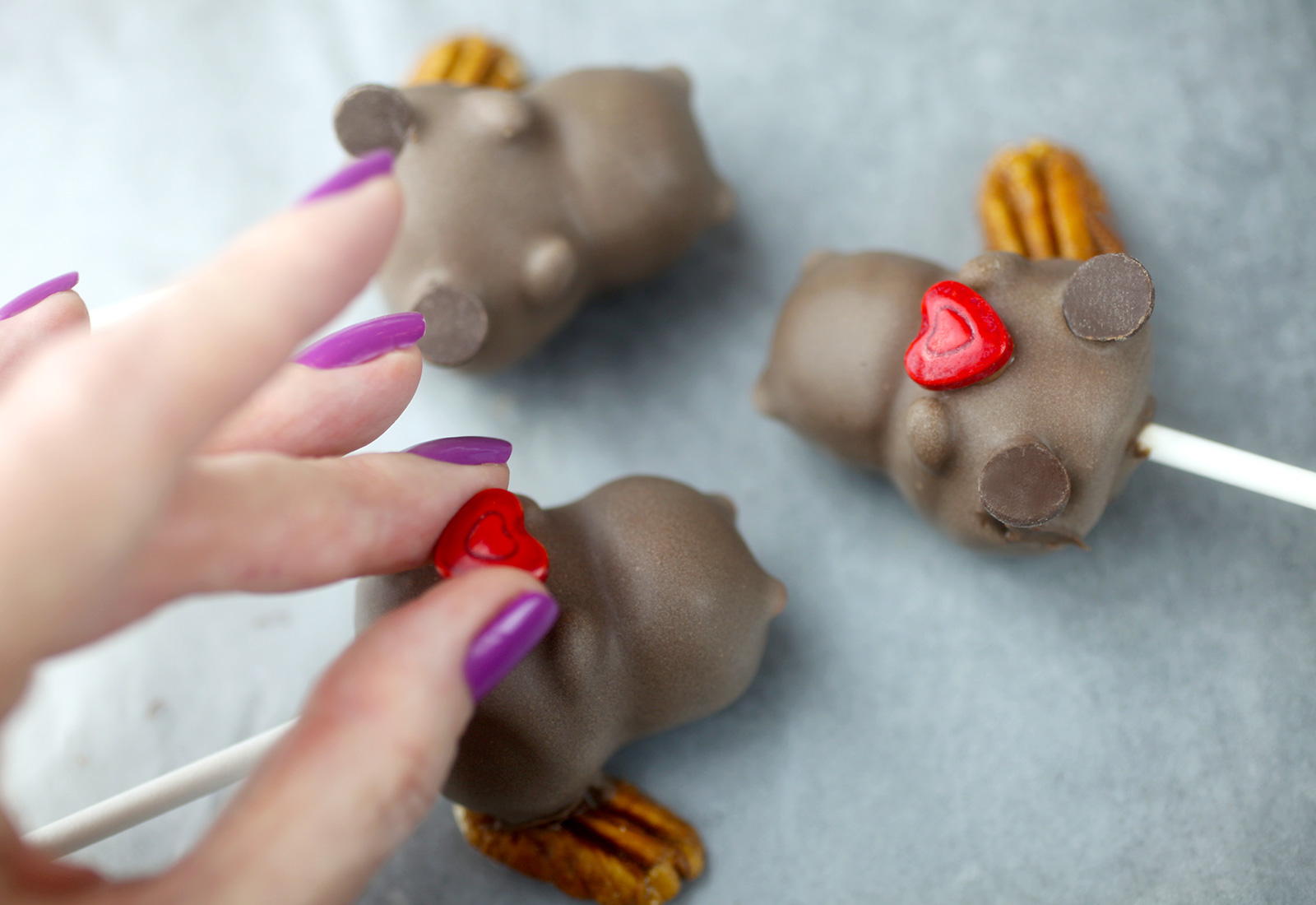 When dry, dot some melted chocolate coating on the beaver's belly and attach a heart sprinkle or candy. The melted coating will dry and act like glue.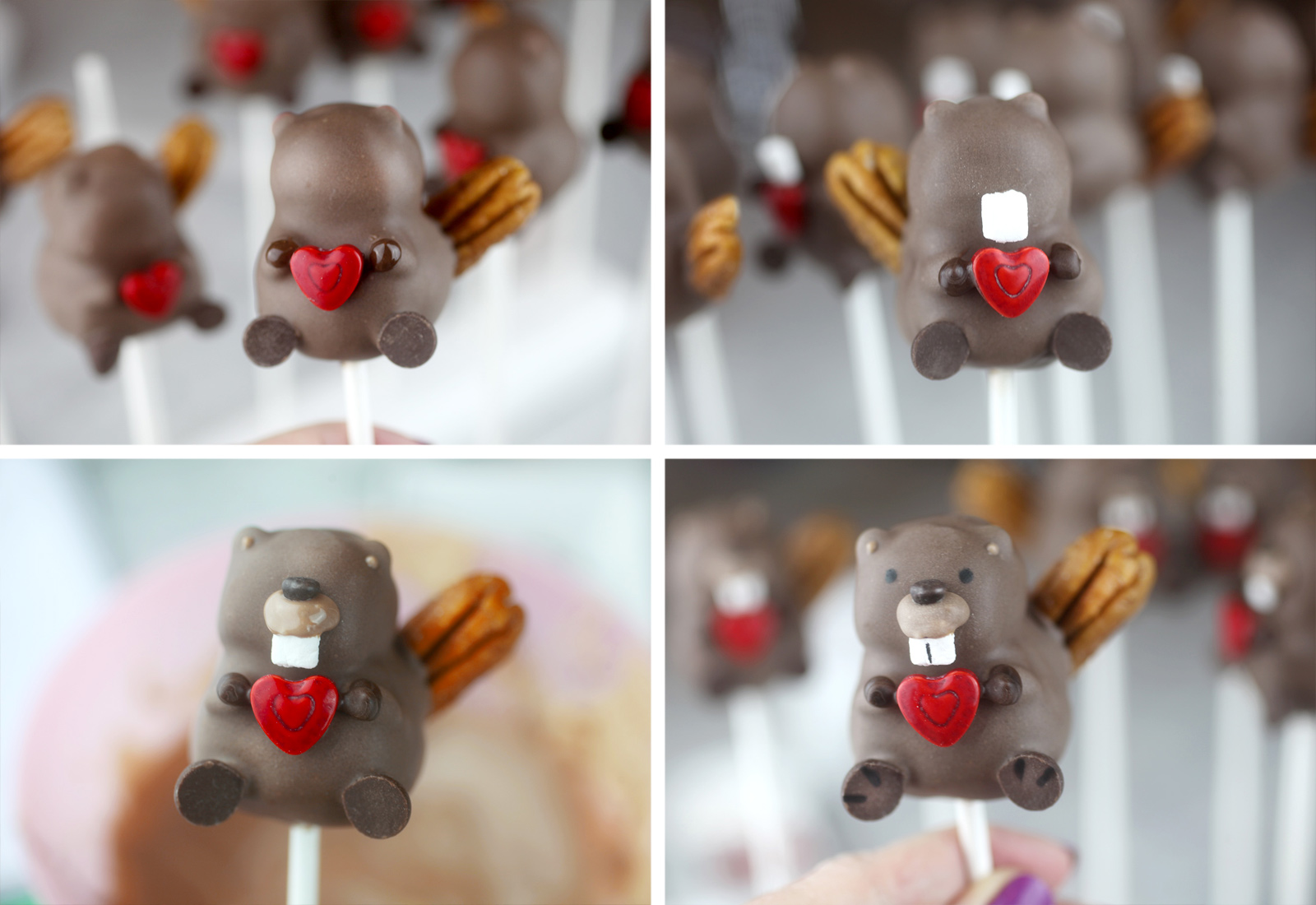 Final touches! Add some melted dark chocolate coating on the beaver's hands to match his darker colored feet. You could also leave this step off.
Take a marshmallow bit and press it together flat. Then attach it in position for teeth using a dot of melted candy coating.
Use a lighter shade of brown candy coating (by adding more vanilla coating) to overlap the teeth and then place a rainbow chip sprinkle in position for the nose before the coating dries. You can also dot the lighter brown coating on it's tiny ears for extra detail.
And finally, use a black edible ink writing pen to mark the eyes, toes and an thin, vertical line to separate his two front teeth.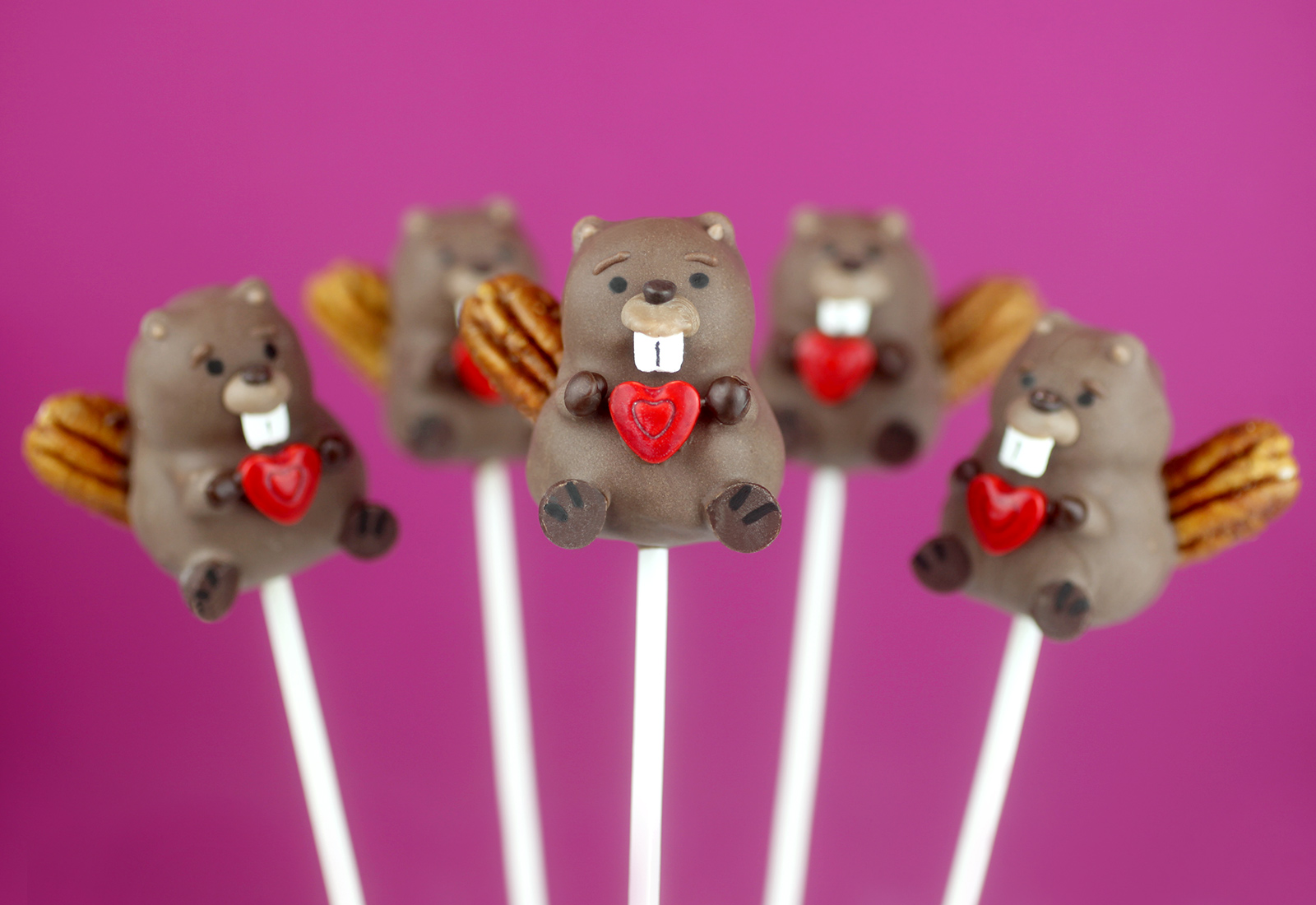 Pretty dang cute.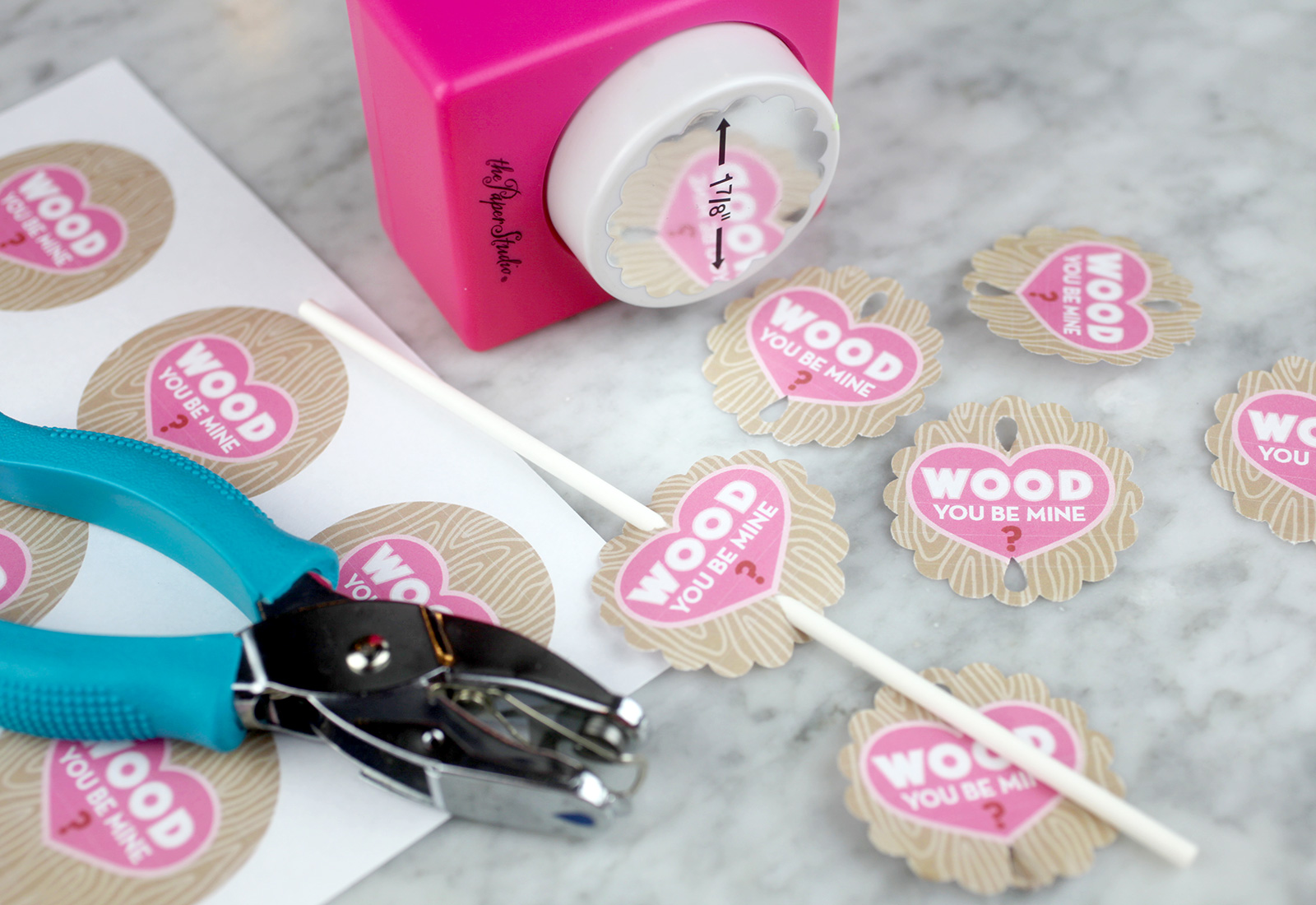 Now let's dress them up for Valentine's Day with some pun-derful treat tags.
You can download the treat tags here.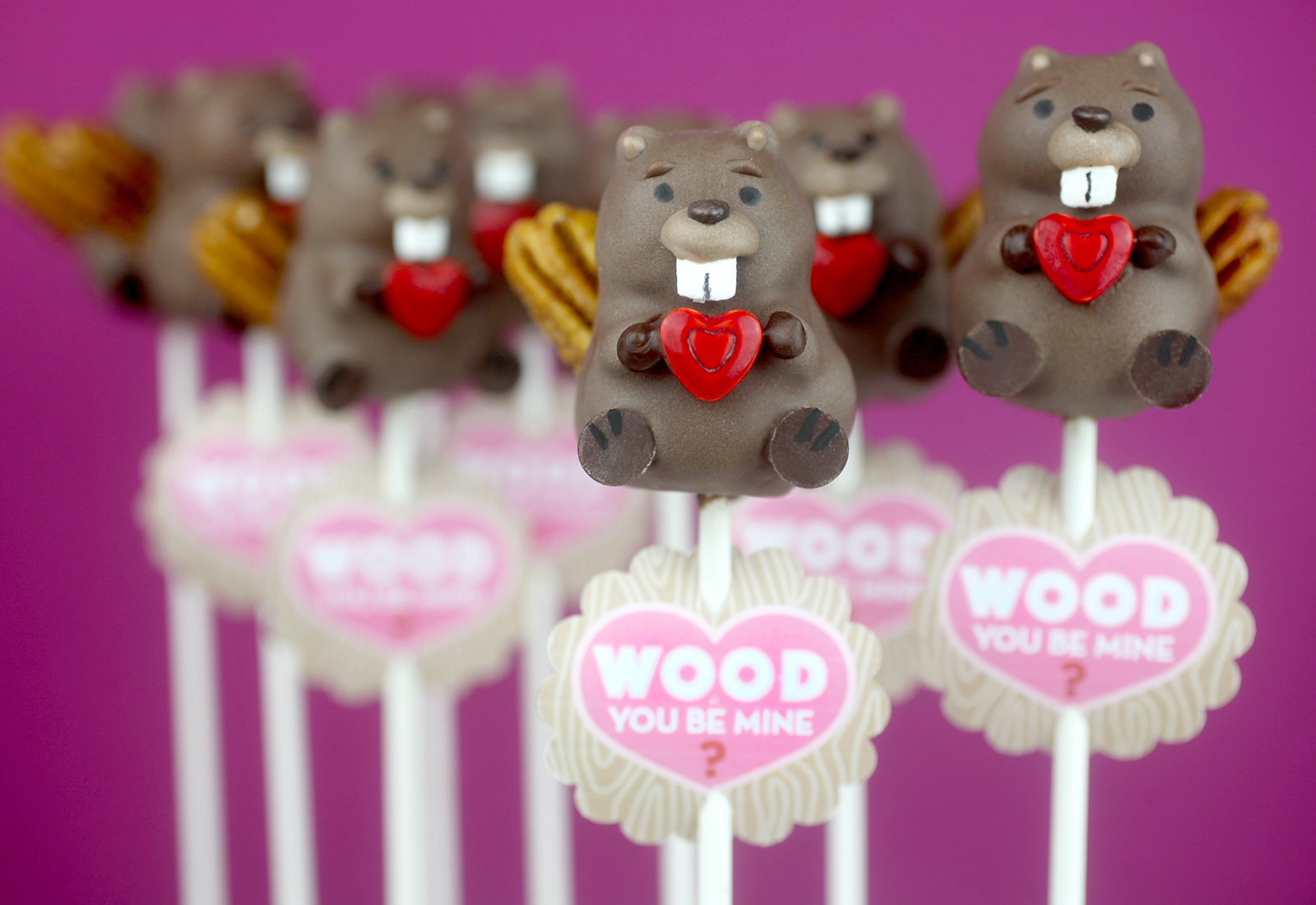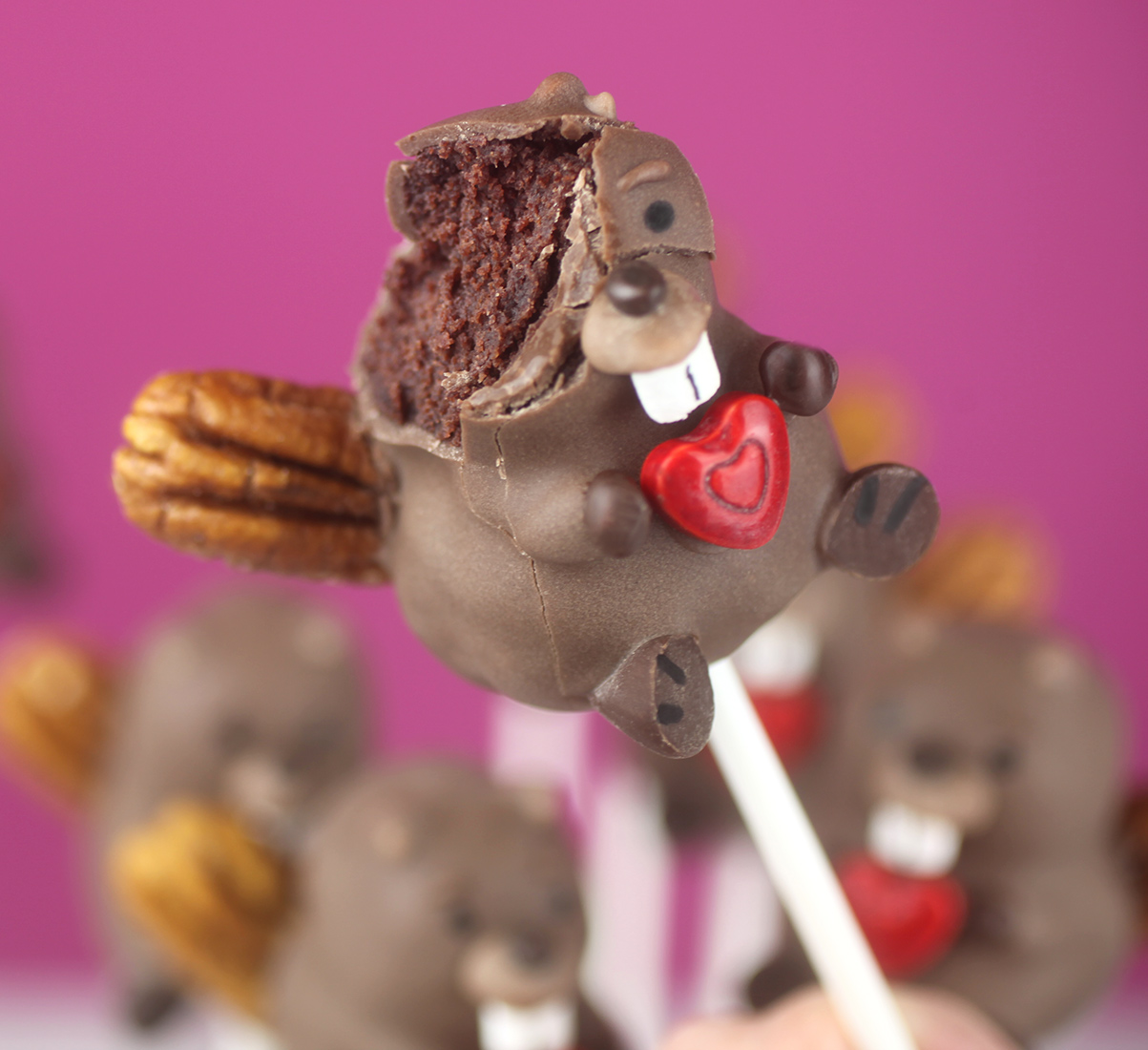 Hope you enjoyed these itty-bitty beavers perfect to sink your teeth into.