I mean it. Easy. E…..Z…. Peach Crunch Cake.
You need some sliced peaches in syrup.
Just dump them in a 13 X 9 dish. Syrup and all.
Note: this can also be called a dump cake. But that doesn't sound all that pretty.
Cut the peaches into smaller pieces and you can distribute them more evenly.
Next up, you need a yellow cake mix.
Sprinkle it right over the top of the peaches. No mixing. None.
Keep sprinkling until it's all covered up.
Then layer 1 stick of butter right on the top.
For some reason this photo makes me smile. Like little pats of butter floating in clouds.
And this really makes me smile. Brown sugar baby. I can't put this on anything without sneaking a spoonful for myself. Sugar. Straight up. Don't tell.
Oh this is looking good. So fluffy. I need a spoon. No… I need to wait.
Finally, add some chopped walnuts.
Here 'tis from the top and again from the side.
Bake it at 350 degrees for about 40 minutes and voila…
Peach crunch cake. Really though it's more dessert than cake.
Some for me…
Some more for me…
Good alone… good warm… good cold… and
Good warm with something cold.
Yum. Yum. In my tum.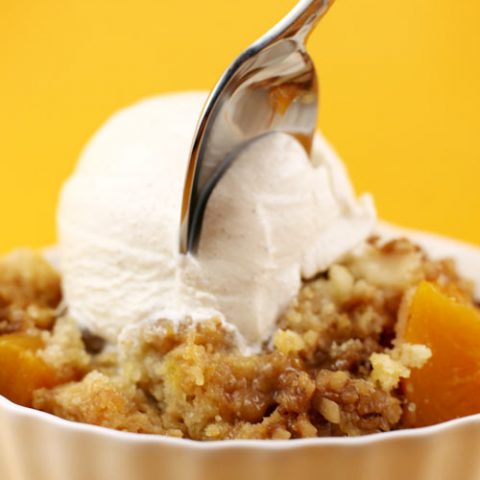 Yield: one 13x9 inch cake
Peach Crunch Cake
Prep Time 10 minutes

Cook Time 40 minutes

Total Time 50 minutes
Ingredients
24.5 oz jar of sliced peaches in light syrup
1 package yellow cake mix
1 stick butter (1/2 cup), cut into 16 pieces
1 cup brown sugar
1/2 cup chopped walnuts
Instructions
Preheat oven to 350 degrees F.
Layer ingredients in a 13 X 9 dish, in order starting with the peaches.
Bake for about 40 minutes.
Serve warm or cold… with or without ice cream.
Enjoy!
See, that was easy.
Now how about something hard.
Voting for the 2010 Bloggies is underway and guess what… Bakerella was nominated in two categories. Best Food and Best Design. Wowzers!
But here's the hard part… try choosing between some of my fellow nominees… definitely not as easy as this cake.
Food
Smitten Kitchen – I want to cook like her when I grow up.
Joy the Baker – She's way cool, super cute, and she bakes, too.
Cake Wrecks – Jen's humor is hard to beat.
101 Cookbooks – literally … she has that many.
Design
Style Me Pretty – I can get lost gazing at their photos all day.
Pawcurious – animals = uh-oh.
Pretty Stylish London – fashion and fun
The Pioneer Woman – ummm… oh well…game over.
Go. Vote for your faves. Voting ends Sunday, January 31st.