I made you guys a template for these Santa cookies. If you want it.
I turned my sketches into something a little more presentable. If you click on the image below, it will open up a pdf that you can print out.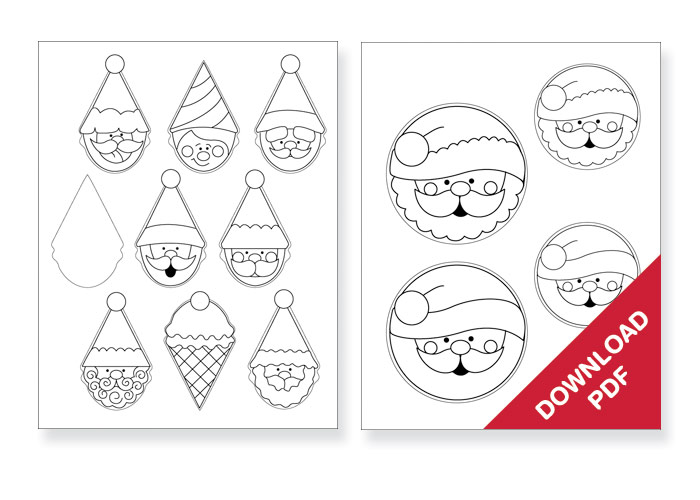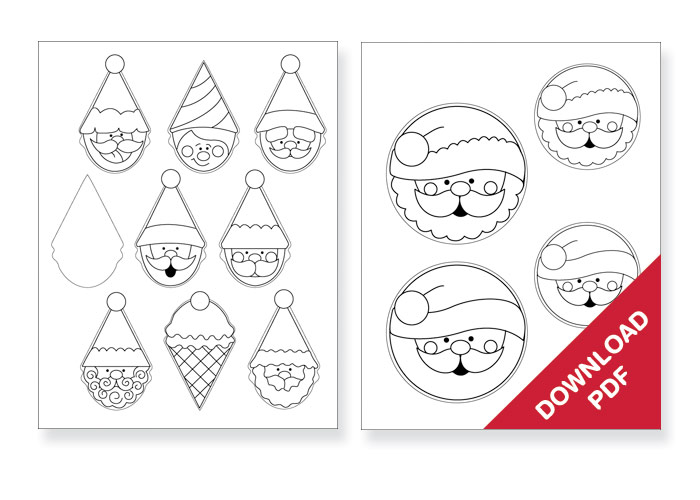 I made several Santas, an elf and an ice cream cone that you can use as reference. The ice cream Santas are the size of the cutter I used, but you can always scale them up or down on a copier to match the size of the cutter you have. I also made two Santas you can use with a circle cookie cutter since everyone likely won't have an ice cream cone cutter handy.
Hopefully these will help a little if you are trying to make a cute Santa face. It's not actually a template, but used more for reference. I drew the faces on my cookies with an edible ink pen, referring to the sketches I made to help me know where to draw the details. If I had tried to pipe these completely freehand without reference, they would have stunk. So the drawing on the cookies really helped.
For the ice cream Santas, I used:
pink candy buttons for his nose
pink confetti sprinkles for cheeks
jumbo flower and snowflake sprinkles made by Wilton for the top of his hat
black edible ink pen for his eyes
Super Red from Americolor (it worked beautifully) – hats
Kelly Green from Wilton – elf hat
Dusty Rose from Wilton – faces
Have fun!
P.S. – For some extra help, read Sweetopia's Cookie Tips and also her generously informative post on how to pipe using a Kopykake Projector. Take a look at it for two reasons. One… If you are super serious about cookies, this would be a great tool to have. And two… pay special attention to her piping. I'd like to be this good. The machine is helpful, but the hands still have to do the work. And hers are amazing!